Restrict Access to Reports in the PCC EHR Report Library
When you want to limit access to certain report categories to one or more user roles, click the "Manage Categories" button in the Report Library window.

To manage access, select a category and click the "Edit" button, then select one or more roles that should have access to the reports included in the category you selected.
Any user without one of those roles simply won't see the category in the Report Library window.
Reports Without a Category
If a report is not assigned to a category, then it will appear under All Reports and will be available to any user with access to the Report Library.
To restrict access to that report, you'll first need to assign it to a category in the Customize Report window.
Restrict Access to Customize Report and Manage Categories
Before 8.11, any user with access to the Report Library could create custom reports and manage categories. Now, access to the Customize Report and Manage Categories tools are controlled like other permissions: through the Roles tab within the User Administration tool.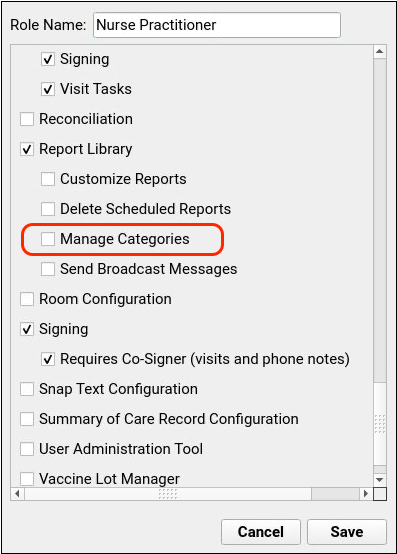 Users with access to Report Customization can customize existing reports and create new reports. Users without that permission will only be able to run preexisting reports.
Likewise, users without the Manage Categories permission will not see the Manage Categories button on the Report Library window.
Related Articles
Restrict and Grant Access to Report Library Categories

Watch this video to learn how to restrict and grant access to reports in PCC EHR's Report Library.

Contents1 Create Custom Reports1.1 Select Columns1.2 Select Criteria1.3 Preview and Save1.4 Master Reports2 Edit or Delete a Report3 Create Custom Report Categories3.1 Add a Report to a Custom Category You can generate and save custom reports and report categories in PCC EHR. Create Custom Reports For a video walk-through of custom report creation, follow this […]

The Report Library in PCC EHR is an expanding suite of reports designed to give you useful and meaningful access to information in the EHR.

PCC EHR stores MVX and CVX codes with each immunization you administer. You can enter your office's MVX and CVX codes in the Table Editor (ted) of Partner.

Use Auto-Notes to Insert Your Standard Text in a Chart Note Field

PCC EHR can enter your default Normal or Abnormal notes at the click of a button while you chart.

Configure PCC EHR Session Timeout (Automatic Logout)

You can configure how long an inactive PCC EHR window will remain open. Set the session timeout length in the Practice Preferences window in the Tools menu.

Nurses and physicians measure vitals and enter them quickly into a patient's chart. To make this process match your office's workflow, you can configure PCC EHR's temperature and blood pressure method defaults (oral, tympanic, right arm, etc.) as well as whether you use English or Metric measurements for other vitals.

Configure PCC EHR Billing and the Electronic Encounter Form

Use the Billing Configuration tool to configure billing behaviors of procedures and diagnoses and the Billing screen in PCC EHR. Follow the procedures below to open the Billing Configuration tool and make changes.

Submit Immunization Records to CAIR

If your practice is located in California, you can use PCC software to submit your patients' immunization records to CAIR, the California Immunization Registry.

If your practice needs some visits signed and co-signed, you can turn on co-signing and then require it for specific users.

PCC EHR Configuration Introduction

You can configure PCC EHR to match your workflow and charting style. You can change how many screens behave in order to help your office find what they need quickly. The help articles below include procedures and references to make changes to PCC EHR's behavior.

You can turn on and off some of the columns on the Schedule screen.

PCC EHR's labs can contain several result fields, have default facilities, initiate tasks for the tasks queue, and use numerous other features. Your common labs can automatically appear for selection on appropriate chart notes. Read the sections below to understand everything you need to know about lab configuration.

Partner and PCC EHR Integration

PCC EHR shares information with Partner, PCC's practice management system. Many of the features of each product interact with one another.

Use the Professional Contact Manager tool to manage the list of your practice's professional contacts, school medical personnel, and other professionals who may be part of care plans for many different patients.

Configure Immunizations in PCC EHR

Learn about how to configure immunizations in PCC EHR.

Configure Patient and Account Field Searches

You can search for patient charts using any of the four custom patient fields, but you must first turn on and configure that feature.

Configure Diagnoses in PCC EHR

Clinicians can select diagnoses on a chart note, or add a new diagnosis to a patient's Problem List. Read the sections below to learn how to configure how diagnoses are recorded.

PCC EHR can alert you about specific clinical concerns, based on a patient's demographics, diagnoses, or other complex criteria combinations.

Run the Clinical Quality Measures Report

The Clinical Quality Measures report calculates your office's performance on CMS CQM guidelines. Follow the procedure below to use the report.

The Patient Visit Summary is an "end-of-visit" clinical summary report. It details everything that happened during an appointment. The report also includes an overview of other patient medical information. You can also customize what appears on the report and configure special components which will include patient instructions and other information.

Run the Meaningful Use Measures Report

The Meaningful Use Measures report calculates your office's performance on the Meaningful Use standards indicated in the ARRA guidelines and co-referenced in the PCMH requirements. Use this report to see your office's Meaningful Use statistics and apply for ARRA and PCMH funds.

Find and Share Patient Education and Handouts

PCC EHR has built-in access to two libraries of patient education resources. The AAP's Pediatric Patient Education library and the NLM's MedlinePlus library give you instant access to handouts and current medical information on a wide range of topics.

Phone Encounter Performance Report

You can use the Phone Encounter Performance report to track phone note response time, report on phone tasks, and gather data for PCMH purposes.

Health Information Summary Report

You can generate a paper or electronic copy of a patient's health record with the Health Information Summary Report.

PCC EHR can create lists of patients based on complex criteria. You can save those criteria as special reports that you can re-run at any time.

PCC EHR can create reminder lists of patients based on complex criteria. You can save those criteria as Patient Reminders that you can re-run at any time, and generate a contact file.

Get Started with Direct Secure Messaging

PCC EHR includes Direct Secure Messaging. Direct Secure Messaging is a communication technology for the transmission and exchange of private health information. Your practice can use Direct Secure Messaging for transitions of care, and patient portal users can use Direct Secure Messaging to send their visit information to other medical practitioners.

The Summary of Care Record report produces a C-CDA-formatted chart summary for a patient. Your practice can use the report as a transition of care document. Optionally, if your practice uses Direct Secure Messaging, you can transmit the report to another clinician or practice.

Submit Immunization Records to Registries

PCC EHR can automatically send all new completed immunization orders to any of the 56 state immunization registries.

Use the PCC EHR Audit Log to review details about system events pertaining to a patient's chart.

You can run the Vaccine Lot report in PCC EHR, to identify all patients who received a particular vaccine within a date range.

This video provides an in-depth look at lab order configuration in PCC EHR. Along the way, you'll learn how to assign specific LOINC tests to a lab order, configure an order for electronic results, control default order privacy settings, and more.

You can create a report of charted lab tests in PCC EHR. When you want to create a lab test report, open the Lab Test Report in the Reports menu. You can filter lab tests by date range, specific test(s), all tests ordered or only tests with results, and by location. Note that you can […]

Washington State C-CDA Submission for Apple Care Patients

Use PCC reports and tools to send patient chart records to the Washington Medicaid Link4Health Clinical Data Repository.

PCC's Morgan Ellixson-Boyea walks through some of the powerful features in PCC eRx, including favorites, weight-based dosing, custom dosing statements, and more.

Configure Document Categories, File Sources, and Default Behaviors

PCC EHR enables you to pull in documents from various sources and attach them to charts, visits and orders. Use the Document Administration tool to configure defaults and options for how PCC EHR handles these documents.

Find and Recall Patients Who Are Overdue for Vaccines

Which 13-year-olds at your practice never came in for an HPV shot? Can you quickly find all the six-year-olds who never made it in for their final IPV, MMR, and Varicella? PCC can find all of your patients that are due or overdue for vaccines and produce customizable reports.

How to use PCC EHR's Report Library to create custom reports.

Recall Patients Who Are Overdue for Vaccines

PCC EHR can create custom lists of patients who are overdue for any vaccine, or who are due soon. Watch this video to learn how to use the Overdue Vaccine Recall report.