Run Reports in the PCC EHR Report Library
The Report Library in PCC EHR is a suite of reports designed to give you useful and meaningful access to information in the EHR. New reports are introduced with each new PCC release.
Open the Report Library
You can access the Report Library from the Reports menu in PCC EHR.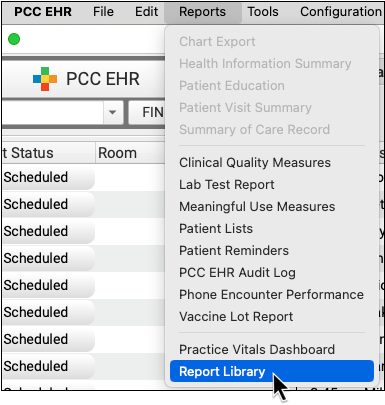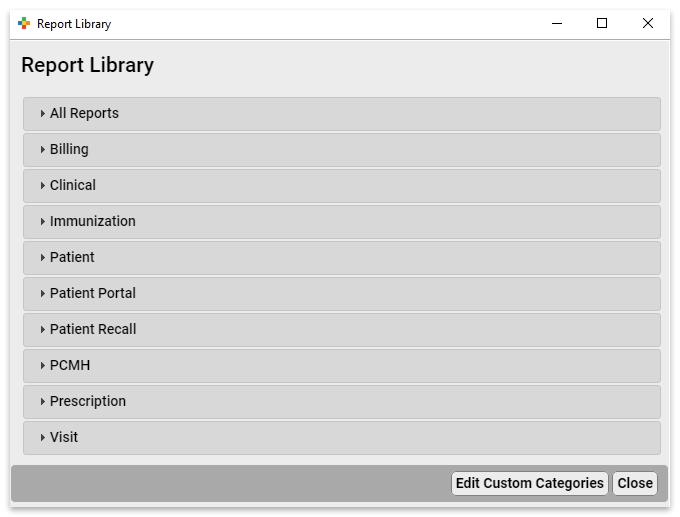 Permissions Based: Access to the Report Library is controlled by a user role permission in the User Administration tool. For more help, contact your practice's system administrator or PCC Support.
Find a Report
The Report Library organizes your reports into categories, making it easy to find exactly the report you need. Reports can appear in more than one category, and you can put your own custom reports into categories for easy reference.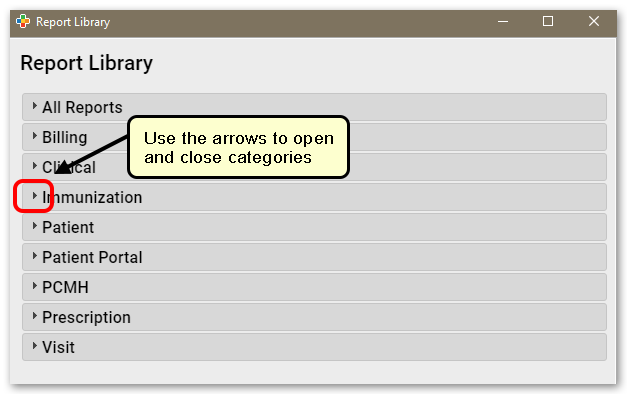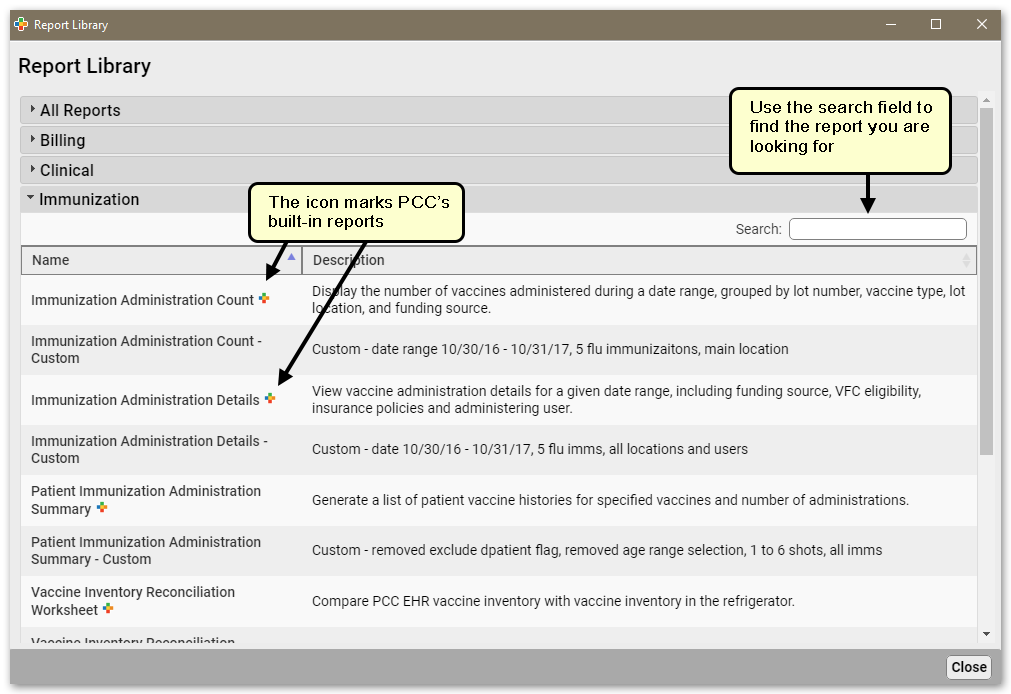 All Reports: The category "All Reports" includes all reports in the Report Library.
Data Source: The category "Data Source" includes a number of master reports. These reports contain all the criteria available for a given set of data (for example, the Patient List report is equipped with all the account, demographic, scheduling, clinical, and billing criteria you might need to generate a specific list of patients). These reports are generally too extensive and cumbersome to use easily as-is, but they are perfect for using as a starting point when creating your own custom reports.
Run a Report
To run any report in the Report Library, select the report from the library:
Then enter your search criteria and click Generate: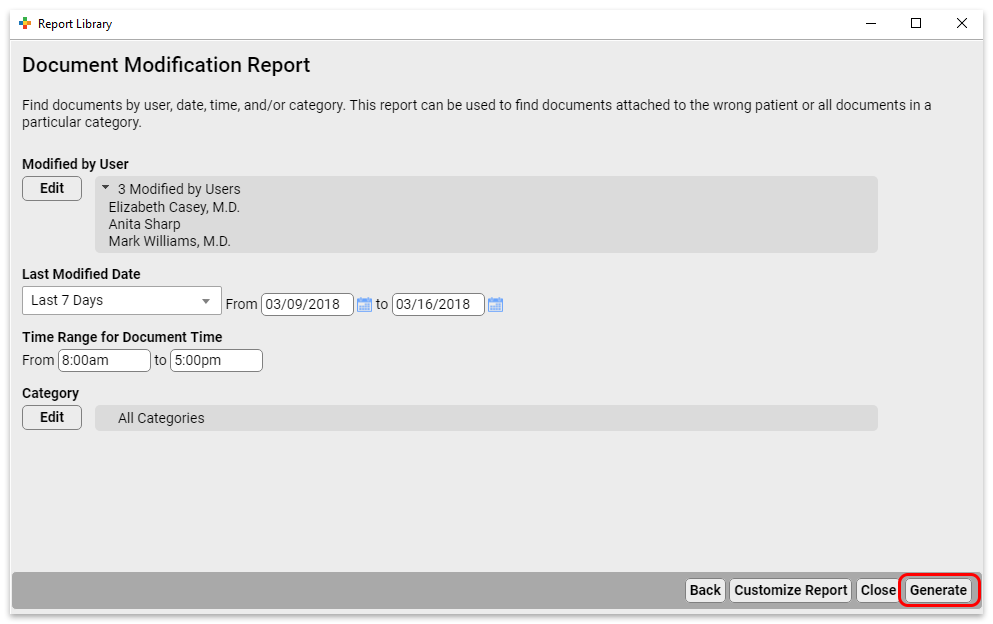 PCC EHR will remember your most recent criteria choices while you work with the report. If you generate the report and discover you want to make a slight adjustment to your criteria, just click "Back", and you will be returned to the criteria selection page with your most recent choices still filled in.
Your results will appear in tabular form.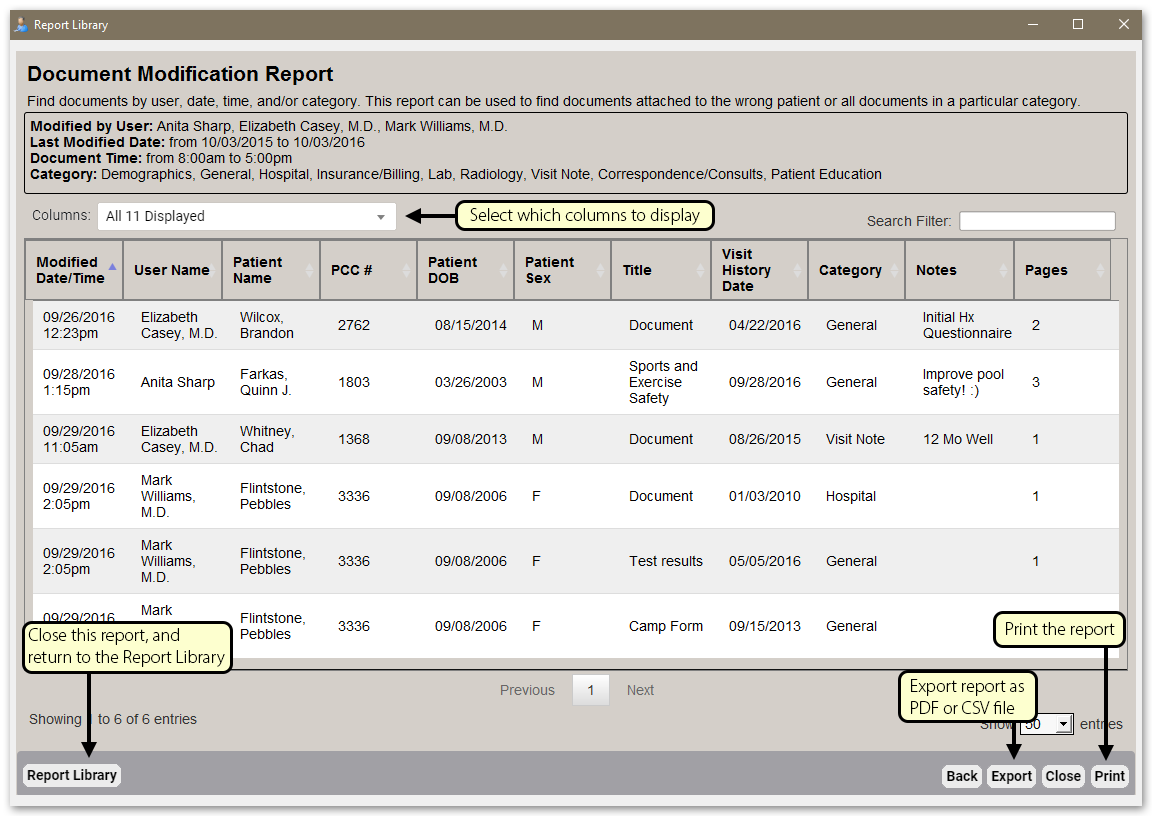 The results page has a few different sections:
Your search criteria are displayed at the top of the report. You can use the Columns drop-down to select which columns to display.
The body of the report, which contains the results of your search in tabular format.
Navigation buttons. You can print the report, export it to a pdf or csv file, go back to enter different search criteria, or close the report.
Sort Your Results: You can sort on a column by clicking on the column header. To sub-sort on other columns, simply hold the Shift key and click the column headers for your secondary sort, tertiary sort, and so on.
Report Index
Below is a current list of PCC-created reports available through the Report Library in PCC EHR.
Care Plans By Date: Find and lists all patients with care plans at your practice.
Document Modification Report: Find documents by user, date, time, and/or category. This report can be used to find documents attached to the wrong patient or all documents in a particular category.
Immunization Administration Count: Display the number of vaccines administered during a date range.
Immunization Administration Details: View vaccine administration details for a given date range, including funding source, VFC eligibility, insurance policies and administering user.
Orders by Visit: List of appointments that include selected order types.
Patient Diagnoses by Date: Generate, print, and share trends in patient care.
Patient Ethnicity Breakdown: help meet vulnerable patient population requirements found in PCMH.
Patient Immunization Administration Summary: Generate a list of patient vaccine histories for specified vaccines and number of administrations.
Patient Primary Preferred Language Breakdown: help meet vulnerable patient population requirements found in PCMH.
Patient Race Breakdown:help meet vulnerable patient population requirements found in PCMH.
Patient Sex Breakdown:help meet vulnerable patient population requirements found in PCMH.
Patient Visits By Protocol: Find patient visits based on the protocol of the visit.
Patients Linked to a Portal User: List of patients linked to a portal user.
Portal Activity for Patient: Find portal activity for a specific patient.
Portal Activity for Portal User: Find the portal activity for a specific portal user.
Portal Message Response Time: Time between the receipt of a portal message and the response.
Portal User List: List of portal users including creation date and date of last activity.
Portal Users By Appointment Date: List of appointments and associated patients and portal users.
Portal Users Linked to a Patient: Find all portal users linked to a patient. This report can be used to determine who has access to a patient's records and who has accessed those records.
Prescription Activity: Prescription activity.
Prescription Count by Drug Name: Number of prescriptions issued during a specified date range and listed by drug name.
Prescription Count by Provider: Number of prescriptions issued during a specified date range listed by provider.
Prescription Formulary by Provider: View ratios of On-Formulary versus Non-Formulary prescriptions, broken down by prescriber.
Prescription Safety Warnings: Number of prescription safety warnings presented to prescribers by date range, prescriber and warning type.
Vaccine Inventory Reconciliation Worksheet: Compare PCC EHR vaccine inventory with vaccine inventory in the refrigerator.
Vaccine Inventory Transaction Log: View increases and decreases for a single vaccine lot to verify inventory quantity.
Visits by Billing Status: This report identifies visits that are waiting to be billed.
Advanced Features
The PCC EHR Report Library contains powerful features to help you automate data collection and keep in touch with patients.