Find Patients who are Behind on Immunizations
Tracking immunizations is important for patient health. Being able to get accurate lists of patients who are due or behind on immunizations is vital to maintaining a proper immunity for your patients and the public health of your community.
PCC EHR offers a few different tools for finding and managing patients with overdue immunizations.
Patient Immunization Administration Summary
The Patient Immunization Administration Summary, in the Report Library, can create a list of all patients who are due for a vaccination.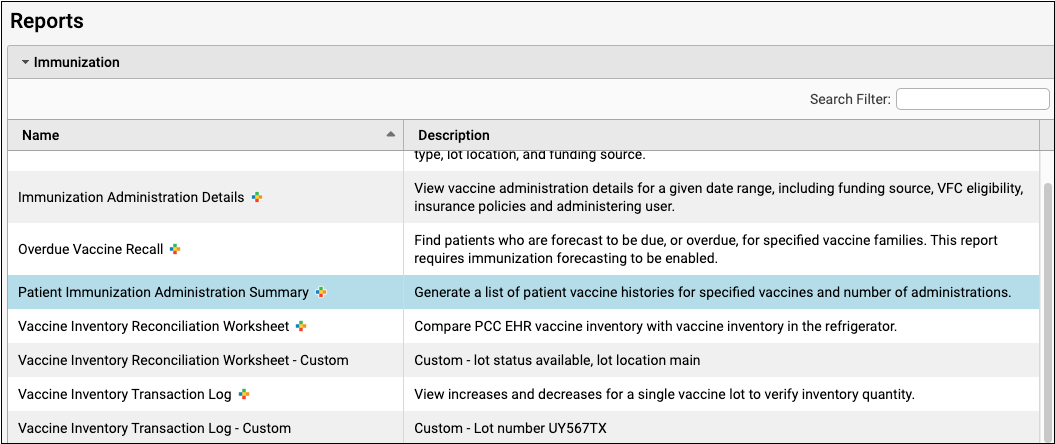 Let's say you wanted to find all patients who are due for HPV. You would run the report with the following criteria:
Excluding inactive patient flags
Patients who are 12 years old
Patients who have been seen in the last 3 years
Patients who have received 0 or only 1 shots (from 0 to 1 in the "Number of Shots" criteria) of HPV. Note, your practice might have different or multiple immunization names for HPV, such as Gardasil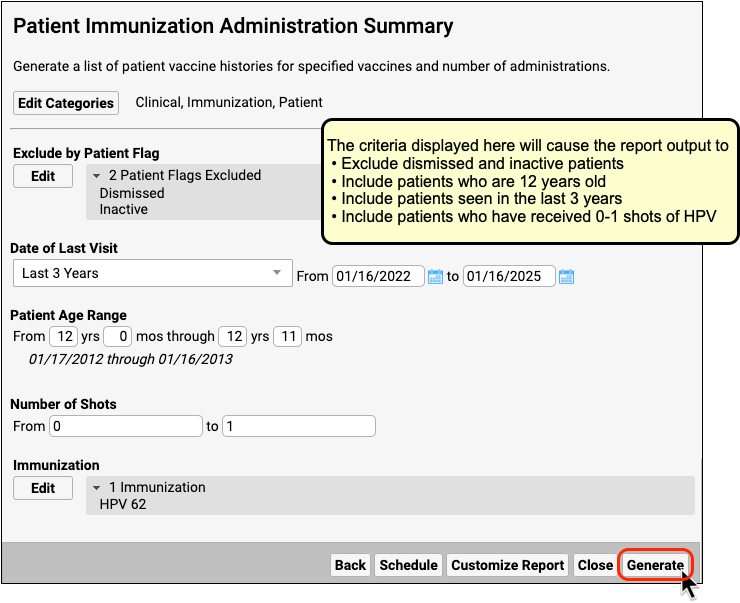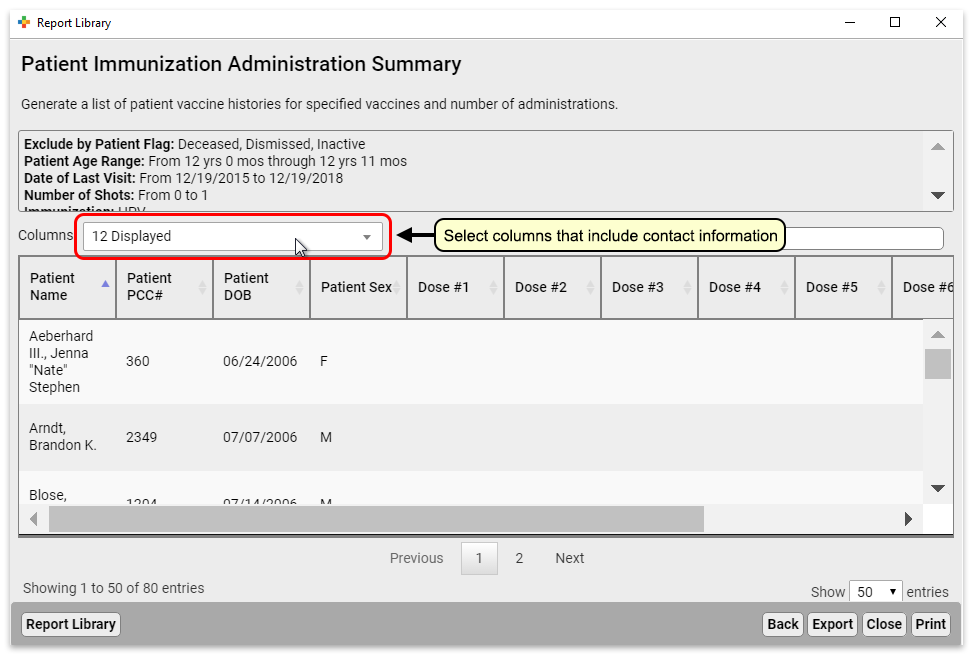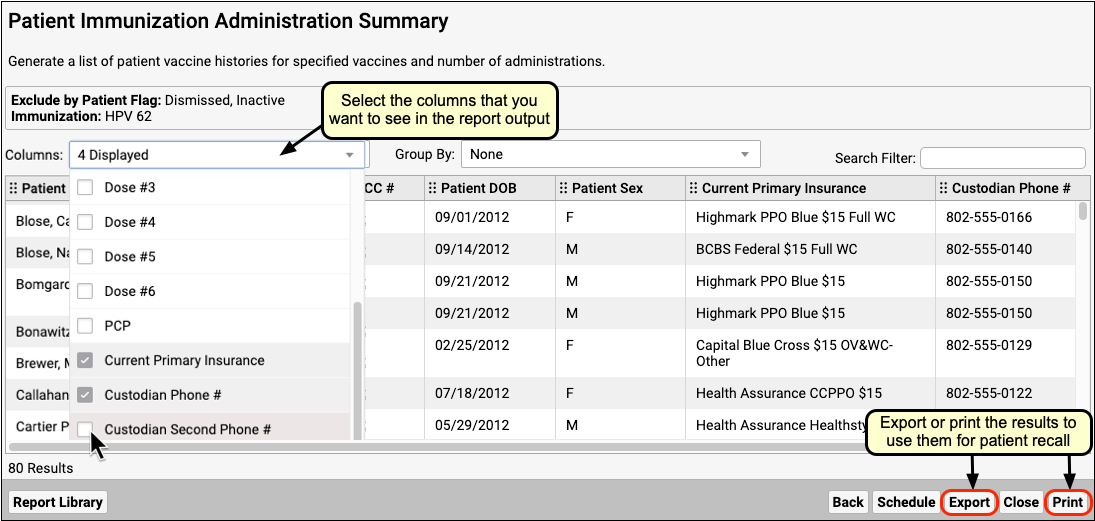 Create a Custom Report for Recall: You may want to create a custom report for patient recall for a particular immunization, or one that automatically includes the custodial phone numbers. Read here to learn how to create and save custom reports.
Use Practice Vitals Dashboard for an Overview
Your Practice Vitals Dashboard is a great way to get a broad picture of your immunization rates, broken down by various patient populations. The Dashboard can also produce lists of overdue patients.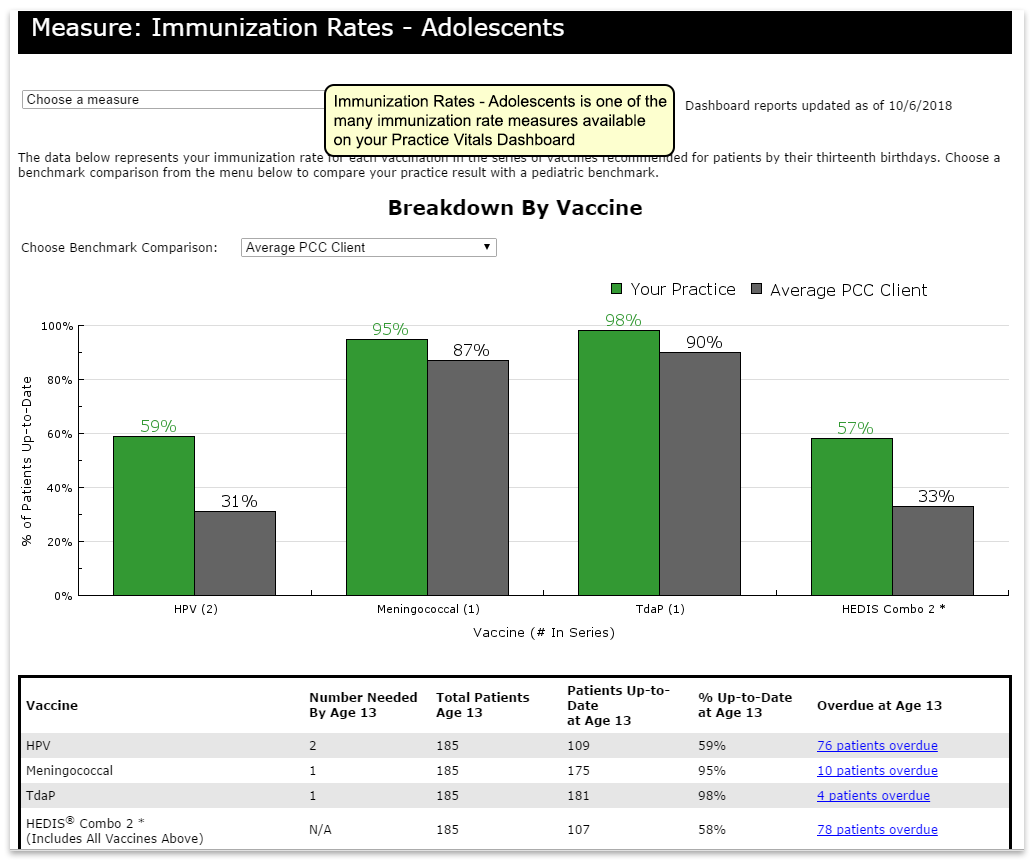 Dashboard Data is Not Live: The Dashboard pulls data from the EHR once a month. On any given day the data is anywhere from 0-31 days old. By the end of the month, patients who are listed as being due for a vaccination might have already received it, or might already be scheduled to come in. Because of this, the Dashboard is not an ideal tool for immunization recall, though for some purposes the overdue lists can be useful. For an up-to-date list, use the Patient Immunization Administration Summary report as described above.