Send Batch Messages To Patients and Families
Use broadcast messaging in PCC EHR to send batches of messages to patients and families. You can use PCC's Broadcast Messaging report, or customize any patient-based report, to create a patient list. PCC EHR will collect all contact information for the patient (emails and cellphones) and send the message to all of them.
Urgent Need Update: In response to the COVID-19 pandemic, and the associated need for ongoing communication with your patients, PCC has added a broadcast messaging option to the Report Library. PCC has rapidly developed this new feature in response to urgent need. While it is fully functional, features are currently limited. If you encounter any unexpected functionality, please contact PCC Support.
Send Broadcast Messages
Open the Report Library
Open the PCC EHR Report Library from the Reports menu.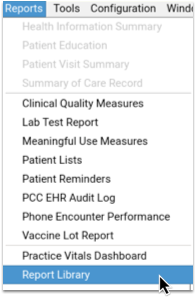 Select the Broadcast Messaging Report or Other Patient-Based Report
Find and open the Broadcast Messaging report.

This new report is available in the Patient Recall category, and also can be found by searching "Broadcast Messaging" under the All Reports search.
Use Any Patient-Based Report: PCC built the Broadcast Messaging report for the purpose of sending batch messages to your patients and families. You can also use these features with any other patient-based report in the PCC EHR Report Library.
Select Report Criteria
Adjust the report criteria options to find the patients and families you wish to contact.
Broadcast Messaging includes a range of criteria for narrowing down the list of patients included in your report. For example, exclude by patient or account flag to ensure that inactive or deceased patients aren't contacted, or select by care center flag to limit the results to patients of one care center.
By default, the Broadcast Messaging report will include all patients who have been seen in the past three years, are not marked as deceased, and who are under 21 years old.
Run the Report and Review the Patient List
Once you've adjusted the criteria to meet your needs, run the report, and check that the resulting list includes the patients or number of patients you expect.
Export Your Results
Click the "Export" button at the bottom right of the results window.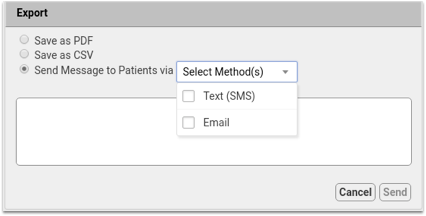 Select One or More Sending Methods
You'll see three options, PDF, CSV, or "Send message to patients via" with the option to choose a sending method.
Select one or both of the sending methods, SMS or Email.
Compose a Message
Write your message.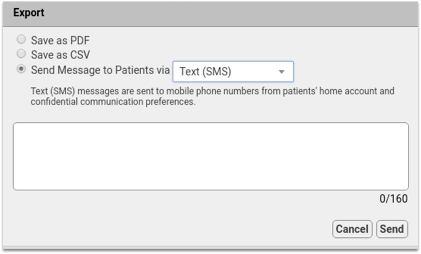 Text (SMS) messages are limited to 160 characters per message. The character count in the bottom right of the window shows how many characters you've used out of the 160.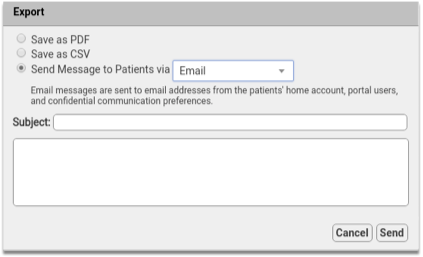 If you select the email option, you will see a subject line for the email. There's no character limit to emails, so you can write as much as you need.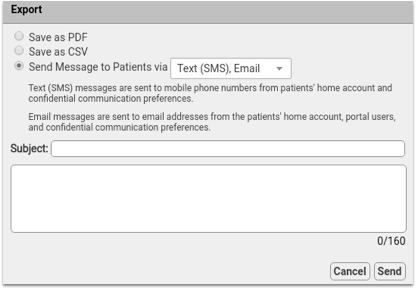 If you select both the Text (SMS) and Email options, you will see both the Subject field and and character count. When you send both message types, you're limited to 160 characters and text in the Subject field will appear as the subject line of the email and the first line of the SMS text message.
Include Your Practice Information: Broadcast Messages are plain text, and include nothing more than what you type. Be sure to include your practice name, and, if necessary, contact information, so the recipients will know who the message is from. 
Send Your Message
When your message is complete, be sure to double check it, since there's no going back after sending. When you're happy with it, click send.
If you've chosen to send a message via text and email, the message will go out by both methods to every account in your report result. Accounts may receive both an email and a text message.
Message Will Go to All Patient Contact Information: When you click "Send", PCC EHR will collect all available contact information for the patient and send your message. For SMS Text messages, that will include all cell phone numbers on the patient's account, including home and billing accounts and the patient's communication preference. For email, that will include all email addresses.
Duplicate Email Address or Phone Numbers: If siblings or patients with shared custodian accounts appear in your search results, duplicate messages will not be sent. Only one message will be sent to each email address and phone number.
You'll see a confirmation message, and you'll be returned to the report results.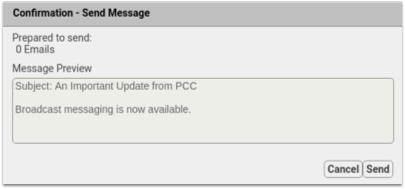 How Do I Get Started With Broadcast Messaging?
Broadcast Messaging will be available to all PCC clients after the PCC 8.12.10 update, coming to practices in April of 2020.
After your update, your practice can ask PCC to turn on Broadcast Messaging at your practice.
Next, your practice needs to assign limited permissions for broadcast messaging. Who at your practice will compose and send these messages? Broadcast Messaging is extremely powerful, and can send thousands of messages with just a few clicks.
Use the User Administration tool to add a new Role for Broadcast Messaging, and then assign that role to particular users at your practice.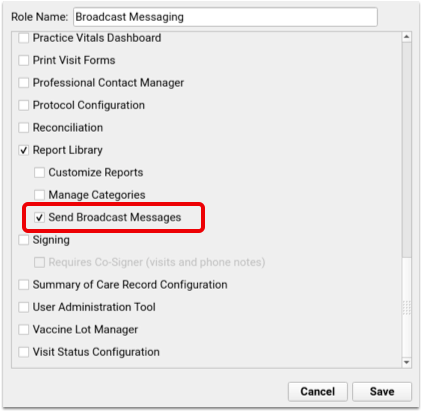 Per-Message Costs of Broadcast Messaging
For April 2020, PCC will pay for broadcast messages sent by PCC clients.
How much will it cost long term? PCC is still collecting information on per-message costs for broadcast messaging. We know that emails are fairly inexpensive–at around $0.10 per thousand messages. Text messages are far harder to predict, as different carriers charge different amounts and surcharges.
Free For the Month of April 2020: Broadcast Messaging is an optional feature that includes a small additional cost per text and email. However, during the COVID-19 pandemic, PCC is covering the cost of all text and email messages sent in the month of April. Pricing information will update as we learn more and continue to develop this feature. Please contact PCC Sales to discuss your options.
Who Will a Broadcast Message Be "From"? What If The Family Replies to the Message?
Email
When a patient or family member receives an email from Broadcast Messaging, the message will be from your practice, with an email address noreply@CLIENT.pcc.com, where "CLIENT" will be replaced with your acronym.
If they reply to that email, it will go to a "noreply" email account on your PCC system, in order to filter bounced emails.
Your practice can configure who will receive a copy of these noreply emails. For example, families might reply to your message with a request to be seen, even though it says "noreply".
PCC Support can configure what email address will receive copies of email replies from parents and families.
Text (SMS) Messages
When a patient or family receives a Text (SMS) message, it will appear to be from a phone number with your practice's local area code. PCC provisions these lines, creating one number per-practice or multi-practice group.
You can ask PCC Support for details about this phone number, and optionally share it with your patients and families so they can know the number the messages will come from.
If a family responds to that text message, the Broadcast Messaging service will ignore that text.
Bounced Messages and Dead Phone Lines
PCC's Broadcast Messaging service will automatically recognize when an email address fails, or a cell phone number fails. When that happens, PCC will automatically add that cell phone number or email address to a black out list so your practice does not send messages to disconnected numbers or emails.
Repeated messages to dead emails or cell phones can lead to your system being identified as a spam service. PCC has set up the blacklist feature to avoid this.