Review and Update a Patient's Immunization Record
Each patient chart contains an immunization record. You can review and update immunization dates and administration details, review a patient's vaccine-preventable disease records, and see forecasting of a patient's upcoming or missing immunizations.
PCC EHR updates the immunization record automatically when you create immunization orders on a visit chart note. Users can also review records and add items manually on the Immunization History screen.
View a Patient's Immunization History
The Immunization History section of the patient's chart displays the patient's vaccine records. You can review immunizations, vaccine-preventable diseases, and forecasting of the patient's upcoming immunizations.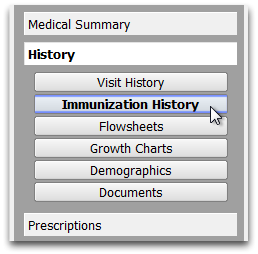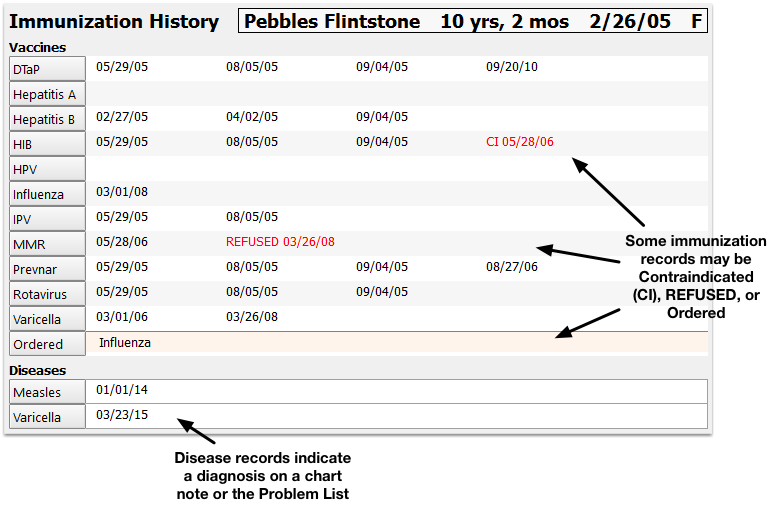 The same information can optionally appear as a component on a chart note for a visit.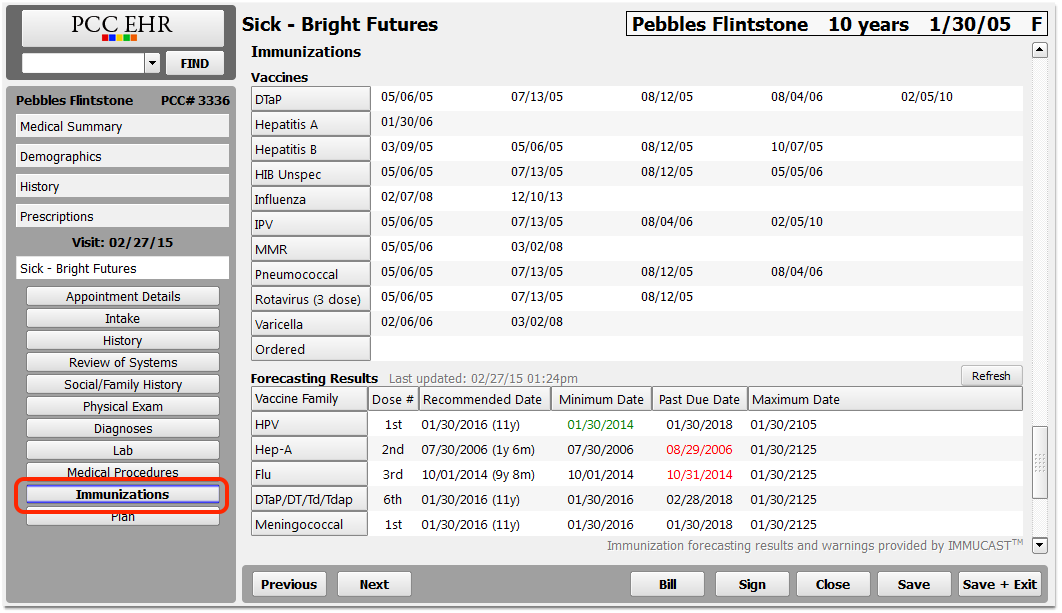 Immunization Forecasting
When you review a patient's immunization record, either in a chart note or in the Immunization History section of the chart, PCC EHR can display a list of upcoming immunizations for the patient. PCC displays Forecasting Results and Forecasting Warnings from the IMMUCAST™ service by Scientific Technologies Corporation. STC uses an immunization rule set built on the ACIP immunization schedule guidelines from the CDC.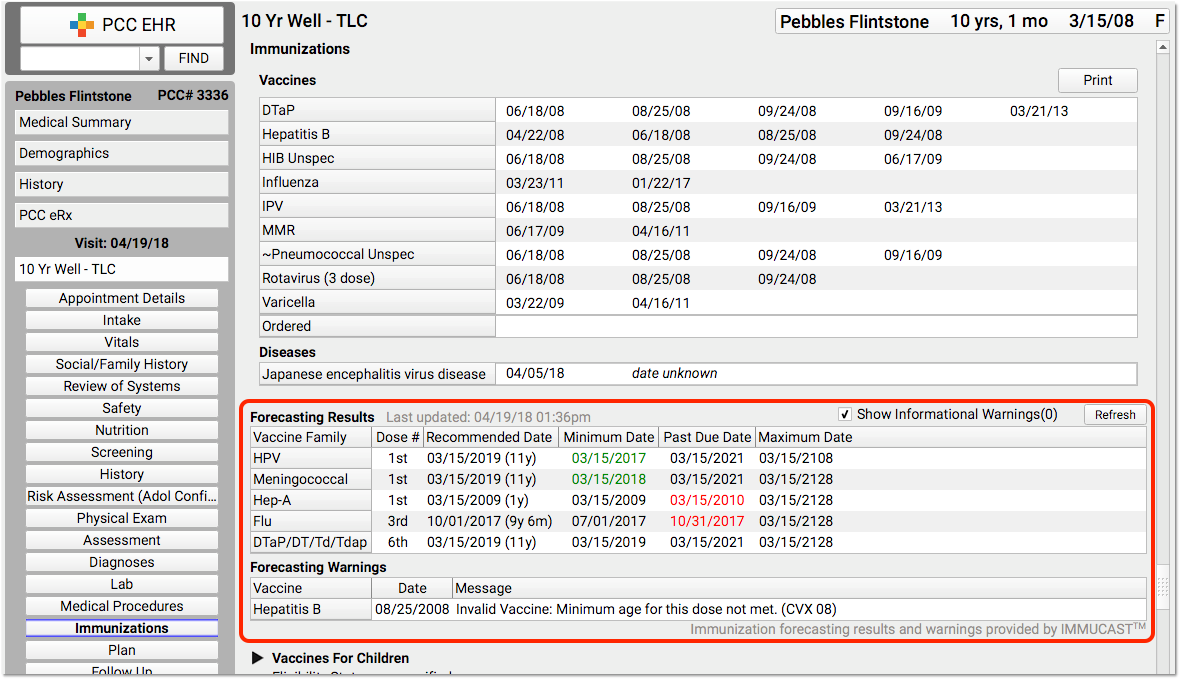 Immunization Forecasting is an optional feature that relies on your practice's specific immunization configuration. Learn more here.
Review Immunization Dates
Immunizations' administration dates appear in chronological order, organized by vaccine family, as determined by your practice's immunization configuration.
A normal vaccine record appears in black, as a single date of administration.
The immunization record may also indicate three special circumstances for an immunization, as show in the images above.
Contraindicated Immunizations: Immunizations that were ordered but not given may be marked as Contraindicated. a user may have entered notes or a contraindication reason, and you can click "Edit Imms" to review the details.

Refused Immunizations: Immunizations that were ordered but refused appear in red. You can click "Edit Imms" to review full details of the order.

Ordered Immunizations: Immunizations that have been ordered but not administered appear in the highlighted "Ordered" line. For more information about ordering and administering immunizations, read the Orders help articles.
Disease Diagnoses for Presumed Immunity
The Immunization record can also display presumed immunity for patients who have had vaccine-preventable diseases. If a patient is diagnosed with Varicella, for example, then Varicella will appear with a date in the patient's Immunization History.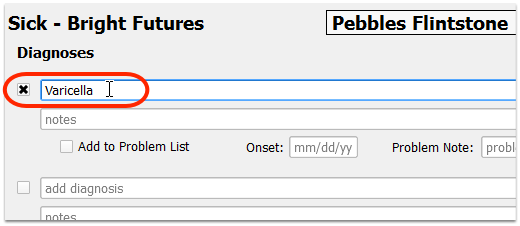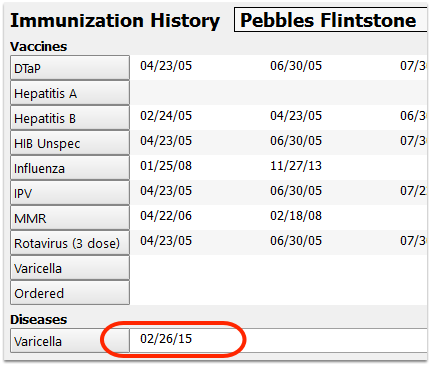 The Diseases section of the immunization record will also appear in the chart note and wherever immunizations appear. The section can display dates for any of the 28 diagnoses associated with vaccine-preventable diseases, whether the patient has had the disease or has serological evidence of immunity.
Which Diagnoses?: The 28 diagnoses supported by this feature are from the HL7 standard. They include 22 diseases such as varicella, measles, and anthrax. There are also 6 diagnoses that indicate serological immunity to a disease (as determined by an antibody titer test, for example).
Configuration Options: Your practice can configure how and when PCC EHR and Partner will display a date for each disease. Read the Immunization Configuration help article to learn more.
Diagnosed Diseases and Problem List Entries
Diseases will appear on a patient's immunization record when the diagnosis is added to the Problem List or when they are diagnosed on a chart note.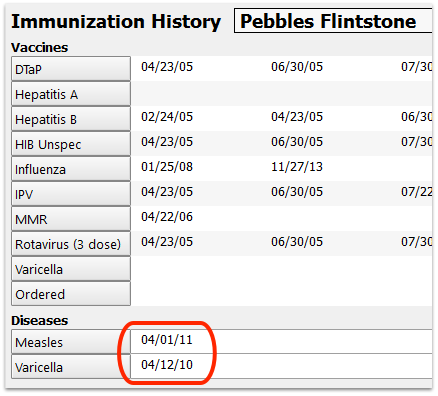 The date for a disease is either the date of diagnosis or the onset date from the Problem List. You can hover your mouse over a date to view all available details, including the source of the date.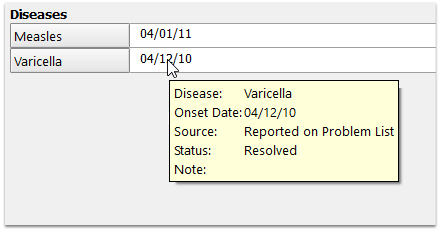 Old ICD-9 Diagnoses: Patients must have the SNOMED description of the disease in their chart for it to be evaluated as one of the 28 vaccine-preventable disease diagnoses. If a patient has 052.9 Varicella in their Problem List for chickenpox, for example, it will not appear in the Diseases section of the immunization record.
Immunizations and Diseases on Reports and Other Output
The patient's immunization record, along with disease diagnoses, can appear on the Patient Visit Summary report, the Health Information Summary report, and on the patient's school form.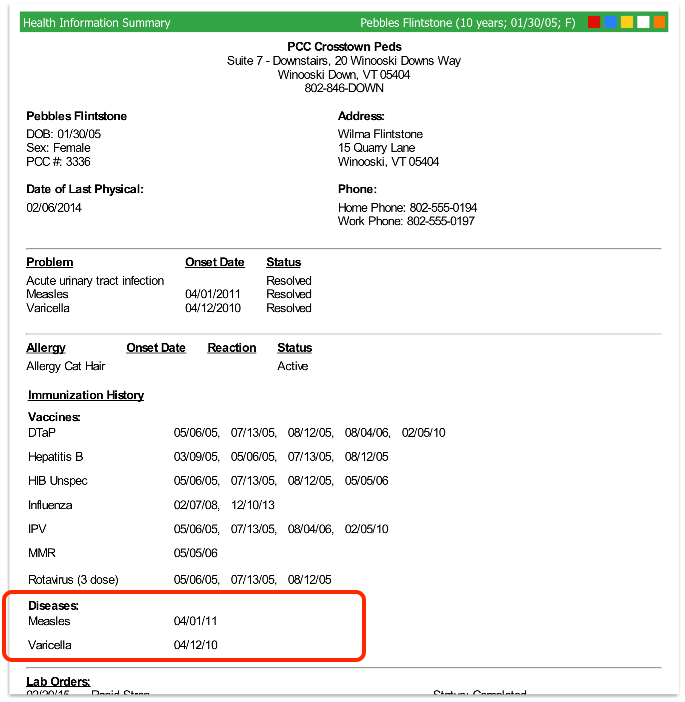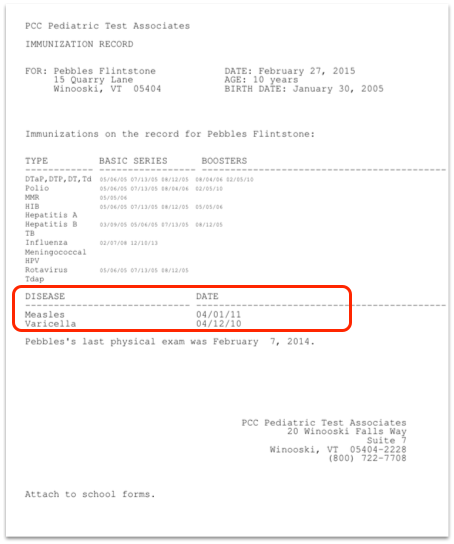 Immunizations and diseases can also be sent to your state's immunization registry.
For help configuring where and how immunizations and diseases appear, read the Immunization Configuration help article or contact PCC Support.
Print an Immunization School Form in PCC EHR
Click "Print" at the top of a patient's Immunization record to generate your practice's customizable school form.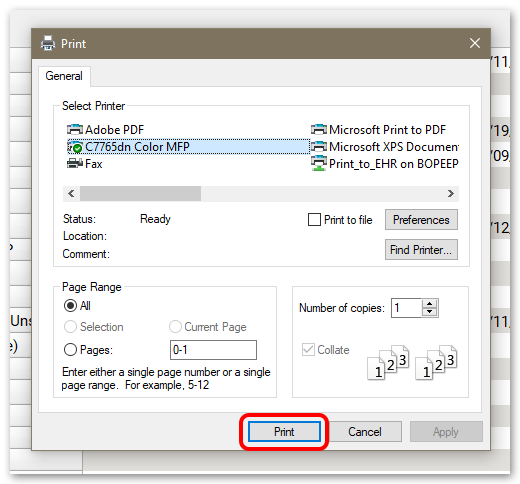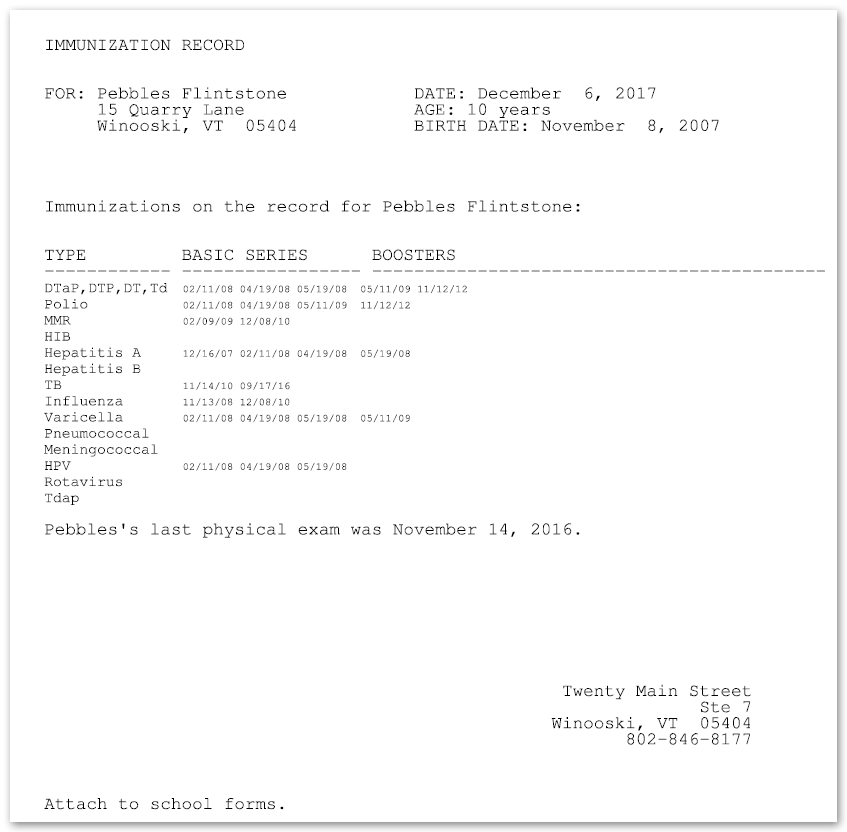 If your office has multiple school form formats, you can select the one you want before printing.



If you don't see the school form you expect, get in touch with your PCC Client Advocate. They can help you customize and configure your school form(s) so they are available and print correctly from PCC EHR.
Customize Your Immunization Forms: Your practice can create multiple school forms, customize them with 4-digit years, and make other changes. Contact PCC Support for help.
Add Immunization Records Manually
Click "Add Imms" to add a vaccine to the patient's records.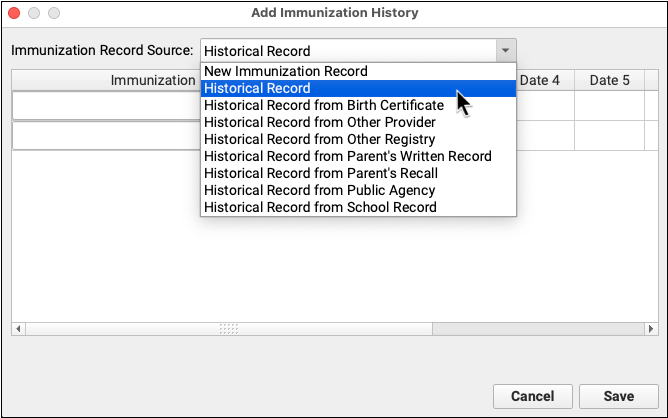 First, select a record source. Then select immunizations from the pull-down menu and enter dates.
When you are finished, click "Save".
Best Practices and ACIP/CDC Guidelines for Historical Sources: When entering historical vaccine information, ACIP's guidelines state, "With the exception of influenza and pneumococcal polysaccharide vaccines, if documentation of a vaccine dose is not available, the adolescent should be considered unvaccinated for that dose." You may wish to consider these guidelines when using historical sources such as "Parent's Recall" (ACIP, pg. 178).
Review and Edit Immunization Details
PCC can record a wide variety of information about each vaccine administration. Normally, shot information is entered during completion of an immunization order. You can also review and edit that information in the Immunization History section of the patient's chart.
Click "Edit Imms" to open the Edit Immunizations window.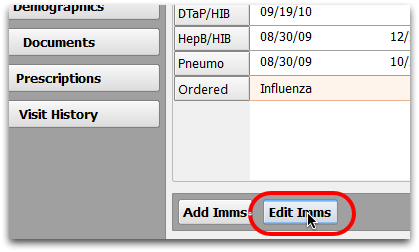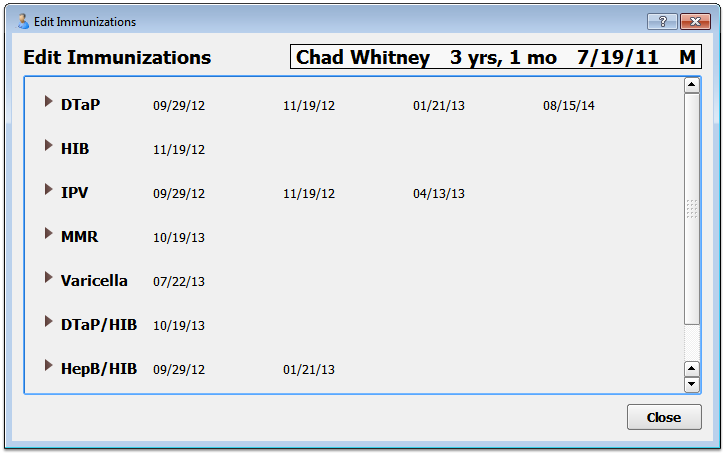 Click the toggle arrow for a specific immunization to see shot details.

Click "Edit" to make changes to a shot.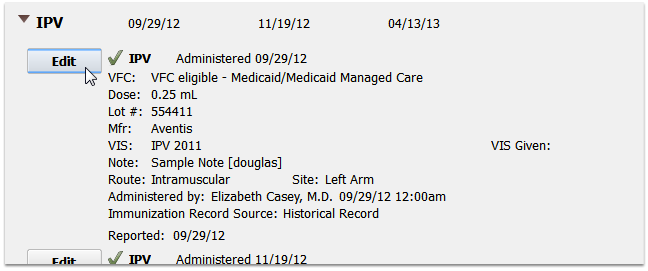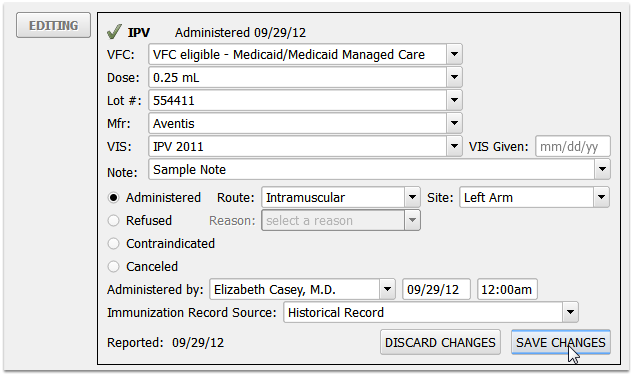 You can edit and update each immunization's VFC information, dose, lot #, manufacturer, VIS information, note, as well as whether the immunization was administered, refused, contraindicated, or canceled. When selecting certain options, such as Contraindicated, you can add additional details, such as a contraindication reason. All completed immunization orders can also include who completed the order and a date and time.
Delete an Immunization: Mark an immunization as Canceled to remove it from the patient record. If the date was manually entered, the record will be completely removed. If the immunization was charted during a visit, that record will remain in the patient's Visit History. You can edit the order in the Visit History to make further changes.
Configure the Immunization History: Read the Configure Immunizations article to learn how to arrange, add, or remove immunizations from your office's default screen.
Vaccine Lot Report: To run an immunization report on multiple patients (say, to determine which patients received a specific vaccine lot within a specific date range), you can run the < a href="https://learn.pcc.com/help/vaccine-lot-report/">Vaccine Lot Report.
Partner: Review and Print Immunization Records in the Practice Management System
If you do not use PCC EHR, you can still work with a patient's immunization record based on a patient's billing data. Your practice can use the Partner practice management system to review, update, and print immunization school forms.
Follow the procedure below to run imms in Partner, review dates, and generate a school form.
Run imms
You can run imms from the Patient Editor (notjane) and Phone Encounter Notes (pen) programs.

You can also type imms at a command prompt and then enter a patient name.
Review Immunization Dates
The imms program lists every type of shot your practice has ever performed. There will be several pages of immunizations: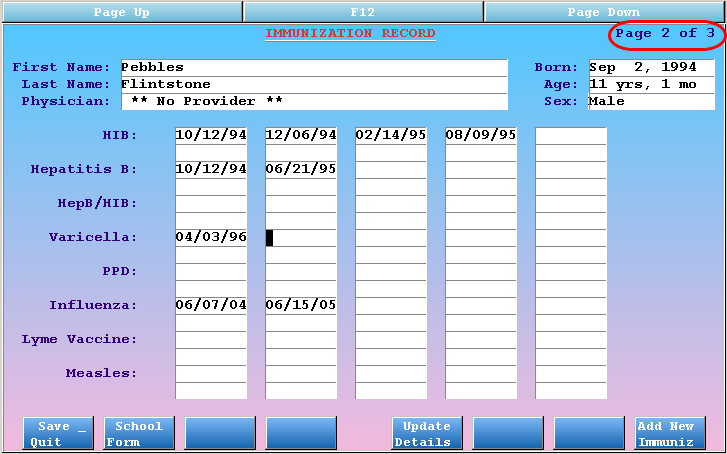 Dates appear next to every shot that this patient has received, assuming the record is kept up-to-date. Press Page Down to cycle through each page.
Print an Immunization Record
Press F2 – School Form to print an immunization record. The immunization record will map all of the different shots to specific immunizations. You won't see "Measles" as well as "MMR," as your PCC system knows that an MMR injection counts for Measles, Mumps, and Rubella.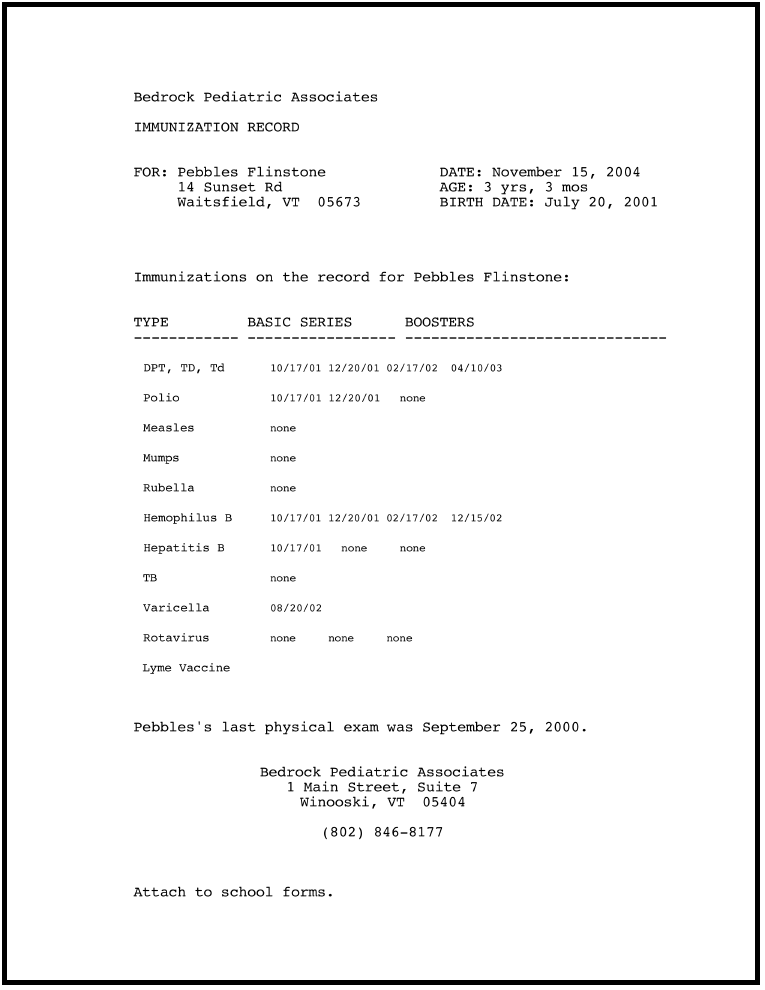 EHR or Paper Chart Record?: If your practice uses PCC EHR, then the immunization record that you generate from Partner will include all immunizations recorded in the patient chart. If you use a different EHR, or use paper charts, then the Partner immunization record can only reflect immunizations billed by your practice. You should compare the Partner immunization printout with the patient's chart record before giving it to them. The patient chart is the formal medical record for a patient.