Add and Configure Immunization and Medication Procedures in Partner
Before you can chart, bill, and track an immunization or medication that you administer at your practice, you must first review and update the procedure in Partner.
Read the sections below to learn how to update or add a new procedure entry for an immunization or another medication that your practice administers.
Not Just For Immunizations: Your practice can use this reference whenever you update your procedures for immunizations, and also for medications you administer. Many pediatric practices administer albuterol, dexamethasone, diphenhydramine, ceftriaxone, decahedron, and epinephrine, and each of these need to be added to your procedures.
Contact PCC Support: PCC Support can walk you through this process and explain these steps. Send us an e-mail or give us a call, particularly if you are unfamiliar with PCC EHR and Partner's configuration tools.
Add or Update Immunization and Medication Procedures in Partner
When you bill for a vaccine or medication at your practice, a CPT code is not enough. You need to send NDC information, dosage, and if you submit to an immunization registry, you need to track CVX and MVX codes.
All of the procedures that your practice bills are configured in the Procedures table of the Table Editor (ted).
For each vaccine and medication that your practice administers, open the Procedures table and review, add or update a procedure entry.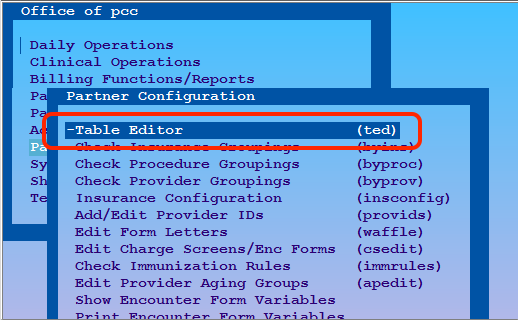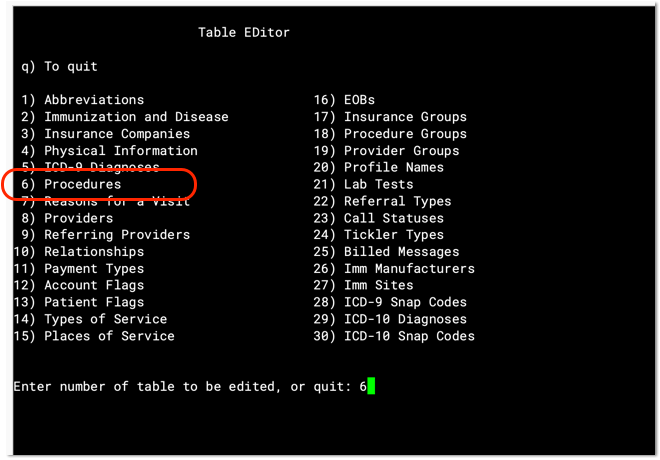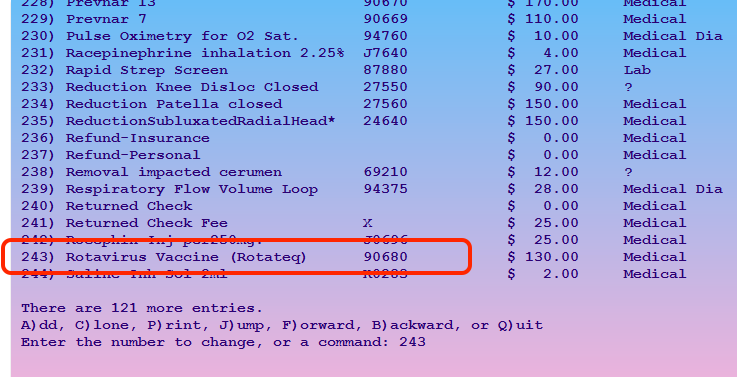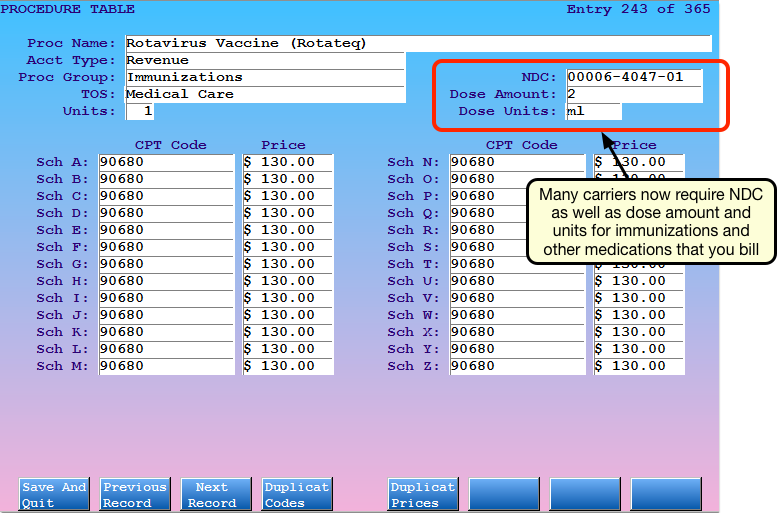 Fill out the procedure information to indicate and describe the smallest individual amount of a vaccine or drug that your practice administers.
Add a New Entry, Or Update an Old Entry?: If you are updating a price or correcting a problem with a procedure, you can edit an existing entry. However, if you have switched suppliers for a vaccine, or are now administering a different dose, PCC recommends you clone your existing procedure and create a new one with the same CPT. For example, a new manufacturer will have a different NDC code, and ideally your records would reflect which NDC code was on the medication you administered.
For each field on a Procedures table entry, consider the following:
Procedure Name: The procedure name will appear in PCC EHR and Partner. However, it will not be used to determine reimbursement. You can name your procedures anything that will be useful for your practice. If you sometimes provide a medication from a different manufacturer, or you sometimes use a brand name version and sometimes use a generic, PCC recommends you create separate Procedure table entries and include the manufacturer or brand name in the Proc Name field so your office can select the correct version. For example, you might name a rotavirus vaccine "Rotavirus Vaccine (Rotateq)" if it was supplied by Merck.

Accounting Type: Billable procedures you perform in your practice should have an accounting type of "Revenue".

Procedure Group: The Procedure Group field is used for reporting purposes and does not affect billing or how the procedure is ordered or completed. Select an appropriate Procedure Group, such as "Immunizations", in order to make your reports clear and accurate.

TOS: The Type of Service setting should read "Medical Care" for all immunizations or medications you administer.

Units: In almost all situations, the units field should indicate one (1) unit. Even if you often administer more than one unit, you should select additional units in the PCC EHR and Partner billing tools. In the Procedures table, you configure the smallest, standard administered amount. If you always administer two or more units of a medication, then you could indicate that here and also change the Procedure Name to "Drug Name (2 Units)", for example.

NDC: The National Drug Code is a standardized 10 digit number, expanded to 11 digits for claim purposes, used to uniquely identify the vaccine or medication you administer. The first four or five digits usually refer to the Labeler or Manufacturer, the next four digits indicate the Product Code, and the last two digits indicate the Package Code. NDC is not required by most commercial payers, but it is required for many Medicaid plans and is a HIPAA standard.

From the Vial, Not the Box: You should enter the NDC code printed on the smallest administered dose, such as the specific tube, vial, or pouch that contains the vaccine or medication. Do not use the NDC code printed on a box or carton that contains more than one dose.


In the example above, you can see that the last two digits of the vial you administer are different from the last two digits on the box. You should enter the NDC code from the vial, not the box.

Look Up An NDC Online?: The best place to find out the correct NDC is on the vial or pouch in your practice's fridge. However, you can also use the National Drug Code Library to search for an NDC code and learn more about specific codes and drugs.

Dose Amount and Dose Units: Enter the dose amount and dose units found on the vial, pouch, or tube that you administer. For example, if you administer a vaccine from a vial containing 2 ml, enter "2" and "ml".

Why should you need to enter a Dose Amount and Dose Units when the NDC should communicate that? The information may appear redundant, but it is possible that a clinician would administer only part of the full package contents as indicated by the NDC code.

TriCare and Other Special Coding Requirements: Some payers may require a different value in the Dose Amount and Dose Units fields. For example, some billers have reported that TriCare requires "1" and "UN" to indicate one unit in these fields for Hib, DTaP-Hib-IPV, MMR, and Varicella.

CPT: Enter the same, generic CPT code for all schedules. Partner includes optional schedules in order to support "local codes", which are no longer part of the claim standard as of 2003. However, if your practice has a schedule specifically configured for Medicaid billing, and your state Medicaid program requires a modifier, you can enter the full code + modifier in the CPT field for that schedule. Optionally, you can clone this entry and create a specific version of the procedure entry for Medicaid billing.

Price: Enter the same, practice-wide price for the procedure in the fields for each schedule. Your practice may have a "self pay" fee schedule based on an automatic percentage benefit for paying at time of service. Also, Medicaid vaccines may be priced at .01 in certain states for VFC vaccines, so you may have a Medicaid schedule or a separate procedure entry for Medicaid vaccines.
Contact PCC Support for Additional Procedure Configuration for Immunizations
If you are adding or updating a vaccine entry, contact PCC Support for additional assistance.
Your PCC Support team will configure the procedure so it will be linked to the patient's immunization record, appear on your school forms, and be automatically submitted to your state immunization registry (if applicable).
Your new or updated Procedure table entry must be correctly configured in the Immunization and Disease table along with system files, and you may have more than one Procedure table entry that would "count" for a given immunization. Your PCC account team will review all the settings to make sure the immunization is tracked correctly. In addition, PCC Support can help configure tracking for combination vaccines, such as Pediarix, so they will display according to your practice's preferences.
Other Partner Immunization and Medication Configuration Steps
When you are configuring immunizations and medications in Partner, you may also want to update other Partner software tools to assist in day-to-day workflow.
Custom Charge Screens?: If your practice does not use an EHR, then you might use custom charge screens in the Checkout (checkout) program to make it easy to post procedures by visit type. You can use the Charge Screen Editor (csedit) to edit what immunizations appear on the billing screen for each Well Child visit, for example.

Paper Encounter Form: If your practice uses a paper encounter form, you may want to add the immunization to that form.

Snap Codes: If your practice uses the Partner snap codes feature to automatically select multiple immunizations and administration codes, you may want to create new snap codes for the procedure or add the procedure to existing snap codes. Read the Snap Codes article to learn more.

Pending and Billing Rules: If you have special billing needs for a procedure, you may need to alter your "Special Information File" configuration for one or more insurance payer. You can contact PCC Support for assistance or use the Special Information File (ibar) tool to make changes to how a procedure pends and appears on a claim.

Retire Old Immunizations: If the new immunization procedure will replace an old one, you may want to remove the old immunization from charge screens, encounter forms, and snap codes. Since the old immunization will still be part of your patients' medical and billing history, you should leave the codes and entries in your Partner tables.

Claim Configuration: Different payers may have different claim reporting requirements for immunizations and medications. For example, some payers (like United Healthcare and many Medicaid payers) require a vaccine's NDC to be part of the claim. You can configure that and other claim options in the Configuration Editor (ced), or contact PCC Support for help.
Other PCC EHR Immunization and Medication Configuration Steps
Clinicians will be able to select the immunization in PCC EHR as a procedure as soon as it is added to Partner.
However, you may want to perform the following configuration steps to assist in day-to-day workflow.