COVID-19 Vaccines in PCC EHR: Configure, Order, Administer, and Track
You can use PCC EHR to order, administer, and track COVID-19 vaccines, either for pediatric patients or as part of a COVID-19 vaccine clinic for older patients.
PCC EHR supports the complete workflow for COVID-19 vaccines. Read below to learn about COVID-19 vaccines and how to configure, order, administer, track and report on them.
We Expect Frequent Updates: During 2021, PCC will update this article to include information about new vaccines as they become available. For an overview of COVID-19 vaccination and pediatric practices, read COVID-19 Vaccine: What Pediatricians Need to Know.
Understand the Details and Codes for Each Vaccine
Use the table below to review the known details of each COVID-19 vaccine. As more information becomes available, PCC will update this table.
As you configure your PCC EHR system to administer and/or track COVID-19 vaccines, you will need the CVX, dosage, and other information in this table.
| Manufacturer | Vaccine Type | Ages Approved | Dose Schedule | Dose Amount | Diluent | CVX | MVX | NDC Carton | NDC Vial | CPT | VIS Link | CDC Pages |
| --- | --- | --- | --- | --- | --- | --- | --- | --- | --- | --- | --- | --- |
| Pfizer-BioNTech | mRNA | 16+ | 2-dose series separated by 21 days | 0.3 mL | 0.9% sodium chloride (normal saline, preservative-free) | 208 | PFR | 59267-1000-03: 25 vials | 59267-1000-01: up-to-6 dose vial | AMA, CMS | EAU Fact Sheet | Info and Resources |
| Moderna | mRNA | 18+ | 2-dose series separated by 28 days | 0.5 mL | n/a | 207 | MOD | 80777-0273-99: 10 vials | 80777-0273-10: 10 dose vial | AMA, CMS | EAU Fact Sheet | Info and Resources |
| Janssen (J&J) | Non-replicating viral vector | Expected: 18+ | 1 dose | 0.5 mL | n/a | 212 | JSN | 59676-0580-15: 10 vials | 59676-0580-05: 2.5mL vial | AMA, CMS | EAU Fact Sheet | Info and Resources |
| AstraZeneca | Non-replicating viral vector | n/a | | | | 210 | ASZ | 0310-1222-15: 10 vials | 00310-1222-10: 10 dose vial | AMA, CMS | (pending) | |
| Novavax | | | | | | | NVX | | | AMA, CMS | | |
If you learn of new information on the above vaccines, please let us know at support@pcc.com.
Can My Pediatric Practice Become a COVID-19 Vaccine Site?
Many pediatric practices are working with their local health department in order to administer COVID-19 vaccines to adults.
PCC has worked with these practices, and you can read more at COVID-19 Vaccine: What Pediatricians Need to Know. Contact PCC for additional assistance.
Become a Medicare Provider
If you plan to administer the COVID-19 vaccine to Medicare patients, or see Medicare patients for other reasons, you may decide to register as a Medicare provider.
The Federal Government is working to expedite the Medicare enrollment process in order to make sure more clinicians are able to see Medicare patients for COVID-19 related needs and/or to administer the COVID-19 vaccine. Clinicians need to enroll in Medicare in order to bill for encounters with Medicare patients.
You can learn about the expedited enrollment process here: CMS (https://www.cms.gov/files/document/provider-enrollment-relief-faqs-covid-19.pdf). Once a clinician is enrolled, they can see Medicare patients and administer the COVID-19 vaccine. After the pandemic, a clinician would have to complete the full enrollment process.
Medicare does not accept paper claims, and signing up for electronic claim submission with Medicare is a separate process. PCC's EDI experts can assist you with setting up claim submission. This process has not been expedited in the same way as enrollment, and PCC anticipates initial claim submission could take up to a month.
Configure PCC EHR for COVID-19 Vaccines
Read below to learn how to add a COVID-19 vaccine to your PCC system. Contact PCC Support for assistance with any of these steps.
In addition to adding a vaccine that you will administer, you can use the steps below to add vaccines that your practice will track but will never administer.
Create Entries in Your Practice's Procedures Table
First, create procedure entries for the vaccine in the Procedures table in your practice's Table Editor (ted). If you've never done this before, contact PCC Support and we will walk you through the process. (You can see more screenshots on the main Add Immunizations article.)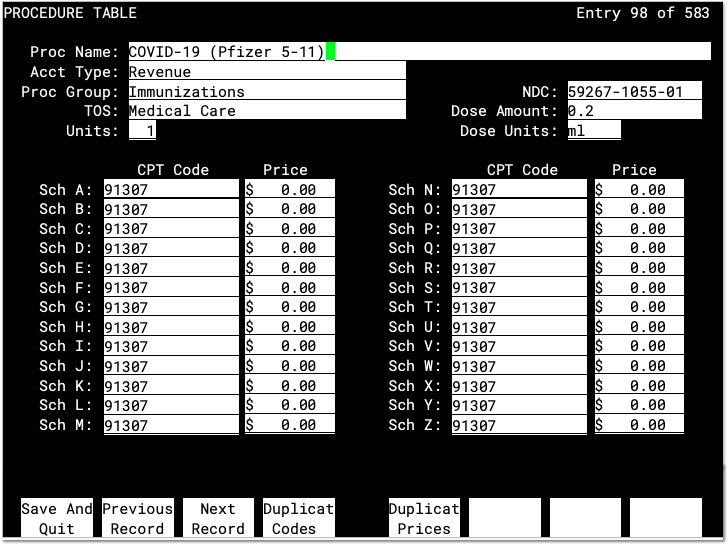 Procedure Name: You can name procedures anything that will be useful for your practice. As there will be several different COVID-19 vaccines coming into use in 2021, PCC recommends a naming convention that identifies the manufacturer of the vaccine, such as "COVID-19 (Pfizer)".

Accounting Type: Billable procedures you perform in your practice should have an accounting type of "Revenue".

Procedure Group: The Procedure Group field is a customizable value used for reporting purposes; it does not affect billing or how a procedure is ordered or completed. Select an appropriate Procedure Group, such as "Immunizations".

TOS: The Type of Service should read "Medical Care" for all immunizations or medications you administer.

Units: Enter one (1) unit. The Procedures table lists the smallest, standard administered value for the vaccine.

NDC: Enter the National Drug Code for the COVID-19 vaccine. You can use the table at the top of this article as a reference, but you should check the labeling on the vaccine itself when it arrives at your practice. You can also cross-reference the National Drug Code Library.

From the Vial, Not the Box: You should enter the NDC code printed on the smallest administered dose, such as the specific tube, vial, or pouch that contains the vaccine or medication. Do not use the NDC code printed on a box or carton that contains more than one dose.

Dose Amount and Dose Units: Enter the dose amount and dose units found on the vial, pouch, or tube that you administer. For example, the Pfizer COVID-19 vaccine is administered as 0.3 mL, so you would enter "0.3" and "mL".

Procedure Code or CPT: Use the links in the table above to locate the Procedure code for the vaccine. PCC does not provide or distribute CPT codes. Enter the same code for all schedules. PCC includes optional schedules in order to support "local codes", which are no longer part of the claim standard. However, if your practice has a schedule specifically configured for Medicaid billing, and your state Medicaid program requires a modifier, you can enter the full code + modifier in the "CPT" field for that schedule.

Price: Enter a price for the procedure in the fields for each schedule. The price should be identical in all fields, though your practice might use different fee schedules for TOS payment, or Medicaid vaccines (VFC). The example of ".01" in the image above is for illustration only and is not a fee suggestion.
Create or Adjust Entries in Your Immunization Manufacturers Table
Next, review and update your practice's Immunization Manufacturers table in the Table Editor (ted).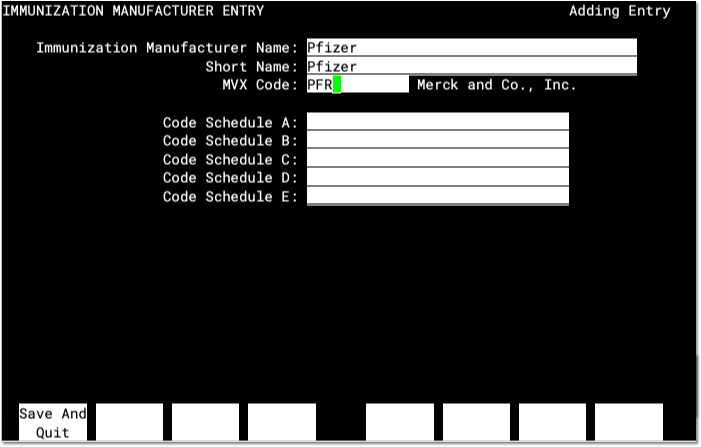 Your table may already include Moderna, for example, but you may need to add Pfizer,
Create Entries in the Immunization and Disease Table
PCC Support will complete this step for you. Contact them at support@pcc.com or 1-800-722-1082.
The Immunization and Disease table handles how specific immunization procedures align with vaccination and/or diseases. Contact PCC Support for assistance.
Configure Your System to Display the Vaccine and to Print It on Immunization School Forms
PCC Support will complete this step for you. Contact them at support@pcc.com or 1-800-722-1082.
Your Client Advocate or other PCC support team member will add the new vaccine to four "under-the-hood" configuration tables, work with you to make adjustments to your printable immunization school form(s), and work with you to test the configuration and make sure that the new vaccine appears correctly in PCC EHR.
Add a COVID-19 Immunization Order to Specific Chart Note Protocols
Optionally, use the Protocol Configuration tool to add the COVID-19 vaccine to the Immunizations component for specific chart note protocols.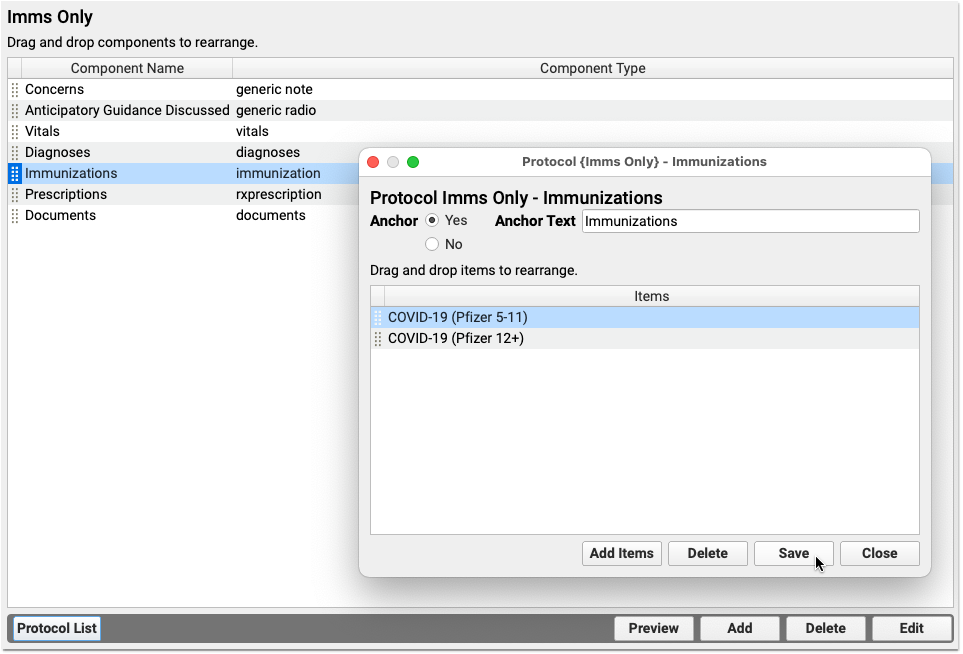 A clinician can always search and find any immunization order. You can save clinicians' time by putting specific immunizations right on your practice's chart notes, so they will be available with a single click.
Map Z23 and Billing Procedure Codes to the COVID-19 Immunization Order
When a clinician clicks "Order" next to a vaccine, PCC EHR automatically places diagnosis and procedure billing codes onto the encounter for billing. When you add a new vaccine, use the Billing Configuration tool to map precisely which codes should be triggered by that order.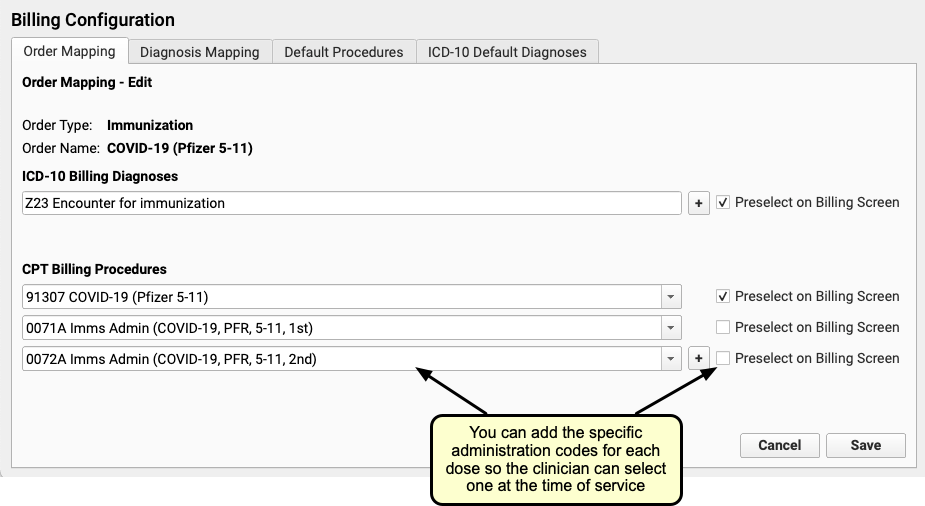 Use the procedure that you added above in Step 1.
Customize How the Immunization Appears in the Patient's Chart
Use the Immunization Configuration tool in PCC EHR to configure the order that immunizations appear in a patient's Immunization History. Use the same tool to set whether or not the immunization will always appear in a patient's chart or will only appear if they have had a dose.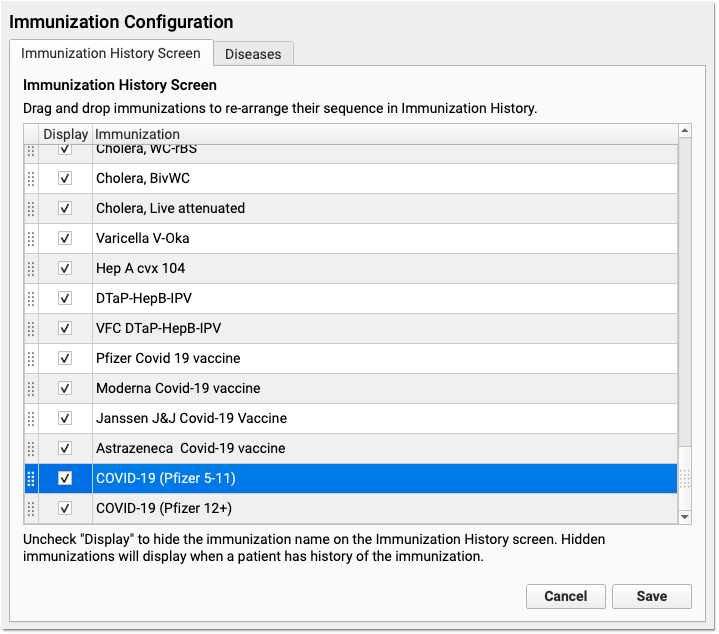 Click and drag to rearrange how immunizations appear in a patient's chart. Click the "Display" checkbox next to all immunizations you would like to appear in a patient's Immunization History, even if they have never received a dose.
Always Display: In a patient's chart, the Immunization History will display all immunizations that a patient has received. You can also configure an immunization to appear on every patient's record, even if they have never received a dose. For example, since all patients should receive an IPV, most practices select "Display" next to "IPV" in the Immunization Configuration tool. In contrast, a practice might sometimes administer a cholera vaccine, but would only need it to appear in the patient's record if a patient received it. They therefore would not check "Display" next to Cholera.
Add Incoming COVID-19 Vaccine Lots in the Lot Manager
When the vaccine arrives at your practice, add it to the Lot Manager in PCC EHR.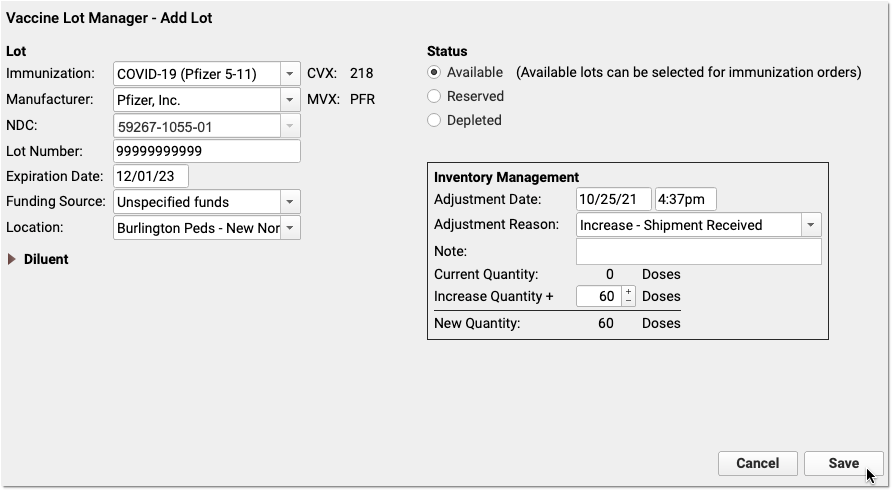 You can use a barcode scanner to enter information, or enter it manually. Use the table at the top of this article as a reference to check dosage, diluent, and NDC code information. Note that cartons and vials have different NDC codes.
Order and Administer a COVID-19 Vaccine
Use the Immunizations component on the chart note to order and administer a vaccine.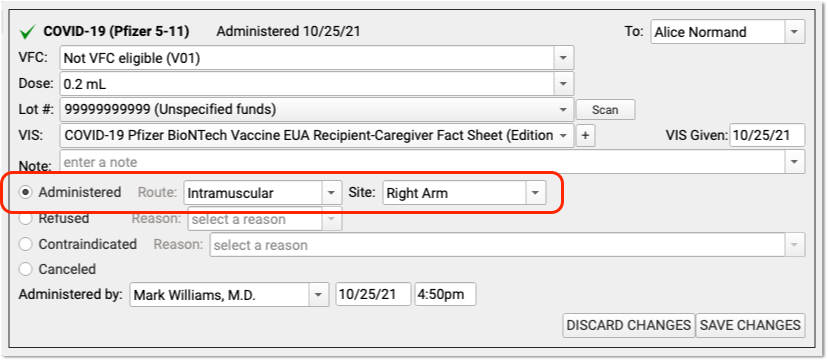 You can also order a vaccine on the chart note which another user can pick up and complete from the Schedule screen.
When you chart the administration of any immunization, you can select a lot, select what VIS you provided, and then indicate that you administered the shot or that it was canceled or refused. PCC EHR will enter your practice's default or most recent shot information for some fields.
Provide an EAU Fact Sheet Instead of a Vaccine Information Sheet (VIS)
In PCC EHR, you can indicate which VIS you provided to a patient. There are currently no VISs for COVID-19 vaccines. Instead, the CDC is working with vaccine manufacturers to prepare and share Emergency Use Authorization Fact Sheets to recipients. The EUAs appear in the drop-down menu instead of the VIS.
Where can your practice download the EUA Fact Sheets for printing? When available, PCC will add links to each EUA Fact Sheet to the grid at the top of this article.
As of March 2021, these sheets are not being hosted or distributed in a consistent manner, so these links may change. (Pfizer-BioNTech, Moderna, Janssen (Johnson & Johnson), AstraZeneca)
The CDC's COVID-19 Vaccine Handout: In addition to the EUA Fact Sheet, your practice may choose to distribute your own materials or the CDC's What to Expect after Getting a COVID-19 Vaccine document. You can find this document at the bottom of each of the CDC's information pages for COVID-19 vaccines approved in the United States.
Bill for COVID-19 Vaccines
When your practice clicks "Order" next to a COVID-19 vaccine, your practice's configured billing diagnoses and procedure codes will appear on the Bill screen automatically.
A clinician will see the codes when they prepare the encounter for billing.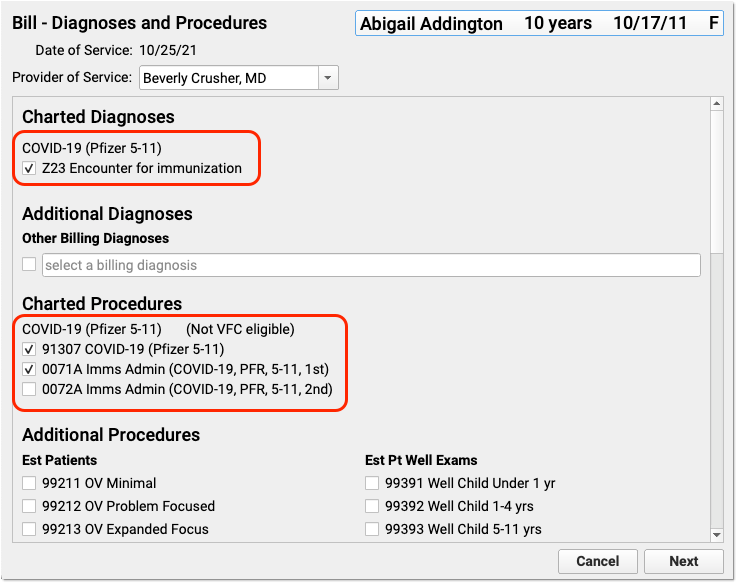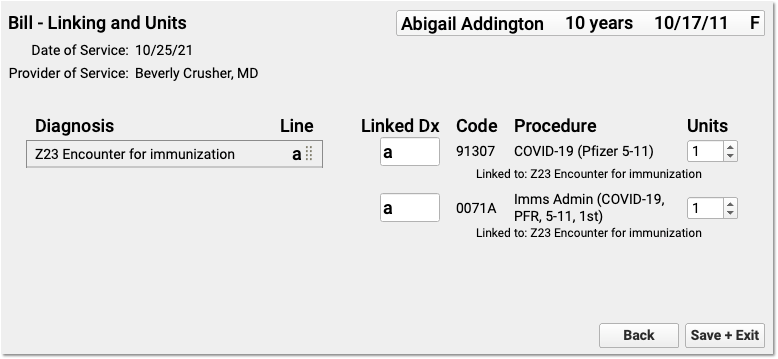 You can make any adjustments needed. (Note that the above example does not include a visit code or other billing codes that might be part of a typical encounter.)
After the clinician has made the encounter ready for billing, the biller can post the charges from the Schedule screen in PCC EHR.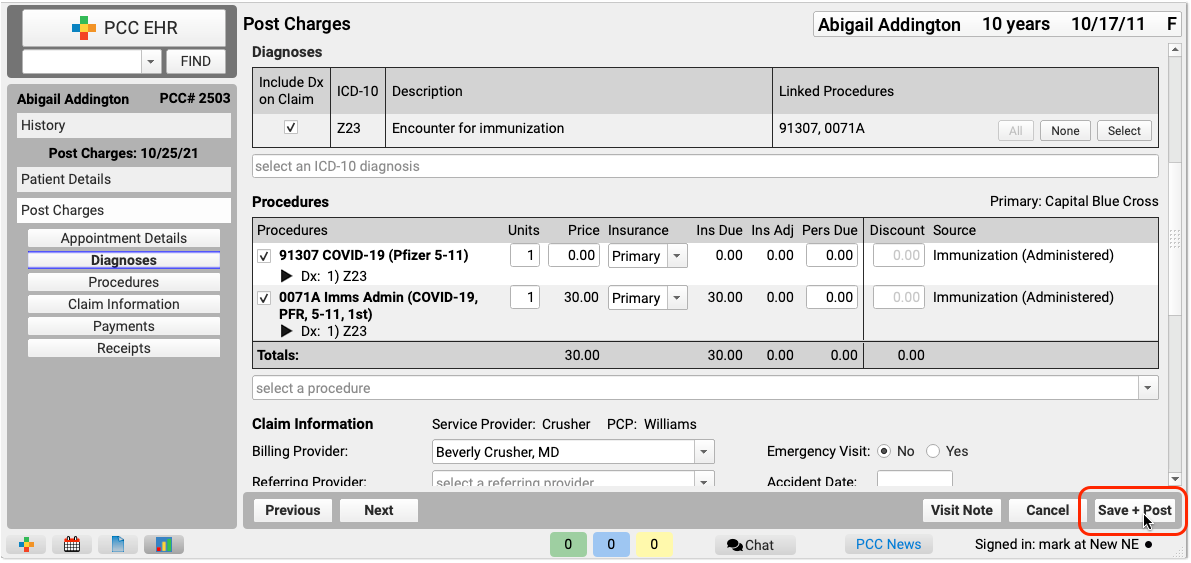 As they post charges, the biller can review and adjust patient information, along with the diagnosis and procedure codes.
What Billing Diagnoses and Procedures Do I Use for a COVID-19 Related Encounter?: While circumstances will vary, PCC has an overview of Coding and Billing for a COVID-19 Related Encounter.
Review and Understand COVID-19 Immunization Forecasting Details
In 2021, PCC anticipates immunization forecasting for COVID-19 will be inconsistent. There are numerous vaccines in play, each with different dosage rules. Federal and State governments may decide to advise clinicians to ignore some periodicity requirements.
PCC is working with our immunization forecasting vendor to deliver updated forecasting as soon as it is available.
As of PCC 8.15, released to all PCC practices in the March of 2021, you will only see a COVID-19 line in the Immunization Forecasting component if a patient has a first dose of a multi-dose vaccine. Support for dose schedules for each approved vaccine is planned.