Best Practices for Use of Automated Communications
Do you need a patient's permission to send them a text message about an upcoming appointment? PCC recommends you obtain written permission to contact patients and families whenever possible.
The federal guidelines and state-by-state requirements around use of an auto-dialer — although more lenient for health care communication — can be complicated and open to interpretation. PCC has compiled a list of pointers and best practices that we hope will help you to better engage with your patients within the FCC TCPA guidelines. As with any legal consideration, we encourage you to consult your own legal counsel. PCC does not intend to and does not provide legal advice.
Get Written Permission to Call or Text Your Patients and Families
You are already in the habit of regularly collecting and updating demographic and contact information. PCC recommends you include "consent to contact" in that process.
Click here for a sample form addendum to use. You can add this or other text to your existing check-in process, demographic update forms, or office policy form. You can also use it as a stand-alone consent form, if you prefer.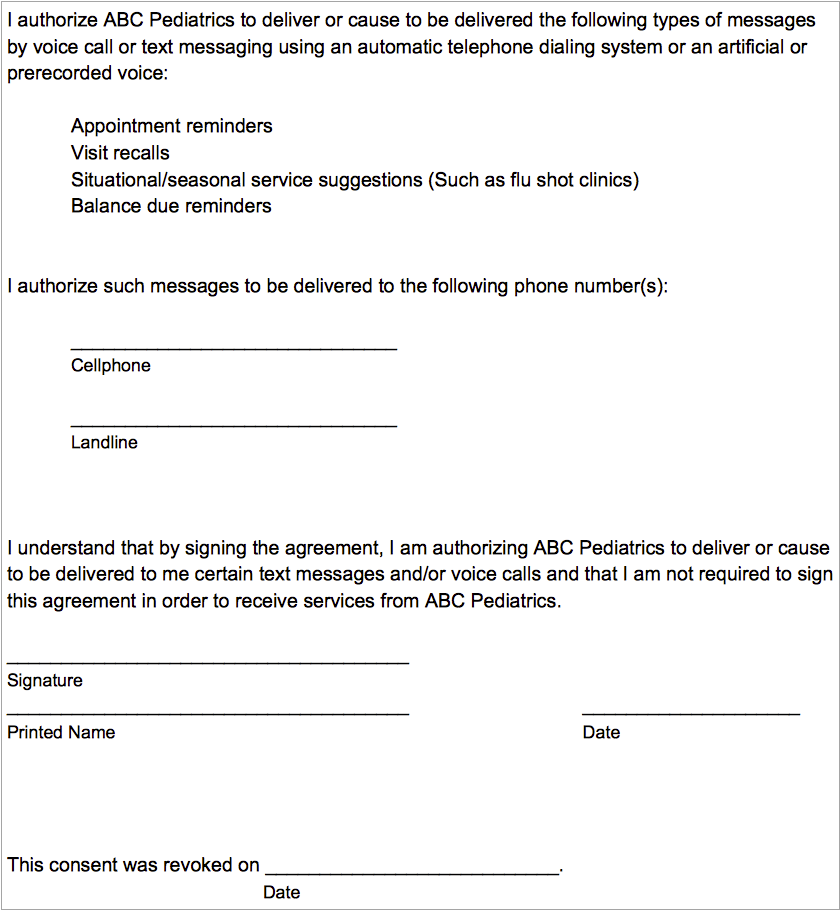 Make sure you have a plan for updating patient and family consent to contact.
Keep Track of Who Has (and Has Not) Given Consent to Contact
Once you have received written permission, you will want to find a way to keep track of it. For example, you can scan the consent form into the patient's chart and add an "opted in" flag to their account.
Conversely, if someone refuses this permission or gives consent but later revokes it, this should be tracked and honored as well. It could be considered a violation of TCPA rules to send a message to a number after consent has been revoked. Flags can be used to manage this. For help using flags in PCC's Notification Center, read this article.
Can a Patient or Family Opt Out Without Contacting You?: If you are using PCC's notify features, patients and families have a built-in method for opting out using their phone. (See Patient Notification Center: Other Considerations and Options). However, it is best to keep track on the patient's record using a flag and adjust your automated notification accordingly.
Track and Use Patient Preferred Contact Method
Use the Confidential Communication Preference fields on the patient record to indicate how your patients and families wish to be contacted for all communication.

Your office can collect a patient's phone, e-mail, or text message preference in the Confidential Communication Preference section of Patient Checkin (checkin), the Patient Editor (notjane), or the Demographics section of the patient's chart in PCC EHR.
Implement Processes to Ensure Consistent Adherence by All Staff Members
Identify your office's method and policy for collecting and documenting written express prior consent. Make sure that all staff members understand the importance of following office protocol.
Additional Key Points for Adherence to TCPA Rules
Here are a few other recommendations based on the TCPA guidelines. As always, PCC recommends you consult your practice's legal counsel for specific situations or concerns.
Do not send non-exempt commercial messages or solicitations, such as an advertisement for your practice or an invitation to use a new service.
It is a good idea to get express consent before sending Account Balance Due reminders. Sending these types of messages without prior consent could be considered in violation of TCPA rules.
SMS text messages are subject to the same protections as voice calls under the TCPA.
Other Communication Options to Consider
What other communication best practices can you follow to improve communication and meet the needs of your patients?
Use Email: Email is an excellent way to communicate with your patients and their families, as it can be easily stored and referenced when needed. Email can be a useful option for expanding patient outreach.

Use Patient Portal Messages: PCC's patient portal provides a secure way to send and receive messages. The portal is PCC's preferred method of patient communication.

Use a Family's Preferred Language: A large percentage of Americans' primary language is not English. Being open to communicating with your patients in their preferred language is an easy way to improve patient satisfaction, and ensure that your messages are read. It can also increase response rates.

Be Strategic About Call Times: Research shows that calls placed between 5:00 and 8:00pm are 20% more effective at reaching a live person than calls earlier in the day. Of live-answered calls, those placed between 5 and 8 are 45% more effective at achieving an active response (confirmation or reschedule). For help using PCC's Notification Center to set up call times, read this article.