Read Your PCC Email with Roundcube
Roundcube is a fast and powerful Web-based email program you can use to access your PCC-provided email. With Roundcube, you can read and send email and attachments from within a Web browser such as Firefox or Internet Explorer. This manual contains an introduction to Roundcube.
Start Roundcube and Login
Open a Web Browser
Open your web browser of choice. Roundcube will work in any browser. Note that browsers on mobile devices may display a more limited interface optimized for mobile devices.
Enter Your Office's Web Mail Address
In the browser address bar, enter your practice's Web Mail address. Your address is your PCC acronym followed by pcc.com/roundcube. For example, if you work at Bedrock Pediatric Associates, your PCC acronym might be ROCKPA. Your Web Mail page would be https://rockpa.pcc.com/roundcube/.

You can bookmark this page or create a Web shortcut on your desktop for quick access to Roundcube.
Type Your Name and Password
Your email name and password are the same as for PCC EHR. If you do not have a PCC login, contact your practice's system administrator or office manager.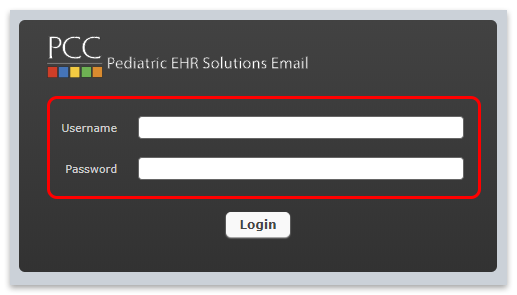 View Your Email
You can now use your Roundcube email. Roundcube opens to your inbox, where you can read, reply, and otherwise manage your messages.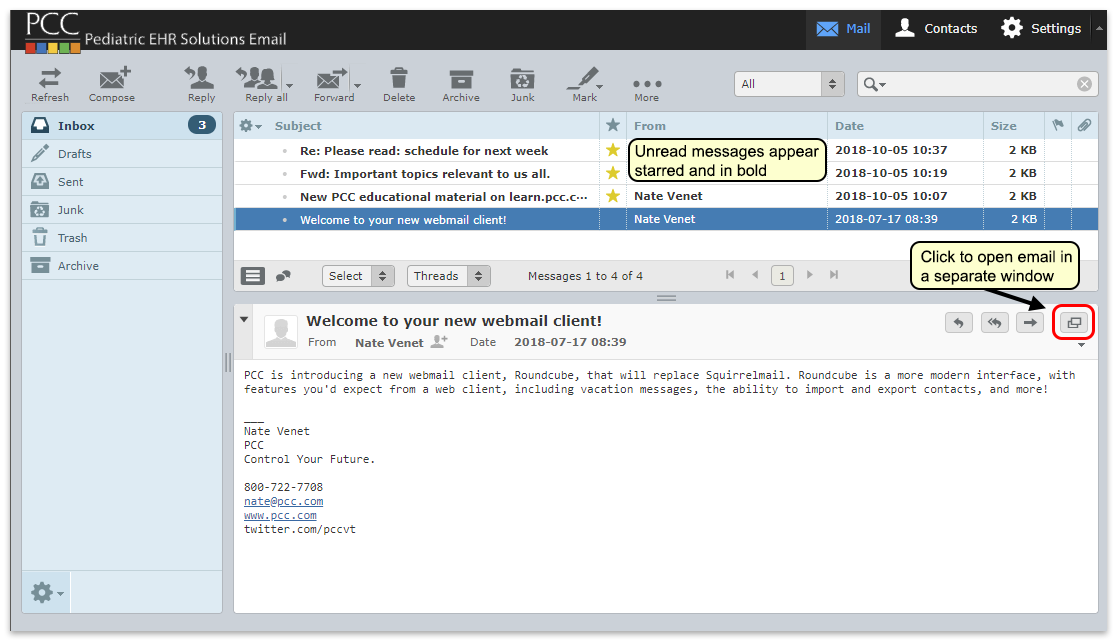 Send an Email Message
Follow the procedure below to send an email message.
Click "Compose"
Click "Compose" to begin writing a new email message. Or, click "Reply" while viewing a message to compose a reply email to the sender. You can click "Reply all" to ensure that your message will also be sent to everyone who received the original message.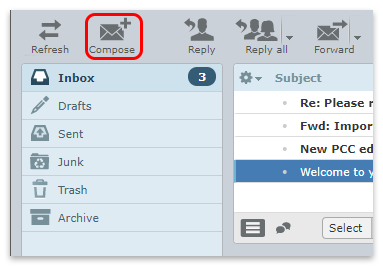 Compose Your Message
Enter the address of the recipient, subject, and message text in the fields provided. Press the Tab key to move from field to field.
Use the "Attach a file" button to browse your local computer or network for attachments, or simply drag the file onto the attachment area of the email, as shown below.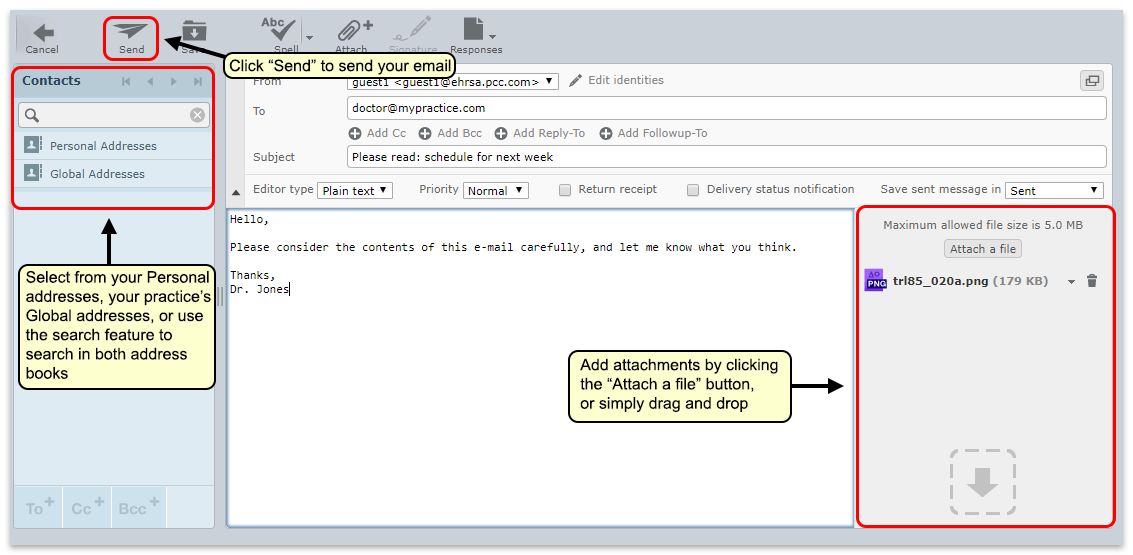 Multiple Recipients?: You can add several email addresses in the "To" field, separating each one with a comma. You can also use the "Add Cc" or "Add Bcc" features to send copies of your email to additional recipients. Recipients that you list in the "Bcc" field will not see the list of other recipients of the email.
HTML vs. Plain Text: Sometimes you might want to compose an email using fonts, formatting, bullets, and embedded images. By default Roundcube composes all emails in plain text, but you can switch to an HTML formatted version using the "Editor type" drop-down. You can change this default behavior in the "Settings" menu.
Manage Folders
You may want to set up folders for your mail. You can do this using the "Manage folders" option under the gear icon.
Open Folder Settings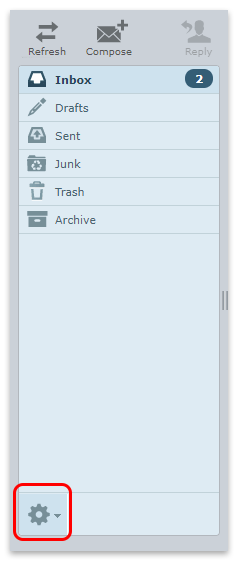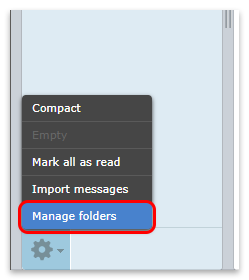 Settings Menu: You can also access this page through the "Settings" gear icon at the top of your Roundcube window.
Add Folders
Here you can review, add and delete folders.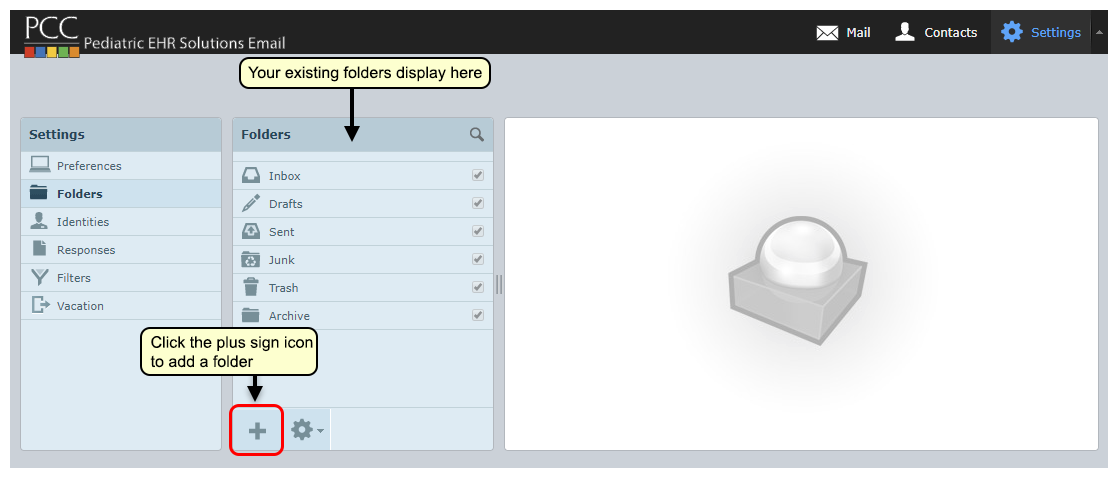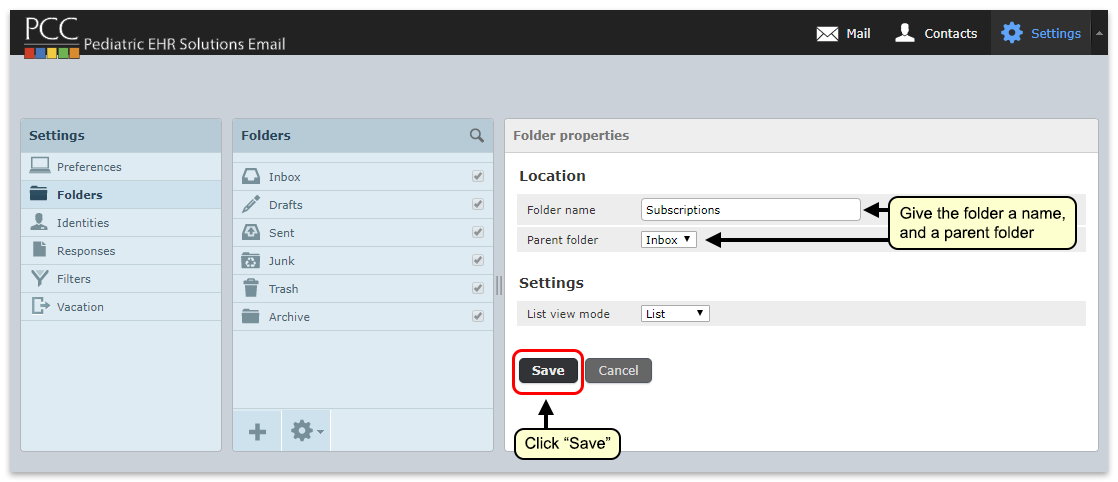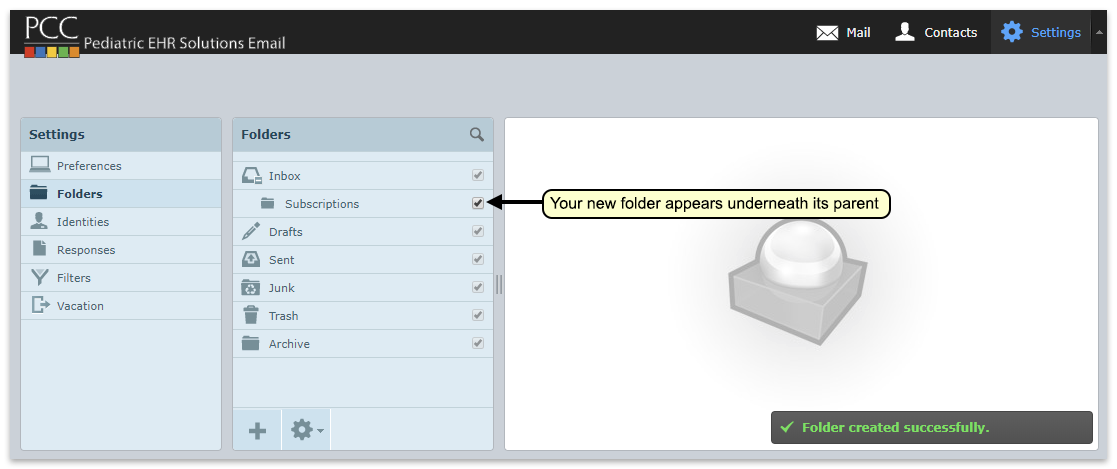 Back on your Mail screen, you will see your new folder. Drag and drop emails into the folder, or set up filters to automatically file incoming mail into various folders.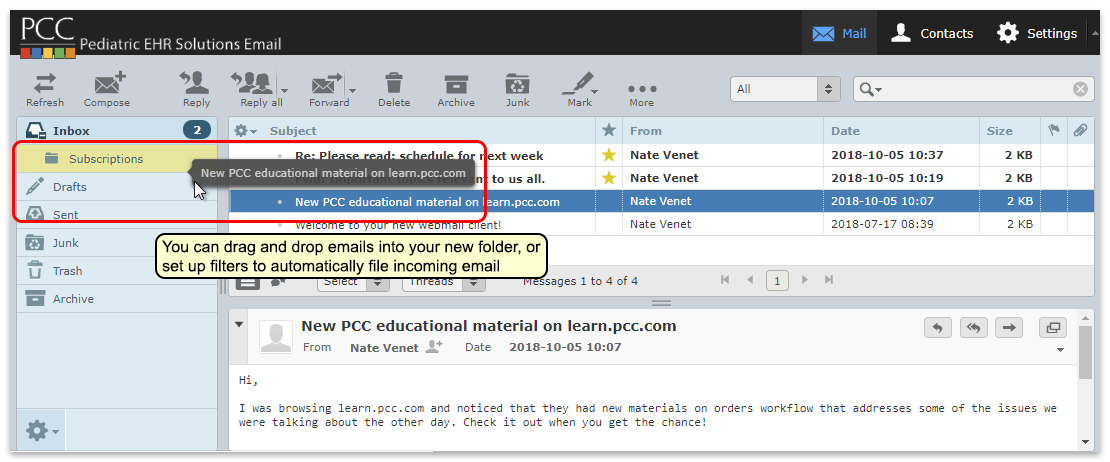 Flat File Structure: Roundcube uses a flat file structure for folders. This means that you cannot normally "nest" folders. You can only create folders at the top level or inside your Inbox. However, if you used nested folders with a different e-mail program, such as Squirrel Mail, Roundcube will recognize and preserve that folder structure.
Contacts
You can add email addresses to Roundcube's address book, making it faster and easier to email your frequent contacts.
Access your address book by clicking on the "Contacts" button at the top of the page.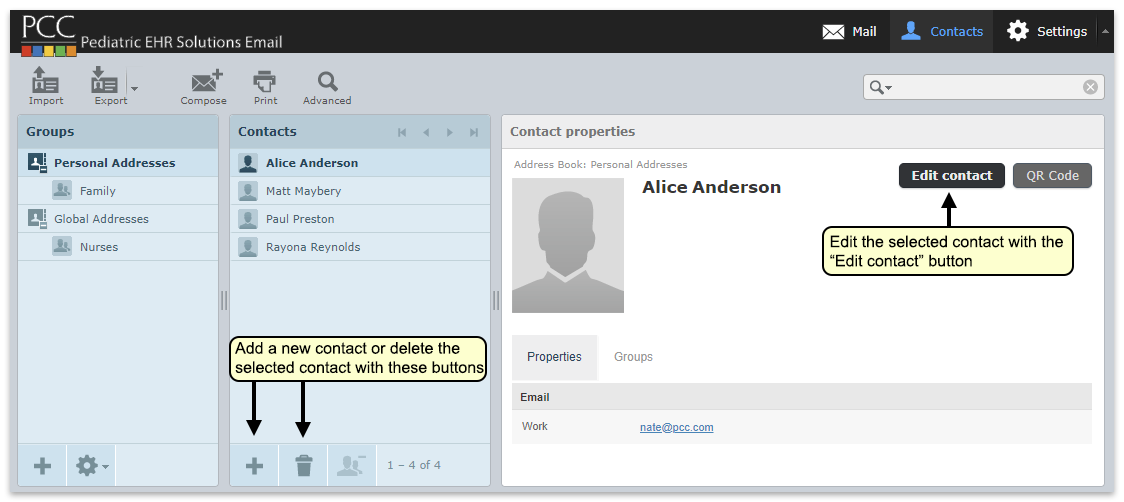 You can add, remove, and edit contacts from your address book. Contacts in your address book will auto fill in any of the "to" fields when you compose email.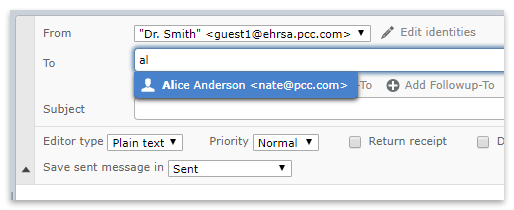 Contact Groups
You can add addresses to Contact Groups. You can then send an email to an entire group just by selecting the group, instead of manually adding each email.
On the Contacts Page, click the Plus icon to add a group.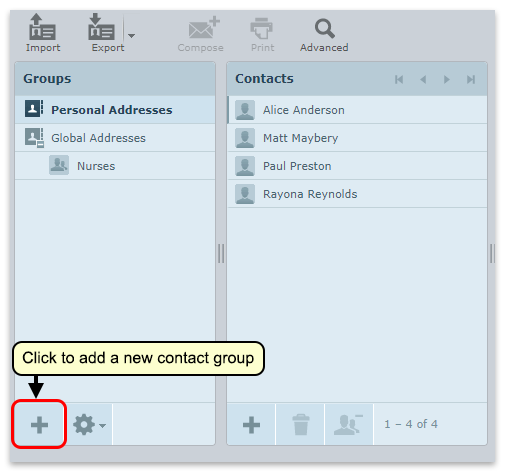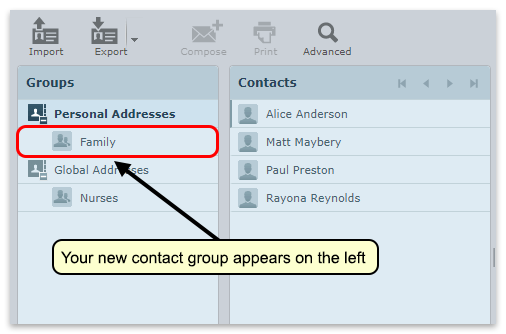 Then, drag contacts from your contact list into the group.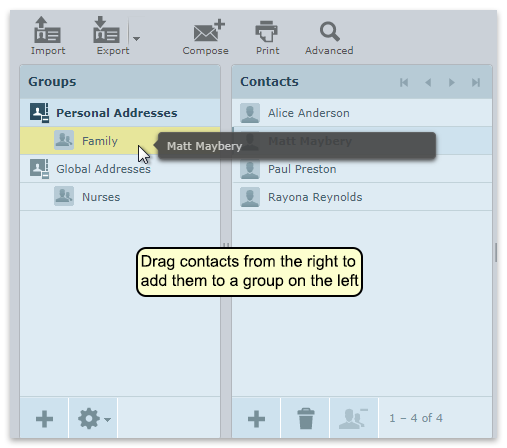 When composing an email, entering the group name into the to/cc/bcc fields will add all contacts in that group.


Global Addresses
Your personal address book is only available to you, but your practice's administrator can add contacts to a practice-wide, global address book that is available to all email users. Contact your CA for help with your global address book.
Importing Contacts from SquirrelMail
If you previously used SquirrelMail, you may have contacts that you want to import into Roundcube. Follow these instructions to import your contacts.
Export your Contacts from SquirrelMail
Log into SquirrelMail, go to your address book, and click "Export to CSV File"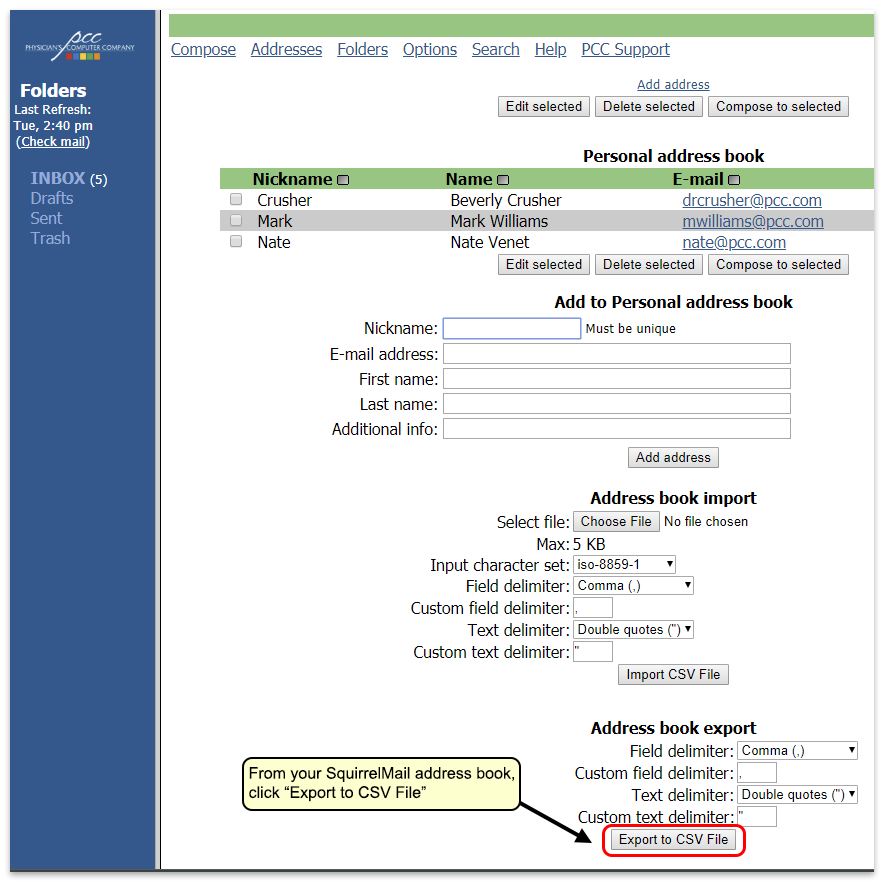 Click the "Import" Icon in Roundcube
From Roundcube's "Contacts" page, click the "Import" icon.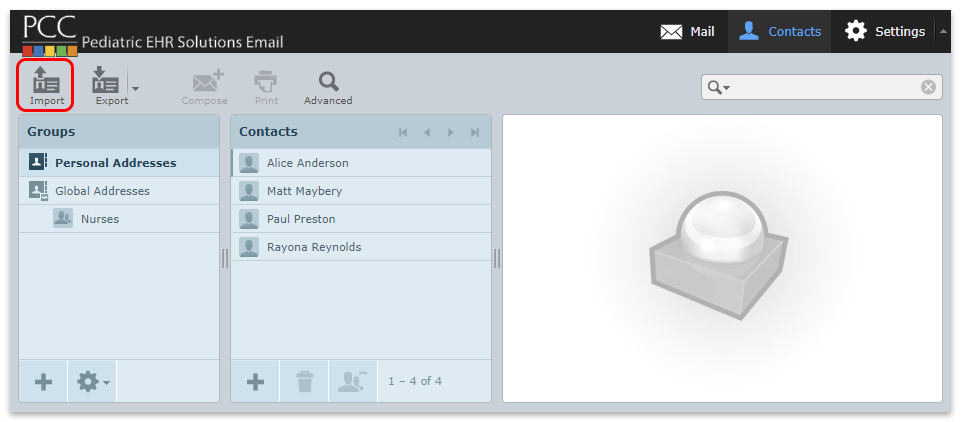 Select the File to Import
Click "Choose Files", and select the CSV export from SquirrelMail.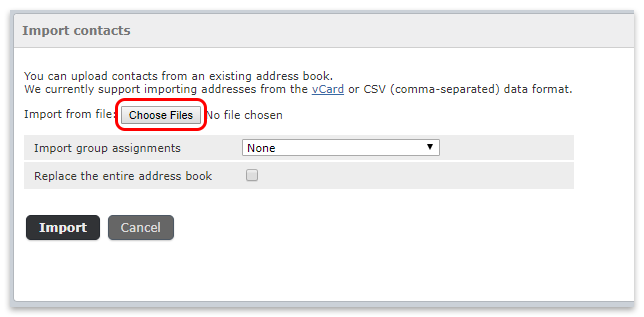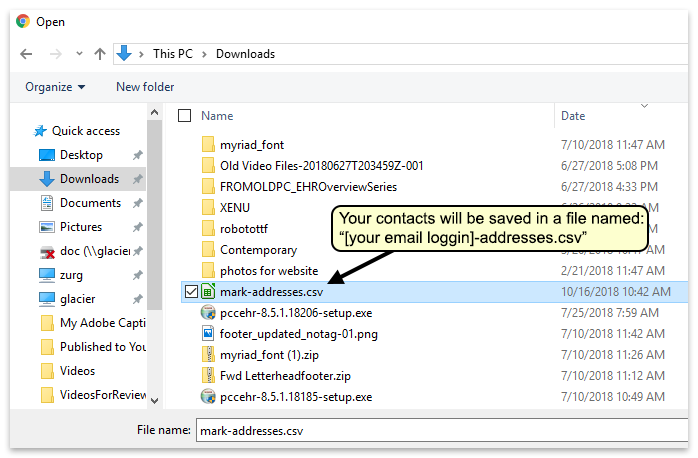 Import the File
Click "Import" to complete the import.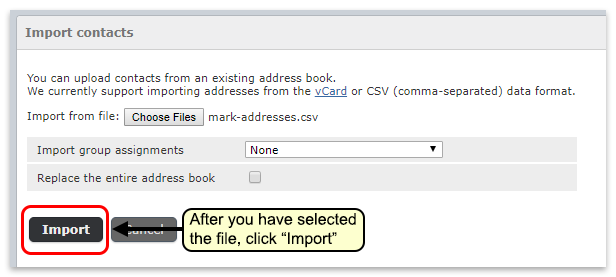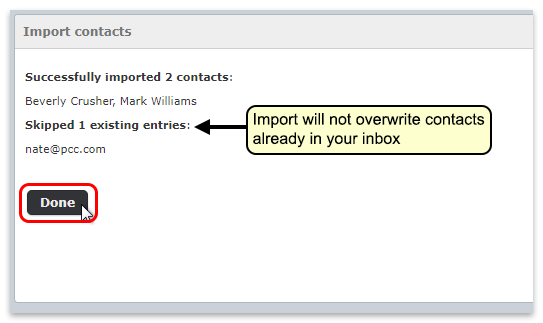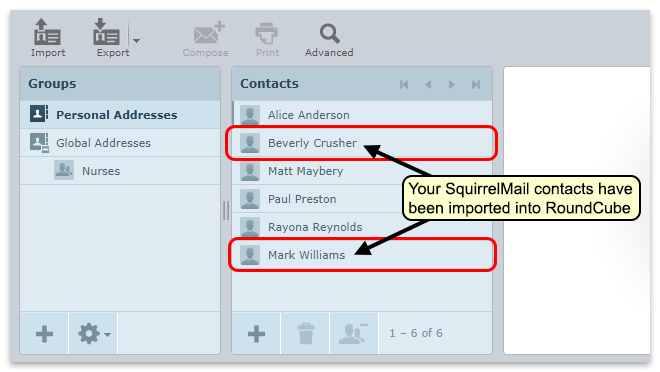 Vacation Messages
Roundcube allows you set up an auto-reply away message. You can adjust and activate your away message on the "Vacation" window under "Settings"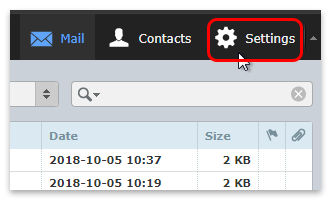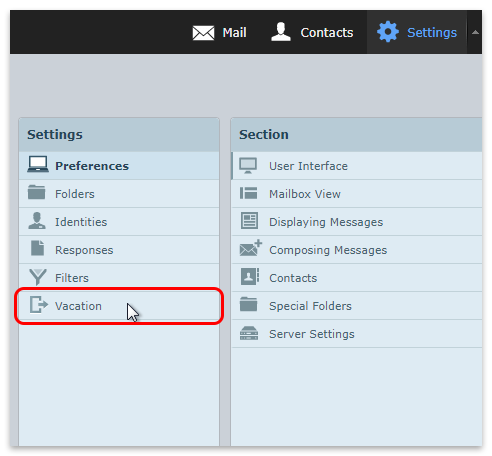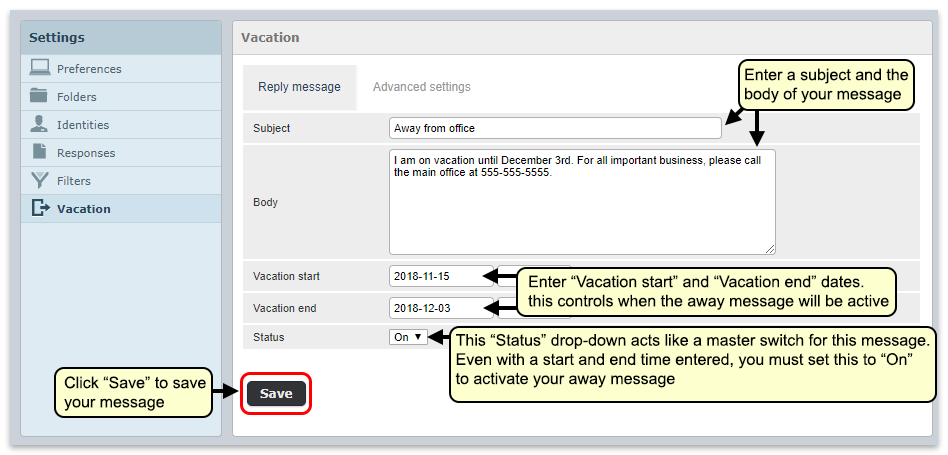 Start and End dates vs. On/Off Status: You can set specific start and end dates for your away message so that it will automatically activate on a specific date, and turn off on a subsequent date. You can also manually turn your message on and off by leaving the start and end times blank and using the Status drop-down to turn the message on and off. Note that if the Status is set to "Off", your away message will not be sent, even if there are start and end dates set.