Generate Form Letters in PCC EHR
Your practice can generate visit forms, excuse letters, camp forms, and other form letters in PCC EHR. Whether you print forms on paper, or create electronic copies in the patient's chart and send them via the patient portal, PCC EHR can create the form you need.
Print a Batch of Visit Forms for the Day
Use the Print Visit Forms tool to print a batch of visit forms for all of a day's encounters.
For more information, read Print Visit Forms.
Generate and/or Print a Single Form
Use the chart-wide Forms component to generate patient forms in PCC EHR.

Your practice can add the Forms component to chart notes, your Medical Summary, Demographics, or any other PCC EHR ribbon in order to support your workflow. You can also configure which forms will appear by default for "one click" generating on each chart note. The Forms component will always display the drop-down menu giving you access to all forms.
When you click "Generate" or select a form from the drop-down, a pop-up appears prompting for any additional required information. If there is no additional information required, this step is skipped.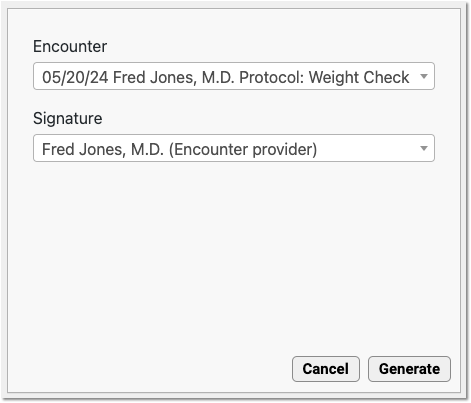 Next, PCC EHR opens the Document Viewer, where you can review the form, optionally attach it to a visit or order, choose where to save a copy in the patient's chart, indicate whether or not it will appear in the patient portal (this option is selected by default), or print it.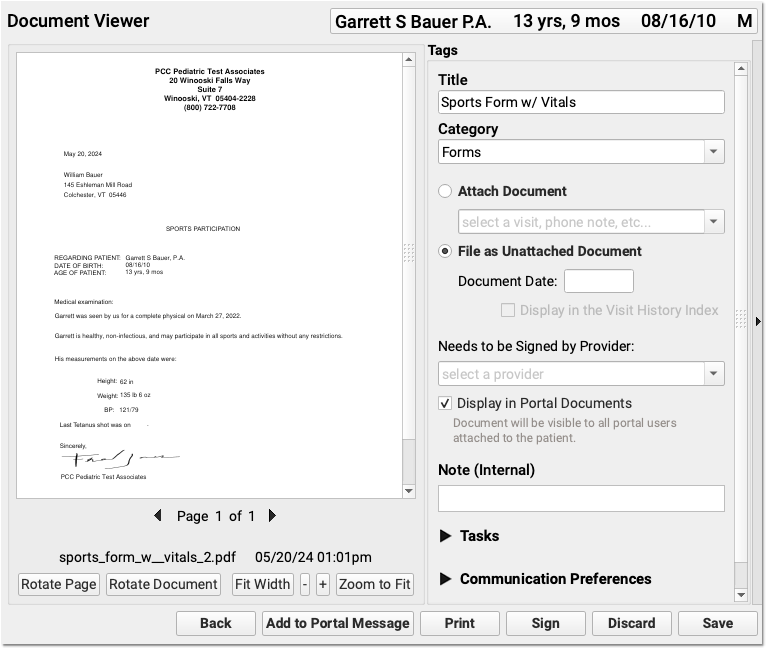 By default, PCC EHR will save forms to the "Forms" document category in the patient's chart. You can change this default on the Assigned Categories tab in the Documents Administration tool (see below).
Forms Fill in Variables: PCC form letters can have form letter variables which automatically fill in with information about your practice, the patient, or a particular visit or issue. Certain variables can even tell if they are being generated within a chart note, and fill in the form letter using details from that specific visit, phone note, or portal message. If your practice has multiple locations, PCC EHR can fill in practice information based on your working location.
Generate Immunization School Forms in PCC EHR
Click "Print" at the top of a patient's Immunization record to generate your practice's customizable school form.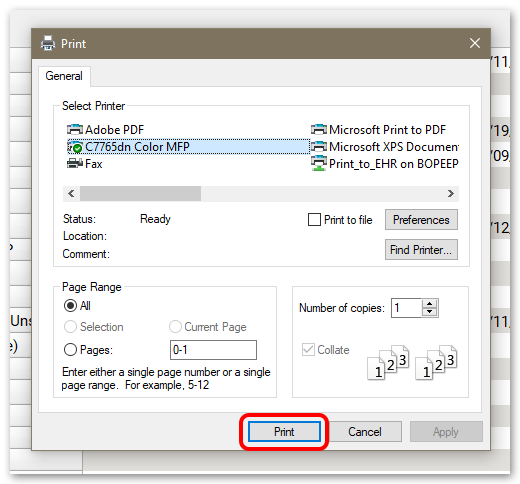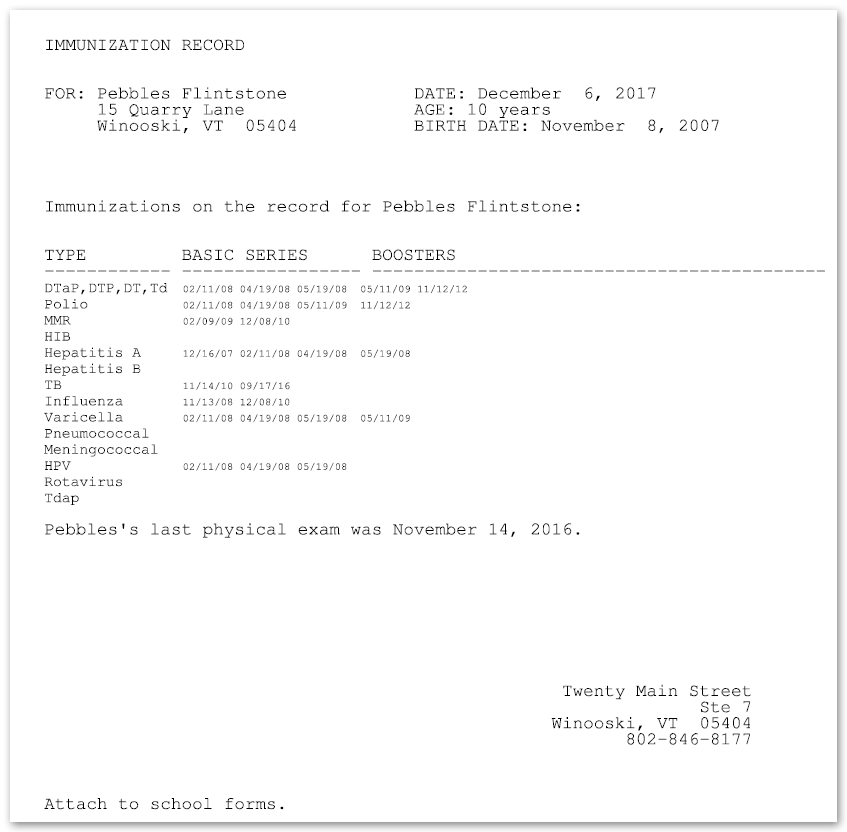 If your office has multiple school form formats, you can select the one you want before printing.



If you don't see the school form you expect, get in touch with PCC Support at support@pcc.com or 1-800-722-7708. They can help you customize and configure your school form(s) so they are available and print correctly from PCC EHR.
Families Can Generate an Immunization School Form in the Patient Portal: Families can access their patient's immunization record and generate a school form from the patient portal. For more information, read the My Kid's Chart User Guide.
Generate Lab and Radiology Requisitions in PCC EHR
After you create lab or radiology orders and document diagnoses in a patient's visit protocol, you can generate a requisition form.
Click the "Generate Requisition" button in the Lab or Radiology component of the chart note protocol.

Select orders and supporting diagnoses for the requisition. The options in the window reflect what you charted in the patient's visit protocol.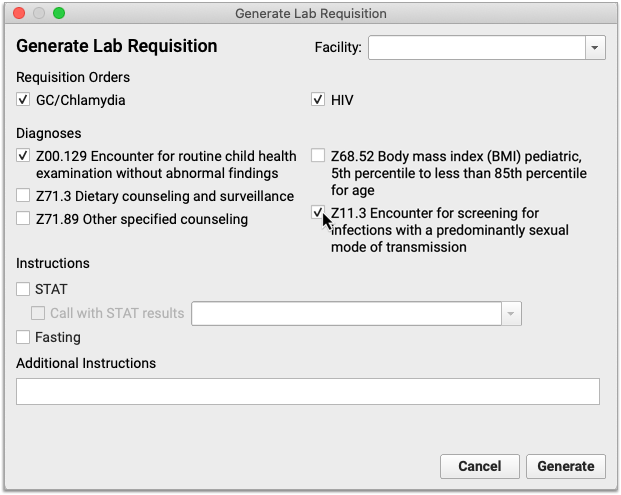 Optionally define special instructions for the facility to follow.

If generating a lab requisition, you can also include a facility name, address, and phone number on the requisition by selecting a lab from the "Facility" drop-down.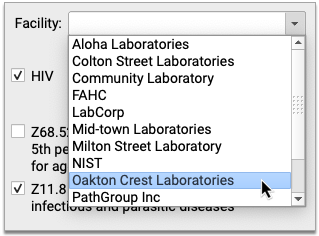 Once the requisition options have been filled out, click "Generate".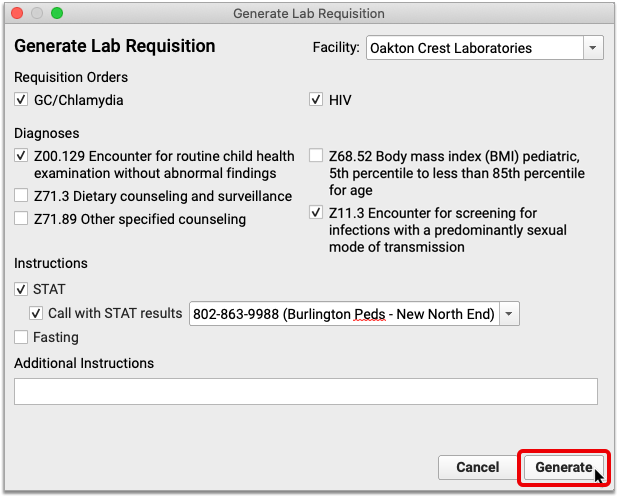 The generated requisition opens in a document viewer window where you can give it a title, categorize it, add tasks, share it to the patient portal, print it, and more. If you need to make a change before sending it out, click the "Back" button and adjust the settings.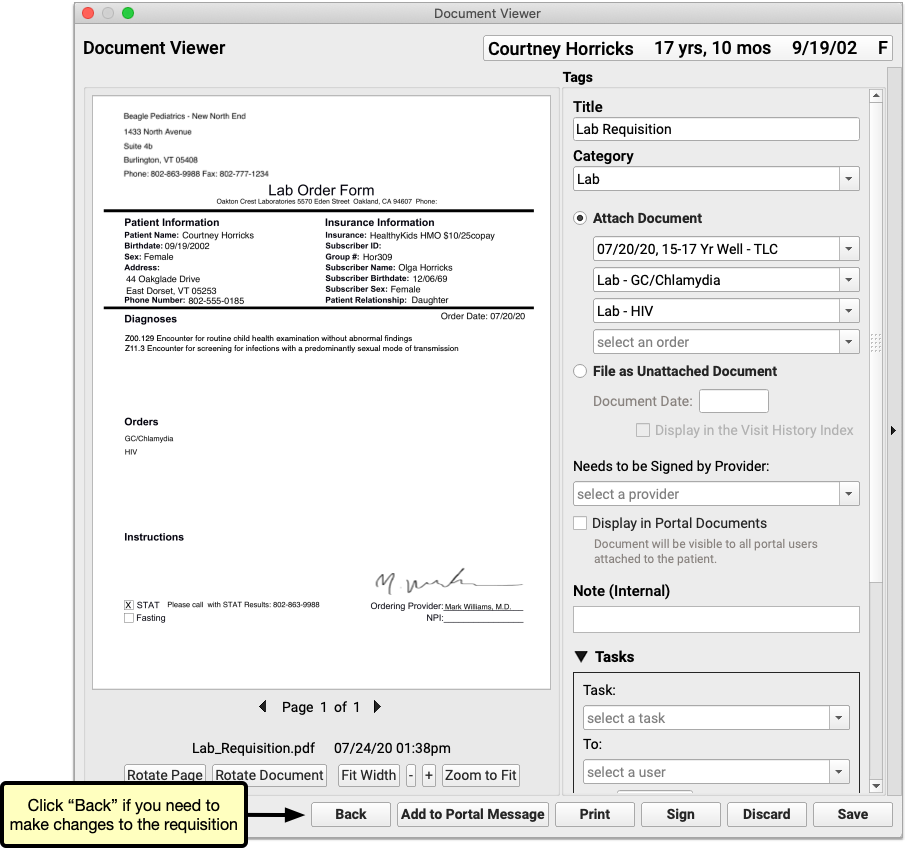 You can learn more about how to configure and generate lab and radiology requisitions in the article Generate Outbound Lab and Radiology Requisitions.
Configure the Forms Component in PCC EHR
You can improve form letter workflow for your practice by making sure the right forms appear on the right protocols.
Where Should You See the Forms Component, and Which Forms Should Be Single-Click?
You can place the Forms component on any chart note protocol, decide where it should live on your Medical Summary, Demographics, and other chart note sections, and adjust which forms appear by default.

To place (or move) the Forms component, open the Protocol Configuration tool and pick either a chart section or a chart note protocol in the Protocol Builder.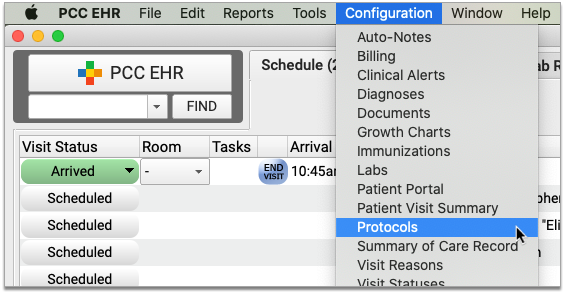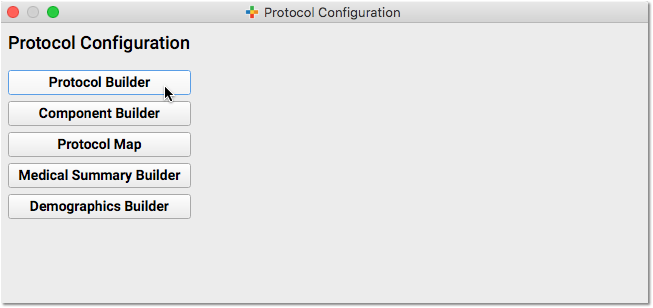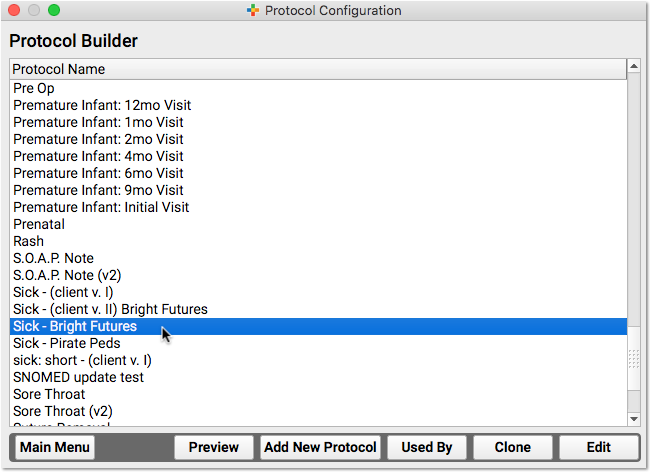 Click "Add" to add the Forms component. Use the tab on the side to slide it to a new location on the protocol.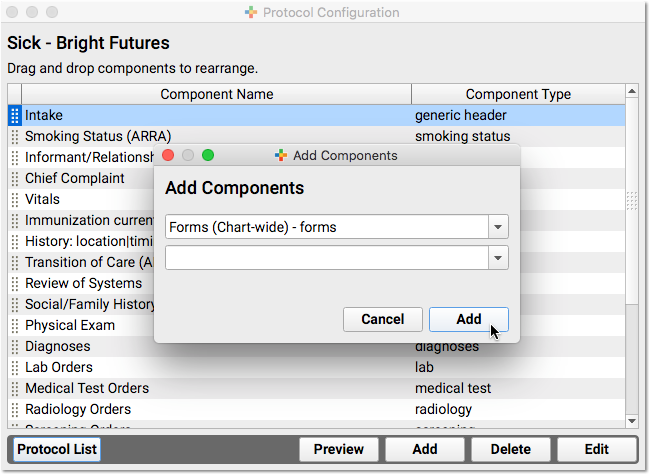 Double-click on the component to set up default forms for that chart note or chart section.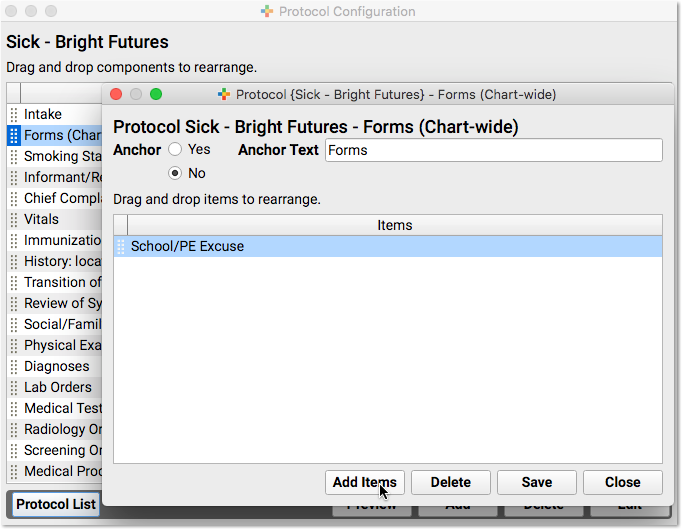 For example, you may want to add the School/PE Excuse form letter to sick visits. If you are adding the Forms component to the Demographics chart section, or configuring it for the Medical Summary, you might want to add form letters that would help your practice with their workflow when using that section of a patient's chart.
Watermarks, Questions, and Custom Forms: Test Printing on Workstations
If your practice generates form letters that have watermarks, ask form letter questions, or use other special features, you should test those forms from PCC EHR to see if they work as expected.
For example, if you generate a watermark, you may need to adjust the printing settings in your workstation's operating system to make the watermark print at the right darkness level. And if PCC Support helped you set up a custom form with unusual script or information requirements, they may need to make adjustments after your update.
Adjust Default Forms Category
By default, PCC EHR will save a form letter into a Forms category, which you can later review in the Documents section of the patient's chart.
Optionally, you can use the Document Administration tool to change the default save location for forms.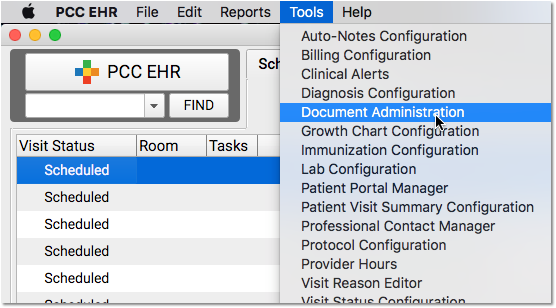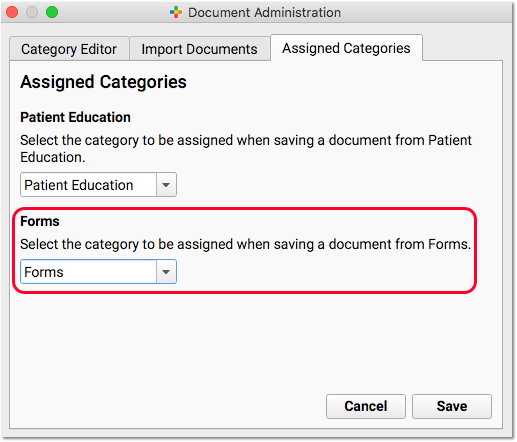 Add a New Form to PCC EHR
If you want to add, edit, or remove forms from PCC EHR, contact PCC Support at support@pcc.com or 1-800-722-7708. They can train you in form configuration for your Practice Management form letters.
If you provide a document, link, or PDF of your form to PCC Support, they can help format and install that form onto your PCC EHR system. They can optionally use variables so the form will automatically include patient or family information. Note that there is typically some turnaround time needed for these requests.