Schedule, Chart, and Bill a Telemedicine Visit in PCC EHR
Use PCC EHR to schedule, chart, and bill a telemedicine visit.
Read the procedure below to learn how to perform a telemedicine visit with PCC, and then read the configuration steps to learn how to customize PCC EHR for your telemedicine workflow.
Perform a Telemedicine Visit
Read the procedure below for an overview of how to schedule, chart, and bill a telemedicine encounter in PCC EHR.
Schedule the Patient's Appointment
Use the Appointment Book to schedule a patient, just as you would any other encounter. Use a telemedicine visit reason.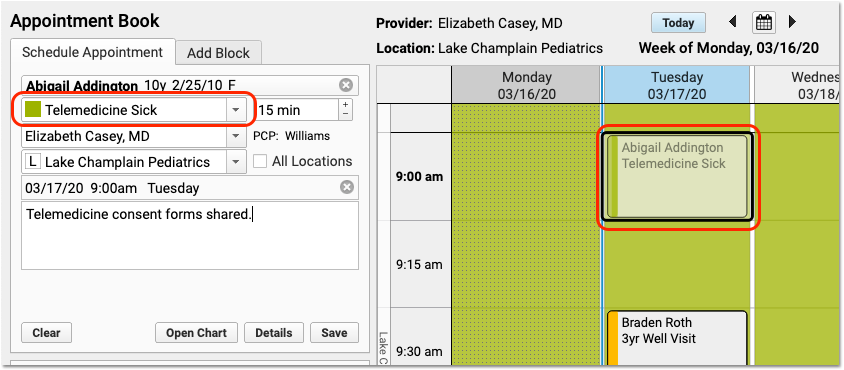 Even if you are recording a telemedicine encounter on-the-fly from a phone call, PCC recommends you schedule the appointment so it will appear in the clinician's schedule and be ready to chart and bill.
When your practice schedules a telemedicine visit, they can review telemedicine consent, insurance information, and any additional details you normally confirm with the patient or family.
To learn more about the Appointment Book, visit Schedule Patients in the Appointment Book.
Your practice may be using a third-party Telemedicine vendor to establish a connection to your patient. You may need to schedule that connection in the vendor's system, or share the connection URL address with the family. Incorporate these needs into your practice's scheduling procedures so that when it is time for the visit, both the clinician and family know what to do.
Check Eligibility, Send Reminders
As you would for any other appointment, your practice can use PCC's tools to check patient insurance eligibility and send appointment reminders.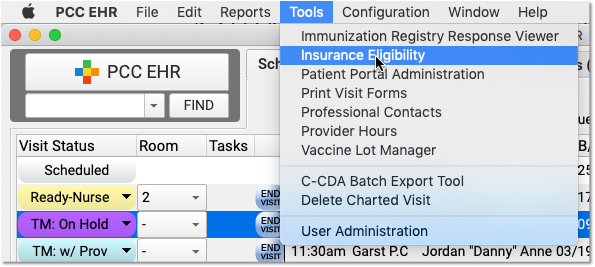 Is This Telemedicine Visit Billable?: Insurance requirements and payment differ for every payer, and often on a state-by-state basis. At this time, PCC recommends that you contact your major payers and learn what they require for Telemedicine visits. While the events surrounding the COVID-19 crisis will likely improve payer responsiveness to telemedicine services, historically there has been a wide range of support and payment from payer to payer. PCC is tracking this issue at a national level and will share what we learn, and you can find out more by tuning in to one of PCC's upcoming weblabs.
Manage Your Schedule in PCC EHR, Update Visit Statuses When You Connect to the Patient
Your office may initiate telemedicine calls using the phone, video chat, or a third-party telemedicine application. As you make the connection, your practice can track each encounter's status on the Schedule tab in PCC EHR.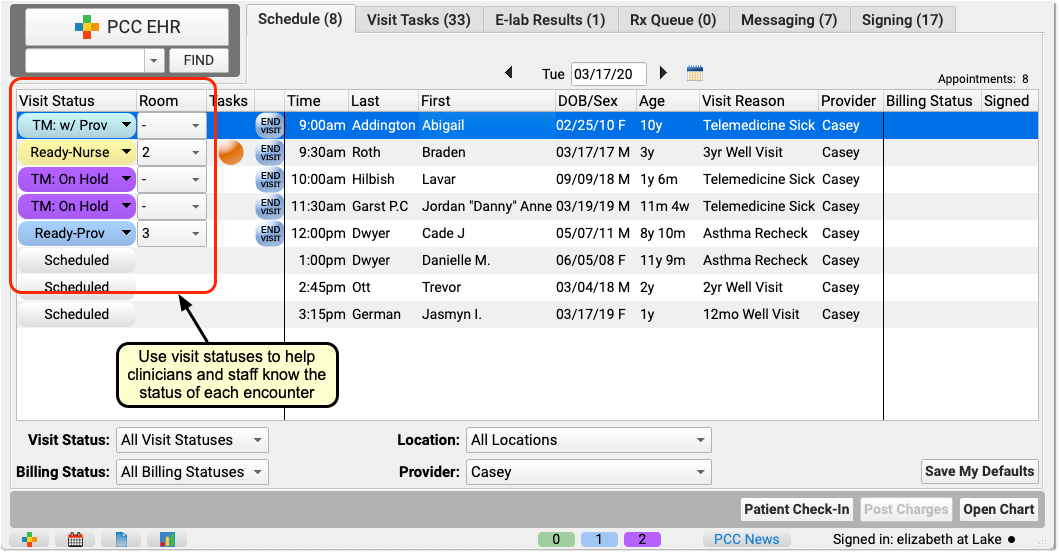 By using Visit Statuses, all clinicians and staff at your practice can know what patients are ready to be seen, which are on hold, and who is coming up next.
Perform the Exam and Chart the Visit
Next, the clinician double-clicks on the patient's name to open the chart and begin the visit.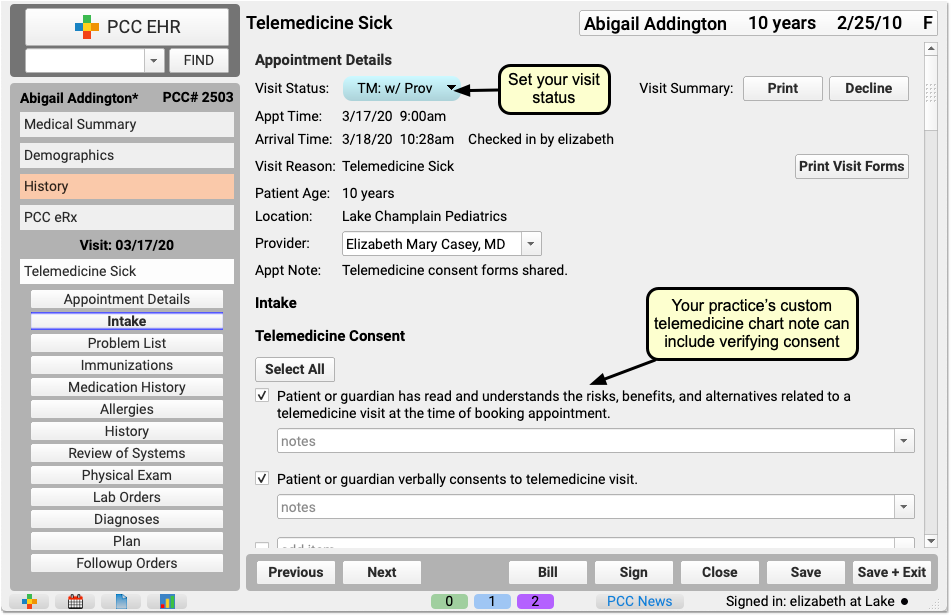 Clinicians can use your practice's customizable telemedicine chart note protocol to review vitals, history, and perform other steps.
Your practice could include a "Telemedicine Consent" component at the top as illustrated above.
Collect and Record Vitals During a Telemedicine Visit?: Your practice may want to collect vitals as reported by the parent or patient, and indicate the source of that information. You could use PCC's standard Vitals component and indicate they were reported and not measured, or you could create custom components to indicate the source of information.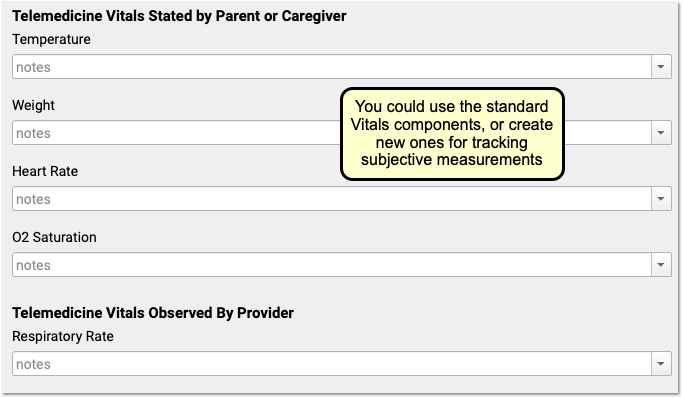 For more tips on designing a great Telemedicine chart note protocol, see the configuration section at the bottom of this article.
Select Diagnoses, Orders, and Indicate Other Procedures
After a visit is complete, the clinician should double-check diagnoses along with procedures and other orders on the chart note.


You can also click "PCC eRx" to create prescriptions. New and renewed prescriptions will automatically append to the bottom of the chart note.
Make the Visit Ready for Billing
Next, click "Bill" to select and link codes on the Electronic Encounter Form.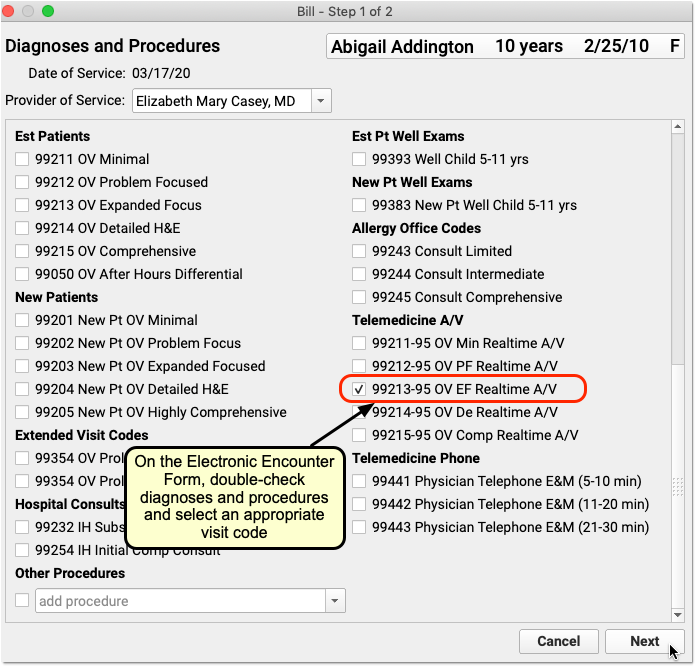 For a telemedicine visit, you might select a -95 code for a live audio and video E&M visit. For a phone-only visit, you might use time based codes 99441-99443. Check out the configuration section below to learn about other telemedicine visit codes.
Coding a COVID-19 Telemedicine Visit: PCC is continually researching and maintaining a guide on how to code and bill for telemedicine, or any kind of visit, in the context of the COVID-19 pandemic. The topic is rapidly evolving. Visit PCC's COVID-19 page for related links and news.
After you review and add codes, you can review units and linking and make the visit ready for billing.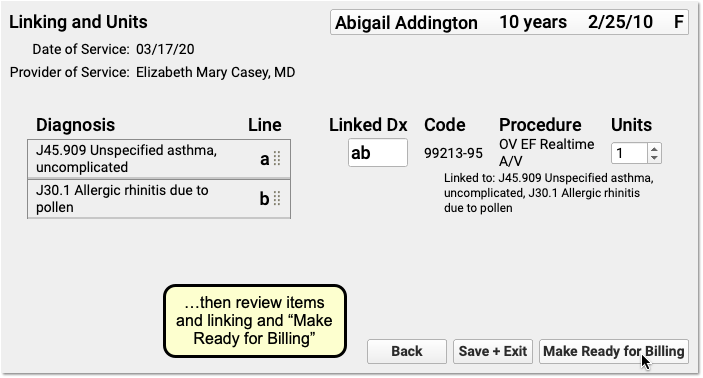 Sign the Chart Note
Complete charting and sign the chart note just as you would for other encounters.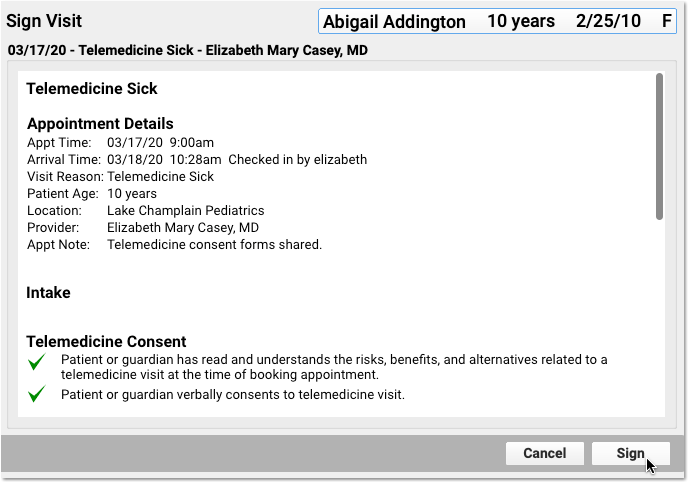 PCC EHR supports cosigning providers if needed.
Option 1: Need to Change Place of Service? Post Charges in Practice Management
Depending on your configuration, your practice may need to switch an encounter to a new place of service for billing. Telemedicine visits often require a place of service code of "02", when your office has a code of "11".
If you need to change the Place of Service for the claim, then as of PCC 8.12, you must post the encounter in the Practice Management system. PCC Support can help your biller with this process.


As they review encounter details and make any adjustments needed to diagnoses, procedures, or claim information, the biller can modify any details needed by payers for a successful telemedicine claim.
Option 2: Post Charges and Queue Up a Claim in PCC EHR
If you do not need to switch the visit's place of service, you can post charges in PCC EHR.
After the clinician has made the encounter ready for billing, your practice can click "Ready to Post" to post charges and bill the encounter.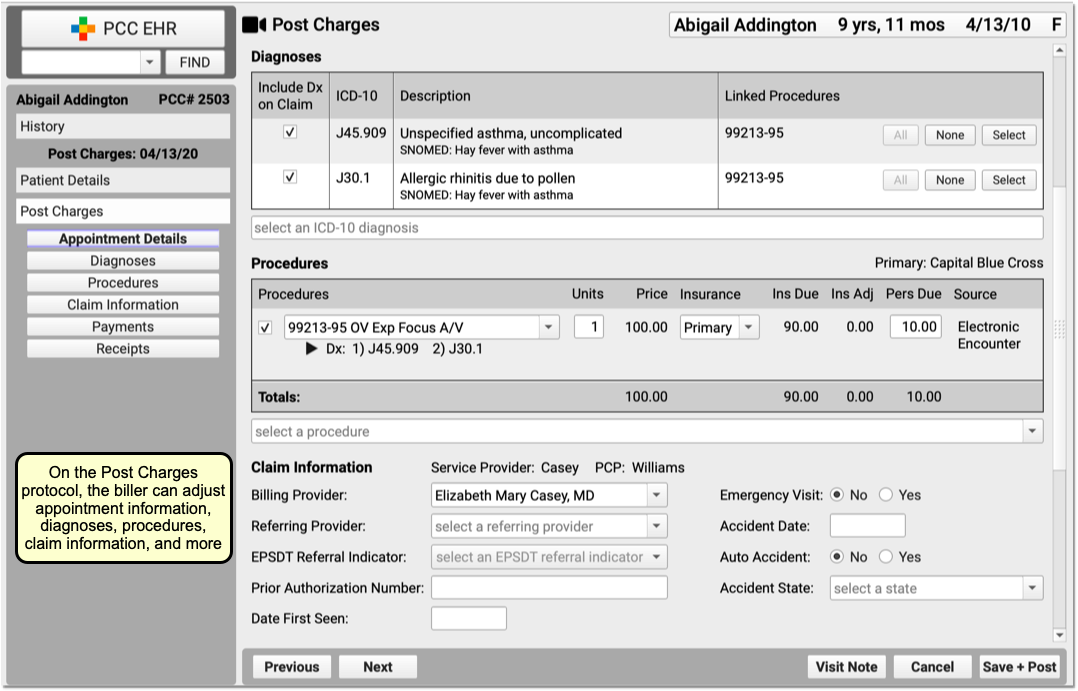 As they review encounter details and make any adjustments needed to diagnoses, procedures, or claim information, the biller can modify any details needed by payers for a successful telemedicine claim.
Bill for a Phone Call as Telemedicine
By using the above procedure, you can schedule, chart, and bill for a telemedicine encounter.
You can also turn phone calls, charted only with a PCC EHR phone note, into a billable, telemedicine encounter.
Read Get Paid for Telemedicine Phone Note Encounters to learn more.
Use Patient Portal Messages or Email as a Billable Telemedicine Encounter
If you help a patient by exchanging secure portal messages, email, or other asynchronous text communication, can you then bill for that encounter as a telemedicine visit?
Yes, though many conditions apply. PCC practices have helped patients in this way, and had some success billing the visits with 99421-99423 codes.
For more information about these codes, see PCC's COVID-19 Coding Guide for Telemedicine, Diagnoses, Procedures, and Other Billing Topics.
Other Telemedicine Resources
As you research tools and procedures for telemedicine in your practice, you may find these helpful:
Configure PCC EHR for Telemedicine Visits
Before you use telemedicine at your practice, you should consider changes to how you schedule, chart, and bill. Read the procedure below for an overview of the kinds of changes you should make.
Create Telemedicine Visit Reasons for Scheduling
When you schedule, perform, or bill a telemedicine visit, it should be clear to everyone at your practice that the encounter is happening remotely.
Open the Visit Reasons Editor from the Configuration menu and create one or more visit reasons for telemedicine.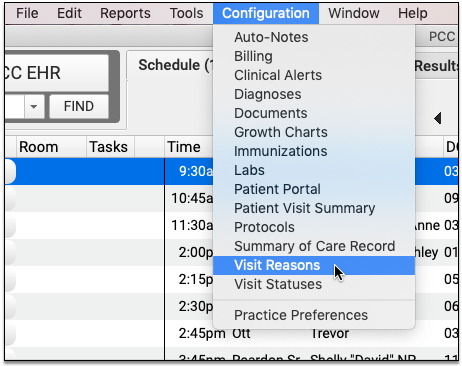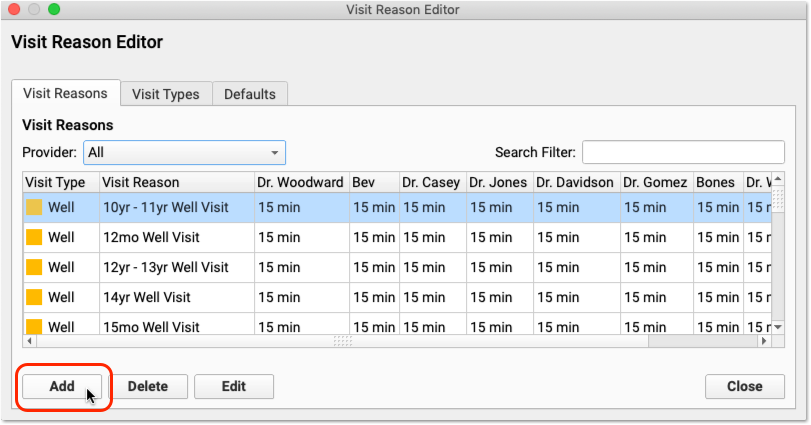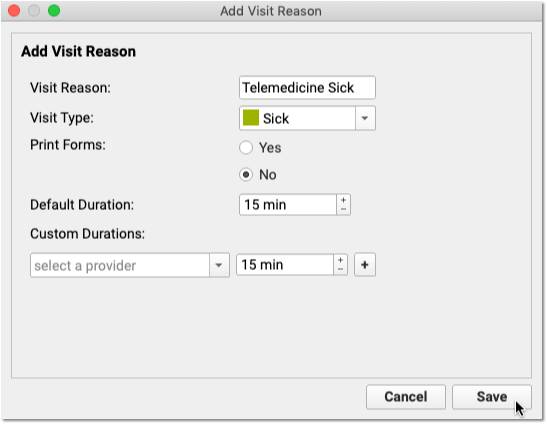 Click "Add" to create a new visit reason. You can name the visit reason, indicate the Visit Type (for helping schedulers pick appropriate times), set whether your practice should print paper forms for the visit, and set both a default duration and optional specific default durations for each clinician.
If your practice commonly performs sick visit and ADHD telemedicine visits, you could create a visit reason (and an accompanying chart note protocol) for each type of visit.
Add New Visit Statuses for Managing Visits
The Visit Status on the Schedule screen (and the Visit Status counters in the lower-right corner of your screen) help your practice track what's going on with all of today's encounters.
Your practice can create one or more custom Visit Statuses to help understand the status of telemedicine encounters.
Open Visit Status Configuration from the Configuration menu and create one or more visit statuses for telemedicine.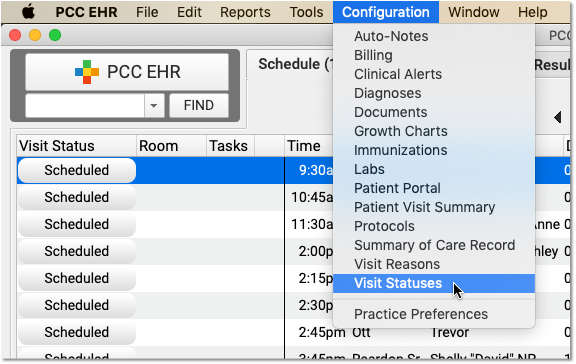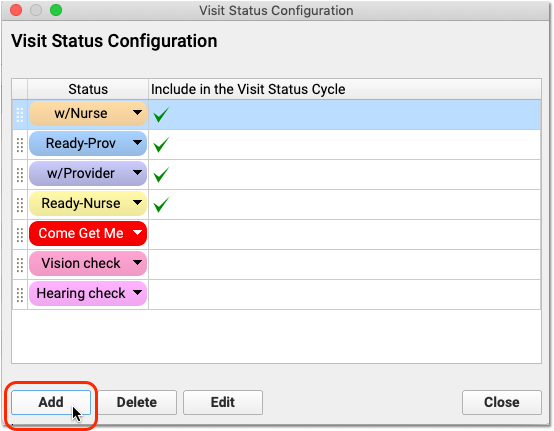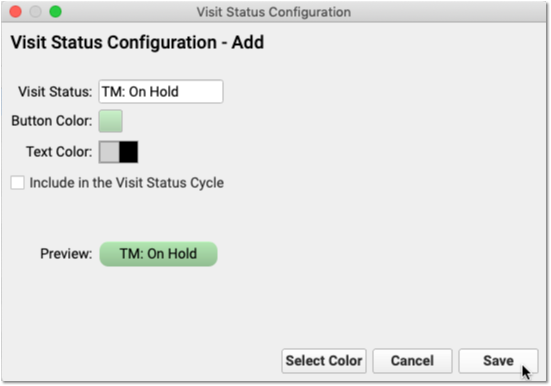 Your practice can use visit statuses so everyone at your practice can know who is on hold, who's connected, and who is waiting for the provider to join the video chat.
Create a Telemedicine Visit Protocol
In PCC EHR, you can create and customize chart note protocols for different visit types. PCC recommends you create a "Telemedicine Sick" protocol, along with other telemedicine-based protocols you expect to schedule. You can then have that protocol appear automatically for Telemedicine visits.
You can include any typical component in your chart note protocol, and you may want to create custom components or new orders that relate specifically to the types of services that will occur as a result of a telemedicine visit.
What else should you include on a telemedicine protocol?
Telemedicine Consent Component: Your practice should share a telemedicine consent form with patients and families, or may solicit verbal acknowledgement of consent for telemedicine care. You should chart that at the top of the chart note. Some practices do this by creating a Generic Check component with the consent language.

Vitals Components and/or Self-Reported Disclaimer: You can chart patient vitals for a telemedicine encounter, even if your practice did not collect those vitals. Optionally, you could use PCC EHR's built in Vitals component, which will provide BMI and percentage calculations, but you should add a checkbox indicating that the vitals are "self reported", or provided by the parent. Some offices create a new, blank "Vitals Reported By Parent" component to record vitals for a telemedicine visit separately from those recorded by a clinician.

Adjust Auto-Notes for Exam and Other Charting Items: As you set up your practice for the new telemedicine chart note protocol, be sure and review the clinician's auto-notes. For example, if your practice clones a Sick visit protocol and then makes changes, you should review your auto-notes for exam items so you can quickly enter your default, normal note for a telemedicine visit. Your previous normal note might be, "Abdomen shows no signs of hardness or lumps when palpitated", but you may instead want a note that reads, "Abdomen appears to show no signs of hardness when parent instructed to palpitate". To learn how to configure auto-notes, read Use Auto-Notes to Insert Your Standard Text in a Chart Note Field.

COVID-19 Specific Diagnoses Codes or Orders: If your practice will be using telemedicine as an initial screening visit for COVID-19, you may want to add default diagnoses or orders that support this workflow. Chart note protocols let you select any diagnosis, but you can add specific diagnoses to the ribbon for easy one-click access.
Example Telemedicine Chart Note Protocol: You can check out a sample telemedicine protocol, shared by a pediatric practice that uses it every day: Telemedicine Sick Protocol was created by Dr. Seth Bokser at Tamalpais Pediatrics in Larkspur, California.
Map Your New Protocol to Your Telemedicine Visit Reason(s): Once you've created a telemedicine protocol and telemedicine visit reasons, you should use the Protocol Map tool inside Protocol Configuration to make each visit reason trigger the correct protocol.
Add Telemedicine Procedure Groups, Procedures, Codes, and Prices to Your PCC System
Before you can code and bill for telemedicine procedures, you need to add those procedures to your PCC system, along with codes and your practice's prices.
Create a Telemedicine Procedure Group
If you create a telehealth or telemedicine procedure group, you can easily report on telemedicine A/R and income. You should perform this step first so you can select the group when you create new procedures.
Run the Table Editor (ted) and Select Procedure Groups
Run the Table Editor (ted) from the Practice Management Configuration window or by typing ted at a command prompt. From the list of tables, select #18, Procedure Groups.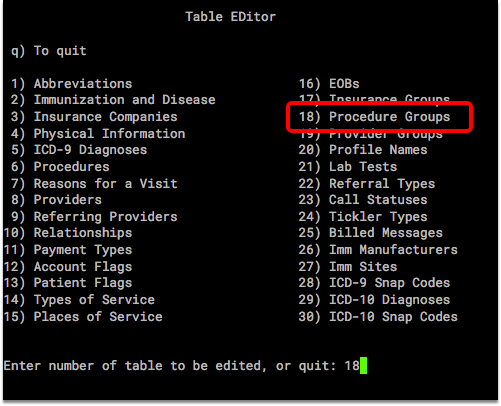 Type "Add"
From the procedure group list, press A on your keyboard to add a new procedure group.
Enter Procedure Group Information
Give the new procedure group a name and an abbreviation, determine the order it should appear on screen, and indicate "Yes" to display totals for the new group in PCC reports.

Save the New Procedure Group
Press F1 – Save and Quit to save your new procedure group.
For more help in setting up new procedure groups, contact PCC Support.
Add Telemedicine Procedures, Codes, and Prices
Next, add new telemedicine procedures to your PCC system. Include codes (with modifiers, if appropriate) and prices.
What procedures are currently in use? Your practice may need to consult with insurance payers to understand how to code for telemedicine procedures. PCC recently published a Guide to COVID-19 Billing Codes, which includes full descriptions of different types of telemedicine visits and how to code for them.
Examples:
Telephone Service Codes: Use the time-based 99441-99443 for Telephone E&M performed by a MD, DO, NP, or PA. Use 98966-98968 for A&M performed by a RN or MA.

Realtime Audio/Video Visit Codes: Use 99211-95 through 99215-95 for live or "synchronous" telemedicine service with realtime audio and video. Note that some payers use a -GT modifier instead of -95 for asynchronous communication (sending and receiving video messages).
The procedure below explains how to add a new procedure to your PCC system.
Run the Table Editor (ted) and Select Procedures
Run ted from the Practice Management Configuration window or by typing ted at a command prompt. From the list of tables, select #6, Procedures.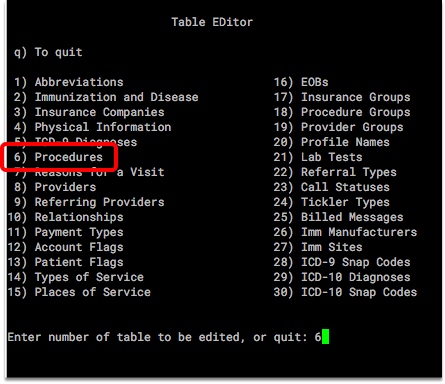 Type "Add"
From the procedure list, press A on your keyboard to add a new procedure.
Enter Procedure Information
Give the new procedure a name, select your new telemedicine procedure group, enter the associated CPT code (and copy to each line) and set the price for the service (and copy to each line).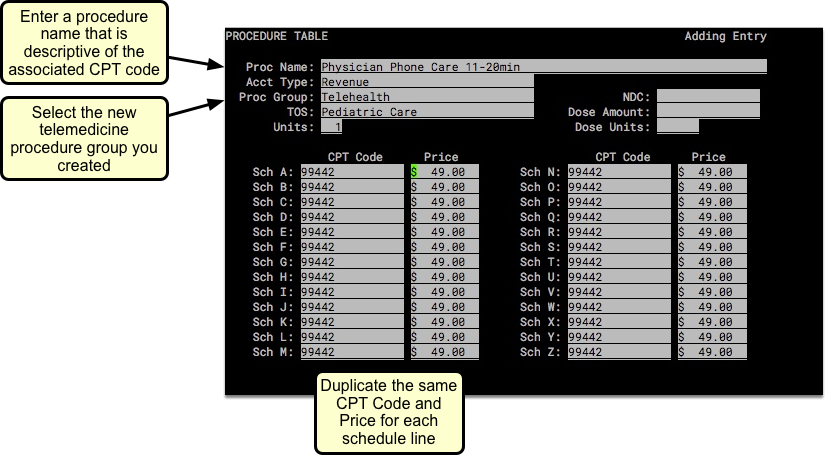 What Should We Charge?: The average PCC client charges 176% of Medicare's payment, using the RVU pricing approach.
Save the New Procedure
Press F1 – Save and Quit to save your new procedure.
For more help in setting up new procedures, contact your PCC Support.
Add a Telemedicine Place of Service for "02"
When you send a claim for a Telemedicine visit, you may need to include a different Place of Service code. The standard one is an "02", where in-office visits are typically "11".
One way to achieve this is by duplicating your office location, renaming it for telemedicine, and entering that "02" code.
Run the Table Editor (ted) in your Practice Management window and visit table 15, "Places of Service".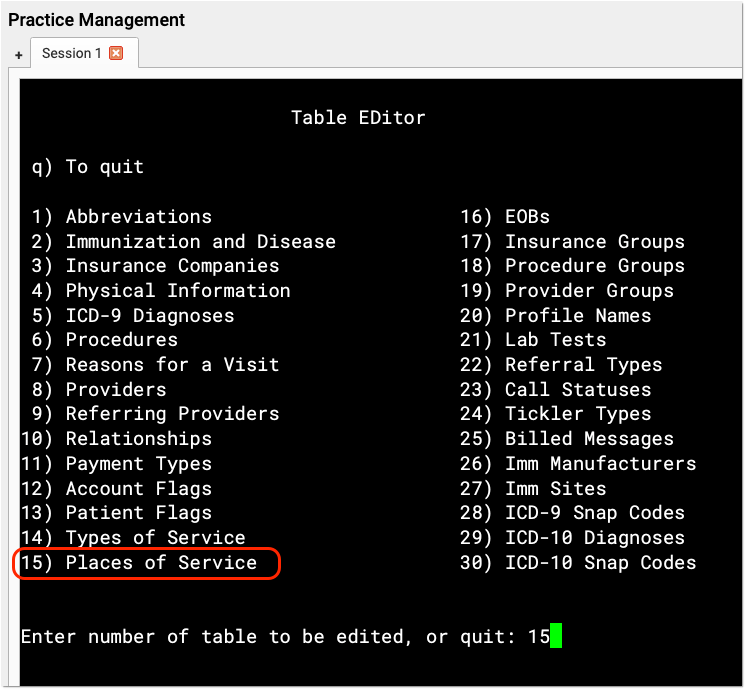 Clone your main office location and adjust the POS Name, Short Name and the Default, Schedule, and HIPAA codes.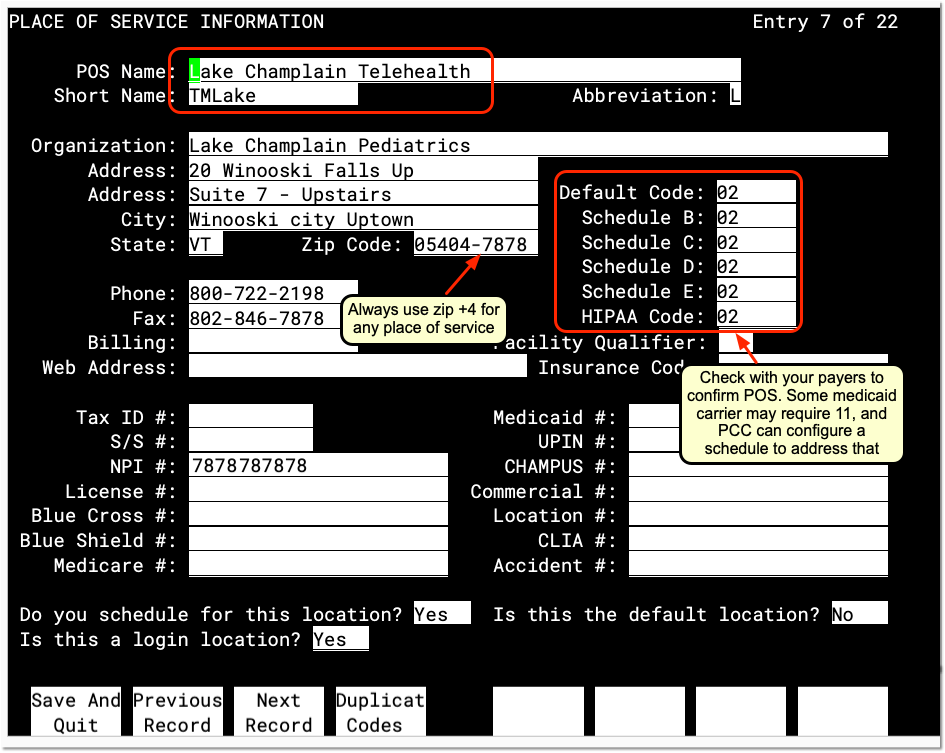 As with other claim requirements, check with your carriers to determine billing requirements. For example, some medicaid payers may require a 11 place of service codes for telemedicine visits. PCC can help you configure schedules so the correct place of service appears on claims.
Always use the full "zip +4" code for places of service.
Update Your Electronic Encounter Form w/ Telemedicine Codes
When your clinician is ready to make a visit "Ready for Billing", they'll need the right visit codes easily available for a telemedicine visit.
Open Billing Configuration under the Configuration menu and add procedures (and optionally diagnoses) to your practice's Electronic Encounter Form.