COVID-19 Links and Resources
PCC remains open and available to help your office through this difficult period. Follow the links below to find content, services, and features that will help pediatric practices during the COVID-19 Coronavirus crisis.
Rapid Development of COVID-19 Related Features: PCC has launched a series of rapid updates in response to the COVID-19 pandemic. We are beta testing and rolling out new functionality in direct response to the situation as it evolves. We have produced two larger sets of feature updates, which roll out as the PCC April COVID-19 Release and the PCC June COVID-10 Release. You can also watch the PCC COVID-19 Updates Video Playlist. To learn about other updates in 2020, visit the PCC Learn Updates page.
Connect With Patients and Families During COVID-19
Configure PCC EHR For COVID-19 Vaccines
PCC EHR supports tracking the administration, charting, and billing of the new COVID-19 vaccines. Whether or not your practice administers a COVID-19 vaccine, you can configure PCC EHR to display the vaccination on chart immunization records when patients are vaccinated.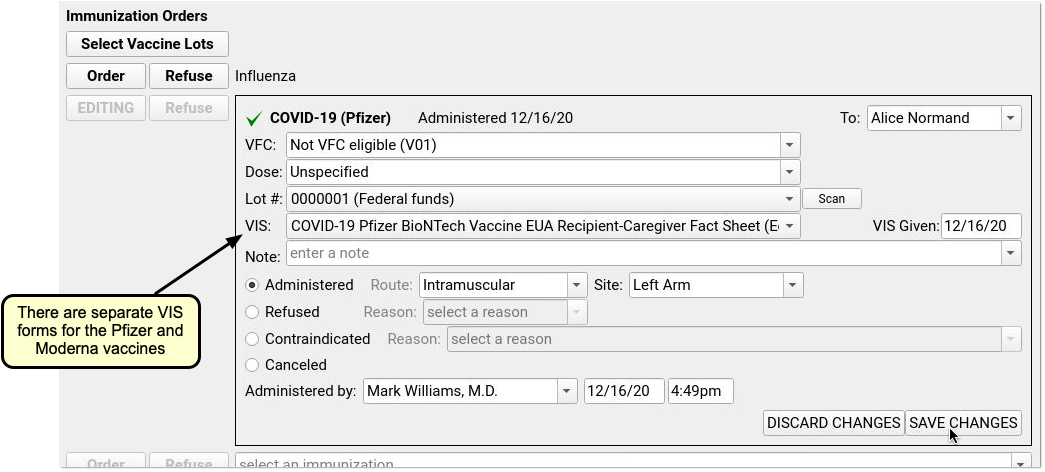 In early January of 2021, PCC patched all pediatric practices with CVX and MVX codes, as well as with listings for the VIS sheets, for the Moderna and Pfizer COVID-19 vaccines. More improvements in support of COVID-19 vaccines are also included in PCC 8.15, coming to all practices in the first quarter. As additional vaccines become available, we'll keep your system up to date.
To add a COVID-19 vaccine to your system, you must first add the procedure descriptions, codes, and prices to your Procedures table. You can find COVID-19 vaccine descriptions and codes on the CDC's website. Next, contact PCC Support to complete your immunization configuration. They will complete your configuration so that you can add COVID-19 lots to your lot manager and optionally add the order to your chart note protocols. You can read Configure Immunizations in PCC EHR to learn more.
For more information about storage, preparation, and administration of the Pfizer COVID-19 vaccine, visit the CDC's Pfizer-BioNTech COVID-19 Vaccine page.
Code and Bill During the COVID-19 Pandemic
Other PCC COVID-19 Information Resources
Useful Information From Other Sources
American Academy of Pediatrics
Center for Disease Control
World Health Organization
Other