Chart, Code, and Bill for a COVID-19 Related Encounter
How does a pediatric practice order tests, enter diagnoses, code, and bill for visits related to the COVID-19 pandemic?
Read below to learn about the SNOMED-CT and ICD-10 diagnoses and CPT codes available for COVID-19 related visits.
Quick Coding Guide: You can download a reference guide to the codes described in this article here: PCC's COVID-19 Coding Guide. This topic is evolving rapidly. PCC will update the coding guide and this article as we learn more.
New Codes On Your System: PCC updated your system to make new codes and descriptions immediately available. On 2020-03-17, we added Labcorp and Quest COVID-19 lab descriptions and identifiers. On 2020-03-19, we updated the SNOMED-CT diagnosis descriptions. On 2020-03-23 we will add the ICD-10 COVID-19 description. Contact PCC Support if you have any questions.
Chart and Code a Visit for Suspected COVID-19 and Exposure
When you chart a visit for suspected COVID-19, you can use a chart note that includes appropriate items for vitals, screening, exam, orders, and diagnoses for easy selection. For example your practice may have a "Sick" or "Respiratory" chart note protocol, or a specific "COVID-19 Risk" chart note protocol.
PCC Support can help you customize your chart note protocols or teach you how to use tools in PCC EHR to create your own chart note protocols.
Chart and Bill Diagnoses Associated with COVID-19
During a visit when COVID-19 is not confirmed, you would chart typical measures (vitals, exam, review of systems), along with diagnoses describing the patient's condition.
When you enter diagnoses for the visit, you may select problems the CDC has associated with COVID-19, for example: Pneumomia, Bronchitis, Lower Respiratory Infection, Respiratory Infection NOS, or Acute Respiratory Distress Syndrome.
When you diagnose exposure to COVID-19, use:
Possible Exposure: SNOMED-CT description Exposure to severe acute respiratory syndrome coronavirus, which you can map to the ICD-10 billing code Z03.818 Encounter for observation for suspected exposure to other biological agents ruled out.
Actual Exposure: SNOMED-CT description Exposure to 2019 novel coronavirus, which maps to the ICD-10 code Z20.828 Contact with and (suspected) exposure to other viral communicable diseases.
You might add other diagnoses for common signs and symptoms identified by the CDC:
R05 Cough
R06.02 Shortness of breath
R50.9 Fever, unspecified
You can add any of these diagnoses directly to your chart note protocol to make them easier to select.
In PCC EHR, when you select a SNOMED-CT diagnosis description, it can automatically select and display one or more ICD-10 billing codes.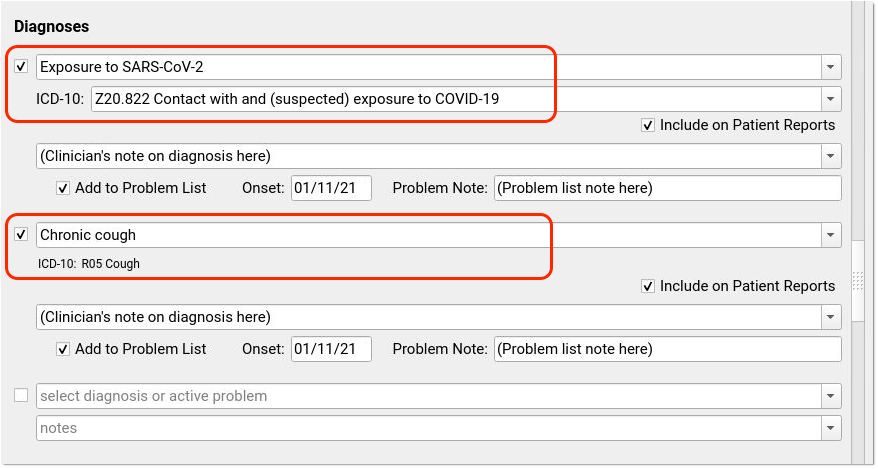 Order COVID-19 Lab Tests
During the visit, you may decide to order a COVID-19 test. When you create an order for a COVID-19 test, your practice will typically collect the specimen and relay the test to a lab vendor for processing.
In PCC EHR, when you click "Order" next to a lab, the appropriate LOINC will be part of the order. You can configure lab orders so results can be sent back to your practice electronically, if your lab vendor supports e-lab integration.
Labcorp and Quest have provided the following vendor-specific identifiers:
Labcorp COVID-19 Test: 139900
Quest SARS-CoV-2 RNA, Qual Real-Time Test: 39433
PCC is creating a guide on how to configure your lab test orders for COVID-19. In the meantime, you can learn more by reading Lab Configuration.
When you administer a COVID-19 test, you can bill:
99000: Specimen Collection
Depending on your lab configuration, you may see the lab provider's CPT for the COVID-19 test:
87635: Infectious agent detection by nucleic acid (DNA or RNA); severe acute respiratory syndrome coronavirus 2 (SARS-CoV-2) (Coronavirus disease [COVID-19]), amplified probe technique
A pediatric practice would not typically bill the 87635 code, as it is performed by the lab. This may change.
In PCC EHR, you can map the 99000 Specimen Collection procedure directly to the lab order so the specimen collection CPT will appear on your electronic encounter form automatically.
Bill a Visit for Suspected COVID-19
After you record diagnoses, orders, and any other procedures performed, you can review the electronic encounter form to check all billing codes and select a visit code.

Code for Telemedicine, Phone Calls, Portal, Email and Other Remote Services: What CPT visit code should your practice use for a video telemedicine encounter, a telephone call, a portal message consultation, or other remote service? PCC is maintaining a COVID-19 Coding Guide with descriptions of appropriate codes for different circumstances. You can also read PCC's Schedule, Chart, Code, and Bill for Telemedicine Encounters.
Code and Bill a COVID-19 Diagnosis
During an in-person or telemedicine visit for a patient with a COVID-19 diagnosis, you would code both the COVID-19 diagnosis and related conditions .
Code for COVID-19 SNOMED and ICD-10 Diagnoses
When you indicate a COVID-19 diagnosis with a SNOMED description, use:
840539006 Disease caused by 2019-nCoV: This diagnosis has alternate, searchable names of "Disease caused by 2019 novel coronavirus" and "Disease caused by Wuhan coronavirus".
In PCC EHR, you can select this diagnosis on a chart note and/or add it to a patient's Problem List.
Starting on April 1st, 2020, when you bill for a visit with a patient with a positive COVID-19 diagnosis, use:
This code was added to all PCC systems with a 2020-03-23 update. You can map the code to the SNOMED description, making it easy to select the diagnosis on a chart note: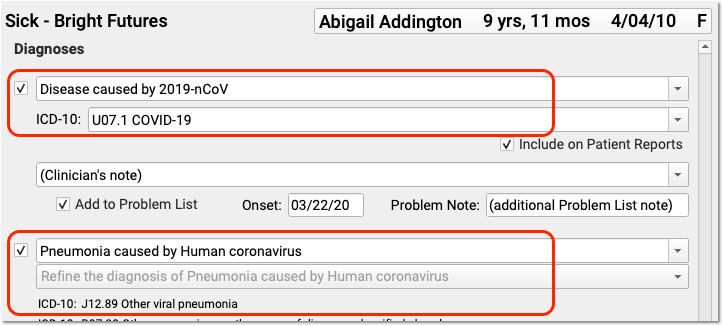 Prior to the April 1st effective date of U07.1 COVID-19, the CDC recommends charting and coding for the conditions of Pneumonia, Bronchitis, Lower Respiratory Infection, Respiratory Infection NOS, and ARDS, and then adding B97.29 Other coronavirus as the cause of diseases classified elsewhere. Before the specific COVID-19 ICD-10 diagnosis code is in effect, use the less specific B97.29 with the associated condition to indicate the patient has COVID-19.
In PCC EHR, you can configure these coding recommendations so that when a clinician selects the diagnosis, they can choose the additional, condition codes to accompany B97.29: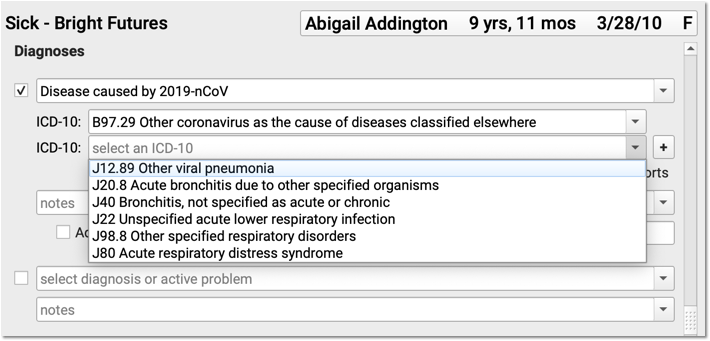 Details May Change: The above scenarios and COVID-19 codes are new and payer response may vary. PCC keeps an up-to-date handout with COVID-19 coding and billing recommendations here: 2020 COVID-19 Coding Guide. We will update that PDF and this article as the situation changes and we learn more.
Configure Diagnosis Code Behavior
Use the Billing Configuration tool to directly map one or more ICD-10 codes to a SNOMED diagnosis description.
For example, prior to April 1st, 2020, you could set up the Disease caused by 2019-nCoV description to automatically provide a selection of ICD-10 codes. In the Diagnosis Mapping tab, find the SNOMED description and add codes to the ICD-10 Manual mapping fields: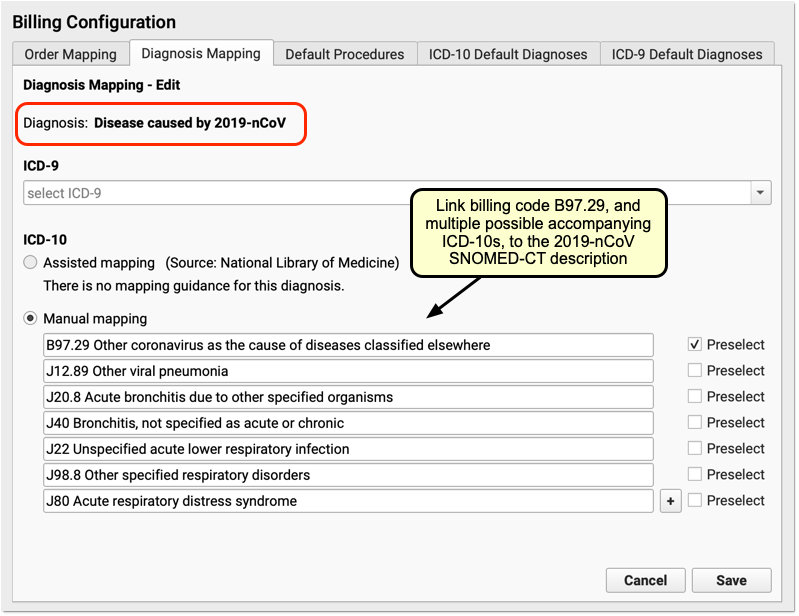 After April 1st, 2020, you could map Disease caused by 2019-nCoV to the new U07.1 COVID-19 code.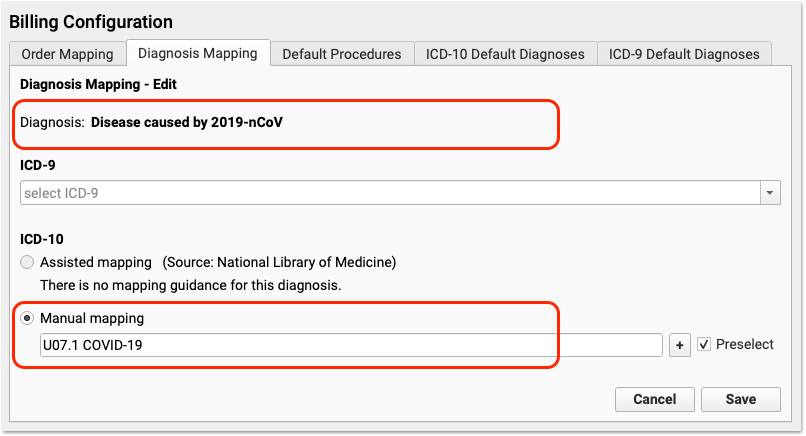 Use Other Procedure CPTs for COVID-19 Related Visits
In addition to the COVID-19 CPTs mentioned above, here are some other CPT codes you might use in relation to a COVID-19 related encounter.
Bill for COVID-19 Risk Counseling
Your practice may talk with a patient or parent at length about COVID-19 risk. If the patient is in the office, use:
99401: Preventive medicine counseling and/or risk factor reduction intervention(s) provided to an individual (separate procedure) approximately 15 minutes
99402: …approximately 30 minutes
99403: …approximately 45 minutes
99404: …approximately 60 minutes
You may add these codes onto a claim with other office visit codes.
For a telemedicine visit, you may not use the 99401-99403 codes. They are not found in Appendix P of the CPT manual, which lists Telehealth codes.
Instead, adjust your telemedicine office visit code level (for example, 99212-95 through 99215-95 for live video telemedicine) to indicate the additional counseling time. Refer to E&M coding guidelines ("where a visit is dominated by counseling and coordination of care, greater than 50% of the total time"). Be sure to document the time spent and the topics discussed.
Add-On CPTs for Urgent and Unusual Circumstances
If an emergency appointment disrupts your office's schedule, such as the sudden arrival of a patient with Acute Respiratory Distress, you can use this additional code on the claim:
99058: Service(s) provided on an emergency basis in the office, which disrupts other scheduled office services, in addition to basic service
If you have to leave the office for an emergency visit that disrupts your schedule:
99060: Service(s) provided on an emergency basis, out of the office, which disrupts other scheduled office services, in addition to basic service
If you leave the office for an encounter at the request of the patient or family, you might add:
99056: Service(s) typically provided in the office, provided out of the office at request of patient, in addition to basic service
We're Seeing Kids in the Parking Lot. Is That a 99056?: If the patient or family makes a special request for you to come out to the parking lot to perform a visit, you may add this code. If your practice sees patients in your parking lot as your general office policy during the COVID-19 epidemic, this code may not apply.