Apply to the CARES Act Provider Relief Fund for Medicaid
If your practice sees Medicaid patients, you may be able to apply to the HHS CARES Act for Provider Relief Fund. PCC hopes this is just the first of many Federal programs that HHS enacts to support primary care physicians, especially pediatricians.
Initial distributions are expected to be 2% of your annual revenue, which we believe will come out to between $10k and $15k per FTE pediatrician. If funding allows, the program may distribute additional funds based on Medicaid volume.
You can learn more about the program here, on HHS.gov: CARES Act Provider Relief Fund
Practices have until July 22nd, 2020, to apply for this part of the CARES Act relief program.
Is My Practice Eligible?
If your practice has seen any number of Medicaid patients, and you did not receive money from or qualify for the Medicare Tranche of April 2020, your practice likely qualifies for this program.
How Does My Practice Apply?
The AAP is developing a detailed guide on how pediatric practices can apply for Medicaid Provider Relief Funds through CARES:
The links above include references, examples, and question-by-question guidance for completing the application.
Here's a quick overview of the steps:
Assign someone at your practice to attest.
Choose a tax year as a reference year.
Gather documents and information for the application:

Your Federal Income Tax Return: See the draft guide for information on the IRS form you will need to complete and upload.

Your Employer's Quarterly Federal Tax Return on IRS Form 941 for Q1 2020: See the draft guide for an explanation of this form.

Practice Employee List: A list of all W-2 employees of your practice as of 5/21 and their FTE equivalence.

An Accounting Profit and Loss Report: Tips on how to get this from Quickbooks are in the draft guide.

Summary of Receipts By Payer Type: See PCC's guide below!

Report of Your Increased Expenses Due to COVID-19 in March and April 2020: The draft guide includes recommendations for developing this.

Sum of SBA Money You Have Received as of 5/31/2020: The draft guide includes an explanation of these funds.

Sum of FEMA Money You Have Received as of 5/31/2020: The draft guide includes an explanation of these funds.

Complete worksheets:

Get Your Practice's Optum ID: If your practice does not already have one, you'll create an Optum ID for verification. You will be prompted for that when you begin the online application.

Apply Online in the Portal: Using your practice's Optum ID, log into the Cares Act Provider Relief Fund Payment Attestation Portal to complete your application.
Prepare Before You Start: Although the application portal has a function for saving your work and returning later, users have reported inconsistent results and have lost work! The AAP recommends you gather all of the information you will need before you begin and complete the application in one session.
For full details on all of the above steps, including helpful examples and tips, read the AAP's detailed guide using the links above.
Use PCC Reports to Answer Application Questions
You can use PCC reports to answer some of the questions on the application. Below are two examples.
Determine Your Lost Revenue for Application Question 13
Question 13 of the online application will ask you to declare your practice's revenue lost to COVID-19. The HHS's guidance offers a number of methods to determine that lost revenue, but the easiest for most practices will be "to compare the revenues to the same period last year."
PCC has several reports that can provide a comparison between March and April of 2019 and 2020. PCC clients should make sure to use 'daysheet' style payment data in order to distinguish between actual cash flow versus payments on procedures rendered only during that time frame.
PCC recommends you run the "Daysheet Totals by Posting Month" report from the Payment and Proving Out Reports section of SRS. Run the report twice, and enter date ranges for March through April of 2019 and then for March through April of 2020. When you run the report, make sure to check off "Include Relinked Payments and Adjustments."

After you generate results, add up the totals for Cash, Check, and Credit Card. Then subtract the Refunds. In the example above, we'd have $1,050.17 + $916,078.24 + $109,334.44 – $1,679.46, for a total of $1,028,142.31.
As noted in the AAP's guide, revenue that you received but did not enter into the system may need to be added to this total.  PCC recommends that you enter all patient care related revenue into your system (including P4P payments, capitation, etc.), but not every practice does so.
Determine Your Payer Mix for Application Questions 17-24
Questions 17 through 24 of the online application ask you to declare your practice's payer mix. PCC users have multiple ways to generate the data required to determine this. To keep the process as simple as possible, you can use a default PCC report: "Total Visits By Payor – Yearly Comparison". You can find the report in the PCC SRS Report Suite in the Trend Analysis section. When you run the report, enter a date range for your application's Reference Year, e.g. 01/01/2019 through 12/31/19.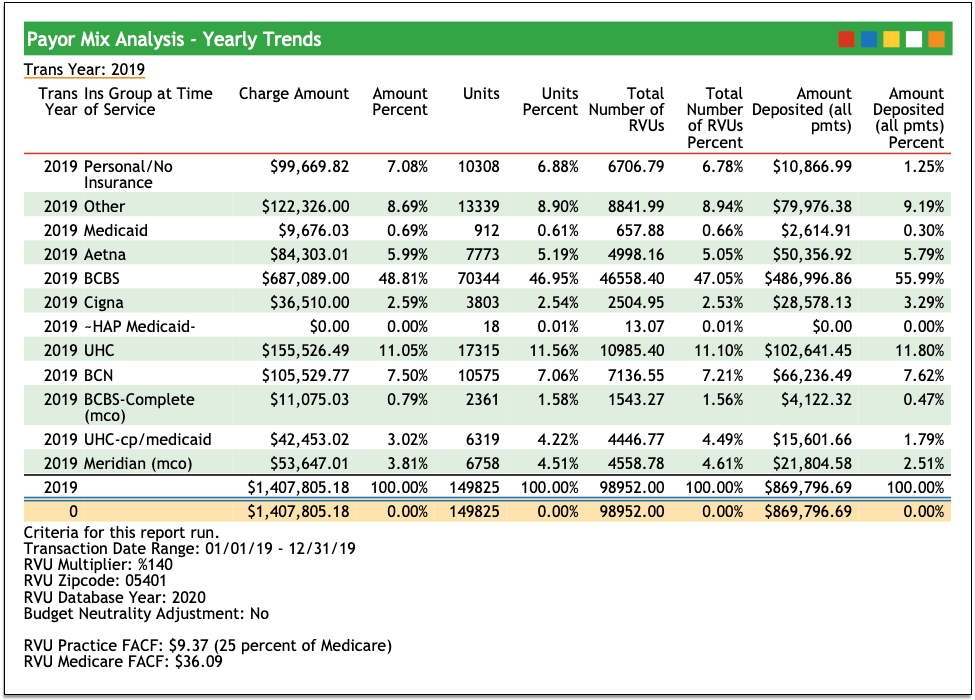 The report will calculate the volume of each insurance group based on visits, charges, and deposits. For the purpose of the CARES application, the "Amount Deposited (all pmts) Percent" column reflects the revenue volume of each payor type (Medicaid, Commercial, Self-Pay, etc.) for your practice. For example, you can add up the values for each of your Medicaid groups to determine your total Medicaid revenue volume. In the example above, the following groups represent Medicaid:
Meridian (mco) (2.51%)
UCH-cp/ medicaid (1.80%)
BCBS-Complete (mco) (0.48%)
~HAP Medicaid~ (0%)
Medicaid (0.3%)
Combined, these Medicaid programs represent 5.09% of the practice's revenue volume for 2019.
Your practice can customize your payer plans and the insurance groups that control this reporting. You can work with PCC Support to review your grouping and make adjustments as needed. (For example, to make sure your Medicaid plans are configured so that totals appear in a Medicaid group.)