Create a COVID-19 Lab Order
PCC EHR has been updated with lab codes for COVID-19 tests, so your office can now create and track lab orders for COVID-19 tests.
Watch the Video: Watch a video walk-through of creating a COVID-19 lab order here.
Open Lab Configuration
Open the Lab Configuration window from PCC EHR's Configuration menu.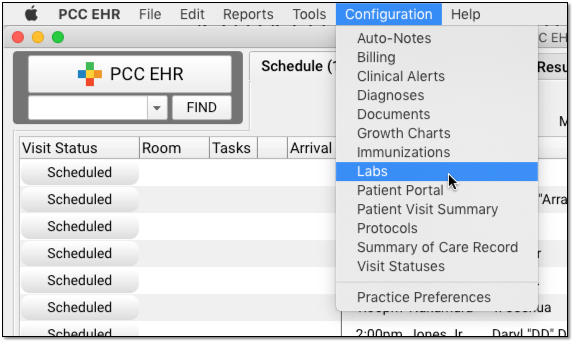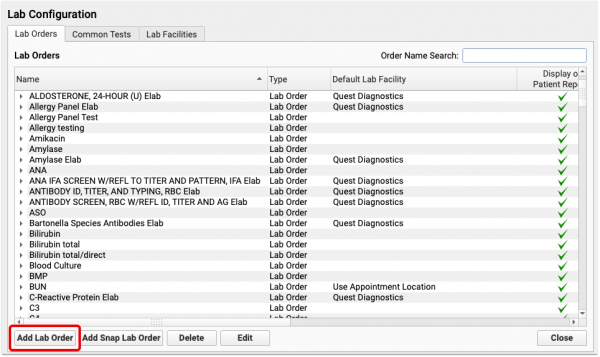 Add a New Lab and Configure Details
Click into the Lab Orders tab, and click the "Add Lab Order" button to create a new lab.
Enter the lab's name, default lab facility, and other details.

Set Default Lab Behaviors
Next, review and edit the settings and default behaviors for this lab order.


Specimen Collection: If you wish to record specimen collection information for this lab order, click "Enable recording of Specimen Collection user, date, and time".

Appear on Patient Reports and My Kid's Chart: If you wish this lab to be visible by default on patient reports, including the Patient Visit Summary and My Kid's Chart (the patient portal), select "'Include on Patient Reports' will be selected when this order is issued". Clinicians can determine whether or not a lab order is visible at any time for any order by selecting the check box on the specific order for a patient.

Refusal and Contraindication: If a lab order can be refused or contraindicated, select the appropriate options to enable those checkboxes on the order.
Add COVID-19 Lab Tests for Third-Party Vendors
if your practice receives results for this lab order electronically from LabCorp or Quest you can add their specific lab test to this lab order. Both LabCorp and Quest have provided lab codes for COVID-19 tests. Enter those into the E-lab Vendor Order Mapping:
Labcorp COVID-19 Test: 139900
Quest SARS-CoV-2 RNA, Qual Real-Time Test: 39433

PCC EHR will be able to correctly associate and track the lab results with the order in the patient's record. For more information about e-labs, read the Import E-lab Test Results article.
Click "Save"
Click Save to save your lab order changes.
Configure Billing
Open Billing from the Configuration menu, and search for your new lab. Search for your new lab, select it, and click "Edit".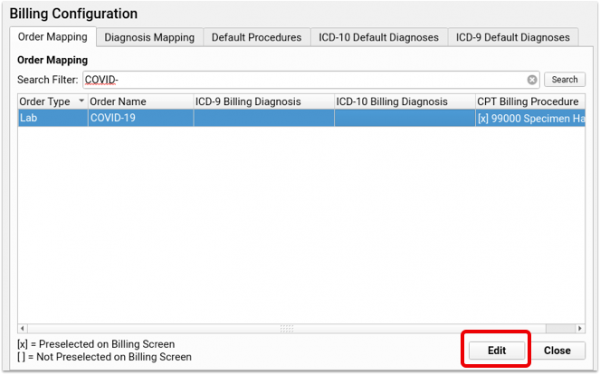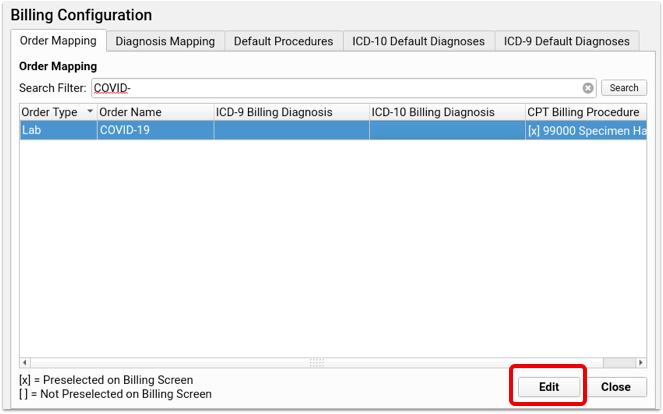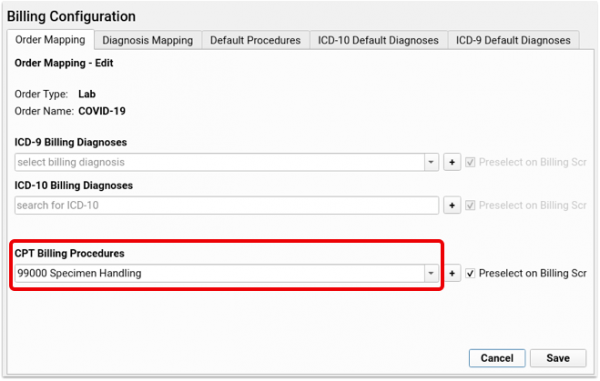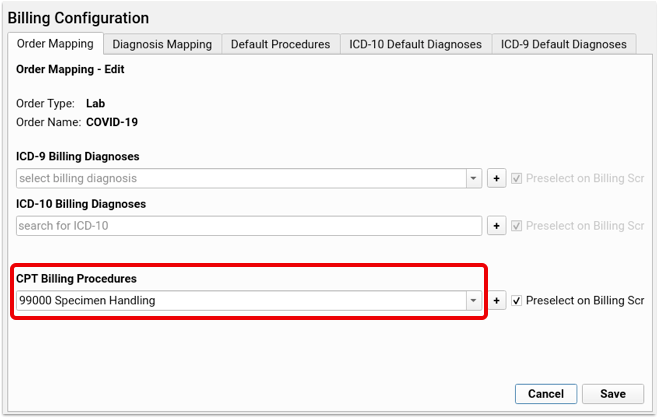 If you're collecting and preparing the specimen for analysis by an ouside laboratory, enter the specimen collection procedure, 99000 Handling and/or conveyance of specimen for transfer from the office to a laboratory, in the CPT Billing Procedure field. Additional procedures can be linked by clicking the plus button to add a new line. Click save and the selected procedures will be included in the visit's bill.
Optional: Add Labs to Protocols
You can order any lab from the Labs component, which is already available on most of your chart protocols. Specific labs can be added to each protocol- if you're creating a visit type just for these tests, use the PCC EHR Configuration Tool to add the labto your chart note protocols. Contact PCC Support for assistance.
For additional help setting up your labs or adding them to your Protocols, please contact your PCC Client Advocate.