UC 2021 Videos and Course Materials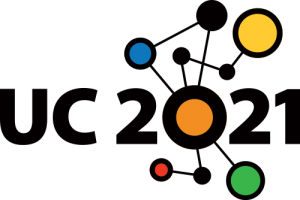 Our second-ever virtual Users' Conference took place the week of June 8th in 2021.
574 attendees logged in and joined 42 courses, sessions, and round tables on coding and clinical practice to the business impact of COVID-19 on pediatric practices.
Sessions were recorded, and where possible we've made them available on a PCC UC 2021 playlist, and using the links below. (Some sessions will become unavailable in 2022 as PCC's permissions with the presenters will expire.)
Learn more on PCC.com's UC2021 wrap-up page.
Course Descriptions, Slides, and Videos
| | | |
| --- | --- | --- |
| Course Title | Course Description | Materials |
| Welcome & Opening Session | Welcome to UC 2021! Chip Hart will kick off the conference with a welcome message and opening remarks. Presented By: Chip Hart | |
| What's New at PCC | A retrospective review of products and services PCC worked on since UC 2020. Presented By: Scott Ploof | |
| Roadmap – Look Ahead | Join PCC's Product development community for a tour of PCC's upcoming Roadmap: What we are developing for you right now, and our plans for the second half of 2021. We will look at progress towards touchless check-in and other Patient Engagement features, learn about upcoming Payments functionality in PCC EHR as well as Eligibility enhancements, and we'll review where we are in the continuing integration of Practice Management functionality. We can't wait to share with you the all-new Forms Solution and show you what's next for Reporting, including the Dashboard. We will take a peek inside the big PCC eRx 9.0 package heading your way this summer, and see what else is in store for ePrescribing. And of course we'll check in on upcoming Interoperability features, exploring opportunities for delivering improved patient care. Facilitated by: Paula VanDeventer Presented By: Kristen Ryan, Tim Proctor, Dan Gillette, Morgan Ellixson Boyea, Jen Marsala, Michael Stein, Amanda Smith, Paula VanDeventer | |
| Integrating CHADIS with Your PCC EHR System: Practical Tips from Your Peers | This session will offer PCC practices insights from their peers on ways to adjust configuration, workflows, and office processes to smoothly integrate CHADIS into their day-to-day work. Presented By: Jim Leahy, Roger Hovis, Dr. Melissa Schwartz, Dr. Robin Warner | |
| Documenting for Complex Behavioral Health Patients | In this session you will learn how to document complex behavioral health encounters using PCC protocols and industry best practices to demonstrate integrated behavioral health specifically for NCQA's Behavioral Health Distinction. In addition, we will discuss different collaboration techniques between PCPs and BH specialists. Presented By: Amanda Ciadella, Jim Leahy | |
| Suicide Screening for Pediatric Practices | Suicide rates are escalating and pediatricians need to include this screening in all visits. Learn how to use these screens as well as what to do if screen is positive. Most suicide patients have seen a health care worker in the 30 days prior to their suicide. New screening tool is now recommended as PHQ9 does not pick up suicide in children under 18. Presented By: Dr. Jeanne Marconi | |
| Impact of COVID on Preventive Care | 2020 was the first time in decades of measurement that most pediatric clinical benchmarks declined – well visit coverage, depression screening, even vaccines. What does the data tell us about the impact of COVID on the services pediatricians provided in 2020 and what should we be doing about it? Presented By: Chip Hart | |
| Ask Chip | Bring your practice management questions and PCC's resident practice management expert, Chip Hart, will answer them live. Presented By: Chip Hart | |
| Morning Announcements | We'll start the day off with morning announcements and Grace Levy will give an update on the points leader board. Presented By: Grace Levy | |
| What's Next for PCC eRx | Join PCC's Morgan Ellixson-Boyea, CPhT, CSM for an in-depth review of upcoming changes to PCC's eRx, scheduled to arrive in August 2021. In addition, you'll hear about recent bug fixes and improvements, learn new tips & tricks, as well as cast your vote for future enhancements of PCC eRx! Session will also include open Q&A. Presented By: Morgan Ellixson Boyea | |
| Practice Oversight Reporting | As a managing physician or practice administrator, have you ever wondered which reports you should be monitoring regularly to ensure the practice is operating successfully? This session will highlight PCC's robust Dashboard and practice management reporting capabilities, focusing on reports that will allow you to keep your finger on the pulse of your practice. Discover the numbers that really matter and how to find and track the information you need most. Presented By: Tim Proctor | |
| Client Feedback Session: Billing | PCC is designing a fast, powerful billing tool inside PCC EHR. We need your insights and experience around billing. Come and chat with our development team! Presented By: Kristen Ryan, Michael Stein | |
| 7 Billing Pitfalls and How to Correct and Avoid Them | This session details certain all too common hazards of revenue cycle management along with specific corrective action to take in order to quickly resolve these problems. Preventative measures are then outlined in order to avoid these vulnerabilities in the future. Presented By: Heidi Chamberlin | |
| Liability Risks in Pediatric Practice | Discuss areas of interaction with patients/families which can lead to liability exposure–both medical liability and general liability. Special emphasis on virtual care/telehealth. Information will be provided on ways to safeguard your practice, and how to respond should an event occur. Presented By: Dr. Jesse Hackell | |
| Maintaining PCMH Recognition | This session will be for practices who are interested in utilizing PCC for patient-centered medical home transformation. We'll identify PCC reports and functionality that can be used for population health management and quality improvement with a particular focus on how to identify and manage your most complex patients. Discover how to use PCC tools to meet NCQA's Patient Centered Medical Home program. Presented By: Tim Proctor, Amanda Ciadella | |
| Choosing the Vendors That Are Right for You | Using examples of different types of vendors, I will show how PCC's reports can help you choose the right vendors for your practice. Presented By: Dr. Hiral Lavania | |
| Optimizing PCC EHR: Workflow and Configuration Improvements You Can Use Today | Take advantage of the new features in the EHR which can streamline your workflow, providing your clinicians and staff with more time to focus on delivering healthcare. This course will highlight the most useful enhancements and demonstrate how to take advantage of them in your office. Presented By: Jim Leahy | |
| What Every Pediatrician Needs to Know about Prescribing Oral Contraceptives | This session will help Pediatricians feel confident prescribing OCP's for acne, menstrual health problems, or for contraception. They will walk away with formulary's that work best with individual situations. Presented By: Dr. Melisa Holmes, Trish Hutchison (MD, FAAP) | |
| How Much Should I Pay An Employed Clinician? | Hiring a new physician or nurse practitioner and wondering not only what you should pay, but what you can AFFORD to pay? This simple exercise will walk you through determining the maximum salary of your employed clinicians and review the non-salary drivers that motivate clinicians. Presented By: Chip Hart | |
| Jan's Coding (and Billing) Course | PCC's Jan Blanchard will share her coding and auditing experience. There will be ample time for Q&A, so bring your questions! Presented By: Jan Blanchard | |
| Effective Vaccine Management | From storage solutions to inventory management, purchasing patterns and rebate opportunities, understanding how to most effectively run your vaccine 'business' can ensure healthy margins and easier workflows. Presented By: Susanne Madden, MBA | |
| Next Generation of QI as Practice Innovation | Quality improvement (QI) methodologies are now well-established in primary care with QI required to maintain pediatric board certification. The COVID-19 pandemic forced many primary care practices to not only optimize existing approaches, but create new ones. Innovation frameworks and strategies exist to guide such work, but are not well known. To address this gap, the proposed session will help participants to (1) understand how an innovation framework can be used to identify, test and scale opportunities that drive improved healthcare, (2) identify challenges in driving innovation in primary care, (3) recognize the value of multidisciplinary collaboration and consultation, including data analytics and practice improvement efforts, in the context of innovation. Examples from practice will guide discussion. Presented By: Alexander Fiks (MD, MSCE) | |
| Front Desk Best Practices: What does a pandemic change? | PCC's Lynne Gratton, CPPM, explores front desk best practices related to scheduling, check-in, insurance verification and copay collection and what has changed as offices work within the pandemic. Understand the importance of the front desk when it comes to your practice's workflow and collection process. Presented By: Lynne Gratton CPPM, Kate Taylor | |
| Morning Announcements | We'll start the day off with morning announcements and Kate Taylor will give an update on the points leader board. Presented By: Kate Taylor, Grace Levy | |
| Revenue Cycle Roundtable | Bring your billing questions, problems and struggles to this session and get helpful advice from revenue cycle management experts. Presented By: Jan Blanchard, Jaimie Metivier | |
| Client Feedback Session: Form Letter Configuration | Come preview the new form letter generation solution currently under development. Your feedback and input will help guide its future direction. Presented By: Dan Gillette | |
| 21st Century Cures Act and Adolescent Confidentiality | PCC's Regulatory Expert, Megan Maddocks, and Dr. Jesse Hackell discuss the Cures Act, Open Notes, and the impact on confidentiality for adolescents. Develop an understanding of the impact of these policies on EHR notes/charting. This session will also include updates regarding penalties structure, a report out from the ONC annual meeting sessions, and compliance guidance. Presented By: Megan Maddocks, Dr. Jesse Hackell, Jim Smith | |
| 2021 Evaluation and Management Changes! | Review the recent 2021 E/M changes with examples specific to Pediatrics. Presented By: Donelle Holle | |
| Redesigning the Pediatric Office for a Post-Pandemic World | This talk will focus on how to reconfigure traditional office layouts, workflows, and use of technology to better meet the needs of patients, staff and providers in a post-pandemic environment Presented By: Susanne Madden, MBA | |
| Beyond Insurance–New Ways to Practice Pediatrics | Panel discussion on DPC, Concierge, Cash Pay and Blended practices (yearly fee plus insurance) Presented By: Dr. Tanya Altmann, Rosana Lastra (MD, MS, FAAP), Dr. Lauren Hughes | |
| Set Your Prices Fairly And Easily | Learn the simple rules that govern the RBRVS system for pediatricians and how to calculate your prices fairly and effectively with just a few keystrokes. Includes a spreadsheet tool that allows any practice to examine both pricing and payments in the context of RVUs. Presented By: Chip Hart | |
| Managing HR During a Pandemic | An overview of HR during the pandemic. We'll explore what's allowed and what's not as we all navigate new situations and different scenarios. Presented By: Michelle Ann Richards BSHA, CPC, CPCO, SHRM-SCP, CPMA | |
| Everybody could use a little more Screen Time | Everybody could use a little more "Screen Time" In this talk, we will explore the "dots and stars," and screening/surveillance outlined on the Bright Futures Periodicity Schedule, and how to perform these screens electronically, prior to well visits. In addition, we will explore other electronic screens that can be used for behavioral health visits. Not sure how to get buy-in from your staff or families? We will address that as well. And, finally, we will discuss how PCC's integration with CHADIS will make this process even more seamless. Presented By: Dr. Robin Warner | |
| Communicate to Vaccinate | Your practice has great access to vaccines but vaccines don't stop disease nor meet HEDIS measures… vaccinations do! Does your practice have the communications training, support and platforms to perform optimally in 2021 and beyond? Presented By: Dr. Todd Wolynn | |
| How to become a Culturally Competent and Diverse Practice | Pelican Pediatrics is a small practice yet it is known in the area for its diversity and multiculturality. I will to offer tips on how to become a culturally competent and diverse practice where people of different nationalities, ethnicities, and religions feel welcome. Not only is this good medicine to practice culturally competent care, it also opens up your practice to a larger patient panel you may otherwise be missing out on. Presented By: Dr. Eliza Varadi | |
| Tried and True Policies and Procedures for Personal AR Management | Proven strategies to effectively manage your personal accounts receivables- financial policies, pre-collection process, ways to talk to patients about their past due balance, increasing payment options, coordinating efforts throughout the practice, coordination of benefits management. Presented By: Rebecca Lamb | |
| Understanding & Maximizing Your Merchant Services | Bring your questions! We'll talk about different areas of merchant services like contactless payments, including credit card on file (CCOF), online and PCC portal payments, and PCI compliance knowledge. We will have plenty of time for Q&A. Presented By: James & Sarah Estes | |
| Chip and Paulie Webinar (Click Through to Join the Stream) | Join Chip Hart and Paul Vanchiere for the next installment of their COVID-19 Webinar series. Presented By: Paul Vanchiere MBA, Chip Hart | |
| Morning Announcements | We'll start the day off with morning announcements and Kate Taylor will give an update on the points leader board. Presented By: Kate Taylor, Grace Levy, Calvin Taylor | |
| Technology and Addressing Bias and Health Disparities in Children | This session will explore technology and current applications that could address bias and health disparities. As many of these products are built on a foundation of Artificial Intelligence and Machine Learning, these concepts will be explained in the context of how new technology is built and used. Guardrails and continued need for advocacy will round out the session. Presented By: Dr. Colleen Kraft | |
| Dashboard Awards Presentation | The dashboard awards are back! Come see who led the PCC pack, who improved the most, and which new members of the PCC family excelled through the crazy year that was 2020. Presented By: Tim Proctor, Chip Hart | |
| Closing Session: Practice Management During COVID and Beyond – What Have We Learned? | What did we learn from the impact COVID on the business and culture of pediatrics? What predictions can we make about the future, what changes do we need to make? Chip Hart will take you through the watershed moments of the last year and summarize some of the results, saying some things out loud that many haven't dared to say. Presented By: Chip Hart | |