Customize Your PCC eRx Favorites
PCC eRx automatically tracks your prescribing behavior and creates favorites. You can prescribe from your favorites with a single click.
You can customize your favorites to make them more powerful. Read the sections below to learn how to review and modify your prescription favorites.
Favorites Are Set By Prescribers: If you are clinical staff or a provider agent, then you will see the favorites of your supervising provider. For more information about prescriber roles, read PCC eRx Prescriber Roles.
Review Your Favorites
Your favorite prescriptions appear in the Prescribe component in PCC eRx.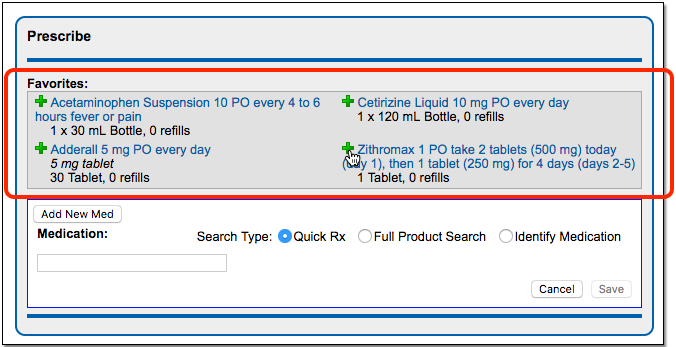 They also appear in search results when you search for a drug.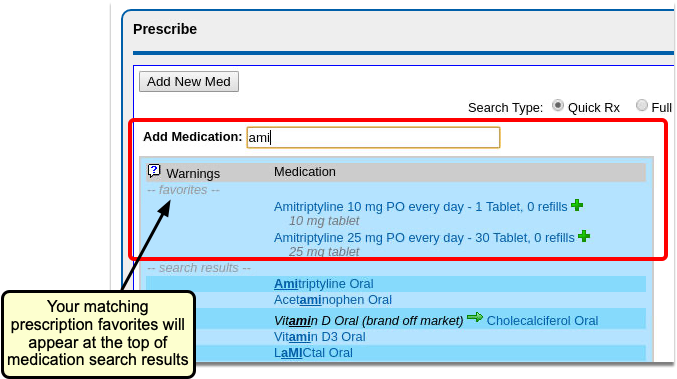 When you want to see more details and make changes, click the "My Settings" link on the PCC eRx menu bar.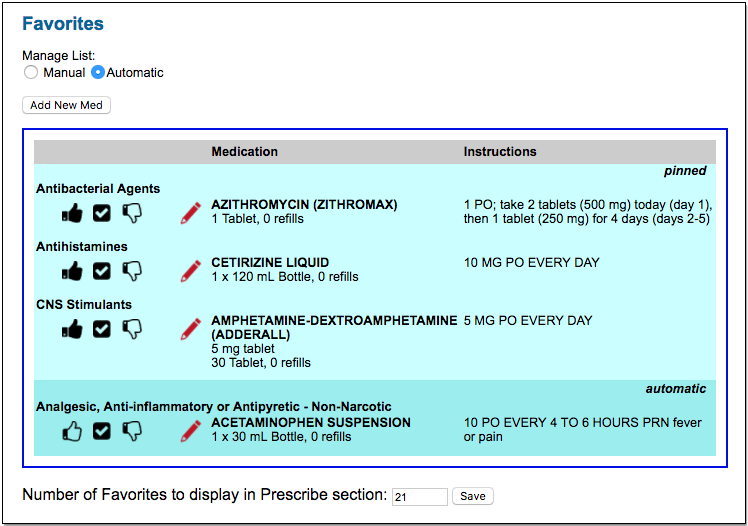 For each prescription, you can see the name, dosing statement, quantity, and instructions. Prescriptions are also grouped by drug class. For example, in the image above you can see one favorite each under groups labeled "Antibacterial Agents" and "Antihistamines".
Turn Automatic Favorites Off or On
You can switch the "Manage List" function to Manual or Automatic.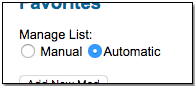 By default, PCC eRx keeps track of your prescribing habits and automatically maintains your Favorites list. Each night, the Favorites list is updated so that your most commonly prescribe prescriptions appear first. Slight differences in sig, amount, or instructions may cause more than one version of a drug to appear on your Favorites list.
If you wish PCC eRx to stop automatically updating your Favorites list, you can click "Manual" under the "Manage List" option. You can turn it back on at any time.
You Can Always Customize Your List: You can customize and edit your Favorites list whether "Automatic" or "Manual" is selected.
Pin, Unpin, and Exclude
Click on an icon to unpin, pin, or exclude a favorite.


Depending on where you click, you can mark a prescription to be pinned, automatic, or excluded.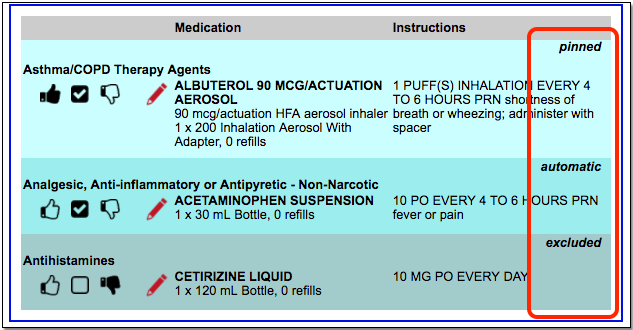 pinned: A pinned prescription is a locked favorite that will always appear on your Favorites list. You can pin an existing favorite, or add a new medication and then pin it.

automatic: An automatic prescription is on the list because PCC eRx noticed that you prescribe it. If it will fit on your Favorites list, you will see it in the Prescribe window. You can click to pin the prescription if you like seeing it, or click to exclude it if you do not wish to see it.

excluded: An excluded prescription is a favorite that you have clicked to exclude from your Favorites list. It will not appear in the Prescribe component in PCC eRx. However, if you collect favorites automatically, a similar prescription (for the same drug, but with a different sig, for example) may appear again later.
Delete or Exclude?: You can click the red pencil icon to edit a favorite and then click "Delete" to delete it. However, if you prescribe the medication again and you have Automatic management on, the prescriptions can show up on your Favorites list again. If it a favorite is "excluded", you will not see it on your Favorites list.
Change the Number of Favorites That Appear
You can set how many favorites will appear in the Prescribe component in PCC eRx.

Depending on the size of your computer screen, you may only want a few rows of favorites to appear.
Add a New Favorite
If Automatic favorite management is turned on, all of the prescriptions you prescribe will be candidates for the Favorites list. You can use the My Settings screen to exclude or pin your past prescriptions to your Favorites list.
When you wish to add a new favorite from scratch, click "Add New Med" and find the drug (or supply) and dosing statement for the favorite.



Next, enter any additional prescription details and click "Save".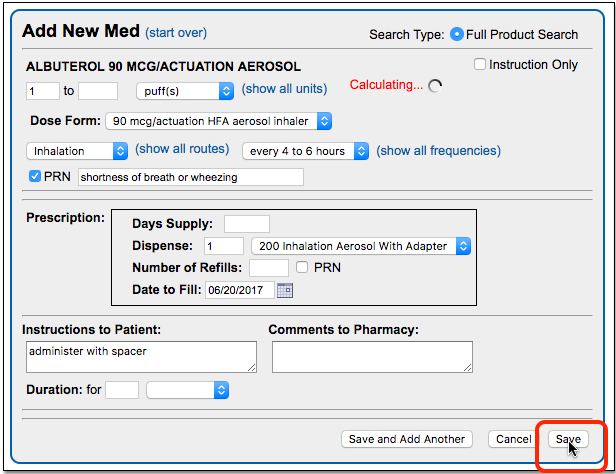 New Favorites Are Pinned: If you create a custom favorite, PCC eRx will "pin" it for you so it will always appear on your Favorites list in the Prescribe component.
Pharmacy Coupon Codes?: You can add pharmacy coupon codes to the instruction fields. They will be saved with the favorite and appear on every prescription.
Create a Favorite As I Prescribe It, or From the Patient's History?: You can not create a new favorite from the patient's record, neither as you prescribe it nor from a patient's history. However, if Automatic Favorites list management is turned on, all prescriptions you create will be evaluated as favorites. You can review the list under "My Settings" at any time and pin prescriptions that you would like to appear as favorites.
Create Auto-Calculating Weight-Based Prescription Favorites
You can create a weight-based prescription favorite that will automatically calculate the volume per-dose based on a patient's weight. Your prescribers can create weight-based prescription favorites manually, or PCC eRx can create them automatically.
To create a prescription favorite manually, visit the My Settings screen and click Add New Med.


Next, find the medication and pick a weight-based dosing statement. (Note: You can actually pick any dosing statement as a template, but picking a weight-based one saves a step.)


Since PCC eRx understands that you want to create a weight-based favorite, it will display the medication with a milligram/kilogram/dose value (which is different from per day). You can adjust the per-kilogram (of the patient's weight) value, per dose, for your prescription favorite.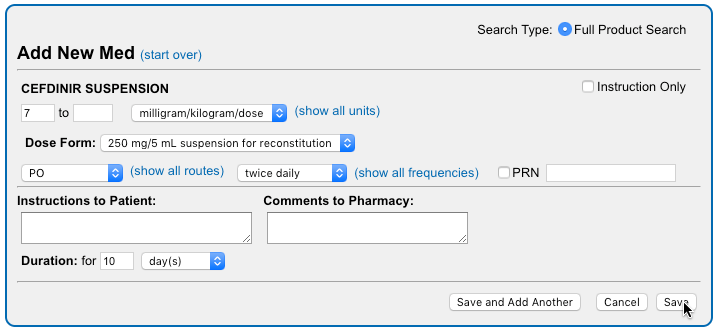 After you update the per-kilogram value for your favorite, and adjust other parts of the prescription you'd like to save in your favorite, click Save.
Your new prescription favorite will appear in the Prescribe component.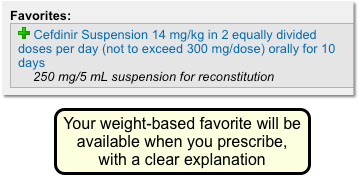 When you click on it, PCC eRx will check the patient's weight and calculate an appropriate dose amount based on frequency and days supply.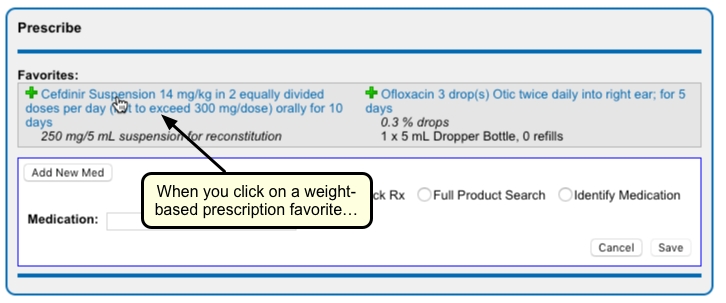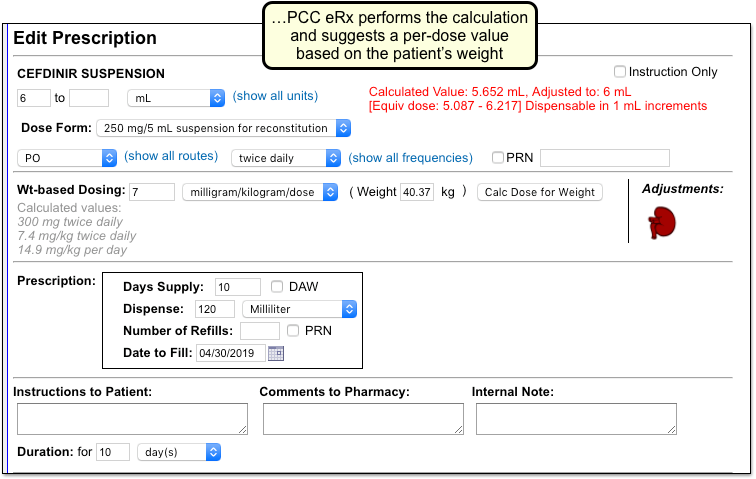 Automatic Favorites: Instead of creating favorites manually, PCC eRx can build a prescriber's list of Favorites for them, based on prescriptions they make. If you use this method at your practice, PCC eRx will add any weight-based prescriptions to your Favorites list, omitting the final per-dose value and total volume which will be based on each patient's weight.
Edit an Existing Favorite
Click the red pencil icon to edit an existing favorite.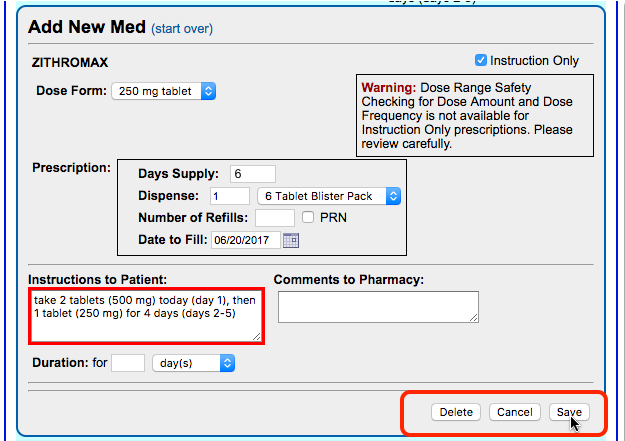 In the above example, we changed the Dispense information for the favorite prescription.
Delete a Favorite: As you edit a favorite, you can click "Delete" to delete it. The favorite will no longer appear on your list or in the Prescriptions component.
After you click "Save" to save your changes, review the Favorites list to make sure it matches your expectations.

You can pass favorites back and forth among different prescribers at your practice. For example, one pediatrician could create favorites and then have an eRx administrator share them with other pediatricians.
Only a PCC eRx Administrator can copy favorites between users. For more information, read Set Up PCC eRx User Access.
First, open PCC eRx and click "Administration" and then "Copy Favorites".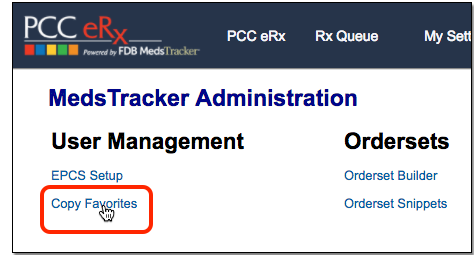 Next, use the first search field to find a user from whom you wish to copy favorites. Use the second search field to find one or more users who will receive the copied favorites.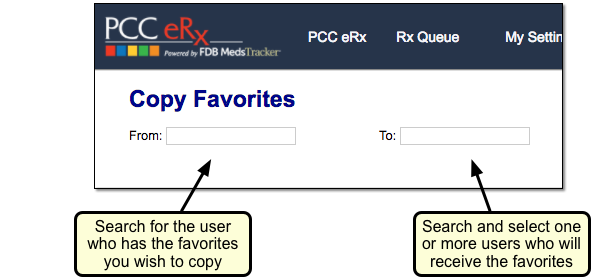 Review the list of favorites for the "From" user. You can de-select any that you do not wish to copy.
Finally, click on a button on the right to either add the copied favorites, or completely replace the destination user's favorites with the copies from the first user.