Set Up PCC eRx User Access
Before a clinician or staff member can prescribe medications or modify a patient's medication information, they must have PCC eRx enabled on their user account in PCC EHR. Follow the procedure in this article below to enable PCC eRx for providers or any staff at your practice.
Who Needs PCC eRx Access?: Any clinical or non-clinical staff may be granted access to PCC eRx. While all PCC EHR users can open charts and review Medication History, a staff member needs to have their PCC eRx account enabled in order to update patient pharmacy, allergy, or other information, as well as to work with prescriptions.
Watch a Video: You can learn how to set up and administrate PCC eRx user accounts by watching the PCC eRx – Set Up Staff and Clinicians video.
Configure a User's eRx Access in PCC EHR
When you are ready to set up a PCC eRx user account, follow this procedure.
Open the User Administration Tool
Open the User Administration tool in the Tools menu.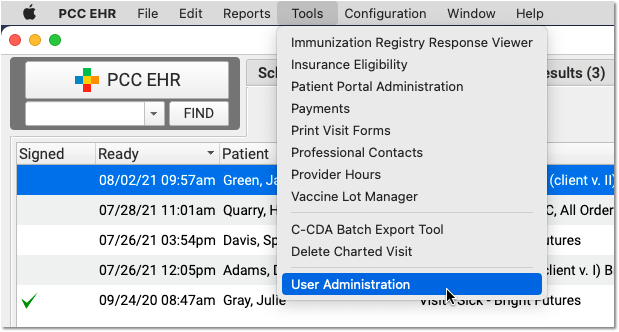 Who Can Do This?: Your practice has one or more PCC administrators who are allowed to make changes to accounts. If you do not know your PCC administrators, contact your PCC Client Advocate.
Optionally, Review eRx Roles Column
On the list of users in the User Administration tool, you can see the current PCC eRx access role for each user in the PCC eRx Role(s) column.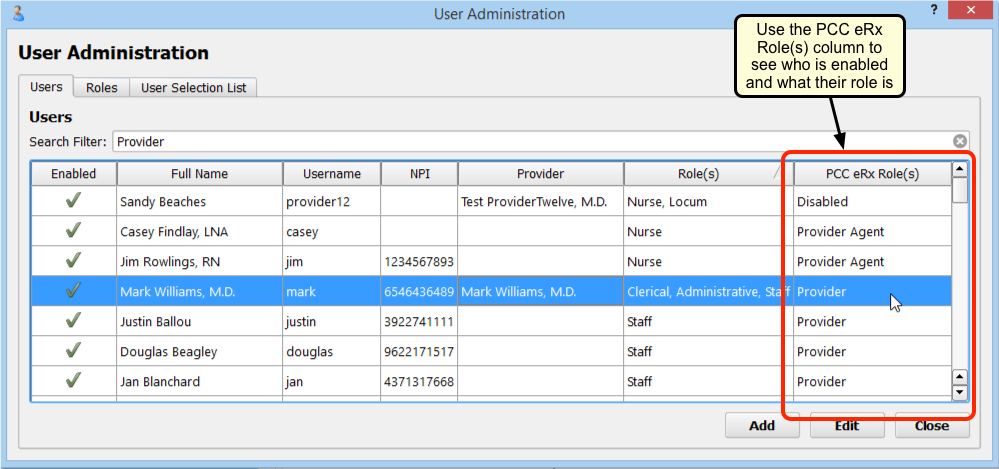 You can use this column to find users who may need to have their eRx accounts activated or their eRx Role changed.
Double-Click to Open a User Account
Double-click on any user to edit their account information.


For Prescribers, Update Name, Credentials, and Double-Check License and Other IDs
If the user you selected will be sending prescriptions, review the First, Middle, and Last Name fields, along with the Professional Suffix. These identifiers will be used to create the eRx account, and they will appear on prescriptions.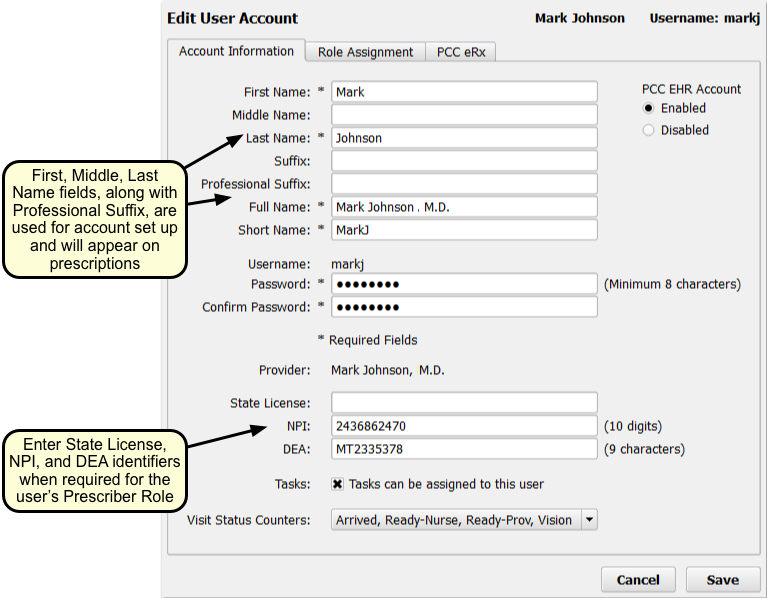 Next, if the Prescriber will be sending prescriptions with their own credentials, double-check that their identifiers are entered in the State License, NPI, and DEA fields.
Click the PCC eRx Tab
Click on the PCC eRx tab to set up prescribing roles and other options for the user.

Enable the User's PCC eRx Account
Click "Enabled" to activate the patient's PCC eRx account.

Select a Prescriber Role
Choose a Prescriber Role for the user. As you make a selection, PCC EHR will briefly summarize the abilities and responsibilities of each role.

Each Prescriber Role indicates certain permissions or levels of prescribing ability. You can see a description of the selected role at the bottom of the list. For a complete guide to PCC eRx Prescriber Roles, read the section below.
If you have not entered a required identification for the prescriber level, you will see a warning message.

Choose Prescriber Locations and Default Location
Select each of the locations where this user will be working with prescriptions. Pick a default location to help speed up their prescribing workflow.

Why Do I Need to Enter Locations and a Default Location?: Every prescription must have a prescribing location. PCC eRx automatically determines the location based on the encounter location; if a prescription is made for a well visit at a particular office, PCC eRx will assume that location. However, prescriptions made in the context of a portal message or other encounter for which there is no location must also have an official location. Use the first field to indicate at which locations a prescriber is authorized to prescribe. Next, indicate which location should be selected by default if the prescriber's location can not be automatically determined.
Will This Prescriber Receive Renewal Requests inside PCC EHR?
Electronic renewal requests are an optional service. Some physicians who belong to hospital groups, for example, have pharmacies send renewal requests through their hospital.
If the prescriber would like pharmacies to send electronic renewal requests to PCC EHR, check the "Electronic Renewal Request Service" box.
Will This Prescriber Use EPCS?
If this provider will be prescribing controlled substances electronically, check the EPCS box.
The prescriber can complete the enrollment process later. For more information, read EPCS: How to Enroll Prescribers and Prescribe.
Add Optional Permissions
Indicate whether or not the user needs access to reports that are embedded inside PCC eRx, and whether or not the user is a PCC eRx Administrator for your practice.


PCC eRx Reporting: PCC EHR includes a collection of PCC eRx reports in the Report Library. The user does not need this permission to access those reports. The PCC eRx reporting tools are reports built into PCC eRx by our e-prescribing partner.
PCC eRx Administrators: Your practice should have at least one PCC eRx Administrator. When you complete the EPCS process, you must have an administrator at your practice (who is not yourself).
Click "Save"
Click "Save" to save your account changes. The user will be able to use PCC eRx immediately.

Password Error: If the user has an old password that does not meet PCC EHR's minimum requirements, you may see a password error. The user must change their password before you can continue, or you can change their password for them. PCC EHR passwords must be at least eight characters and may not contain words such as "password" or the user's name.
Under-the-Hood: Prescribers Should be Linked to Billing Provider Entries
Certain prescribing functions require that the PCC EHR user's account be linked to the appropriate billing provider listing in Partner, PCC's practice management system. You can review that table for all prescribers and make sure that each one is linked to the appropriate PCC EHR user.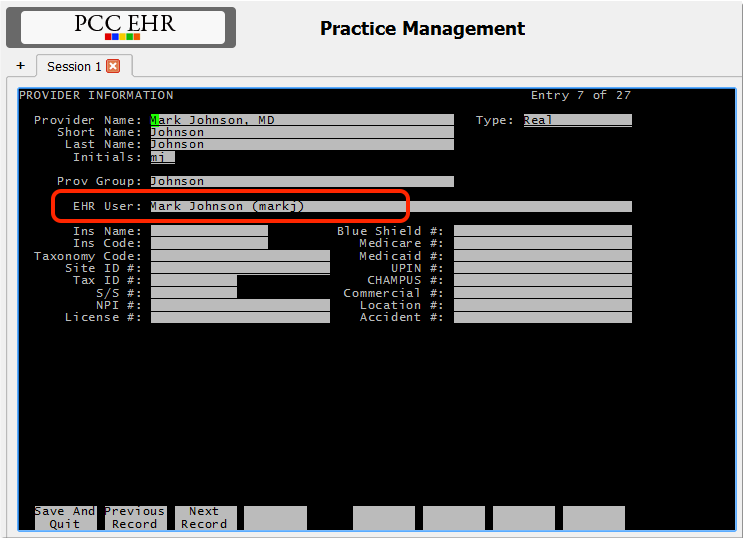 PCC eRx Prescriber Roles
When you enable PCC eRx for a PCC EHR user, you must select a PCC eRx Prescriber Role. Each role grants certain permissions and abilities. Higher-level roles include all the permissions and abilities of the roles that precede it.
Non-Clinical Staff: A user with the Non-Clinical Staff role can not create or send prescriptions. They can update a patient's pharmacies, and review all the information in the patient's PCC eRx chart section. They can not record a patient's drug allergy information or medication history.

Clinical Staff: A user with the Clinical Staff role can create prescriptions. They can not send them, but they can print them out for the physician. A higher-level user must review and process the prescriptions, either on the printed version, in the patient's chart, or on the Rx Queue.

Provider Agent: A user with the Provider Agent role can create and send prescriptions for legend drugs, and can prepare (but not send) prescriptions for controlled substances. Although Provider Agent prescriptions for legend drugs send immediately, they are technically attributed to a supervising provider. Supervising providers should routinely review and sign off on Provider Agent prescriptions on the Rx Queue.

Mid-Level Provider: A user with the Mid-Level Provider role can create and send prescriptions with their own credentials. While prescribers at this level have their own credentials, they still technically have a supervising provider who also appears on the prescription.

Provider: A user with the Provider role can create and send prescriptions with their own credentials. No supervising provider is required.
What Role Should I Give My RN, LPN, PA, NP, APRN, etc?: The PCC eRx Prescriber Roles may not directly align with clinical roles or titles you use at your practice. As your practice's PCC eRx Administrator, you should assign the above roles based on the responsibilities of the individual. For example, if you wish for an individual to be able to send prescriptions, they must be at the level of Provider Agent or higher. Your practice may decide to assign all RNs or NPs a specific role, or you may choose to grant certain permissions to certain staff at your practice based on medical degree, experience, state or local laws, or other factors.