Review and Update Medication History
At every visit, you ask patients (and their parents) what medications they take. In PCC EHR, you can quickly review and update the chart record of a patient's medications. When you create a prescription, the Medication History is kept up-to-date, and you can use special features, like the Prescriptions History component and Retail Rx History component, to get a clearer picture of a patient's medications, make changes, and send refills fast.
Read below to learn how to use medication history in PCC EHR.
Watch a Video: You can also learn about Medication History in PCC EHR by watching the Medication History video.
Review Basic Medication History
As soon as you open a patient's chart, you can review what medications they take in the Medication History component.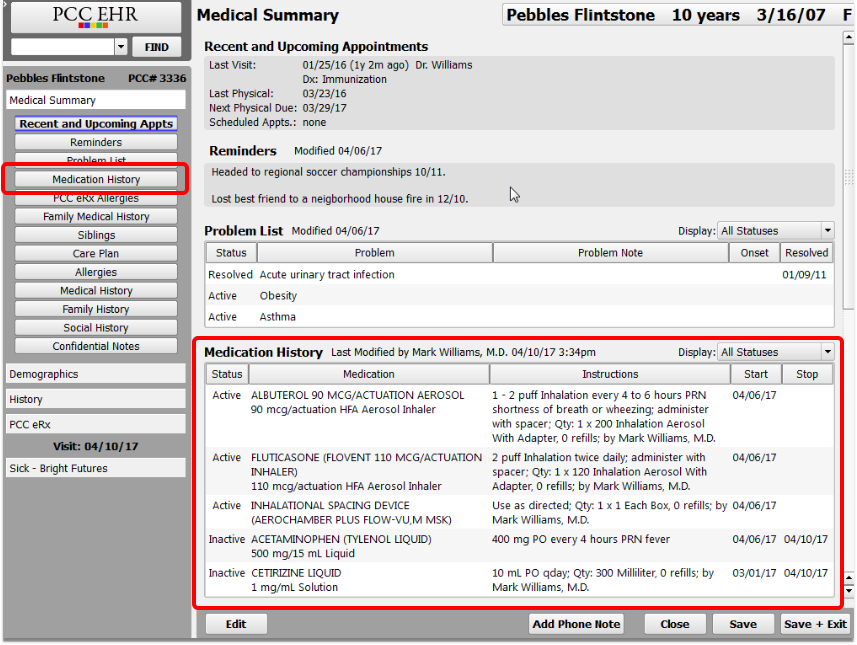 By default, the Medication History appears on the Medical Summary. Your practice may also add it to chart note protocols to make it easy to review medications as you chart a visit.
The Medication History component shows all of a patient's prescribed and reported medications. You can filter the list to display only active medications, if you prefer.
Each medication is displayed along with its dosing statement and instructions, as well as the start and stop date of each prescription. At the top of the list, you can see when the patient's medications were last updated, and beneath the list you can see when it was last marked as reviewed.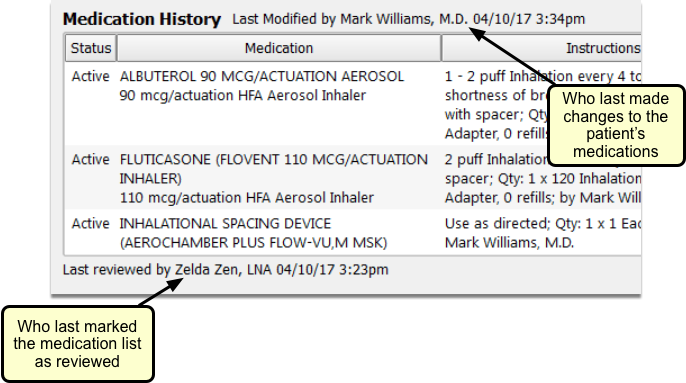 If you need to update a patient's medication history or re-prescribe a medication that appears in this list, open the PCC eRx chart section.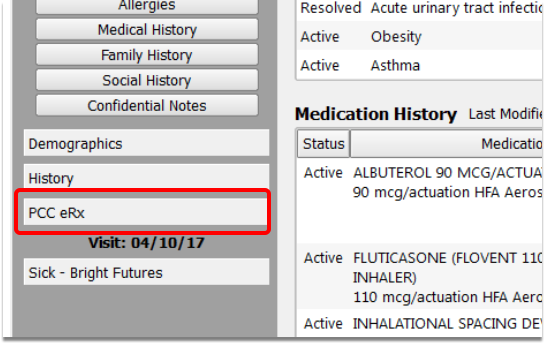 Review Medication History Details and Update a Patient's Medications
When you want to see more information, update, or make a note about a patient's historical medications, use the Medication History component inside PCC eRx.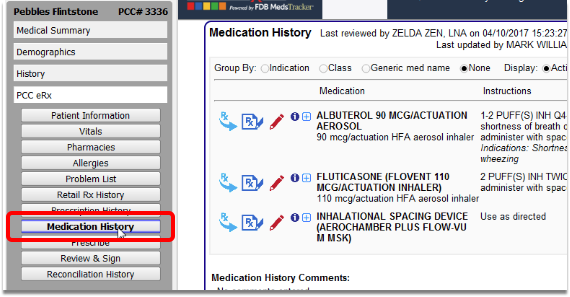 The Medication History in PCC eRx displays all of a patient's active medications, whether prescribed or entered manually based on self-reporting. You can review them while making medication decisions and optionally re-prescribe a medication. It includes additional details and tools.
As soon as you prescribe a drug, it appears on the history, and will be mirrored in the Medication History component in PCC EHR (available on the Medical Summary or on chart notes).
Filters and Groups: By default, the history shows only active medications. Click the "Active & Inactive" filter button to see both active and inactive medications.
Special Filters for Patients On Lots of Medications: If a patient has more than one chronic condition, you can group medications by indication, class, and generic medication name. For example, you could list by indication in order to see all of the medications a patient takes in relation to ADHD or other diagnosis. Similarly, you can look at all the prescriptions in a drug class, or see all the medication prescriptions the patient has taken with a shared generic medication name.
Mark Medication List as Reviewed
You can click "Mark as reviewed" to indicate you have reviewed the patient's medications, and that status will be updated in the patient's chart in PCC EHR.


Add Internal Comment
You can also add a comment to the Medication History, which may be useful for general medication information or non-drug medications that can not be recorded.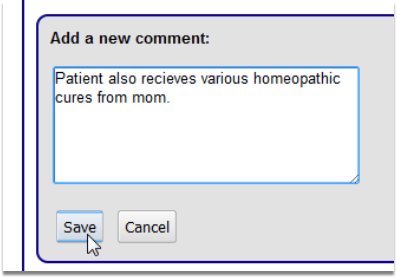 Renew and Prescribe From the Medication History
Click the "Renew Prescription" icon to renew a prescription on the Medication History. Or, click the "Create New Prescription" icon to make a new prescription from an historical medication.


Add a New Historical Medication or Record that You Provided a Sample
Click "Add Hx Med" to add a new historical medication.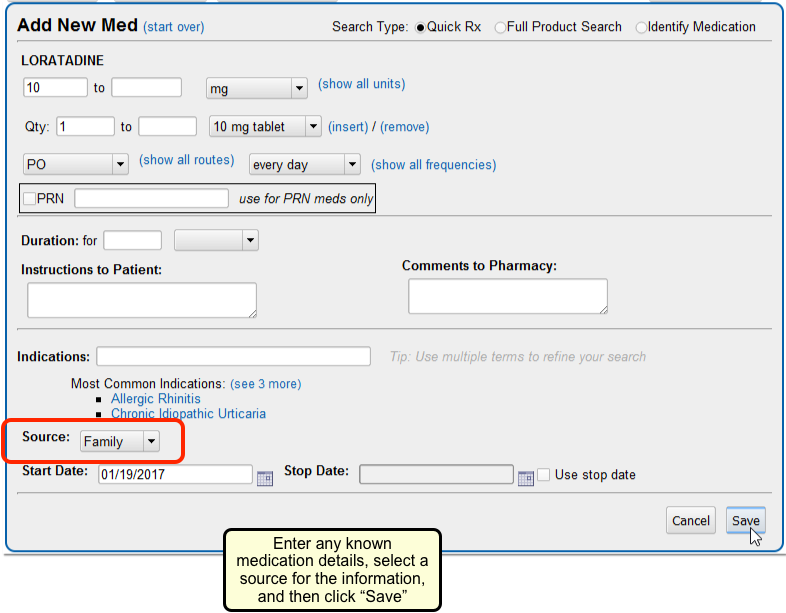 As you add a medication to the patient's history, you can choose from your Favorites or search. Next, you can add indications or other prescription details, and select the source of the information you are entering.
Record that You Provided a Sample of a Medication: Use this same "Add Hx Med" button to record that you provided a patient with a sample medication. You might also record that you provided a sample in the Plan section of a chart note, or record it with an order on the chart note. For help setting up components or creating custom orders, contact your PCC Client Advocate.
Review Medications and Allergies While Charting in PCC EHR
You can also mark a patient's Medication History and eRx Allergies as reviewed right on the chart note in PCC EHR, avoiding the need to open PCC eRx just for this purpose.

Once a component has been reviewed, the date and attribution for the most recent review will appear below the component.

The last reviewed date on the Medication History and eRx Allergies components in the patient's chart note only updates when the patient's medication history or eRx allergies are reviewed from within the chart note. Reviewing them from within PCC eRx will not change the reviewed date in the chart note.
If changes are made to the patient's medications or allergies after you review them, PCC EHR will indicate that there have been changes, prompting a new review.

The final visit note and the visit history will show eRx Allergies and Medication History items that were reviewed in the context of the chart note. Allergies and medications that have not been marked as reviewed from within the chart note will not appear in the visit history.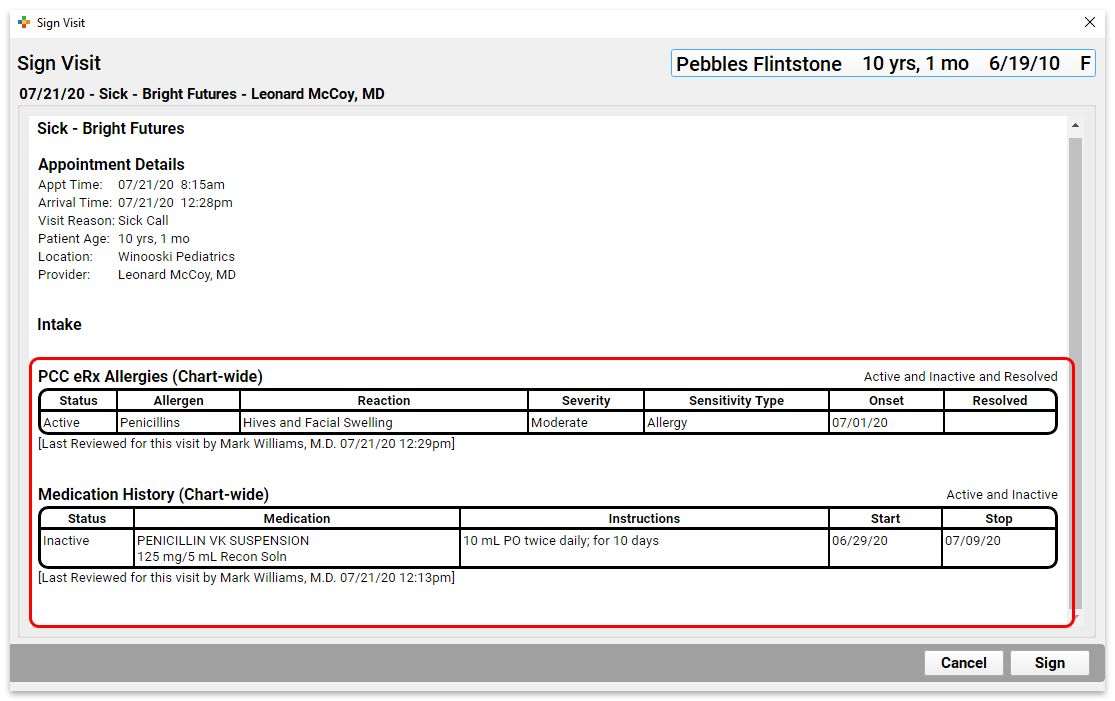 You can see all historical medications and eRx allergies, regardless of their associated visit, in the Medical Summary. The last reviewed date in the Medical Summary reflects the latest review, whether it occurred in PCC eRx or in the patient's chart note.

Use the Prescriptions History to Review and Renew Prescriptions
Use the Prescription History component in PCC eRx to see medication history in a different way: a complete record of all prescriptions, whether they are active or not.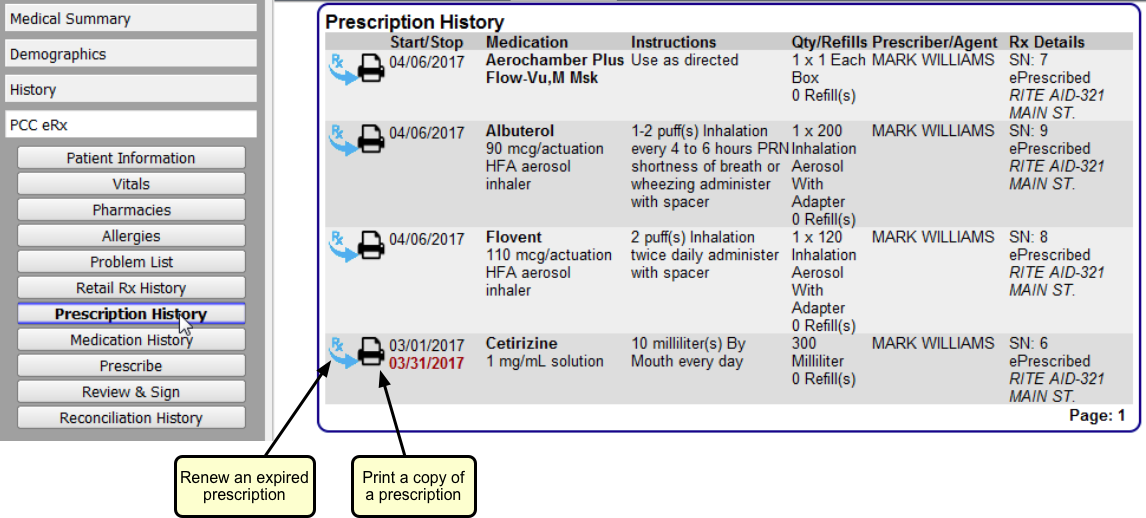 Instead of seeing medications grouped under a single heading, you'll see all prescription records, sorted by date.
For each prescription, you can see the Start and Stop Dates, Medication, Instructions, Qty/Refills, Prescriber/Agent, and other Rx Details, which include the destination pharmacy.
You an quickly review all past prescriptions and click the "Renew Prescription" icon to refill an expired prescription. You can also click to print a copy.
Prescription History vs Medication History: How is the Prescription History different from Medication History? The Prescription History is a list of all electronic prescription orders you have placed. The Medication History includes medications reported by the patient or family, or imported from the Rx History component, as well as all the medications you have prescribed for the patient. By default, the Medication History displays the "Active" medications, and gives you a quick list of medications the patient is taking right now.
Use the Retail Prescription History to Review and Import Medication History
Use the Retail Rx History component to search the prescription network for records of prescriptions filled by retail pharmacies.
First, affirm that you have patient or guardian consent. Then click "Query Retail Rx History".


Consent Checked By Default: The "Consent" box is checked by default in your PCC system. You can uncheck it if the patient or guardian does not consent to you querying for retail prescription history.
PCC eRx will retrieve the past two years of retail prescription history available from insurance companies and partner pharmaceutical systems. You can review instructions, refills, and other notes on file with the pharmacy. Note that a history probably does not include over-the-counter medications.
To see more information, click the clinician or refill icons.


Click "Copy" next to any historical prescription to copy it into the patient's Medication History in their chart in PCC EHR. PCC eRx will prompt you to select the matching medication from your system's medication library, and then allow you to adjust information about the medication record before you save it to the patient's chart.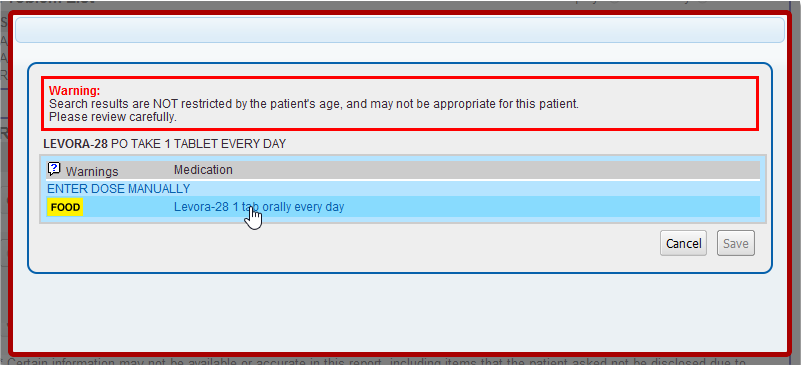 After you save the medication, you can review it and make changes in the Medication History component.
Consent to Query: PCC recommends you add permission to query retail pharmacy history to your standard policy forms that a family signs. Otherwise, you could ask the question once during a visit.
Query Constraints: A Retail Rx History query result remains visible in the PCC eRx section of the patient chart for 72 hours. You will see the same results without querying if you open PCC eRx again, and you cannot re-query the network for the patient within that time period. After the 72-hour period, you can re-query the patient's retail pharmacy history.