Add and Configure a New Clinician to Your PCC System
You can add a new clinician to PCC's under-the-hood Providers table in just a few seconds. But what about scheduling and insurance claim configuration? Will reports work properly for the new clinician?
When you add a new clinician to your practice, use the procedure below to ensure that all of these PCC functions will work correctly.
Contact PCC Support with any questions about any of the steps below. (1-800-722-7708, support@pcc.com)
Help New Clinicians Use PCC EHR: For a complete outline of materials for learning PCC EHR as a new clinician, see New User Training for Clinicians.
Step 1: Enroll the New Clinician With Your Insurance Payers
Contact your payers and enroll your new clinician. This is sometimes called "credentialing" a provider with the payer, or taking steps so that they are "participating" with the payer.
You will not be able to submit claims until the new clinician is enrolled.
Step 2: Add a New User Account
Add the individual to your PCC system. Follow the instructions here to create a user account:
Step 3: Add a Provider Group
Provider groups are used for reporting purposes. In most situations, you should create a new group for each new clinician.
Your office may have special reporting considerations for nurse practitioners, medical assistants, and other clinicians. You can set up individual groups, or a single, "Nurse" group depending on your needs.
Follow the procedure below to add a Provider Group.
Run the Table Editor (ted)
Run ted from the Partner Configuration window inside the Practice Management window in PCC EHR.
Open the Provider Group Table
From the list of tables, select table #19, Provider Groups.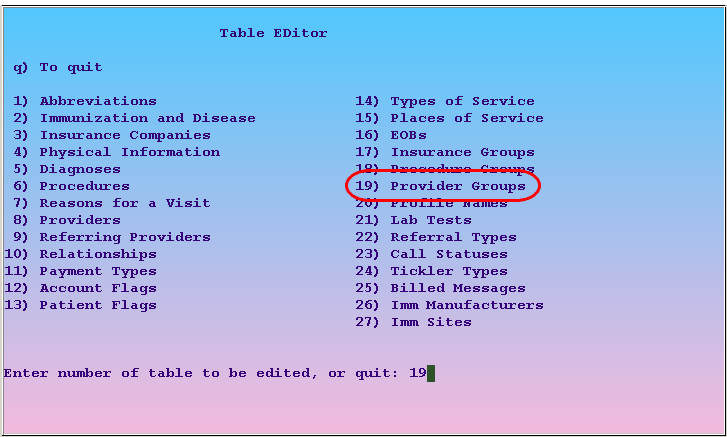 Add or Choose a Provider Group
Decide on a provider group for your new provider. If none exists, add or clone an existing group to create a new one. Many PCC reports use provider groups.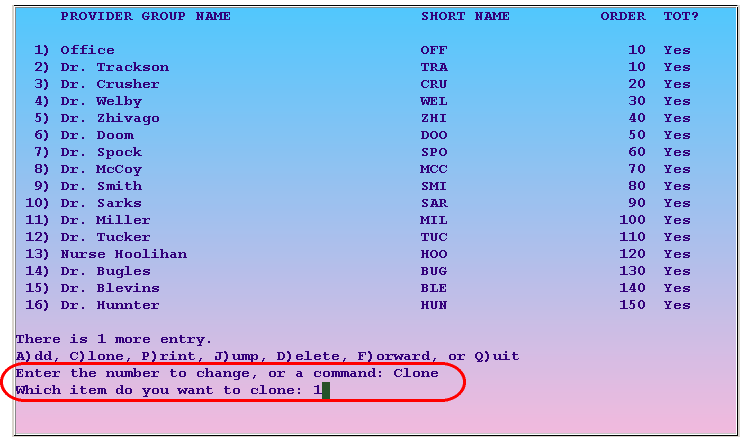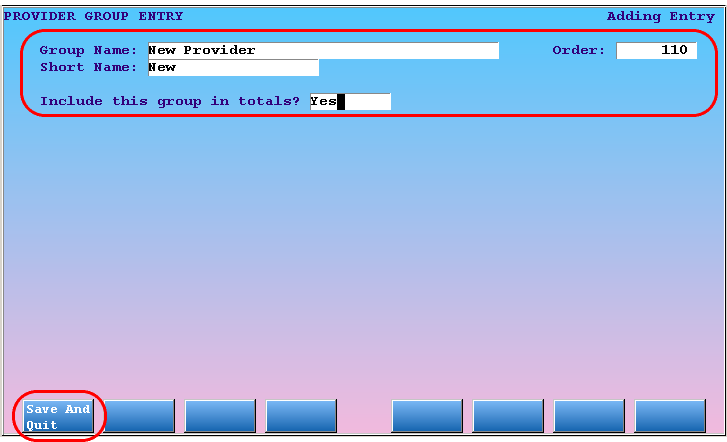 Press F1 – Save after creating a new provider group, then press Q to return to the main menu of ted.
Step 4: Add the New Provider on Your PCC Server
After you've created a new provider group, you can add the new clinician to your tables and assign them to the group. Follow the procedure below to learn how.
Open the Providers Table
From the list of tables, select table #8, Providers.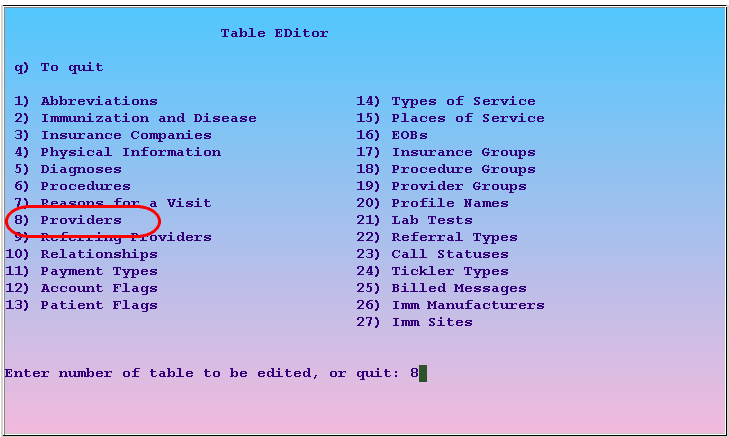 Add or Clone an Existing Provider
Press A or C to add or clone an entry, fill out the fields for your new provider, and then press F1 – Save and Quit.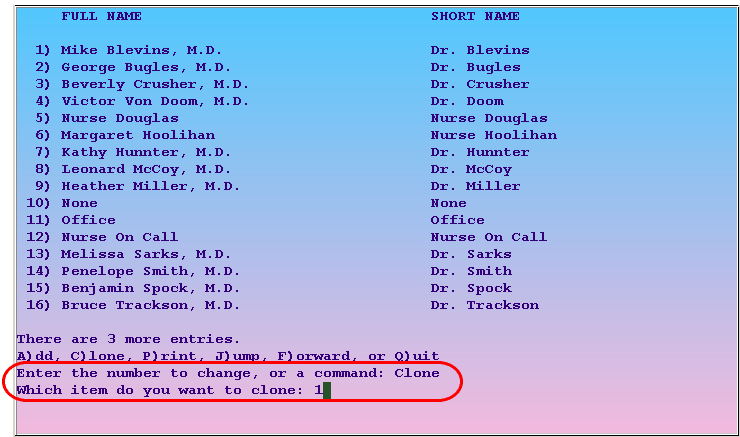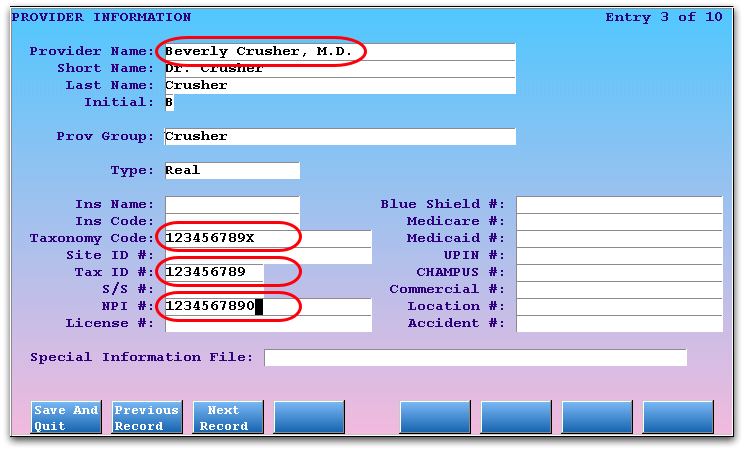 The "Provider Group" field should match the group you created in the procedure above, or another existing group.

Be sure and select a unique "Initial" for your provider. If you have more than 26 providers, you can use upper and lower case letters. Ask PCC to turn on this feature.

Many of the fields are not required as they are only used for particular types of electronic submissions. The required fields include "Tax ID#", "Taxonomy Code", and "NPI #".

The taxonomy code for a pediatrician is 208000000X.
Add the Clinician's PCC EHR Username to the Provider Entry
Enter the provider's PCC EHR user information into the "EHR User" field.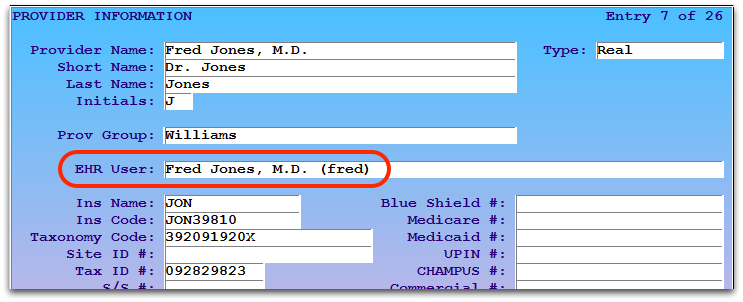 Optional: Add Abbreviations
You may want to add an entry or entries to ted table #1, the Abbreviations table. You could create a few two or three letter abbreviations for your new provider to make your staff's job easier in Practice Management tools.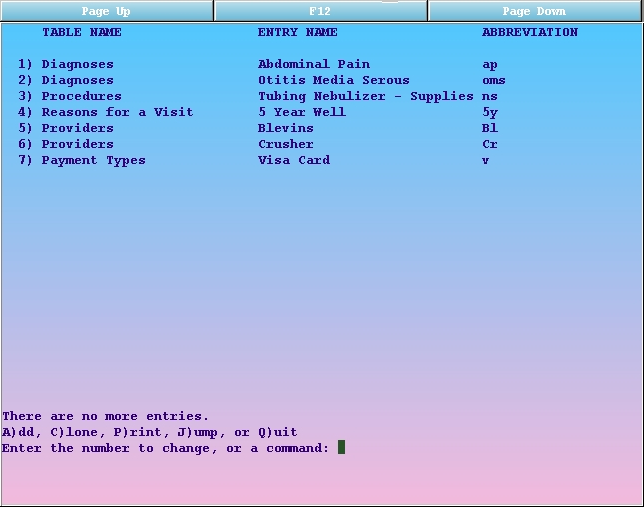 Step 5: Contact PCC Support
Contact PCC Support (support@pcc.com) and let us know you've added a clinician.
PCC can update your Notification Center configuration, adjust provider scheduling groups, and assist with eRx EPCS setup. We can also assist if you have special claim configuration needs for your new clinician.
Step 6: Configure the Appointment Book for Scheduling Your New Provider
Use the User Administration tool in PCC EHR to indicate that your new clinician can be scheduled for appointments.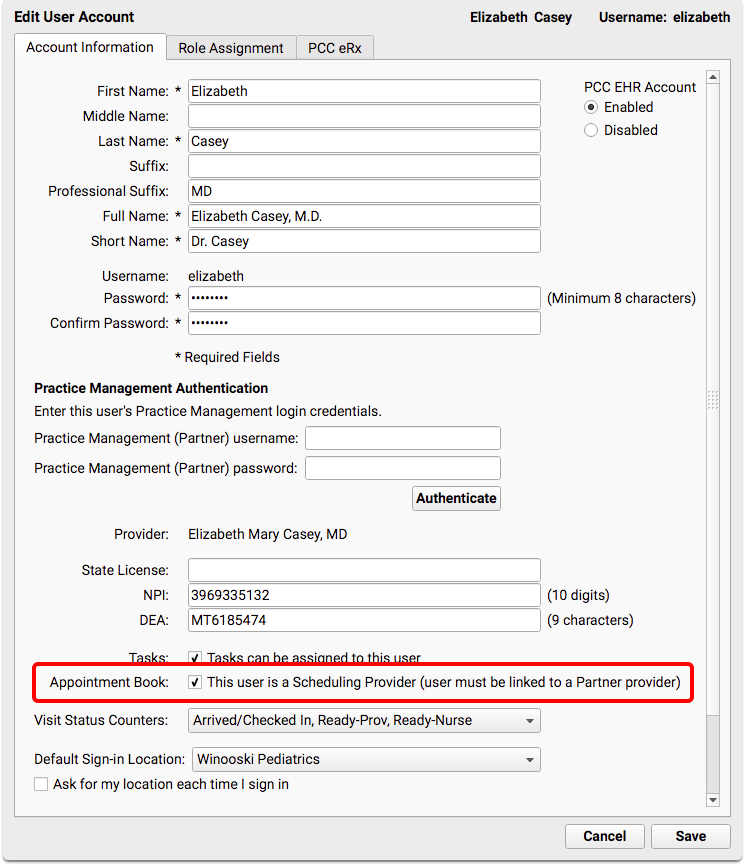 Use the Visit Reasons Editor to enter default visit reason lengths for the new provider.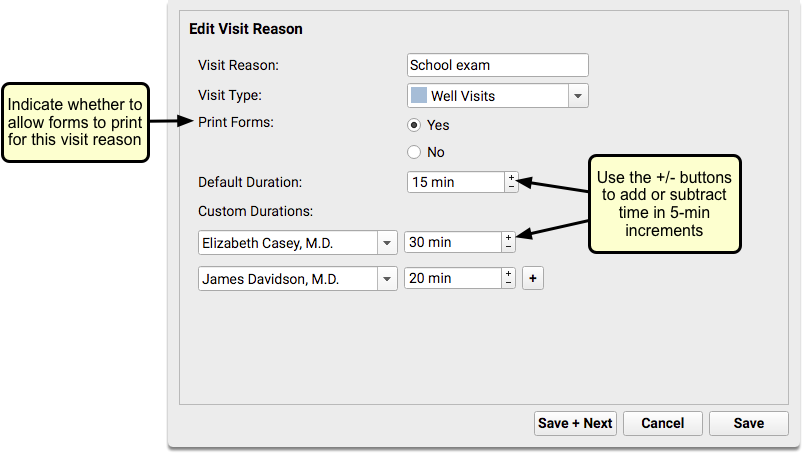 Finally, use the Provider Hours configuration tool to create at least one Scheduling Template for the new clinician, and open up their hours!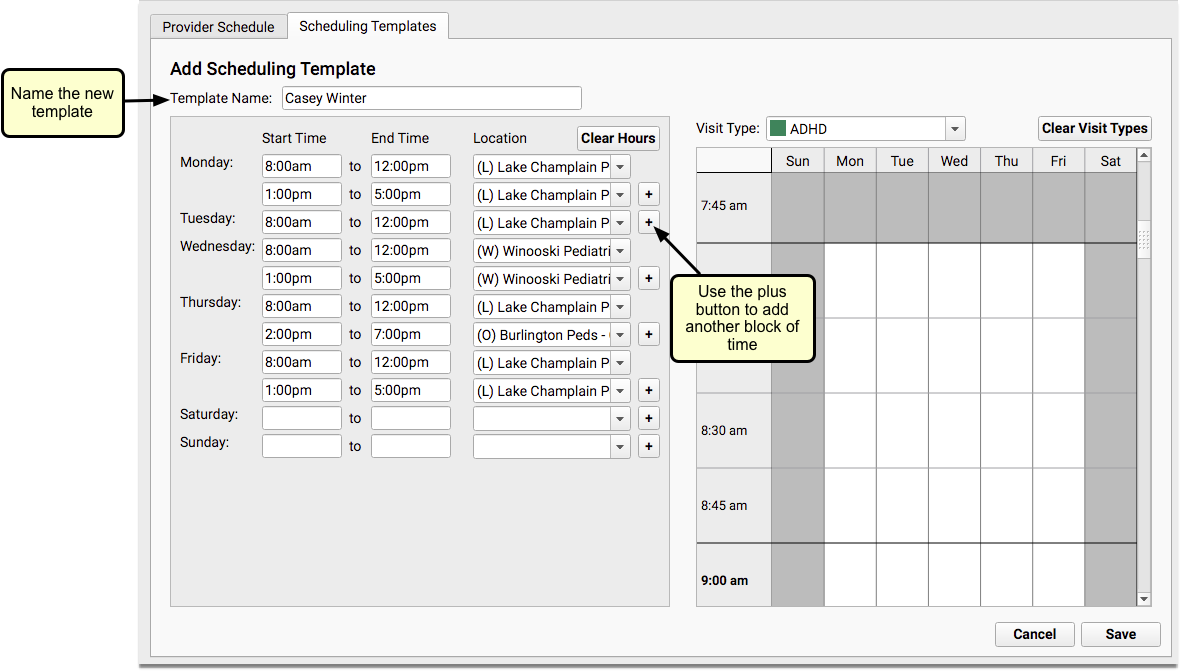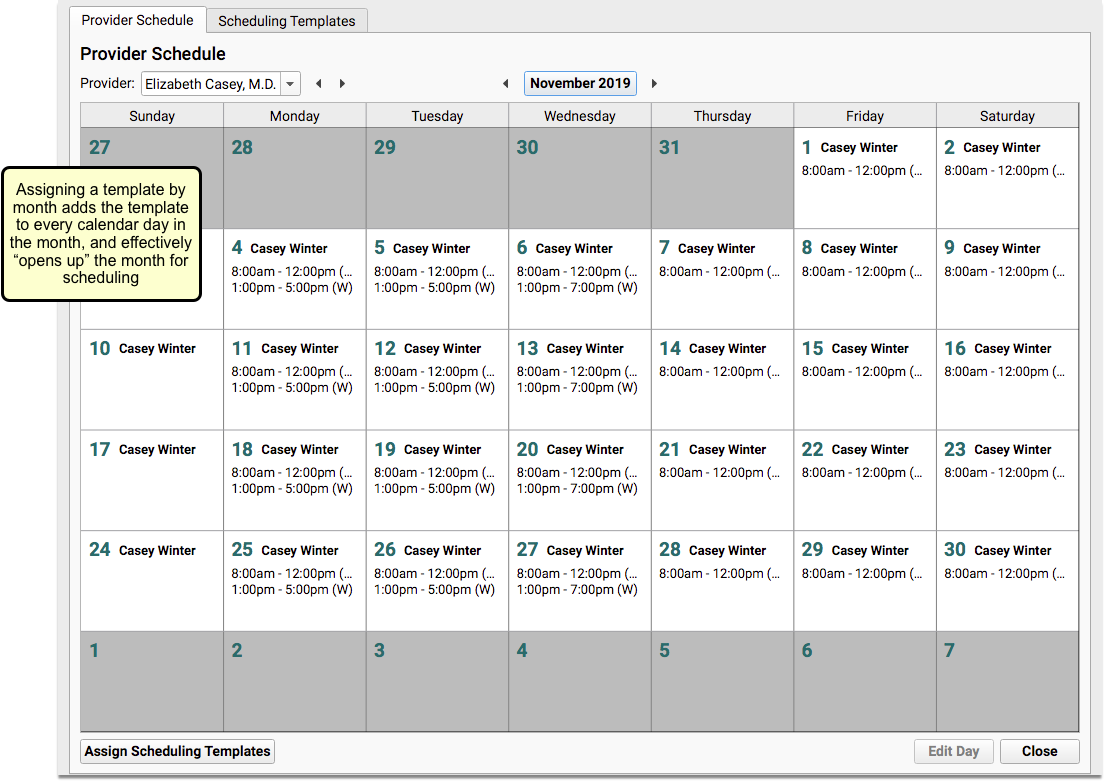 Show Me More: To learn how to configure these features, follow the instructions in the Appointment Book Configuration article.
Step 6: Review Chart Note Protocols and Make Customization for the New Clinician
What will the new provider see on their chart notes? Use PCC EHR's Protocol Configuration tool to assign existing protocols, and/or duplicate and customize protocols for different visit reasons.
Visit Configure Chart Notes and PCC EHR Components to learn more.
Step 7: Configure the Clinician's PCC eRx Prescribing Role
Use the User Administration tool to define the clinician's eRx role and permissions.
To learn how, read Set Up PCC eRx User Access.
If the clinician will be prescribing controlled substances, review EPCS: How to Enroll Prescribers and Prescribe.
Step 8: Set the Clinician's pocketPCC Security Question and Send Them Your Link
Use the User Administration tool (or the My Account tool) to review and adjust the user's security question. Then share your practice's pocketPCC login URL and security question information so they can log in. For more information, read Get Started in pocketPCC.
Step 9: Provide Your New Clinician With PCC EHR Training Materials
You can use PCC's full New User Training for Clinicians outline, or customize it to suit your needs.
Optional: Sign Up for PCC Community and PCC News
If a clinician should be informed of important PCC announcements and news, or would like to connect with other practices that use PCC's software and services, they should sign up for PCC News on the PCC Community site, if they haven't already.
You can sign up to PCC Community here: https://community.pcc.com/
When there are important service updates, PCC reaches out to someone at your practice, calling or e-mailing. You can guarantee that you'll get important updates to PCC features and services by signing up for PCC Community.
PCC Community is a Great Place to Get Answers: In addition to providing notifications from PCC, PCC Community also includes PCC Talk, an online forum where pediatric practices ask questions and help one another with issues facing their practice.
For more information, watch the Get Started with PCC Community and PCC Talk video.