Unlink and Relink a Payment
You can link a payment to specific charges when you post charges or post payments.
Later, you can also edit, unlink, and relink personal payments in the Payments tool in PCC EHR.
The instructions below show how to perform the same function in the Correct Mistakes (oops) program in the Practice Management windows. You may need this procedure if you are working with insurance payments, for example.
Post the New, Correct Procedure
If you need to link the payment to a new, different procedure, begin by posting that procedure. Add new charges to the encounter in PCC EHR or use the checkout program.
Run oops
Run oops for the account. You can do this from the wrap-up screen of checkout by pressing F4 – Correct Mistakes.
Press F6 and Select the Payment
Press 'F6′ – and enter the item number of the payment. Press Enter to continue.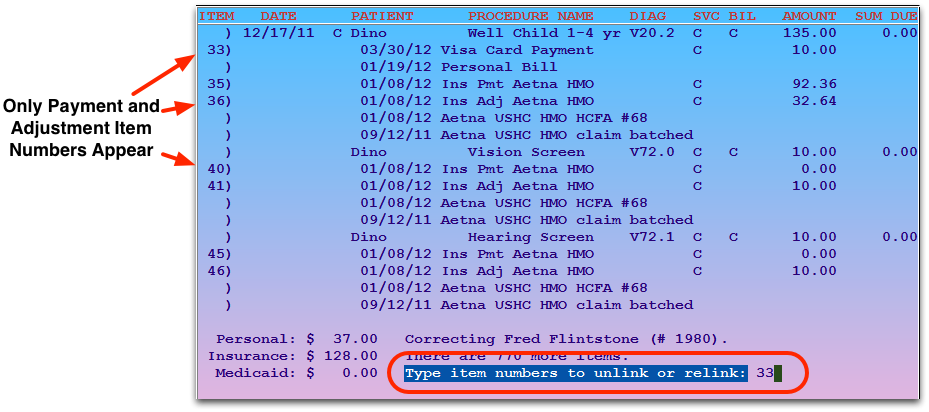 Choose Whether to Unlink, or Relink
Next, oops will summarize the payment you selected, and allow you to relink it to another charge, or leave the payment unlinked.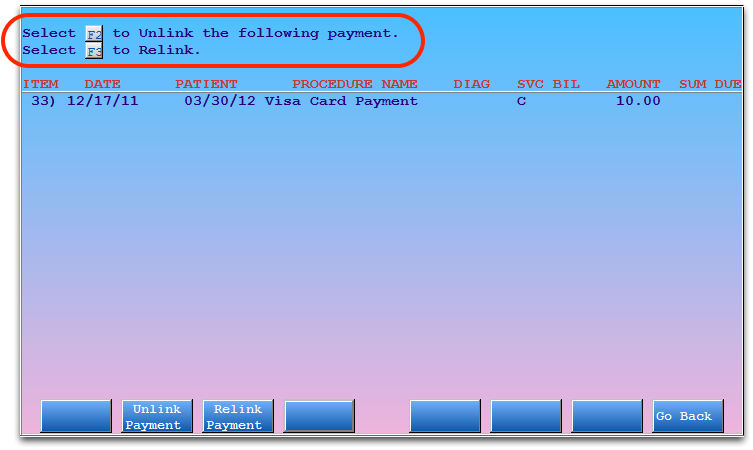 If Relinking, Select Charges And Apply Payment
If you choose to relink the payment, Partner will show you a list of all charges on the account that still have balances. Select one or more charges and press enter.
Confirm Default or Allocate Payment to Charges
Next, you will see a payment screen, similar to pip or pam, which allows you to designate how much of the payment should be allocated towards each charge. Enter how much of the total payment should be applied to each charge.
If you wish to review details about account history or patient information, press F2 – View Account or F3 – View Patient.
Press F1
When you are happy with how the money is distributed, press F1 – Save Payments to confirm. You will be returned to the main oops screen where you can review your work.
Review Payment Allocation, Delete Old, Incorrect Charges
If you are satisfied that the new procedure has the correct code and date and that the payment is linked to the correct charges, you can press F8 – Delete Item(s) to remove any incorrect charges.