Change the Copay Due on a Charge
When you learn that a patient was charged the wrong copay for a visit, how can you change the amount due? You may be trying to post an insurance payment and find yourself unable to do so because the copay amount for the office visit procedure is incorrect.
Follow the procedure below to change the copay due for any procedure on an encounter.
Open the Correct Mistakes (oops) Program for the Patient
If you are trying to post an insurance payment and a copay is wrong, for example, you can jump into oops by pressing F6 – Correct Mistakes.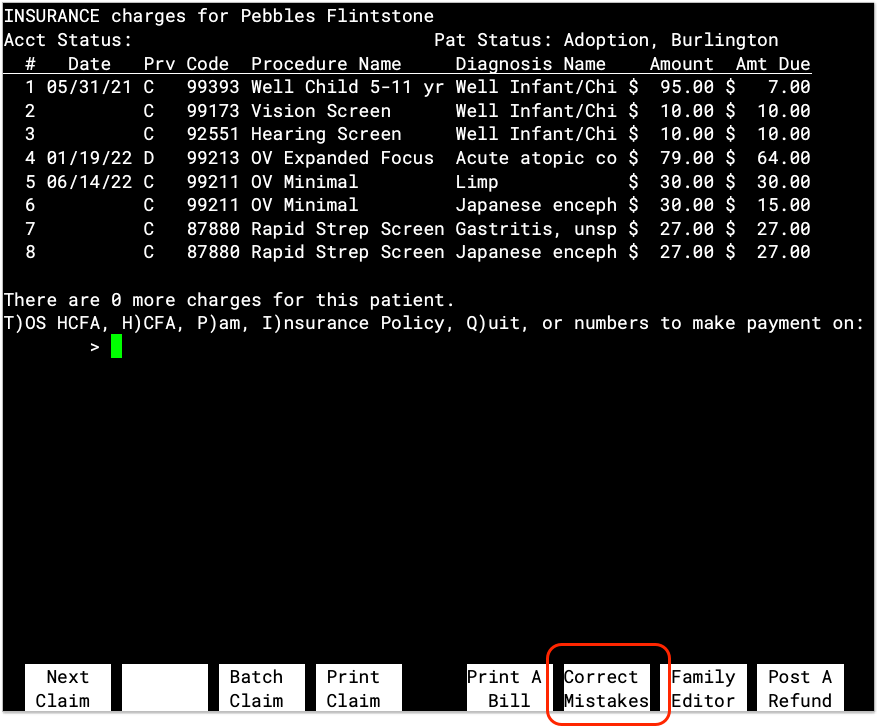 Or, you can run Correct Mistakes (oops) by family or by patient.

Locate the Charge with the Incorrect Copay
The Correct Mistakes (oops) account history is sorted by encounter date. Page down until you find the correct date, and then identify the charge that has the incorrect copay amount. Typically, copays are associated with office visit billing codes.

Press F4 and Select the Encounter or the Charge(s)
Press F4 – Insurance Status, and then enter the number next to the charge(s) you need to edit. You can also press F3 or F4 to select charges by Claim ID or the encounter's date of service.


Change the Copay Due for the Visit Procedure
Press the Tab key to move between fields. Update the Copay field to reflect the correct amount due.

Typically, you would not change the pending insurance for the charge at this time. Policies often list a copay amount, and that copay amount may be wrong, but you should fix that in a later change to the patient's policies unless the claim has not yet been submitted.
Press F1 to Save
Press F1 – Save to save your changes. If you were in the middle of posting an insurance payment, you can press F12 to back out to the Post Manual Insurance Payments (pip) program.
Review and Update the Patient's Policies
You've fixed the charges for that encounter. However, if that specific charge had the wrong copay, does that mean that the patient has the wrong insurance policy on their account? Maybe an insurance policy is misconfigured, or many patients have the wrong copay assigned.
Review the patient's policies and double-check that they have the correct copay. If the wrong copay was charged because the policy has an irregular copay rule (like charging a copay for well visits), you could work with PCC Support to adjust your policy configuration settings so the correct amount is charged by default at future encounters. You may also need to update the insurance policy for other patients.