Change the Responsible Party and Copay for Charges
Your practice can adjust the responsible party for a charge and edit copay amounts when you Post Charges in PCC EHR.
If you find out the patient's policy has changed, you can edit the charges later with the Changing Insurance Information screen in Correct Mistakes (oops), found in the Practice Management window. You can change the responsible payor for any charge on any encounter, and change the portion of the charge that is the copay.
Open an account in Correct Mistakes oops, press F4 – Insurance Status, and then select charges to view the Changing Insurance Information screen.
For example, you may want to review or change what insurance payer is responsible for a set of charges. Press F4 – Insurance Status and then select the item numbers for those charges.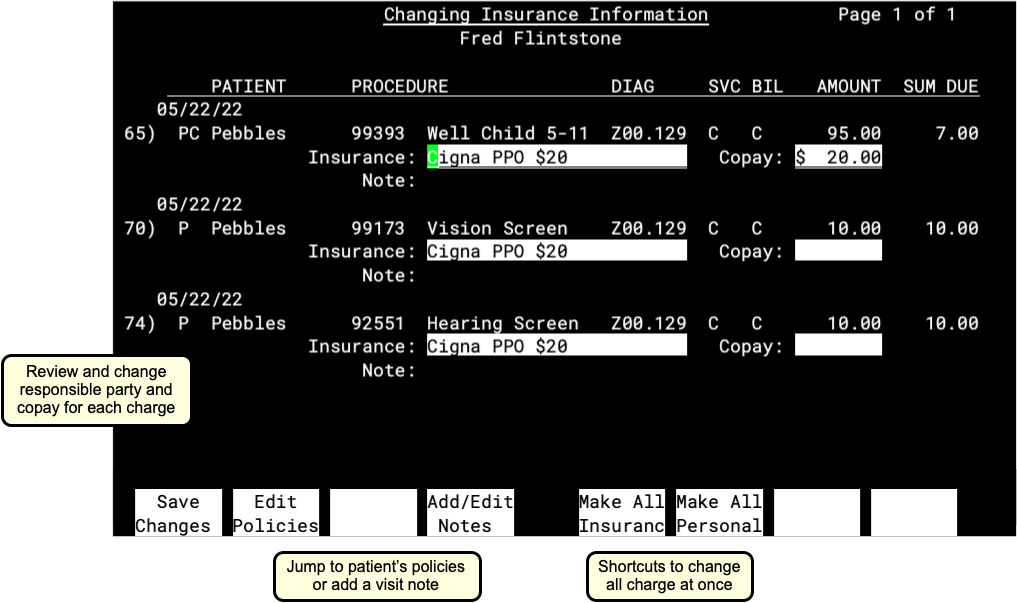 Item Numbers, Claim ID, or Visit Date: You can select charges by listing item numbers. Or, you can press F3 or F4 to enter a Claim ID or visit date.


On the Insurance Status screen, the oops program will display the date, patient name, procedure, diagnosis, servicing and billing provider initials, amount charged, and amount due for each charge you selected.
Underneath each charge, you can see the current responsible party, and (if applicable) the copay amount for the charge. You can change either of these fields, or you can use the function keys to quickly change responsible party for all of the charges listed.
Press Tab to enter the field you wish to change. In the Insurance field, use an asterisk (*) to see a list of plans on the account and then jump to a list of all plans on your system (if needed).
Note: Changing the status of a charge does not update any claim you have already batched or submitted. You must rebatch or print an updated claim by pressing F3 – Batch HCFA or F2 – Print TOS HCFA on the main screen in oops.
Jump to the Patient's Insurance Policy Screen
Press F2 – Edit Policies to open the patient's policy screen.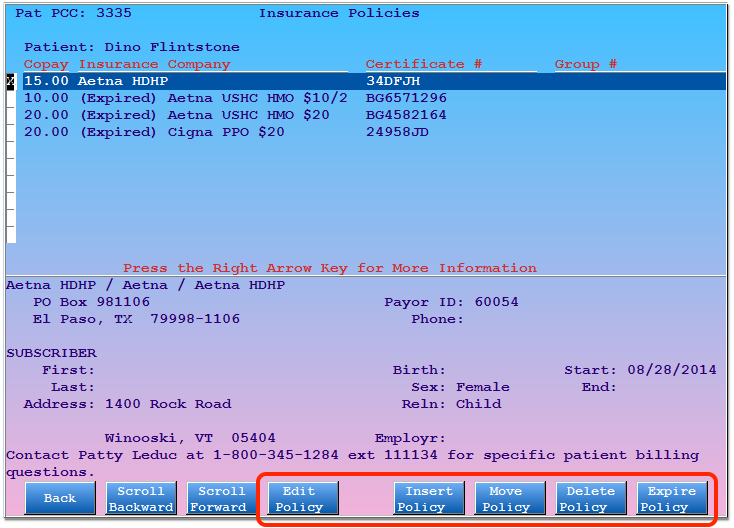 On the policy screen, you can review full insurance details, as well as add or edit policy information for the patient. Read the Insurance Policies help article to learn more.
After you make changes to the patient's policies, you could change the responsible party for the charges and then re-batch the claim back in oops.
Function Key Reference for the Insurance Status Screen
F1 – Save Changes
Save all changes made on this screen and return to the main oops screen.
F5 – Make All Insurance
Turn on the Pending status for all charges shown. If more than one insurance policy is active on the account for the charges' dates of service, a pop-up window will ask you to select which insurance is responsible for the items.
F6 – Make All Personal
Turn off the Pending status for all charges shown. Unpaid charges will become personal, due the account.