Run the Autopost (autopip) program to post payments and adjustments from insurance payers and medicaid programs. If a payer does not send electronic remittance advice (ERAs) to your practice, or an unusual response can not be posted automatically, you can run the Post Insurance Payments (pip) program to record payment and adjustment information manually.
You can also use these two programs autopip and pip to review records and jump to other programs, record non-payment, and forward a balance on to a secondary carrier or the patient's guarantor account.
Contact PCC (1-800-722-7708, <support@pcc.com>) if you are interested in adding different payment types or need help configuring your system for capitation checks, overpayments, or any other special circumstances. Let PCC know how we can make your insurance payment management even better.
Autopost Insurance Payments and Adjustments That Arrive on an ERA
Follow the steps below to autopost your incoming insurance payments and adjustments that arrive on electronic remittance advice (ERAs).
Setup Steps: If your Partner system does not receive ERA files from an insurance carriers, contact PCC for help enrolling. One of PCC's EDI Support specialists can help you register with carriers you use that have ERA as an option. (If you can not receive ERAs from a payer, you can use pip to post the paper claim responses you receive in the mail.)
Run Autopost
Run Autopost from the Insurance Payments window or by typing autopip at a command prompt.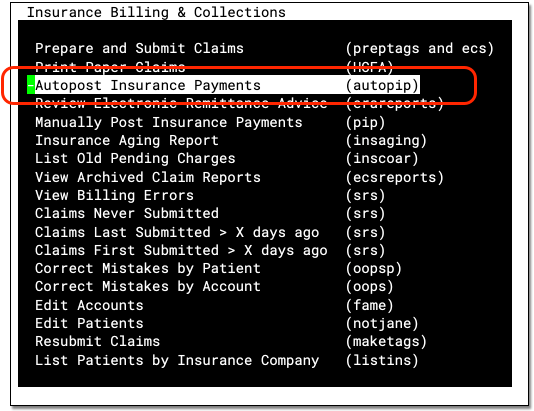 Review Your List of ERA "Check" Files
Partner sorts incoming electronic EOBs into checks. If an ERA consists of multiple checks, it will be broken into individual entries. On the first Autopost screen, you will see a list of check files.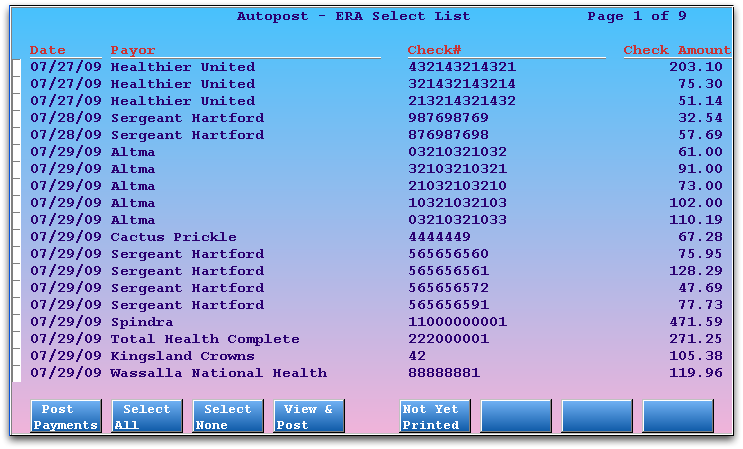 The oldest incoming check files are at the top of the screen. For each entry, you can see the Date of the ERA, the Payor, the Check # or reference #, and the total Check Amount.
Select All (or Some) ERA Check Files and Press F1
Press F2 – Select All to select all the ERA checks your system has received, and then press F1 – Post Payments to continue. If you prefer, you can use the arrow keys and type X to select individual checks and then press F1 to continue.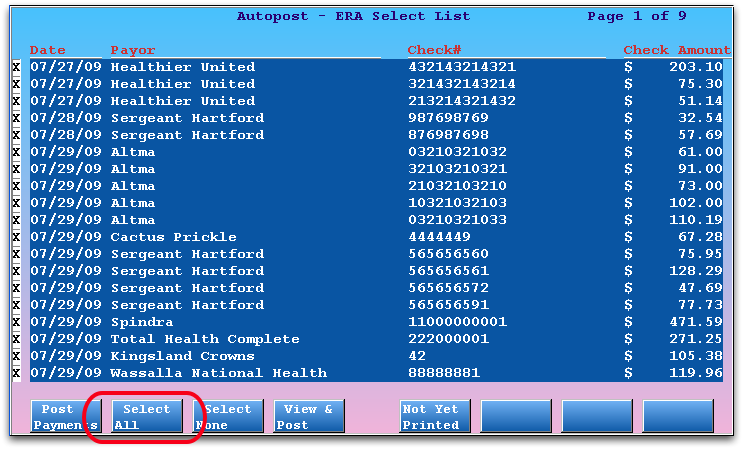 Work and Post "Check-by-Check": If you wish to review what will be posted for each check as you post the payments, press F4 – View & Post instead of F1. Partner will show a brief summary of what will be posted for each check, and you can then post or skip each one.
Specify the Transaction Date for Payment
Next, choose whether Partner should post the ERAs using the ERA's issue date, today's date, or a custom date. (You can configure your practice's default in the Configuration Editor (ced).)
For example, you may want to specify that the transaction date should be the date you received the direct deposit. You can enter that date on this screen. Then press F1 – Process to continue.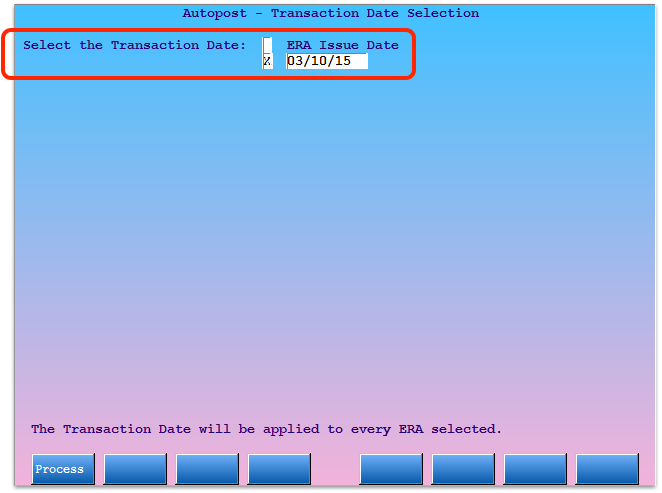 Posting Several?: If you selected several ERAs, your Transaction Date choice will be applied to each one. When you make your selection, make sure your choice is appropriate for all selected ERAs.
Review Your Selection and Press F1
On the Confirmation screen, double-check that you selected the correct checks and press F1 – Process to continue.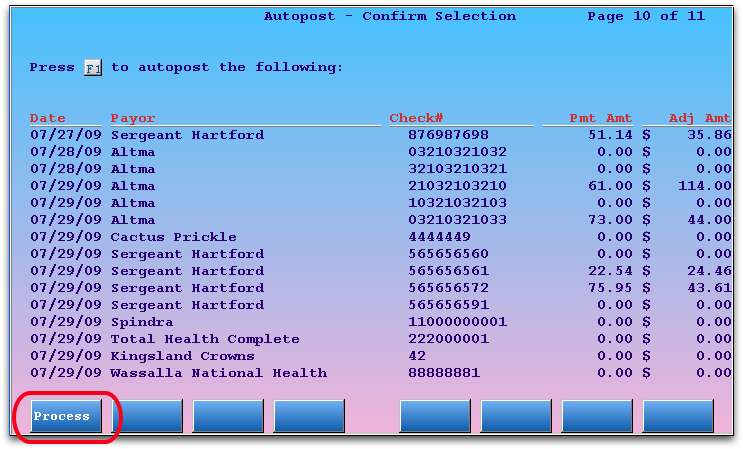 Press Enter and Quit
If all the payments and adjustments were ordinary, and no allowable amount was missed and everything matched the outgoing claims, you will be prompted to press Enter to return to the ERA Select List screen. You can then press F12 to quit autopip.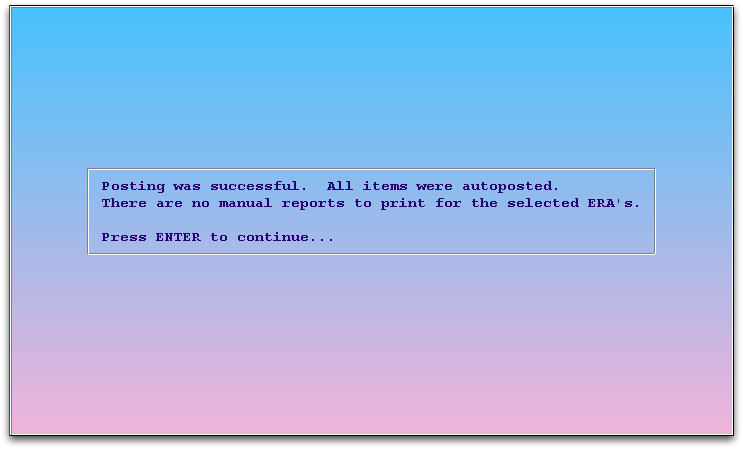 Review "Unpostable" Manual Items
However, if any item in the ERA did not match the claim or required direct attention for another reason, such as a mismatched copay amount, Partner will not autopost that item. Instead, Partner creates a Manual Post Report containing those items and you will be prompted to review or print the Manual report.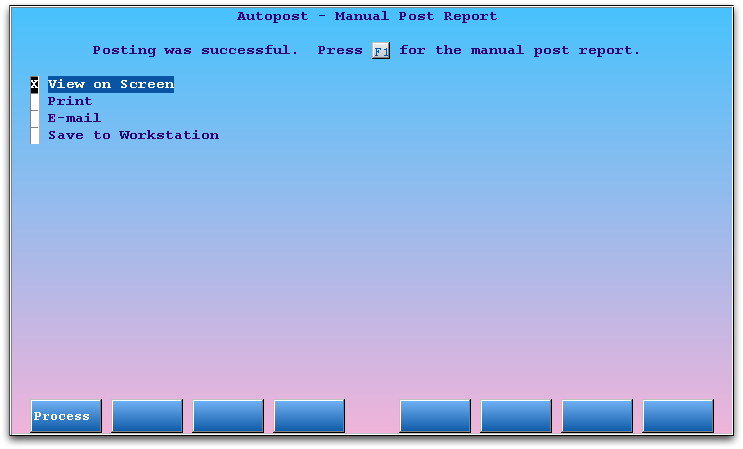 You can press F1 – Process to review the report immediately on the screen, or print, e-mail, or save it.
Why Do I Need to Print, E-Mail, or Save the Manual Reports?: ERAs may contain denials, reversals, and insurance interest payments. After autoposting finishes, any items in an ERA that autopip was unable to post are placed in a "Manual" report. A biller needs to review each Manual report and follow up on the included remittance information for the claims. In many cases, a biller needs to resubmit claims or post payments and adjustments in the Post Insurance Payments (pip) program.
Later, Review all Unprinted Manual Reports
If you or other users at your office do not print, e-mail, or save a copy of the Manual report, it will remain on a special list. Press F5 – Not Yet Printed from the main screen in autopip to review that list.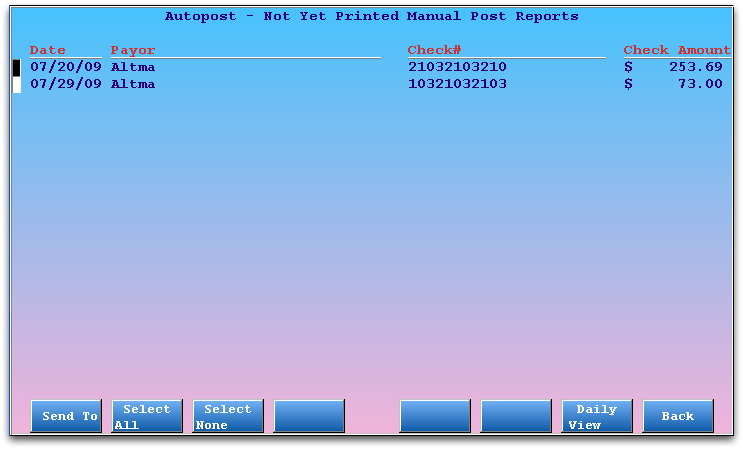 The Manual reports listed on this screen require attention. You can select multiple reports and then print, save, or e-mail them in order to remove them from this list.
Daily View: Press F7 – Daily View to review all Manual reports, whether they were printed/saved/e-mailed or not. You can use the Daily View history to find old reports and review daily auto-posting activity.
When Needed, Use ERA Reports to Review Your Autoposting History
Run the erareports program to review all the Manual reports, details of all the autoposted items, or the full, original ERA check information. Read the section on ERA Reports for more information.
For more information about each screen in the Autopost program, read the Autopost Reference.
Manually Post Insurance Payments and Adjustments
Follow the steps below to post a paper EOB or to handle an unusual claim situation that you could not post using autopip.
Run pip
You can run pip from the "Payments/Refunds" window in the Billing Functions section of your Partner Windows. You can also type pip at a command prompt.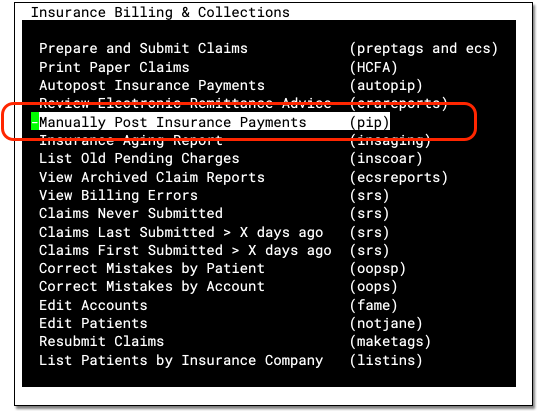 Enter Claim ID Number
Enter the unique claim ID number for the EOB you are posting.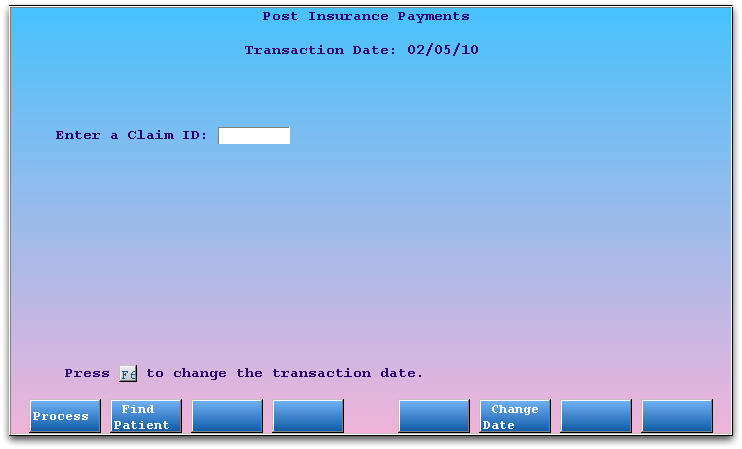 Options: Change Date, Find Patient By Name
By default, the payments and adjustments you post will have the current date as the transaction date. If you are back-posting old transactions, you can press F6 – Change Date and choose a different posting date.

If you do not have a claim ID number, you can press Enter or F2 – Find Patient to search by patient name.

Select Charges Covered by the EOB
Next, you will see a list of the patient's outstanding charges that have a balance pending an insurance company. Select those charges that are listed on the EOB.

You may enter the numbers separated by a space or enter a range:
If you are not certain to which charges you should apply a payment, or if you need to review account information or find a charge that was mistakenly paid off, use the function keys at the bottom of the screen to access other Partner programs.
Enter Payments and Adjustments
On the Post Payment screen, enter a payment and/or adjustment for each of the charges you selected.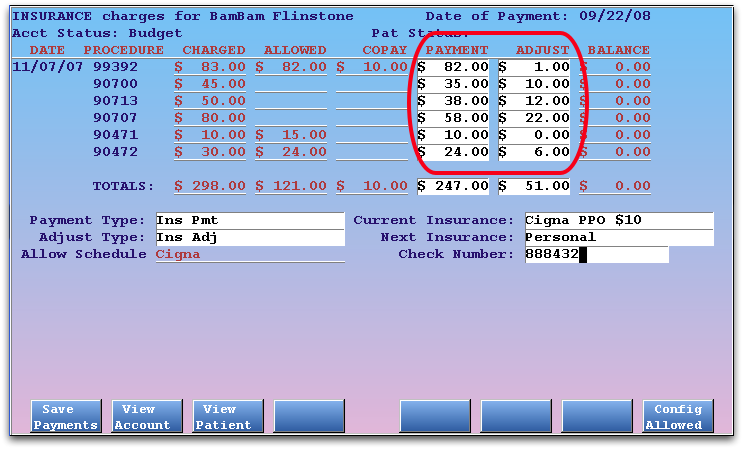 As you enter payments and adjustments, you can use the total amounts and Allowed amounts (if known) to check your work.
Enter CARC Values, Withhold, Other: You can also post CARC values, withhold amounts, and other values in the Post Insurance Payments program. Read the Payment Screen help section for more information.
Review Payment Types, Insurances, and Enter Check Number
The information at the bottom of the Post Payments screen allows you to edit how Partner will record the payment in the account history as well as what will happen with any remaining balance. You should carefully review these fields before saving the payment.

Press F1 – Save Payment.
After pressing F1, you can continue to work with this patient or press F1 again to find the next patient or claim.
For more information about advanced features and tools you can use as you post insurance payments manually, read the Post Insurance Payments reference articles.