Schedule with the Appointment Book
The Appointment Book is a visual scheduler in PCC EHR. You can use it to schedule appointments, review and make changes to providers' schedules, and place scheduling blocks.
Watch a Video: You can learn about the Appointment Book by watching the Appointment Book video series. Click here.
Ongoing Development: PCC announces new Appointment Book functionality with each PCC release. If you want to consider transitioning your practice to the Appointment Book, talk to your PCC Client Advocate.
Open and Review Your Appointment Book
While using PCC EHR, click on the Appt Book tab to open the Appointment Book.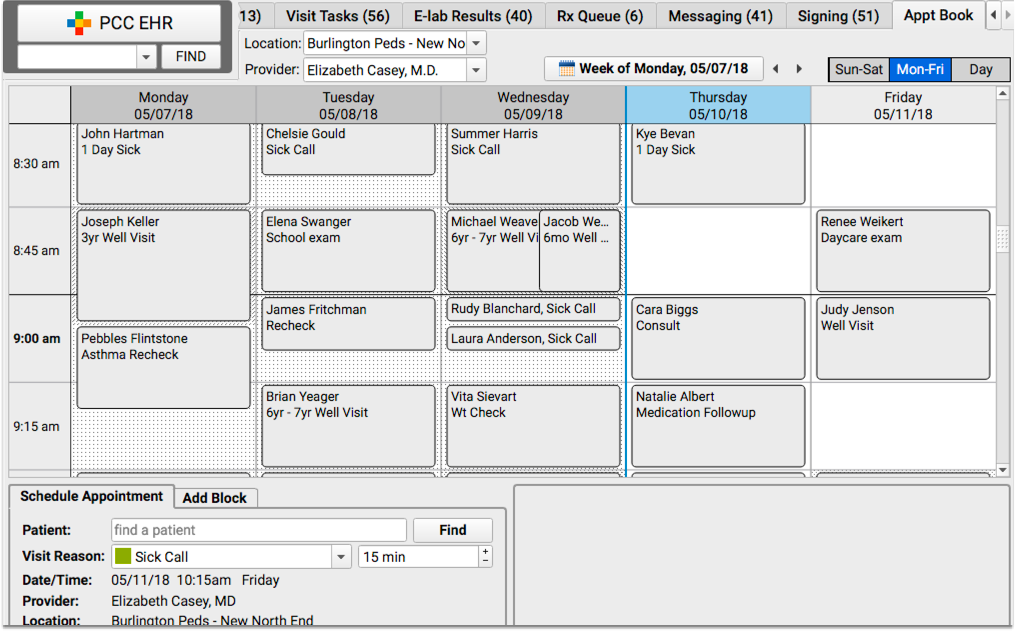 Days in the past are shaded with a dotted pattern, which appears much like a curtain over the days. Today's column will include a blue header, and a blue line will appear down the left side of the day, clearly dividing the past from the present.
The Appointment Book remembers which location and/or provider you last scheduled for, as well as the calendar view you last used (daily or weekly view) and opens your calendar to those settings.
Single Location Practice?: If your practice does not have multiple locations, you will not see the Location field on your schedule.
You can select a different location (if applicable) from the Location drop-down, and/or another provider from the Provider drop-down.
To see all of your providers at one location, select "All" from the Provider drop-down.

You can navigate your calendar using one of three display options. Choose the "Day" view to see the day's schedule for all of your providers simultaneously in a clear, easy-to-read grid. Or you can view the calendar for an individual provider, as either a 5-day "work" week, or a full week view.

Beneath the grid are tools for scheduling and reviewing appointments.
Click on any appointment to review details or make changes.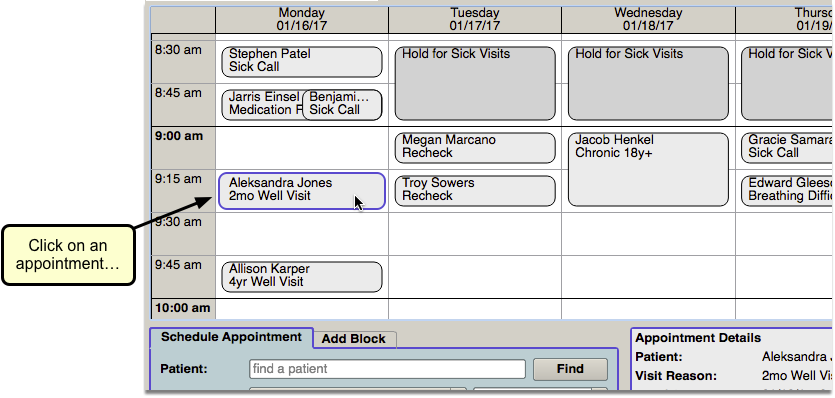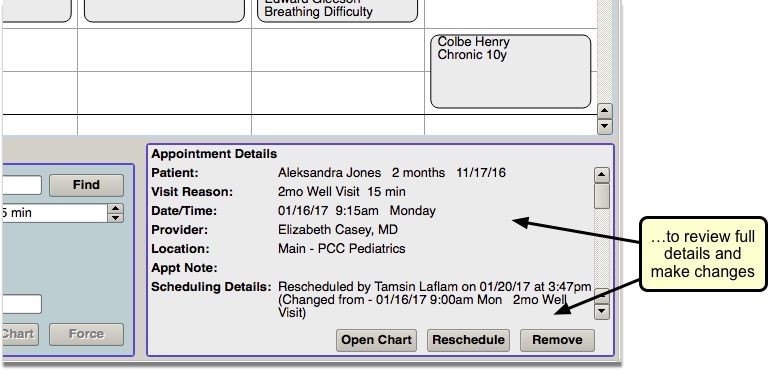 Appointments appear on the grid in the order that they were scheduled. When there is more than one appointment in a time slot, the Appointment Details panel includes a tab for each visit.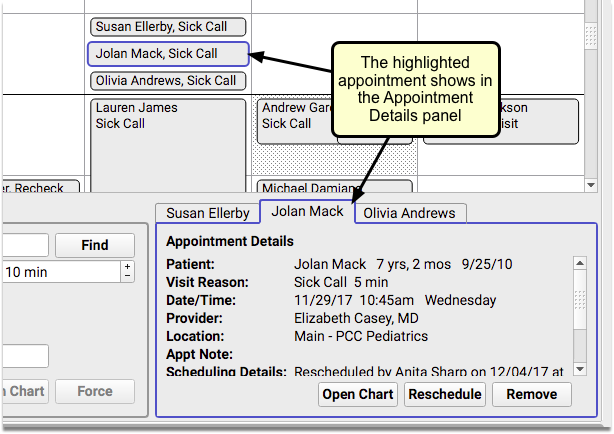 Click on any appointment within a cell to display the details for that appointment, or use the tabs to review details for each appointment scheduled at that time.
Scale the Appointment Book to See More of Your Day
Adjust the scale slider in the lower-right corner of the Appointment Book to adjust how much of the day appears on your screen.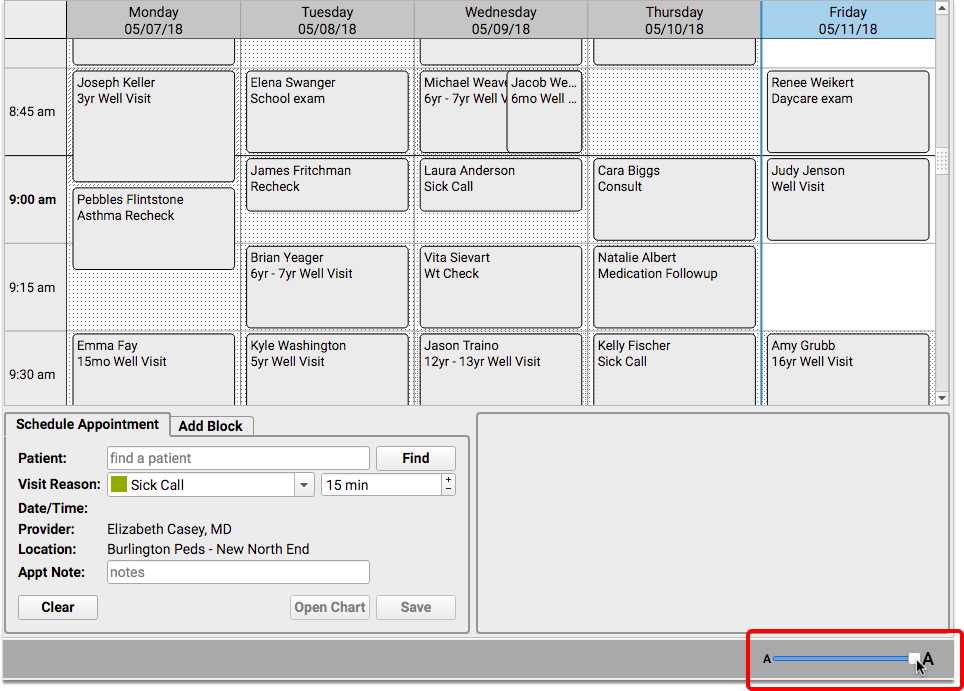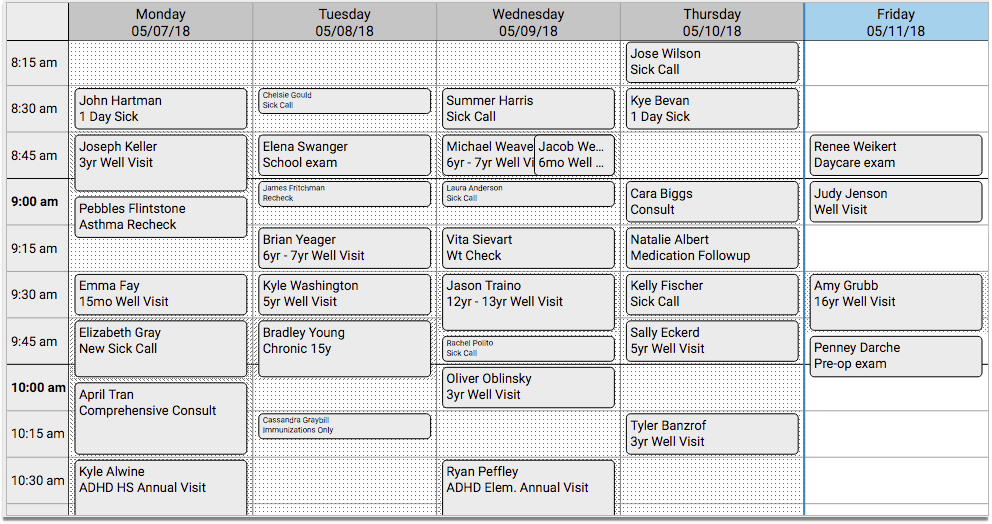 You can "zoom out" to see more of the day and find open time slots. PCC EHR will remember your preferred scale, even if you log out.
Schedule Appointments
You can schedule for an specific provider, or peruse the schedule to see which provider is available at the desired time.
Schedule an Appointment for a Specific Provider
Choose the location for the appointment, and the provider whose schedule you want to work with.

Single Location Practice?: If your practice does not have multiple locations, you will not see the Location field on your schedule.
To schedule an appointment for the selected provider, first find a patient in the lower-left panel.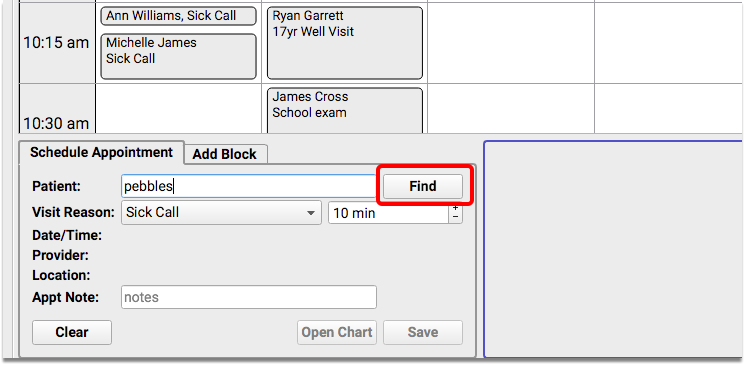 The Patient Details screen will open on top of the schedule. You can use this customizable ribbon to verify and update items in the patient's chart right as you schedule.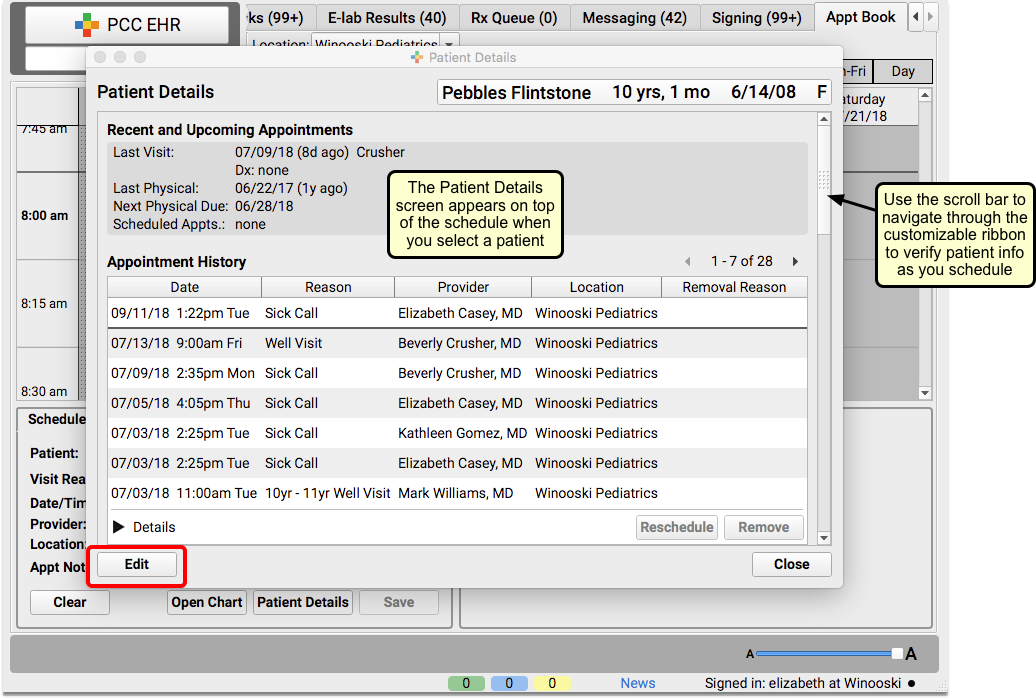 Click "Edit" to add or edit information.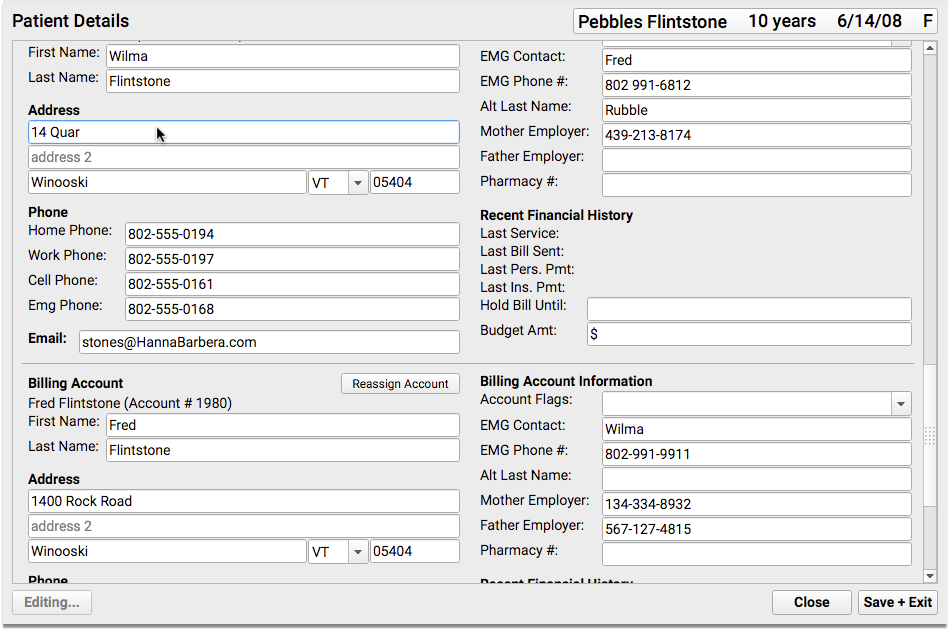 Click "Save + Exit" to commit your edits and proceed to the scheduling screen.
Can I Access This Information Later?: The Patient Details window can also be accessed manually at any time by clicking the "Patient Details" button.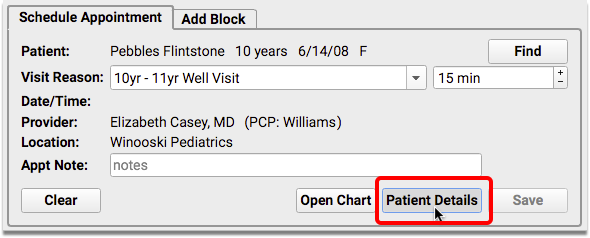 Once you have selected your patient and verified their information, you can pick a visit reason and optionally adjust visit length or enter an appointment note.
Click anywhere on the grid to pick an appointment time. You can use the calendar tool to pick a different day, if needed.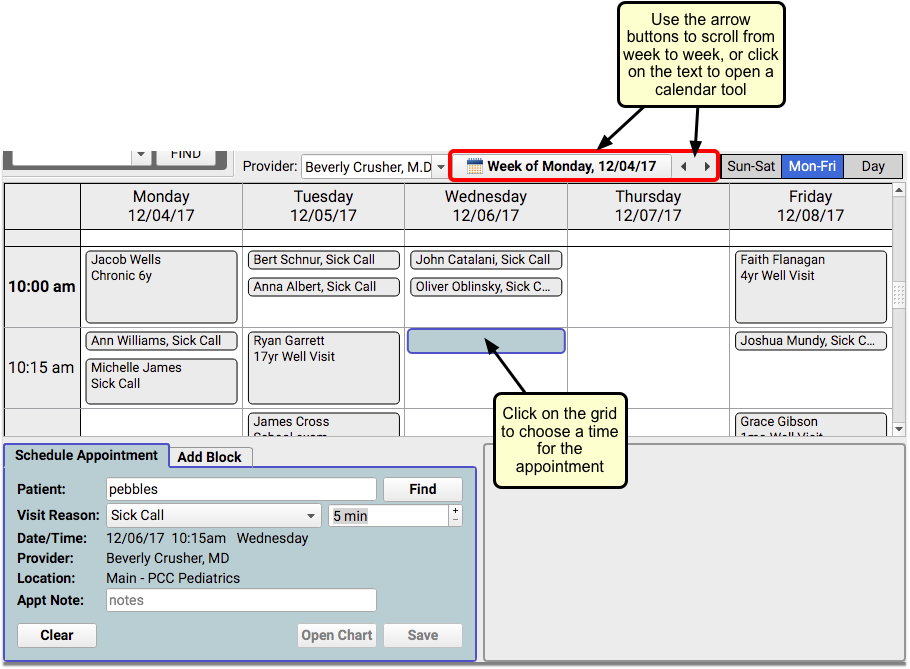 If there's an obstacle in the calendar, the overlap will display in the lower-right panel.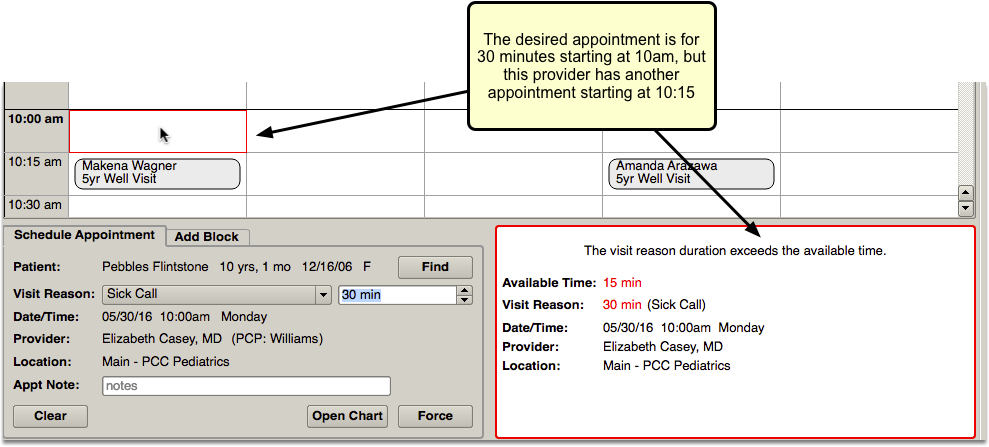 Click on another block of time within the grid to change your selection. Click "Save" to confirm and save the appointment.

Pick the Appointment Time First?: If you prefer, you can click directly on the grid to select an open appointment time and then find a patient and enter visit information. Either order works.
Find Available Time Slots Across Multiple Providers
When a patient needs an appointment right away, it's helpful to see availability for all of your providers at one time.
If you are trying to schedule an appointment and the provider is not available, select "All" from the Provider drop-down menu.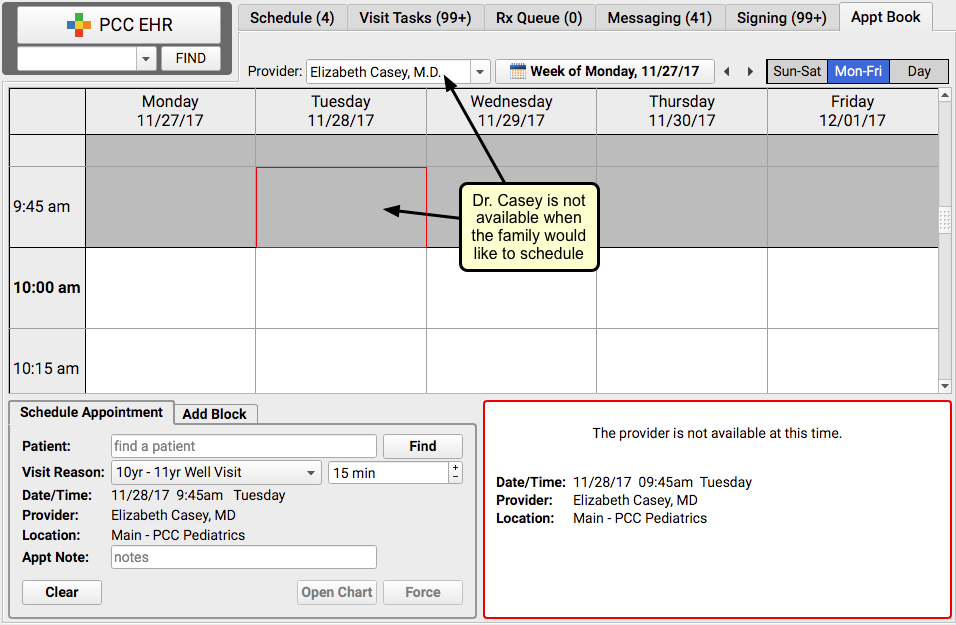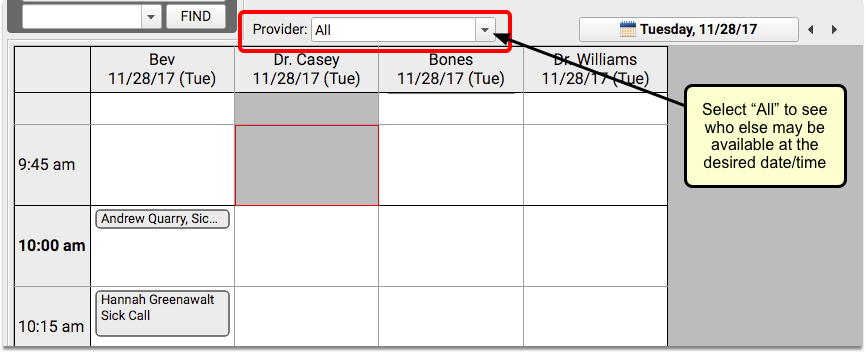 You can also click on the "Day" button to display all providers' schedules for the selected day.

If you don't already have a day selected, the current day will be displayed.
Find Available Time Slots Across Multiple Locations
If your practice needs to schedule among multiple locations, the Appointment Book makes it easy to see provider availability at each office.
Use the Location drop-down field in combination with the Provider drop-down to see one provider's availability across all of your practice's locations.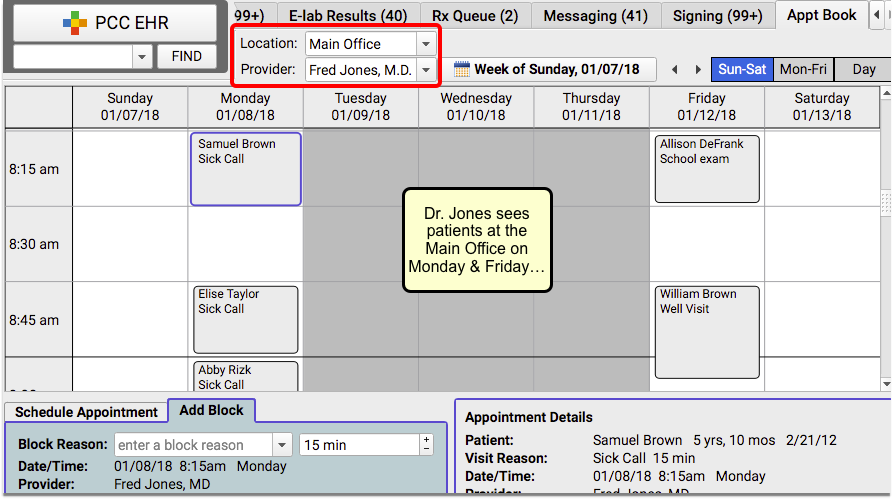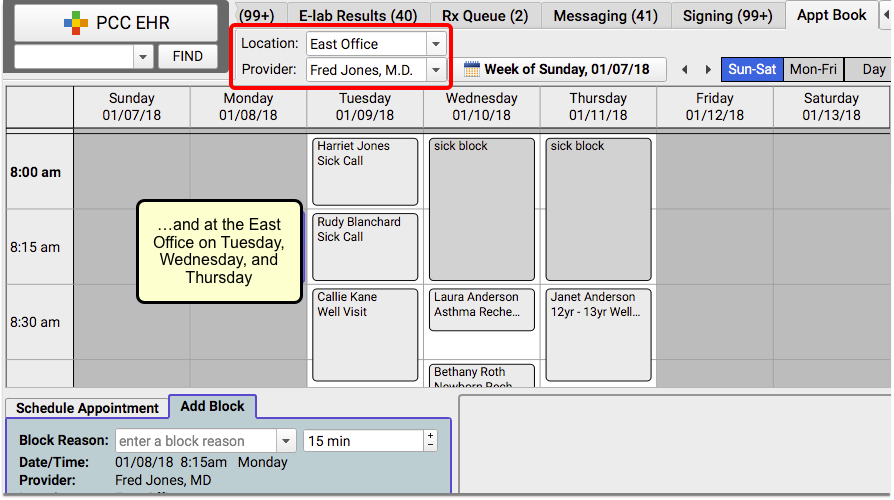 For a quick scan across all of your providers at all of your locations, use the Day view (or "All" selection in the Provider drop-down) in conjunction with the Location selection.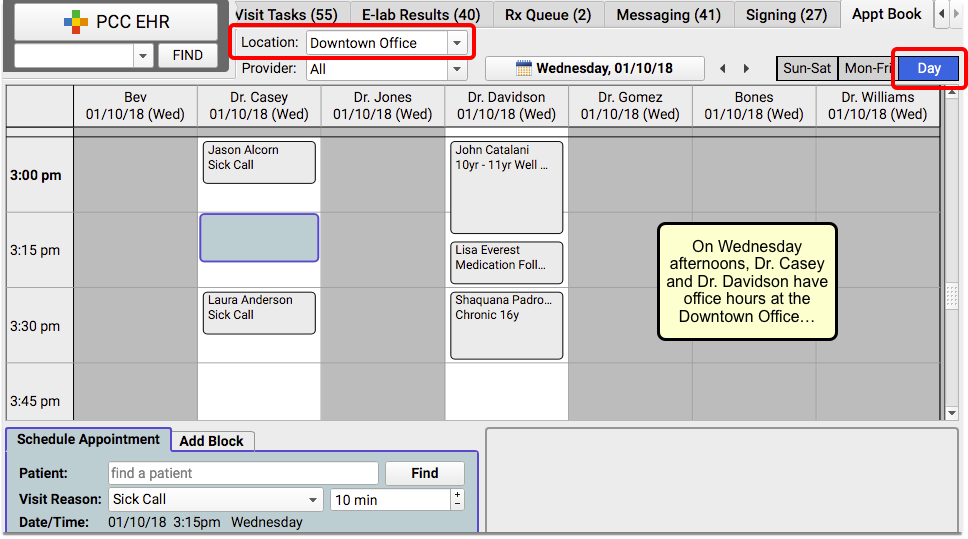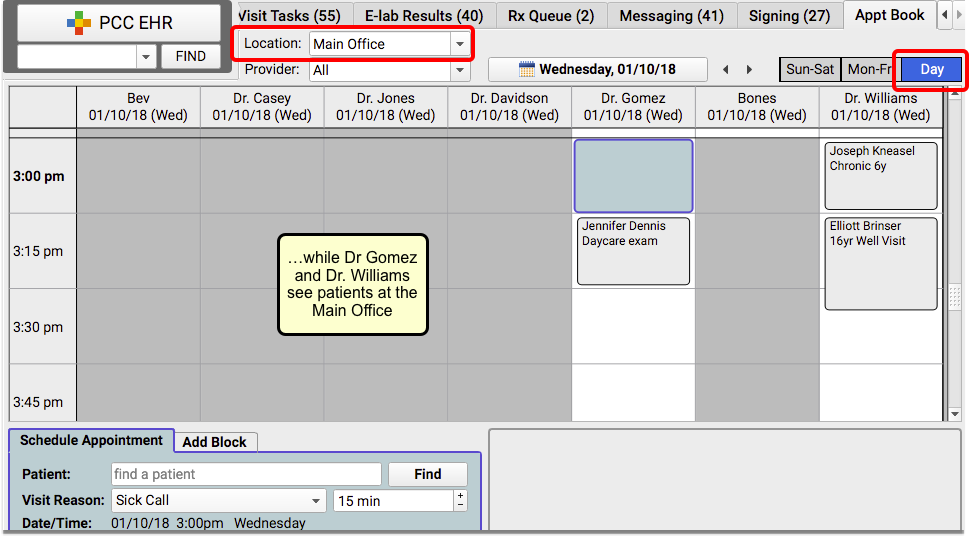 Does Your Practice Use Care Centers?: If your practice uses care centers, then each scheduler will only be able to schedule within the location(s) connected to the care center they are assigned to.
Scheduling Features
The Appointment Book includes several built-in features to keep your practice's scheduling going smoothly and efficiently.
Color-Code Your Schedule by Visit Type
On a busy schedule, you need to save time slots for sick visits and other types of visits that are scheduled late. You may also want to let schedulers know that some visit types need to be scheduled with specific providers or only on certain days.
You can use optional color blocks on the Appointment Book, by provider, to give guidance to schedulers about where to place certain types of visits.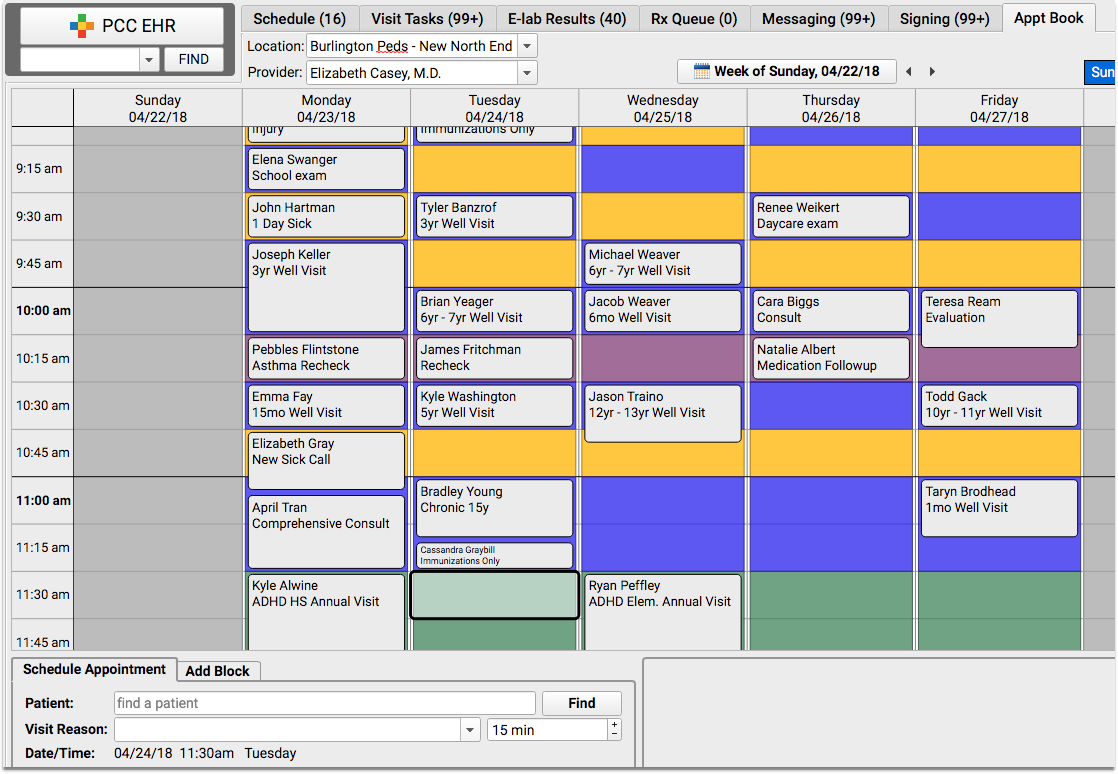 As you schedule, the Visit Reason drop-down field in the Schedule Appointment panel includes color swatches next to each reason that is part of a designated visit type.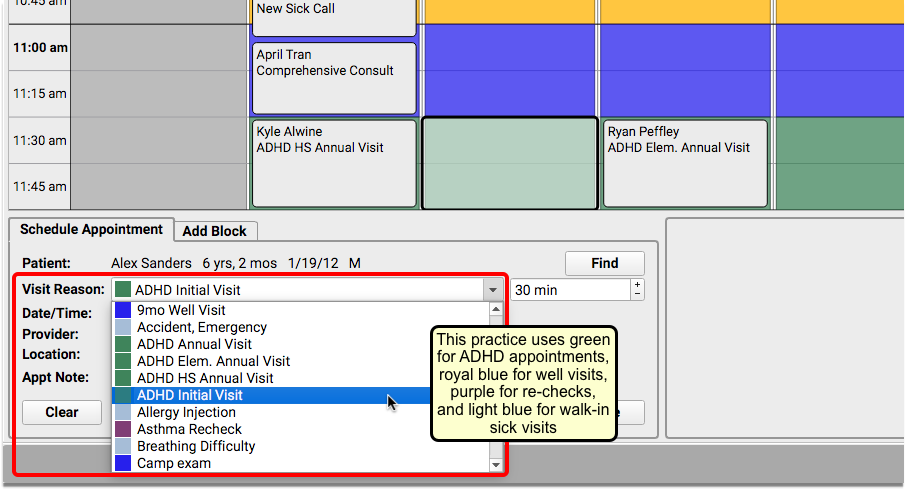 This will help schedulers to find a time slot on the appointment grid that matches the color of the visit type they are scheduling.
The time slot color will still show in the background, regardless of the visit type scheduled. Users will not be prevented from placing appointments of one visit type on a time slot reserved for a different visit type.
For details about setting up color coding for your schedule, read the Appointment Book configuration article on learn.pcc.com.
Multiple Schedulers Can Work Simultaneously
As you schedule in PCC EHR's Appointment Book, you will be able to see other users who are setting up appointments at the same time.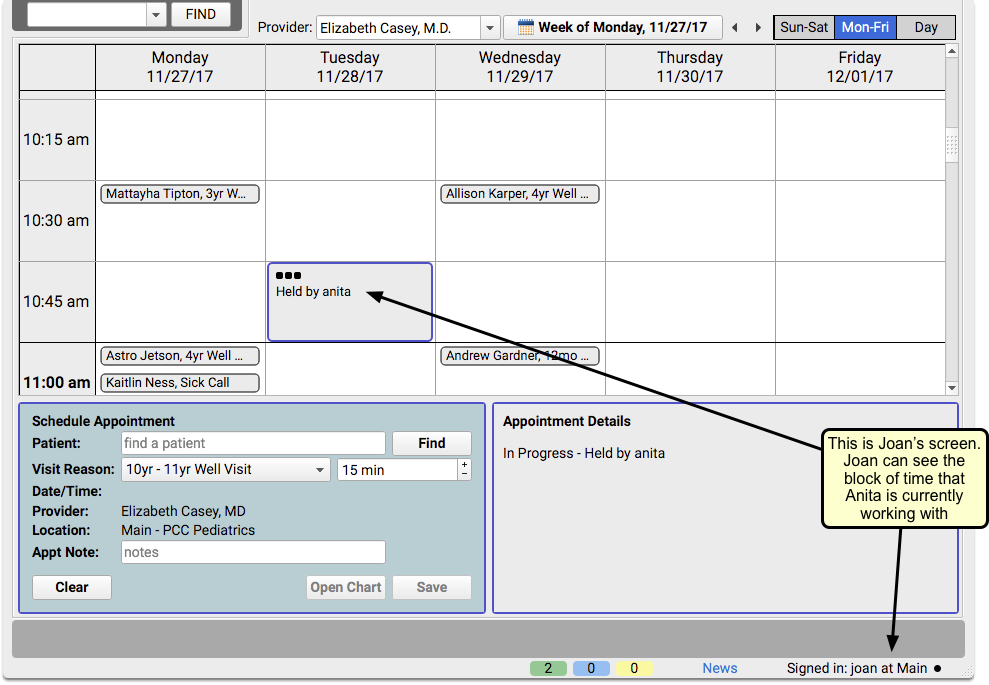 If another scheduler has selected a time slot, it will appear on your screen with an ellipsis and the name of the scheduler. If you click on a held time slot, the Appointment Details panel in the lower-right corner will also show that there is scheduling in progress.
If you hold a time slot, the Appointment Book will continue to hold it if you open the patient's chart, visit another tab, or perform another action. As long as the time slot remains selected, the Appointment Book will hold the time for you.
If you want to free up the cell you are holding, or if you are in the Appointment Book but do not wish to hold a specific cell, you can click the "Clear" button.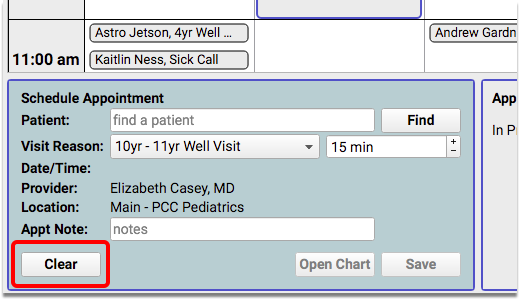 If you have permission to force in appointments, you can override your co-worker's hold on a time slot.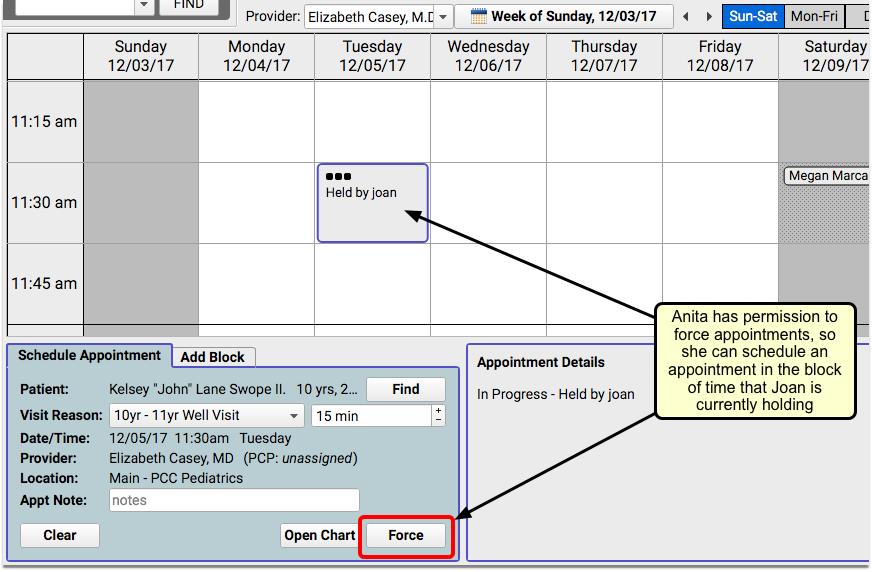 Dynamic Use of Available Time Prevents Over-Booking
The Appointment Book will automatically accomodate longer appointments and, if necessary, fill time into the next cell.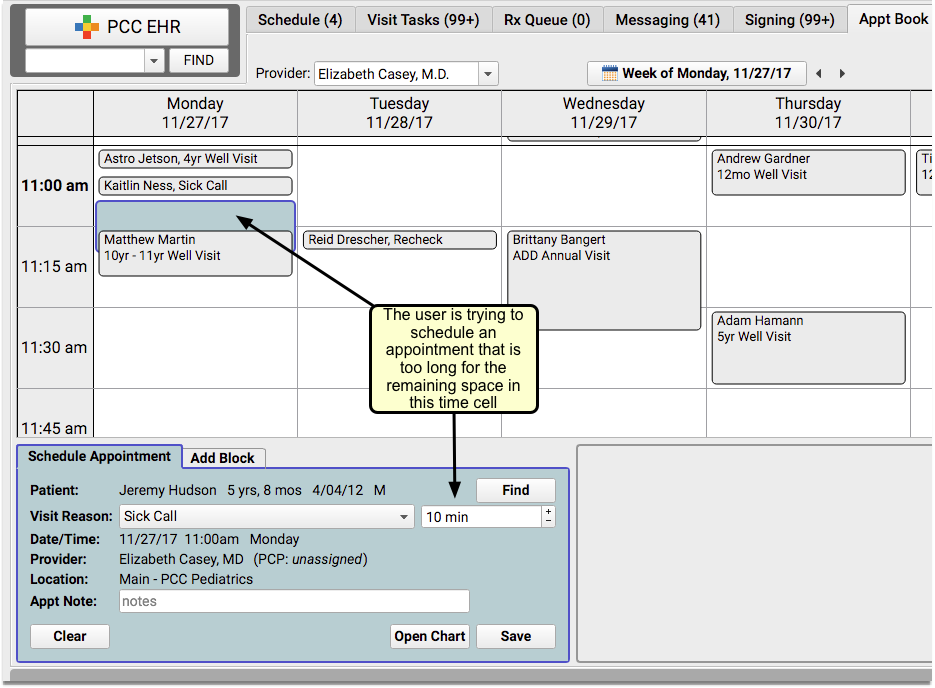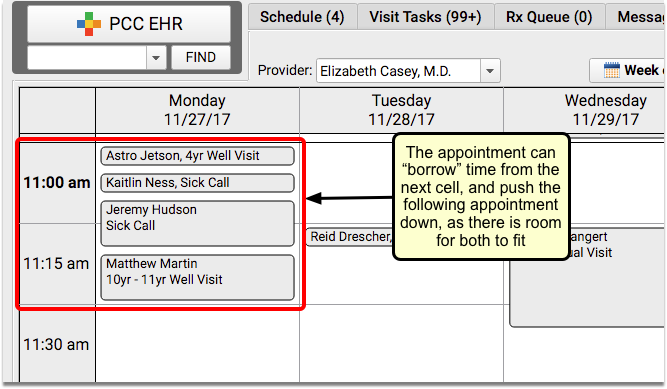 Appointments will only borrow from the next time slot if there is sufficient time available. It will never change the start time of other appointments.
See Overbooked Time Slots At-A-Glance
If there is no room to push longer appointments into the next cell, you will need to have "force" permission to overbook a cell.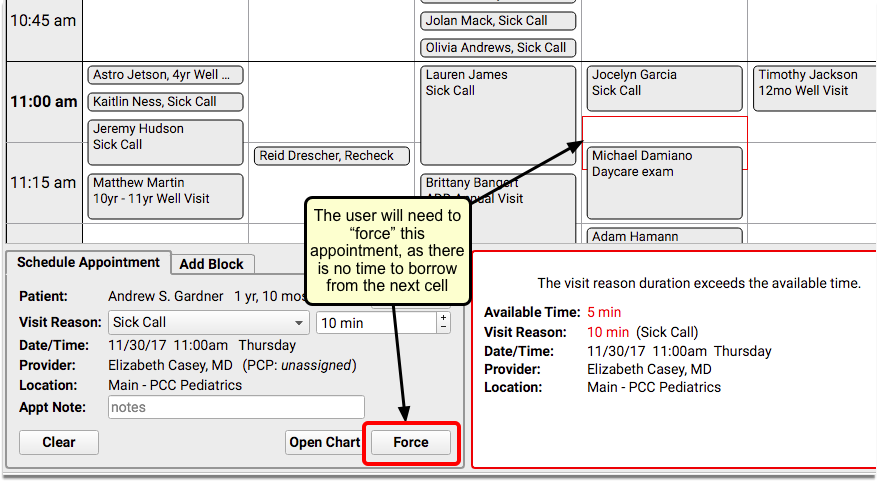 Overbooked appointments will stack side-by-side or one on top of the other. When a timeslot is overbooked or double-booked, you'll see a patterned background indicating that the time is overstuffed.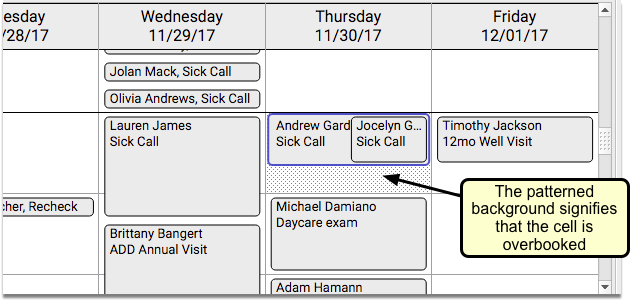 You can use this visual indicator to quickly understand all the places where the day will be extra busy.
See Patient and Account Alerts As You Schedule
PCC's Appointment Book can alert you to any important patient or account statuses, right after you select the patient to schedule. Your front desk staff will know immediately whether to schedule the patient, or if something else needs to happen first.
When you find a patient in the Appointment Book who meets the criteria for a scheduling alert, the alert will appear over the scheduling screen as soon as you select that patient.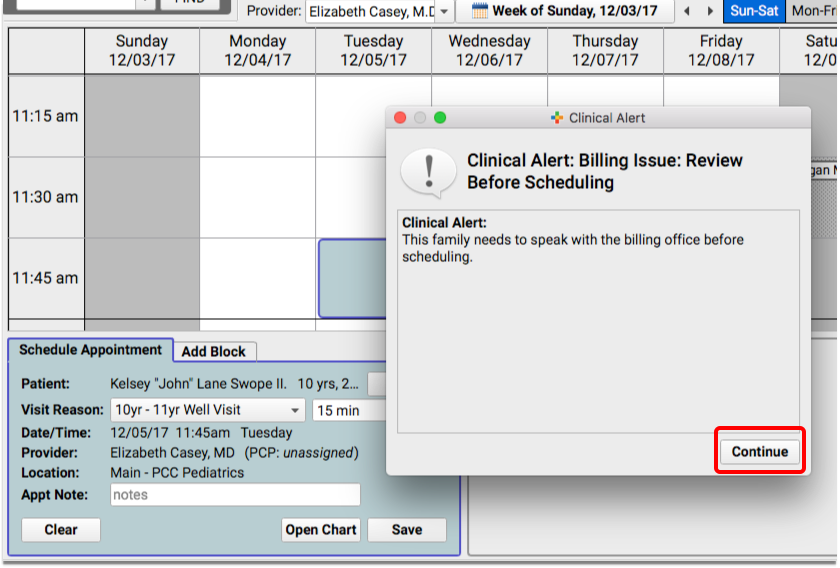 You can click "Continue" to ignore the alert and schedule the appointment.
Reschedule an Appointment
When you need to reschedule an appointment, select it within the calendar grid and click "Reschedule" in the lower-right panel.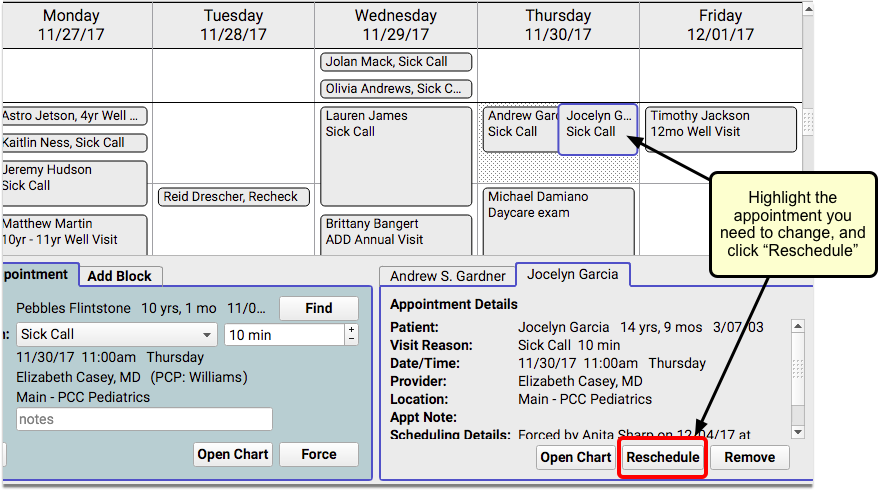 Click on a new time within the grid to change the appointment. If you need to move the appointment to another week, use the calendar tool.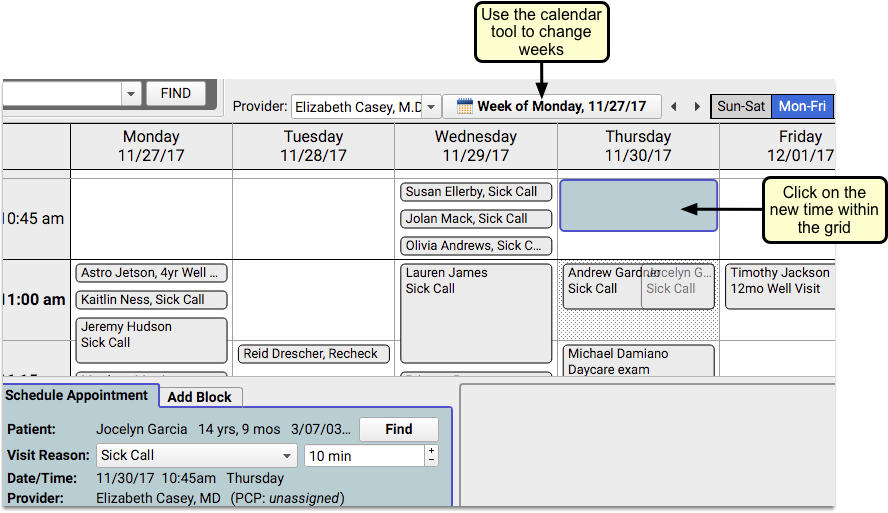 If the patient's family wants to reschedule for a time the provider is not free, you can select "All" from the Provider drop-down menu to see if anyone else is available.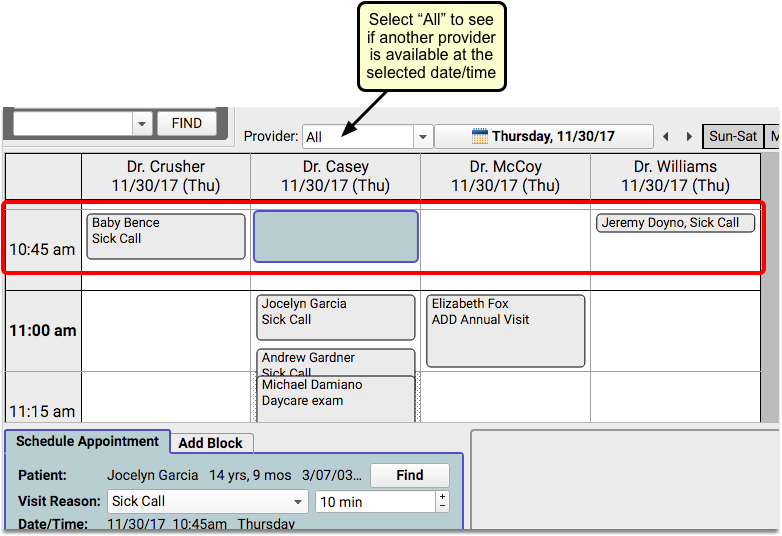 When you have chosen the new time and/or provider for the appointment, click "Save" to confirm and save your changes.

Place a Scheduling Block
Click the Add Block tab in the lower-left panel to work with scheduling blocks. You can create a block just as you would schedule a patient.
First, select a block type and length.

Then pick a place for the block and click "Save".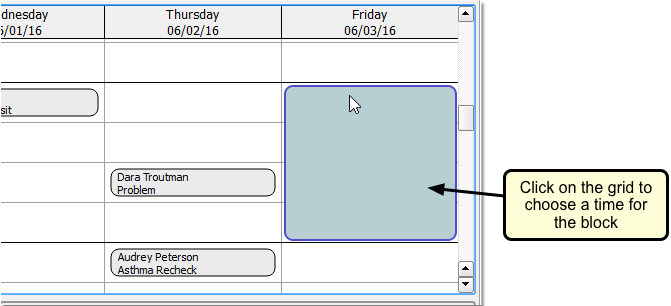 What About Changes to the Doctor's Schedule?: You can block time anywhere on the schedule for a single day. To change a provider's schedule for a day and manage their calendar or their regular hours, use the Provider Hours configuration tool.
Appointment History
The Appointment History component displays all of a patient's appointments and includes tools for making changes.

Your practice can add the Appointment History component to your Medical Summary, as well as chart and phone note protocols.
You can review a patient's past appointments while charting, and can click to reschedule or remove upcoming appointments.
For example, you may have taken a call and opened a new phone note indicating the patient needs to reschedule. While recording the phone note, you can select the appointment on the Appointment History component and click "Reschedule". PCC EHR will open the Appointment Book to the scheduled time. You can work with the family to choose a new time and/or clinician for the appointment.