Work with Today's Patients on the PCC EHR Schedule Screen
The PCC EHR Schedule screen contains a list of patient appointments and tools for using that list.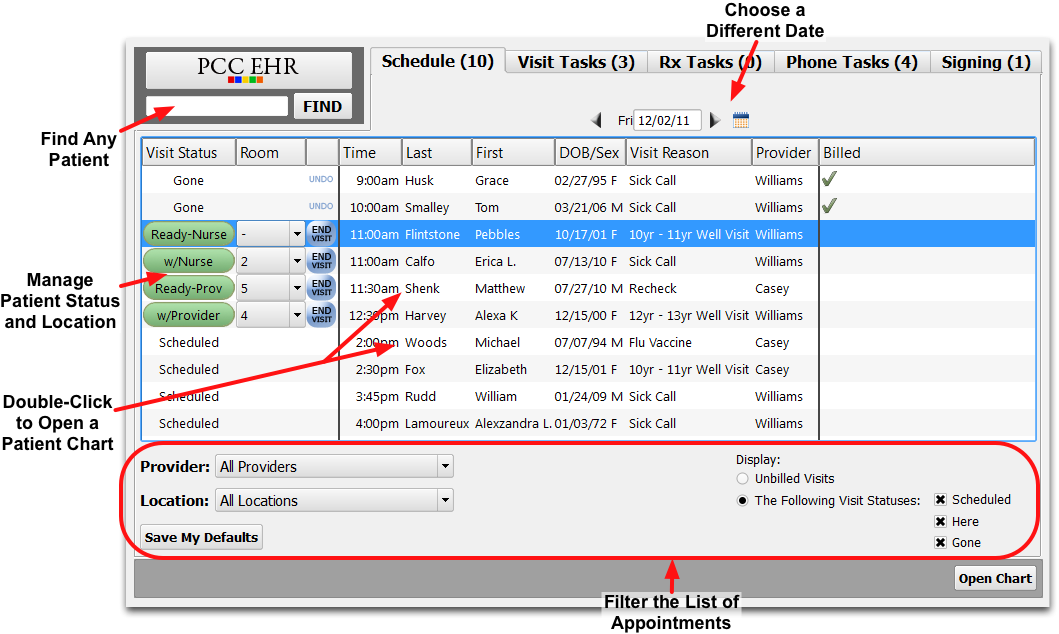 Each appointment on the list displays: the Visit Status, patient room location, the appointment time, patient name, date of birth and sex, visit reason, the scheduled (or assigned) provider, and whether or not the visit has been sent to billing.
Optional fields, which can be turned on and off in the Practice Preferences tool, include the patient's arrival time, the patients age, and an outstanding tasks indicator.
Open a Chart: While viewing the schedule, you can open any patient's chart by double-clicking on their name or by selecting them and clicking "Open." You can also find any patient's chart by using the search field and clicking "Find."
Patient Management
The Schedule screen displays visit statuses and additional information to help you manage patient flow in your office. The green visit statuses indicate the current activity of patients in your office, and you can review room and arrival time quickly.

Visit Status and Room
Click on the green Visit Status buttons to change the status, and use the pull-down "Room" menu to assign a room. When a patient has left, click "End Visit" and the status will switch to "Gone".
Special Features:
If you need to return a Visit Status to "Arrived" select the appointment and select "Reset Status to Arrived" from the Edit menu.
An optional feature in Partner can make the Visit Status automatically switch to "Gone" when you check the patient out.
When you set the patient's room, the information will appear in the chart for any user.

When you set a Visit Status to "Ready-Prov", it will increment the Ready-Provider Alert number in the lower-right hand corner of all PCC EHR windows.

As you give patients the Ready-Prov status, Physicians will see their alert number increase.
Tasks
The optional "Tasks" column indicates whether or not the patient has outstanding orders with incomplete tasks for the appointment. You can use this column to determine whether or not a patient may go home.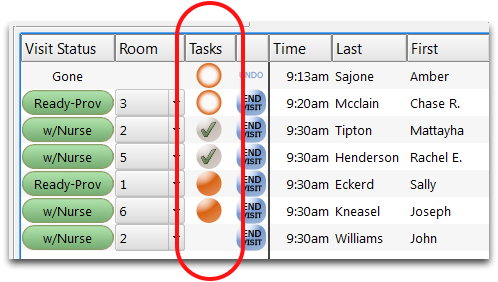 For example, if a patient is still waiting for their Rapid Strep test, immunizations, or some other order that requires results, an orange indicator will appear. An orange ring indicates that a user has decided that all incomplete tasks are not for today.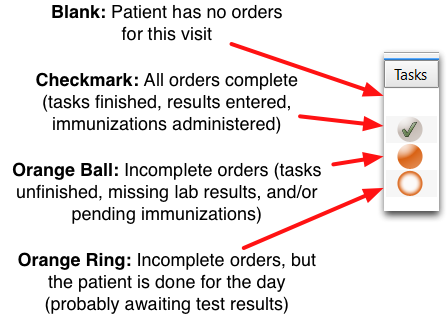 You can click on the tasks column to open a list of all the orders for the visit and work on the orders.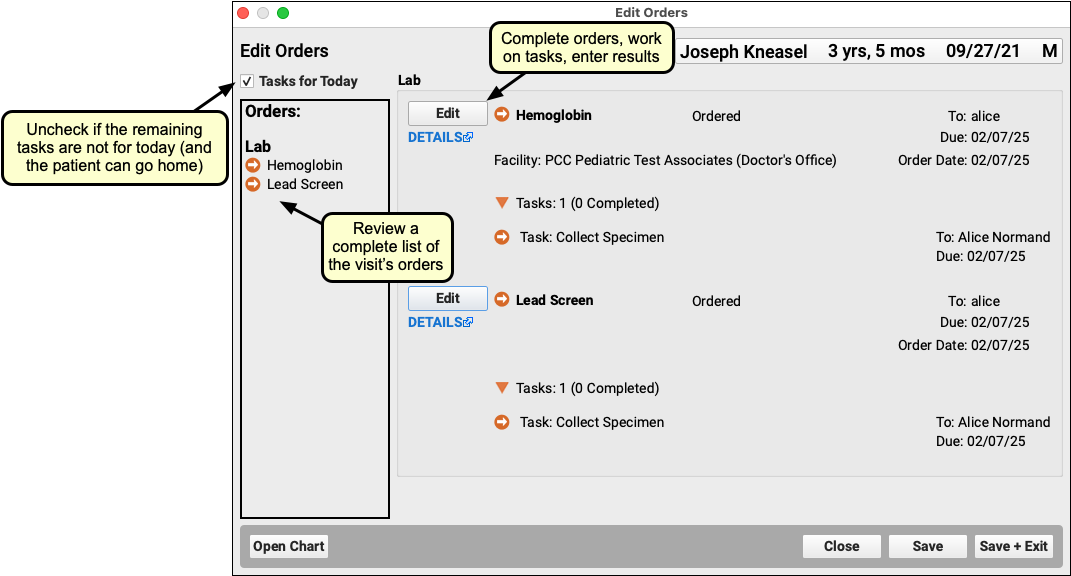 Twice in One Day, or Multiple Days: The Schedule screen, Tasks column, and Edit Orders window deal with each appointment separately. Therefore, if a patient has multiple visits on a single day or across several days, you should look at each appointment entry to check their Task column. Or, use the Visit Tasks queue to review and work with all incomplete orders.
The Calendar
You can enter a new date, or view the next or previous day by clicking the arrow keys. You can also click on the calendar tool and select any date.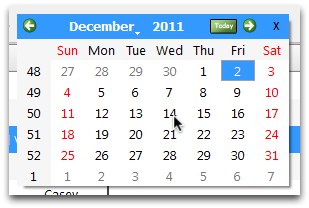 Note: Selecting an old date or a future date provides a quick way to open a patient's chart directly to the chart note for that visit. You can also open any patient using the Find field and then open an old chart note from the Visit History screen.
Filter the Appointment List
You can limit which appointments appear to specific clinicians or location using the drop-down menus.

Click in the Provider or Location field and select a filter. You can select more than one clinician to watch.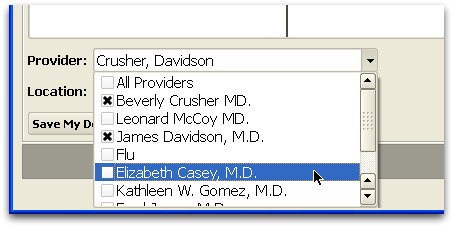 You can also indicate that you would like to see only patients who have not yet been billed or who have not yet arrived, are here, or are gone.
Once you have selected a filter option, such as viewing only appointments for a specific provider, that selection will remain in effect until you log out of PCC EHR.
Save Your Defaults: Users may wish to see particular providers, locations, or visit statuses whenever they log in. After selecting your specific providers, location, and which patients should appear, click Save My Defaults to save your login settings.
The Ready-Provider Alert Number Comes From the Filter Settings on Each User's Schedule Screen: The Ready-Provider Alert number is the total number of patients on each user's customized Schedule screen that have the "Ready-Prov" status. For example, if Dr. Casey is covering for both herself and Dr. Williams, she can change her Schedule to show both sets of patients. Any

Return to the Schedule (or Other Queue) at Any Time
While viewing a chart, click the PCC EHR logo to return to the schedule, or whichever working queue you last viewed.

Configure the Schedule
Use the filters described above to change which appointments appear on the Schedule screen.
For more configuration options, read Configure the Schedule Screen.