When you open a chart, the Medical Summary is the first screen. It contains a configurable summary of patient information.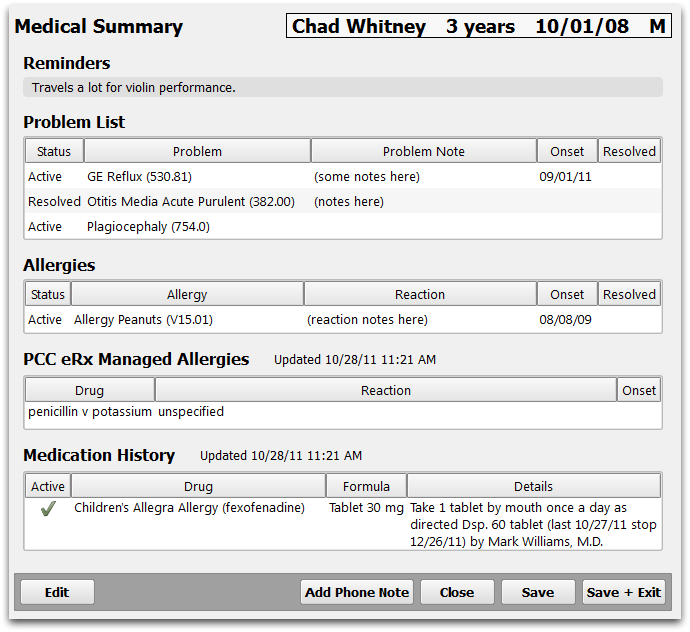 What Appears on the Medical Summary?
Your office can decide which components appear on the Medical Summary. The default components include:
Recent and Upcoming Appointments
Reminders
Problem List
Problem List from PCC eRx
Care Plan
Family Medical History
Siblings
Medication History
Medical and Social History notes
Confidential Information
Allergy Lists (both general and Medication related lists)
Custom Components: In addition to these default components that ship with PCC EHR, your office can create custom Medical Summary components to story other chart-wide information, such as Care Plan Notes or Hospitalization Notes.
Reusable Components: Medical Summary components can also appear right on your chart notes, for easy access while charting. The information is chart-wide, however, and not part of any single visit.
Configuration: Read the Configure the Medical Summary article to learn how to change the layout and content of your practice's Medical Summary chart section.
While working anywhere in the patient chart, you can return to the Medical Summary screen at any time by clicking on the top navigation button.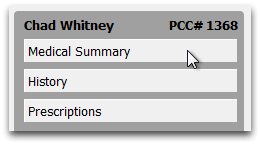 Use the Medical Summary navigation buttons to jump directly to a specific section.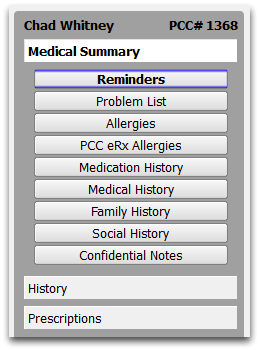 Configurable: The Medical Summary anchor buttons are configurable. Your office can decide which items need a navigation button and customize the button text.
Make Changes
Click Edit to make changes and enter notes and history in Medical Summary components.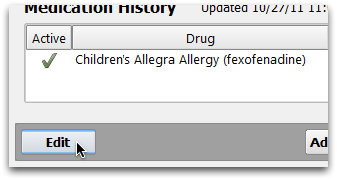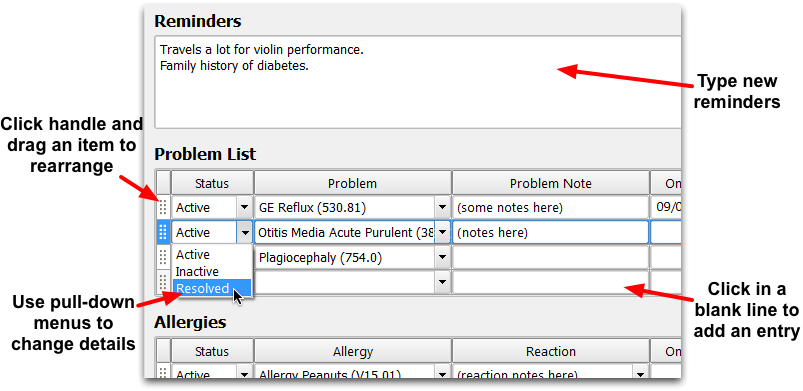 While you are in Edit mode, you can click a navigation button to place your cursor directly into the desired field or section.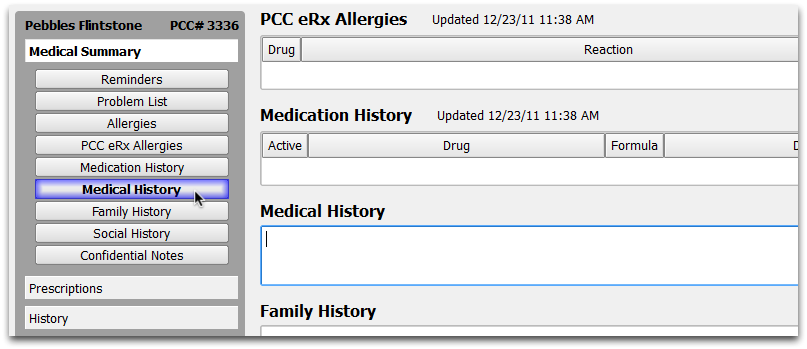 Make Changes Elsewhere in the Chart
Some items in the Medical Summary change based on activity in the chart or in other chart sections. For example, the Medication History draws from the patient's Prescriptions section, and users can add diagnoses to the Problem List on-the-fly while charting diagnoses in a visit.
Medical Summary components can be added to chart notes, so users can edit any of these items while charting, as well.
Search the Medical Summary
If your practice stores a lot of patient information on the Medical Summary, you may want to search for specific text. You can select Find from the Edit menu or use your operating system's keyboard shortcuts to find text and cycle through multiple found results. For more information, read the Search a Chart Note or Protocol-Based Chart Note help article.
Copy Notes to Siblings
Medical Summary note components, like the Reminders, Social/Family/Medical History, and Confidential Notes, may contain information that should be added to a sibling's chart as well.
When you want to copy a note field to a sibling, right-click on the note and select Copy (Component Name) to Siblings.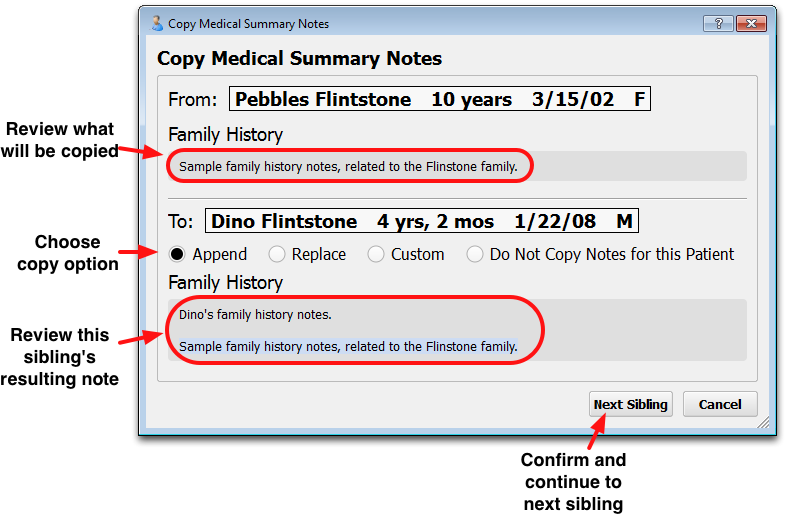 A window will help you append, replace, or customize what will be copied to the sibling. You can review exactly what the sibling's new note will be. Use the "Custom" option if you want to make changes.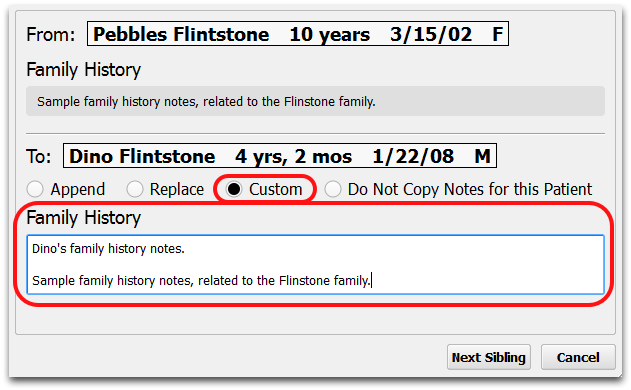 After selecting "Custom", you can revise the resulting note and use your mouse and your computer's copy and paste commands to adjust the text.
Smart Copy: PCC EHR will save you time by ignoring identical text between siblings. For example, if both siblings already have exactly the same text at the beginning of a Family History note, PCC EHR will only prompt you to copy the new text to the sibling. The copying process will skip the part they already have in common.
Edit Menu: Instead of right-clicking on the note field you wish to copy to siblings, you can also select "Copy Medical Summary Notes to Siblings" from the Edit menu and then choose which note to copy.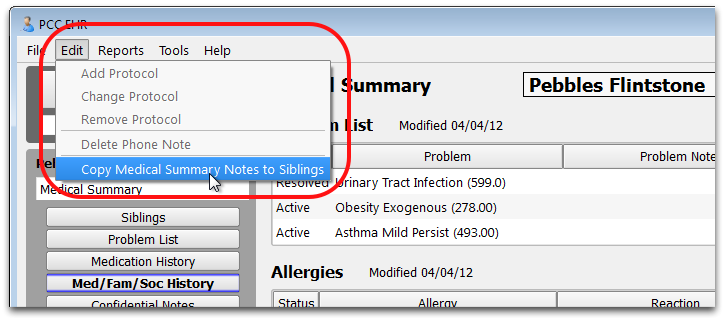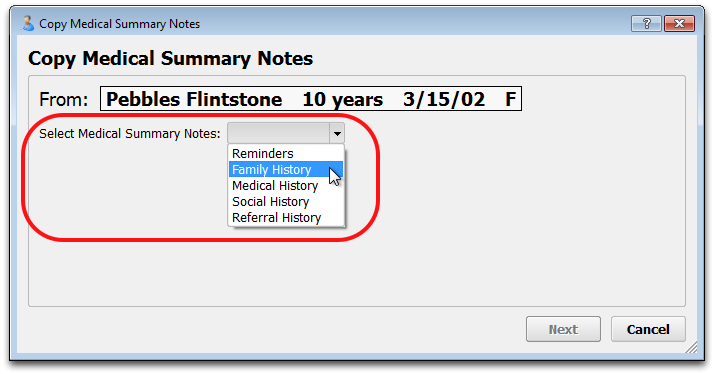 Only Medical Summary notes that contain text will appear on the drop-down menu. If the patient only has one note, such as "Reminders", PCC EHR will automatically select that one for you
Read below to learn more about each section of the Medical Summary screen.