Edit an Encounter's Diagnoses, Billing Provider, and Other Claim Information
Your practice can enter a diagnoses, adjust the billing provider, and add other claim information when you Post Charges in PCC EHR.
If you need to make changes later (and resubmit a claim), use the Visit Status screens (also called the "Changing Visit Information" screens) in Correct Mistakes (oops) in the Practice Management window. You can change diagnoses, the billing provider, and adjust other important encounter information for a charge. If you need to enter less-common information that appears on an insurance claim, you can find it on a Visit Status screen.
How to Select Charges and Open the Visit Status Screen
To reach the Visit Status screens, run Correct Mistakes (oops), press F5 – Visit Status or V, and select the charges you wish to modify.
Review and Make Changes to Charge Details
The Visit Status screens include two or more pages filled with information about the charges you selected.
Use the first set of Visit Status pages to change diagnoses and the billing provider for each charge.
The charges you selected appear with the date, patient name, procedure name and code, provider, amount of charge, and amount due. Underneath each charge is a list of all diagnoses currently linked to it. Note that you can assign up to four diagnoses per procedure.
Press the Tab key to enter a field and make changes. Use the asterisk (*) to view a list of possible entries.
Press Page Down to view additional pages of charges, followed by the claim details page.
Change Procedure Code Modifiers After Posting Charges
If a procedure was posted without the appropriate modifier, such as "-25", you can use the Visit Status screen in Correct Mistakes (oops) to switch the procedure to the modified version of the code.
First, as shown above, open oops for the guarantor account and find the charge that needs a different modifier. Press F5 – Visit Status and enter the line number for the charge.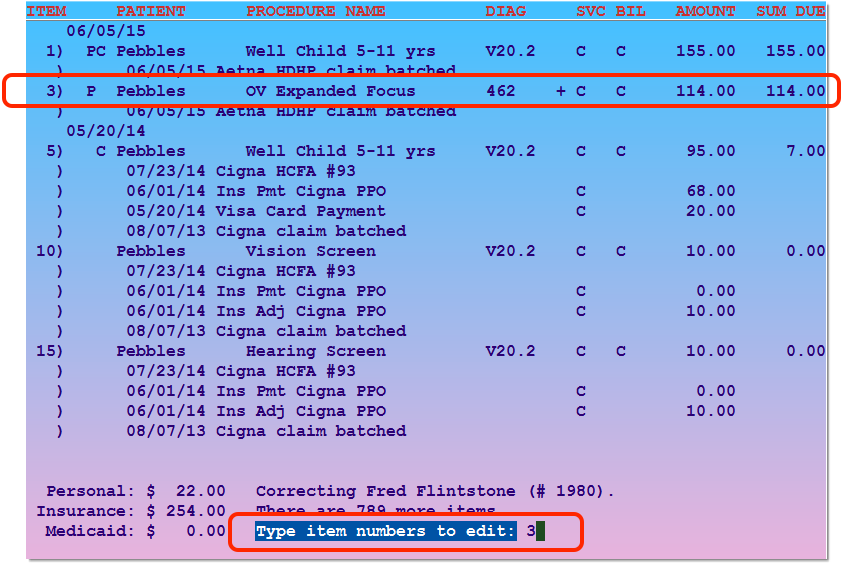 On the first Changing Visit Information screen, you can review the procedure name and the code.

To add a modifier, you can type any alternate version of the code that is available in your Procedures table.


After you make your changes, press F1 – Save to save.
Next, Rebatch the Claim: After you change a procedure code modifier, or make any other insurance status or visit status changes, you may need to rebatch the insurance claim. Press F2 – Generate Claim from the main charge history screen in oops and then select all the charges from the visit.


Search for Modifiers: Instead of typing a modified code, you can enter an asterisk (*) to see all available versions of a procedure. (If no options appear, you can update your Procedures table with appropriate codes and descriptions.)


Prices and the Base Code are Set During Checkout: After you post procedures in checkout, you can not change the charge amount without first deleting the item in oops. You can use the Visit Status screen to change the procedure code modifier only. You can also use the Insurance Status and Visit Status screens to change the responsible party, the copay, the billing provider, diagnoses and linking, and claim information (such as prior authorization number or accident information).
Edit Accident Information, Authorization Numbers, and Other Visit Status Information for the Claim
The last Visit Status page holds visit-specific details that are included on a claim.
Press the Tab key to reach the field you wish to change. Press F1 – Save Changes to save your changes.
Information on the Visit Status screens often appears on the insurance claim. For example, the "Prior Authorization Number" generally appears in Box 23 of a HCFA 1500 form. Items on the Visit Status screens can also be entered in the checkout program, while posting the visit.
Claim Delay Reason and Reference Number: If you enter a claim delay reason, as instructed by a payor, you must also enter a Reference Number provided by the payor. The claim will be rejected if the number is not a legitimate reference number from the payor.
Rebatch After Making Changes: After making changes on any Visit Status screen, you must rebatch a new claim. Save your changes, and then press F2 – Generate Claim on the main oops screen.
Prior Authorization and Resubmission Numbers
The Prior Authorization and Resubmission fields are not widely used by pediatric practices. They would appear on HCFA 1500 forms and may still be used in rare circumstances.
For example, if an insurance payer provided prior authorization for a service, they might assign a Prior Authorization number that you would enter here (or during charge posting). Prior Authorization is not used for claim resubmission.
When You Submit a Corrected Claim, Fill Out Claim Delay Reason and a Reference Number
When you need to submit a corrected claim, you must enter both a Claim Delay Reason and a Reference Number in the fields on this screen.
In most circumstances, you will enter a Claim Delay Reason of "09", "Original Claim Rejected or Denied Due to a Reason Unrelated to the Billing Limitation Rules".
PCC will warn you if you use that Claim Delay Reason and fail to enter a reference number. For example, if a biller needs to resubmit a claim because it was missing a birth date or some other error, they would enter 09 in the Claim Delay Reason field.
In addition to the Claim Delay Reason, a claim Reference Number is required for this resubmission. If the user continues anyway, PCC will warn the user when claims are prepared and add an entry to the Bad Claim Report. By catching this common error before a claim is submitted, your practice can add the Reference Number right away and get paid faster.
Where Do I Get the Claim Reference Number?: A claim's Reference Number is provided by the payer. It is created when they first receive the claim, and you can find it on a claim acknowledgement, EOB, or by contacting the payer directly.
What About the Claim Frequency Type Code?: When a claim is first submitted, it includes a Claim Frequency Type code of 1. Resubmissions typically have a Claim Frequency Type Code of 7. You do not need to enter these codes into PCC. PCC's claim processor automatically uses the correct Claim Frequency Type code. For example, if the charges on an outgoing claim include a payer's Claim Reference Number and/or a Claim Delay Reason Code of 09, it uses the Claim Frequency Type code of 7 on the claim.
Jump to the Patient's Insurance Policy Screen
Press F2 – Edit Policies from the Visit Status screen to open the patient's policy screen.
On the policy screen, you can review full insurance details, as well as add or edit policy information for the patient. Read the Insurance Policies help article to learn more.
After you make changes to the patient's policies, you could change the responsible party for the charges and then re-batch the claim back in oops.
Function Key Reference for the Visit Status Screens
F1 – Save Changes
Save all changes made on this screen and return to the main oops screen.
Page Down –
Go down one page. There will be additional screens to display all charge items selected, followed by a screen of important claim information at the end.
F12 –
Return to the main oops screen without saving any changes made to visit status.