Review (and Print) an Immunization Record
Families often need immunization records for school or camp. You may also need to quickly check on what date a patient had a certain immunization. Follow the procedure below to run imms, review dates, and generate a school form.
Run imms
You can run imms from the Patient Editor (notjane) and Phone Encounter Notes (pen) programs.

You can also type imms at a command prompt and then enter a patient name.
Review Immunization Dates
The imms program lists every type of shot your practice has ever performed. There will be several pages of immunizations: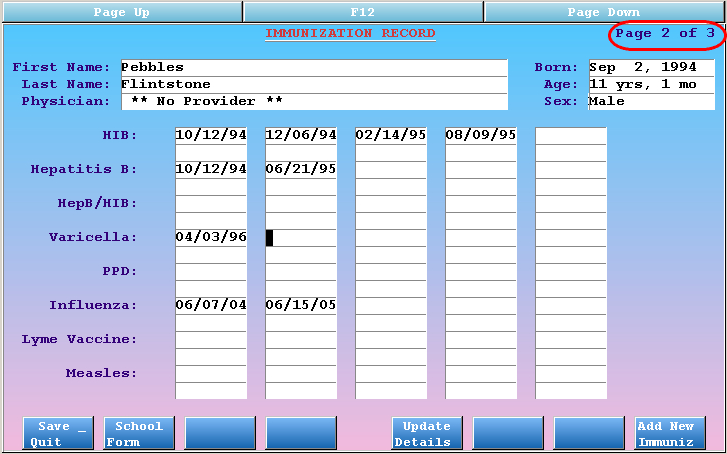 Dates appear next to every shot that this patient has received, assuming the record is kept up-to-date. Press Page Down to cycle through each page.
Print an Immunization Record
Press F2 – School Form to print an immunization record. The immunization record will map all of the different shots to specific immunizations. You won't see "Measles" as well as "MMR," as Partner knows that an MMR injection counts for Measles, Mumps, and Rubella.
A sample school form appears below.
EHR or Paper Chart Record: If your practice uses PCC EHR, then the immunization record will include all immunizations recorded in the patient chart. If you use a different EHR, or use paper charts, then the Partner immunization record can only reflect immunizations billed by your practice. You should compare the Partner immunization printout with the patient's chart record before giving it to them. The patient chart is the formal medical record for a patient.