Patient Portal Practice Settings and Configuration
Your practice can configure what details and options appear in My Kid's Chart, PCC's patient portal.
The Patient Portal Configuration Tool
Use the Patient Portal Configuration tool to change or update what My Kid's Chart users will see.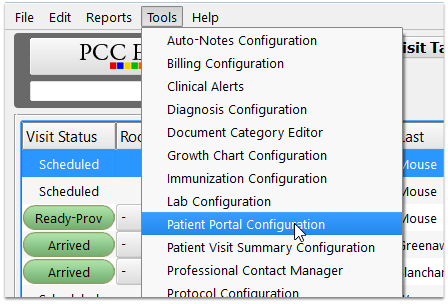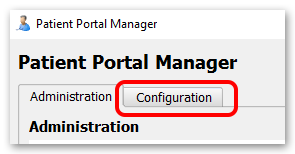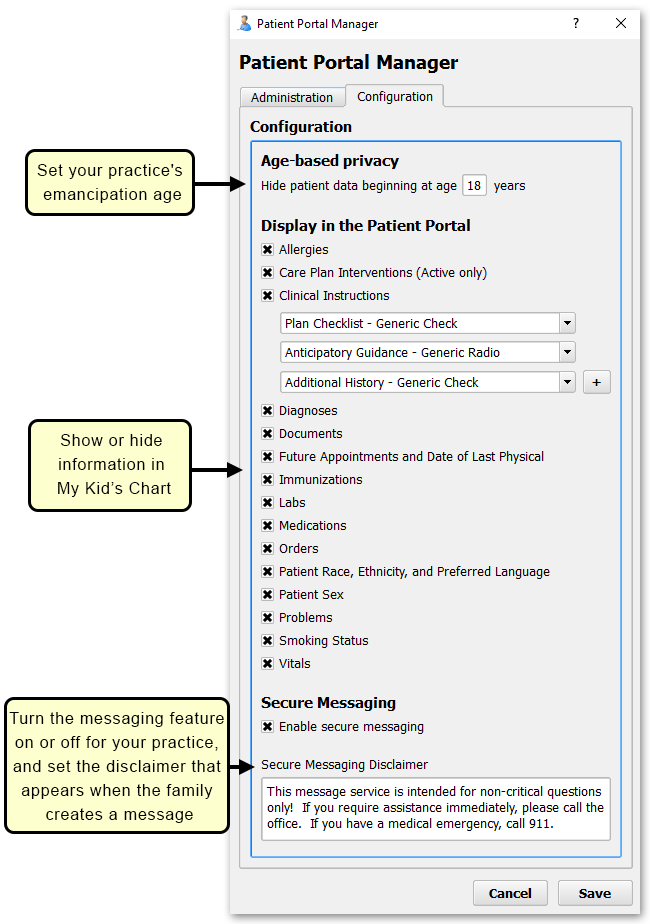 Change settings or select and deselect items to configure what appears for users when they log into their My Kid's Chart account.
Set Age-Based Privacy: The aged-based privacy setting sets the age of emancipation for patients in My Kid's Chart. When a patient reaches this age, all of their medical information is automatically hidden from all portal accounts. Your office can grant account access to patients above this age on an account-by-account basis using the My Kid's Chart User Account Administration tool. For example, you might grant access for the patient's own account or for parents who have written permission.

Determine What Displays in the Patient Portal:

Your practice can use the checkboxes in the Patient Portal Configuration tool to determine what data will appear in MyKidsChart for all users. Configuration changes are practice-wide, for all patients and all locations. (Note that you can also hide specific orders by default or on a case-by-case basis with the "Display on Patient Reports" checkbox.)

Clinical Instructions: Your practice can share clinical instructions through the Patient Portal. You can add any generic chart note component to the Clinical Instructions, and they will apepar in the portal.

Separate Configuration for the Patient Visit Summary Report: The configuration for Clinical Instructions in My Kid's Chart is independent of the configuration for Clinical Instructions in the Patient Visit Summary Report. Read more here about configuring Clinical Instructions in the PVS.

Secure Messaging: Your practice can turn the Secure Messaging features of MyKidsChart on or off.

Secure Messaging Disclaimer: If your practices allows secure messaging to and from your practice, you can customize a message that will appear at the top of the screen whenever a user creates a new message.
Use the Patient Portal Configuration tool to manage settings for your practice's patient portal.
Turned Off By Default: Care Plans, as well as patient sex, race, ethnicity, preferred language, and smoking status are not visible in MyKidsChart by default. Your practice can add them to the patient portal with the Patient Portal Configuration tool.
Access Controlled: Like other configuration tools, the Patient Portal Configuration tool is limited to those users with an appropriate user role. Use the User Administration tool to review your practice's role and control who can make changes to MyKidsChart.
Patient Portal Messages vs. Direct Secure Messaging: The patient portal and PCC EHR support two different messaging technologies. Portal messages are a secure, optional messaging tool built into the patient portal. Patient portal users can exchange messages with their pediatric practice, and the practice can receive and send portal messages with PCC EHR or pocketPCC. Direct Secure Messaging, on the other hand, is a specialized message technology used to share and send medical information. It requires registration with a third-party service and it allows for secure transmission of C-CDA transition of care documents or visit summaries. For more information, refer to Receive and Respond to Portal Messages or Direct Secure Messaging.
Automatic Privacy in My Kid's Chart When a Patient Becomes an Adult
The My Kid's Chart patient portal will automatically hide all patient records from all users when a patient reaches your practice's defined emancipation age.
After the patient's birthday, they will appear with a "Privacy Enabled" flag on the user's account.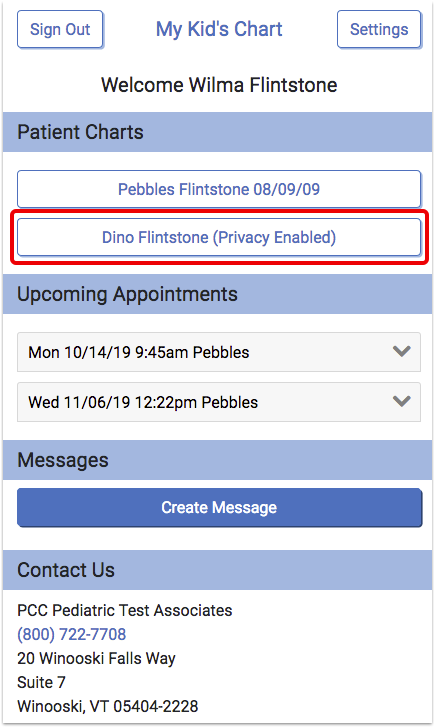 A parent or patient will still see that the patient is connected to their account, but they will not see any information about upcoming appointments and they will not be able to review patient records.


This feature meets HIPAA privacy guidelines and improves patient security. Here are some issues to keep in mind:
Messages Are Still Available: If your practice uses the Messages feature of My Kid's Chart, parents will still be able to send your office messages and questions in relation to connected patients, even after they turn eighteen. Your staff should keep this in mind when responding to incoming questions on the Messaging queue in PCC EHR.

18, 16, or 21?: Age eighteen is the My Kid's Chart default emancipation age, but your practice can set your state's emancipation age in the Patient Portal Configuration tool, as shown above.

Teenage Patient Useers: If your practice has older patients who used My Kid's Chart bhey may need to contact your practice to have access turned back on. Your office can control access with the My Kid's Chart Administrative Tool.
Grant Access for Adult Patient Records
Your practice can use the My Kid's Chart administrative tool to grant individuals the right to access a patient's information after they are over the emancipation age. Do this for the patient themselves if they use My Kid's Chart, or when special circumstances apply for an adult patient with a guardian.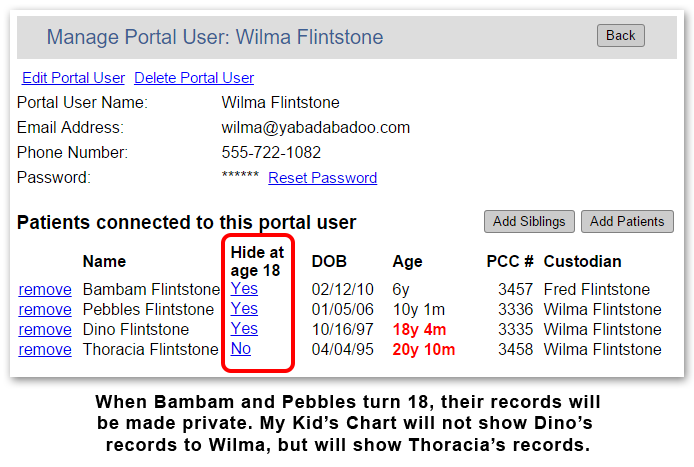 In the example above, the My Kid's Chart user Wilma Flinstone has four patient records attached to her account. However, as shown by the "Hide at age 18" column, when three of these children reach eighteen, Wilma will no longer have access to their medical records (Dino has turned eighteen already). The exception is Thoracia, an adult patient whose records will remain visible to Wilma.
The patient portal administrator can change the status for any of these patients by clicking in the "Hide at age 18" column.
When a patient who is over eighteen opens a new My Kid's Chart account, your administrator should set this question to "No" for their account, so as not to hide their records from themselves.
Review Connected Patients: When working with a My Kid's Chart user account, the new Age column can help you know what to expect. If a user is over 18, the age will appear in bold red to indicate they are over your state's emancipation age.
Configure the Practice Address that Appears in My Kid's Chart
If your practice uses PCC's Care Center features to manage patients for several different pediatric office that use the same practice database, you may want to set which office address each patient portal user will see when they log into My Kid's Chart.
Use the Practice Preferences tool to set which location address appears in the patient portal, as well as on the Health Information Summary report.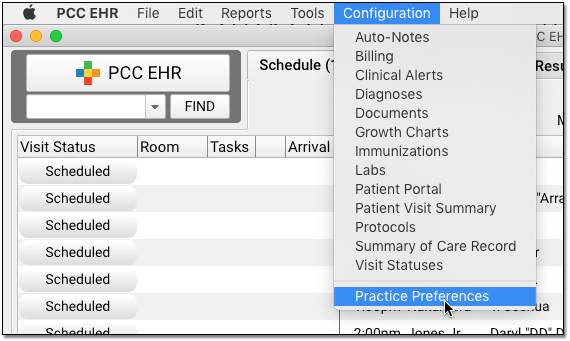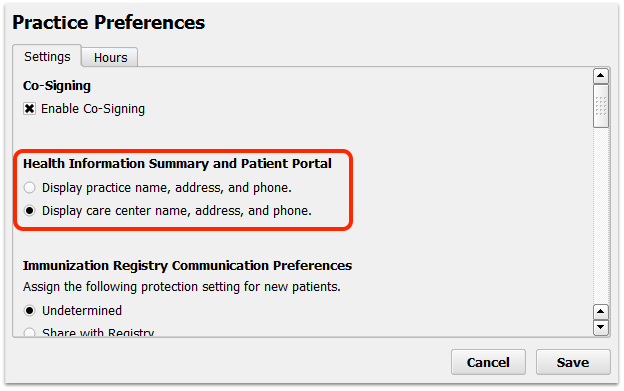 After setting this option, the patient portal and the Health Information Summary will automatically display either your practice's default address or the patient's care center address. If the patient has no care center assigned, they will see the practice's default address instead.
If a parent has several patients who visit physicians at different care centers, both addresses will appear for them when they log in to My Kid's Chart.