The Growth Charts section of a patient's chart collects and displays vitals data across all of a patient's visits, or manually entered vitals without a visit. Read the sections below to learn about the different configuration options for growth charts in PCC EHR.
Read the Growth Charts help article to learn about Growth Charts. Contact PCC Support at 1-800-722-7708 for information about these or any features in PCC EHR.
Rearrange and Configure Which Growth Charts Appear in PCC EHR and the Patient Portal
Different growth charts appear in the patient's chart automatically based on a patient's age, sex, gestational age at birth (preterm), and (for Down syndrome) diagnoses in the Problem List.
Use the Growth Charts configuration tool to select which charts are available in the patient chart and adjust their order in the Growth Charts drop-down menu.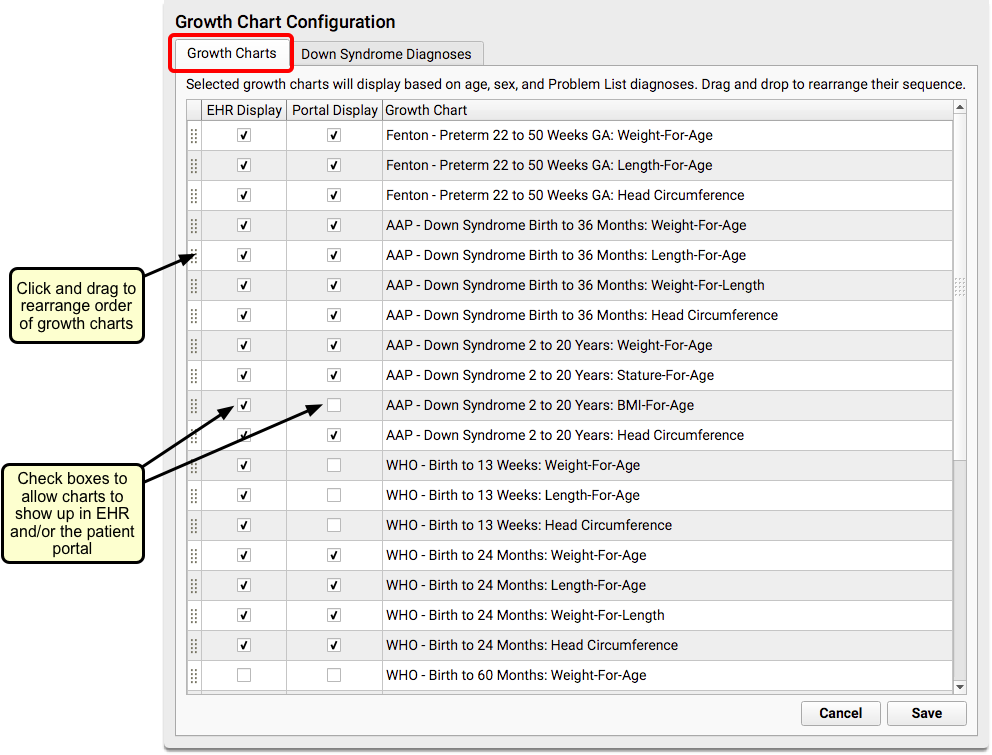 Click to drag and reorder charts into your office's preferred order, and turn any growth chart on or off.
You can choose to share some or all of the same growth charts you use in PCC EHR with your families through the patient portal, or you can decide to disable growth charts in the portal entirely, through the Patient Portal Manager tool.
After you make your selections, the Growth Charts section of each patient's chart (or the Growth Charts component in a chart note or in the patient portal) will offer just those growth charts your office wishes to show, in the order you wish to see them.

Define Which Diagnoses Activate the Down Syndrome Growth Charts and Vitals Percentiles
If a patient has a Down syndrome diagnoses in their Problem List, PCC EHR will automatically show Down syndrome growth charts in their chart, and will show all vitals percentiles based on Down syndrome patients of the same age and sex. You can define which diagnoses on a patient's Problem List will qualify them as a Down syndrome patient.
Use the Growth Charts Configuration tool to add or remove Down syndrome diagnoses from the list of qualifying diagnoses.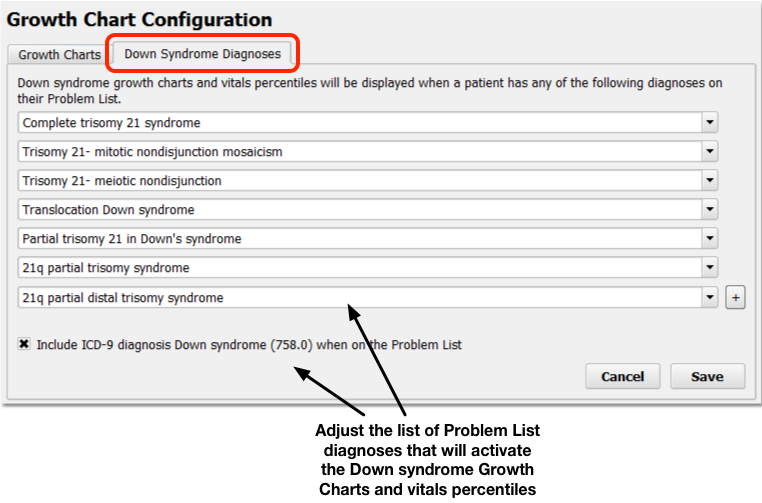 On the "Down Syndrome Diagnoses" tab of the Growth Charts configuration tool, you can review and edit the list of SNOMED diagnoses that determine whether a patient's chart will display the Down syndrome growth charts and Down syndrome vitals percentiles. Click in a blank field to add additional diagnoses.
Gestational Age at Birth and Fenton Preterm Growth Charts
If a patient's gestational age at birth indicates prematurity (less than 37 weeks), PCC EHR will display Fenton Preterm growth charts.
Three different charts are available.
You can enter or update a patient's "GA at Birth" in the Patient Demographics component, in the new birth history section.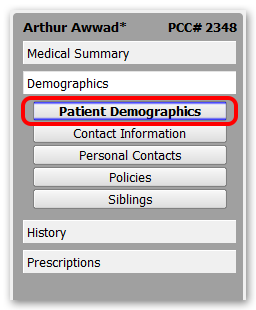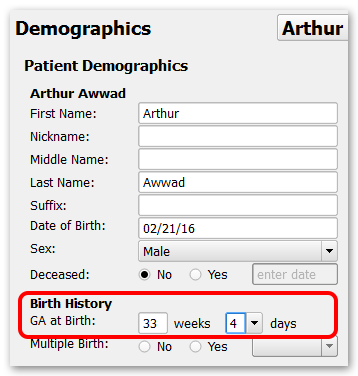 ICD-9 758.0: The ICD-9 code set is no longer used in PCC EHR, but many patient Problem Lists may still only list the old 758.0 Down syndrome diagnosis code and not a newer SNOMED description. PCC added a checkbox to the Growth Chart configuration so that patients with the old diagnosis will also default to the Down syndrome growth charts and vitals percentiles.
Deactivate Down Syndrome Growth Charts and Vitals: Your practice can turn off all Down syndrome growth charts and the Down syndrome vitals percentiles by removing and deselecting all diagnoses from the Down Syndrome Diagnoses tab.
Add Growth Charts to Any Chart Note
You can add growth charts to your chart note protocols (or any ribbon), enabling clinicians to review growth chart information quickly while they chart a visit.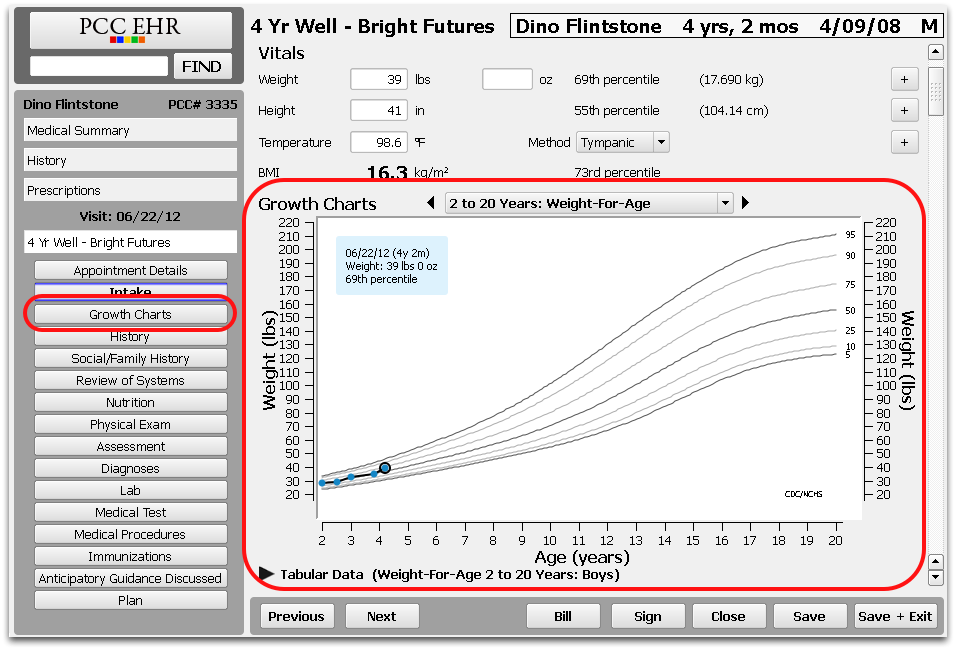 Use the Protocol Configuration tool to add the Growth Charts component to any chart note protocol.
Live Updating: If you enter new vitals into a chart note, as illustrated in the example above, click "Save" to update the growth charts in the chart note with the new vitals data.
Configure Vitals Percentiles for WHO or CDC Data Sets
By default, PCC EHR displays percentiles and creates growth charts based on World Health Organization (WHO) data for patients under 2 years old, CDC data for patients over 2 years old, and AAP Down syndrome data for patients who have a qualifying Down syndrome diagnosis on their Problem List. This configuration is based on the AAP's guideline, but your office can change vitals calculations and change whether WHO or CDC data is used for patients.
Use the Practice Preferences tool to set your office's preferred data source for percentiles.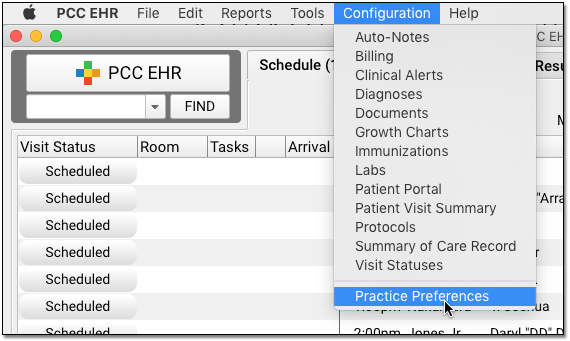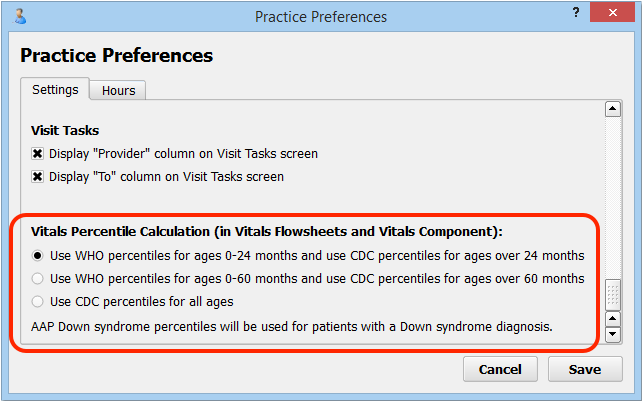 The first option is PCC EHR's default, as it matches the AAP's current recommendation.
Set Your Preferred Data Collection Method to Metric or English Support
PCC's growth charts match your practice's preferences for how you enter vitals on a chart note. If you enter weight in kilograms on chart notes, then kilograms will appear on growth charts and when you enter historical data.
You can switch weight or another vital to the metric or English system, based on your practice's preference. Run the Protocol Configuration tool and use the Component Editor to edit the Vitals component.
For a step-by-step guide to setting these preferences, read the Configure Vitals Defaults article.