PCC EHR includes mobile payments, right in the patient portal (My Kid's Chart), so your families can pay their bill from their phones. You'll collect money faster and have fewer bounced checks.
There are a few things you will need to consider before your practice will be ready to make the most of this feature.
Limited Pilot Test: Portal payments are in a limited pilot testing period in just a few offices. If you are interested in participating in the pilot, or wish to be notified when this feature is ready for general deployment, let your Client Advocate know.
Configuration Prerequisites
Before the Payment option can be added to your patient portal (My Kid's Chart), you need to make sure your practice has already enabled the "Personal Balance" option for your patient portal. This is done in the Configuration tab of the Patient Portal Manager.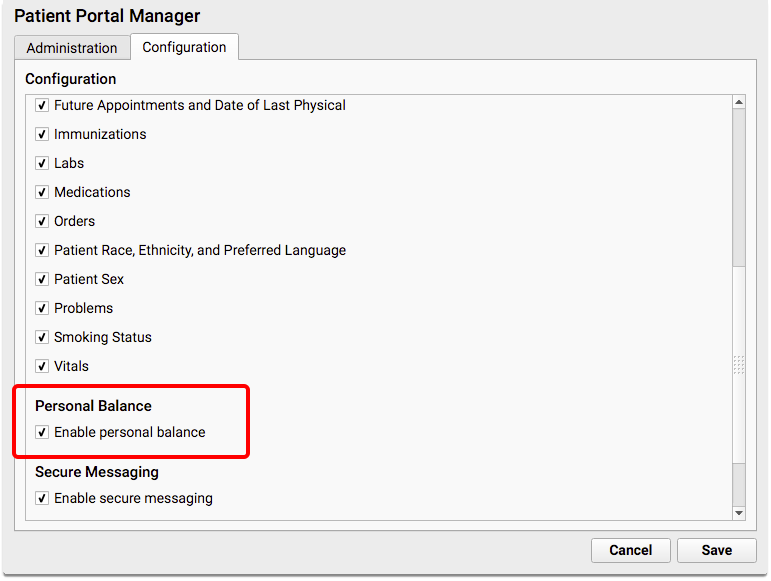 In addition, billing accounts need to be linked for your portal users. Only portal users with associated billing accounts will be able to see the "Make Payment" button in the portal.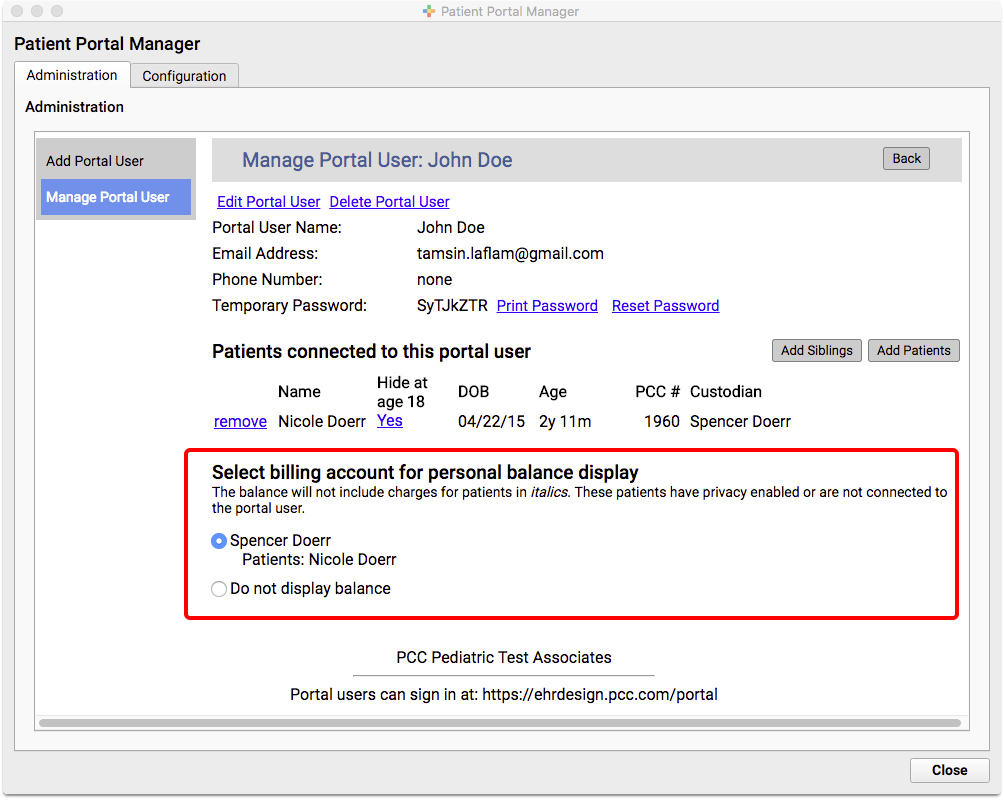 For more information on this feature of the portal, review the My Kid's Chart User Account Administration article.
PCC Can Help: PCC can provide a one-time batch script that will join all portal users with a single billing account in Partner that corresponds to the patient(s) in their portal (1:1 direct relationship). Talk to your Client Advocate about this option.

Manual Component: For more complicated situations, when there is more than one billing account associated with the patient(s) in the user's portal, your office will need to decide which billing account to link to their portal. This is a simple process, but will take some time, depending on how many portal users you have with this scenario.

New Workflow Required: You will need to define a process for linking new portal users to billing accounts as part of your portal registration process for new families. This will be an ongoing workflow requirement.
Sign Up with Payment Pros
When you are ready to add mobile payments to your patient portal, follow the procedure below.
Contact Your Client Advocate
Let your Client Advocate know when your practice is ready to start receiving mobile payments through your patient portal.
Fill Out an Application
A PCC interoperability team member will contact you, and will send you an electronic copy of the Payment Pros Merchant Application.
You will need to enter demographic, business, and tax information.
You will also be required to provide a cancelled check from the checking account where you want payments to be directed.
Log In to the BluePay Gateway
A representative from Payment Pros will send you an email verifying that you have been registered.
The email will include your new account name, username, and password, which you can use to log in to the BluePay Gateway.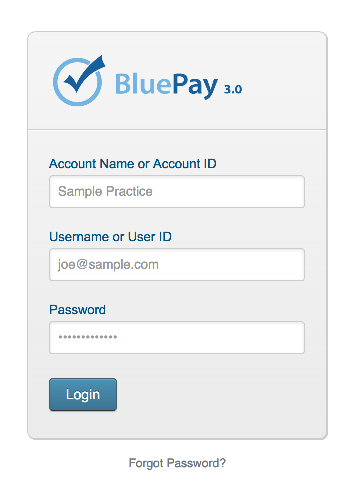 Set a Go-Live Date
PCC will coordinate a go-live date between your practice and BluePay. On the go-live date, portal users will see the "Make Payment" button in your patient portal, and you will be able to accept mobile payments.
Notify Your Patients and Families
Implementing portal payments will be far more effective if you spend some time considering how to educate your families about this new service, and drive them to your portal to make payments. Some suggestions for how to communicate this new feature include:
Add a Note to Your Paper Bills: Add a note with the URL address to your portal, letting your families know they can save a stamp or a phone call and pay their bill online, 24/7.

Post Flyers in Your Office: Print new flyers advertising the new portal feature (and reminding families to use your portal) and post them in conspicuous places around your office, such as in the waiting room, in exam rooms, and at your checkout desk.

Splash it on Your Website: Add a link to your portal from your practice's website. Add a colorful banner with a note encouraging families to check out your portal, and its new convenient payment option.

Talk it Up: Sometime the most effective marketing is word of mouth. Educate your staff about how the portal payments work, and make sure they are passing on the knowledge to families when they come in for visits.

Phone Hold System: Add a message to your "on hold" feature on your phone system, informing families that they could save time by paying their bills online. This may be particularly effective if you have a separate billing phone number.
Viewing Payments from Your Portal Users
The BluePay service will send receipts to the email address that the portal user entered on the payment screen. Your practice can opt to receive copies of each receipt email.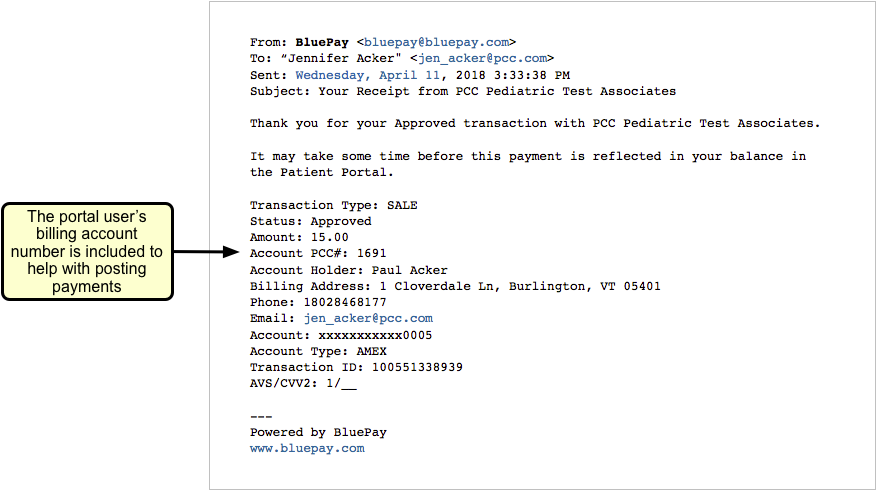 Your practice also has the ability to log in to the BluePay Gateway and view and download an activity log, which shows all portal payment activity for a date range.
To access your activity log through the portal, follow the steps below.
Log In to the BluePay Gateway
Go to the BluePay Gateway and enter your account name, username, and password.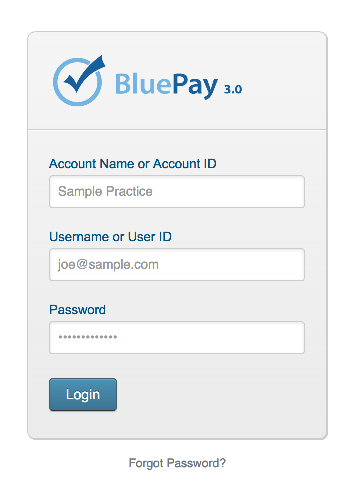 Open the Transaction List Screen from the Menu
Open the menu and select PROCESSING, followed by Transactions, and then Trans. List.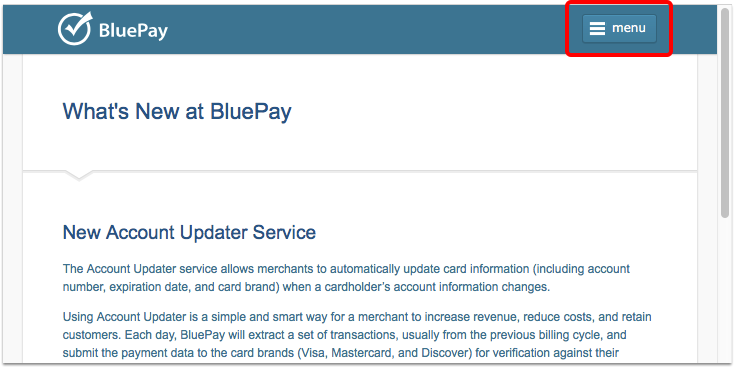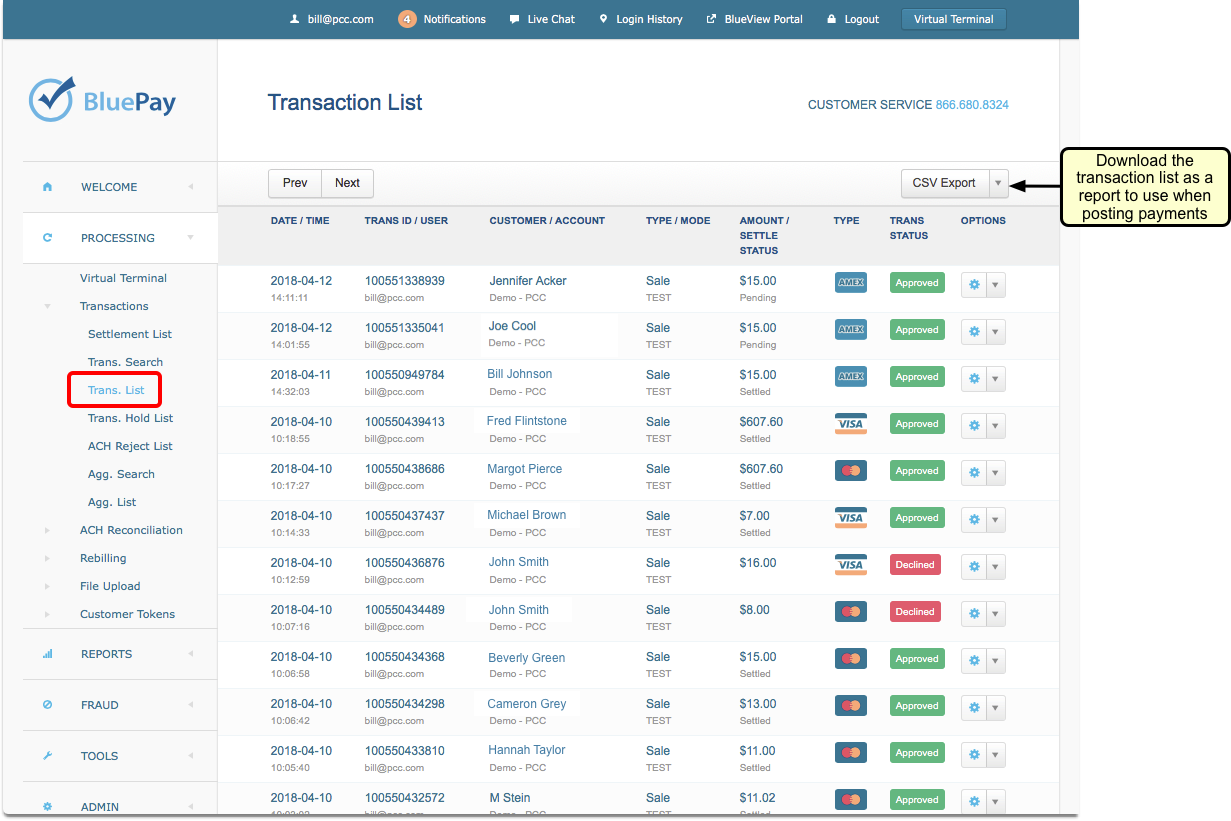 Download a CSV Export File
Select the CSV Export option and download a report of this activity log. Make sure that you choose to include column headers in your report.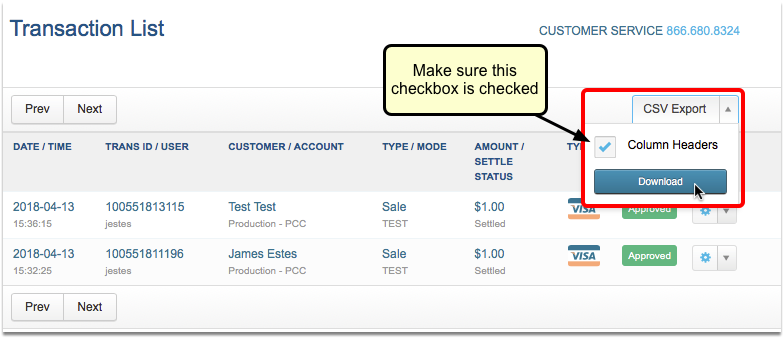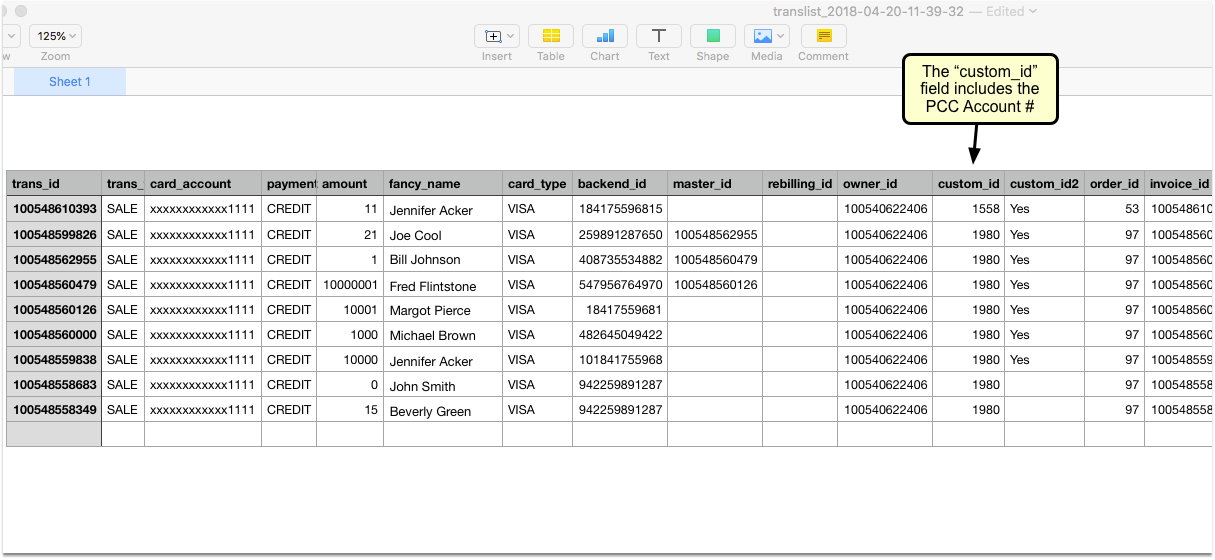 The downloaded spreadsheet will include a "Custom ID" field, which displays the portal user's associated PCC Account ID#. This number will be helpful for you to have when posting payments into Partner.
Need More Help?: For additional questions about working with the BluePay Gateway, please contact our portal payment partner, Payment Pros, at (866) 773-3390 or info@paymentpros.net.