Work on Unpaid Claims (inscoar)
Use the inscoar report to work with a detailed, charge-by-charge accounts receivable for your practice's payers.
You can use inscoar to find insurance charges that have not been paid and to work down old, overdue charges.
In addition, interactive inscoar is a great work environment from which you can research billing history, make changes, and then resubmit claims.
Run inscoar and Read the Report
You can find the inscoar report in the "Insurance Billing" section of your "Billing Functions" window in your Practice Management window.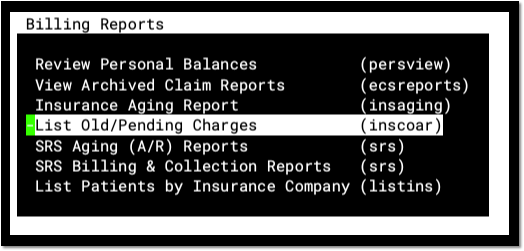 From the configuration screen, press F1 – Generate Report.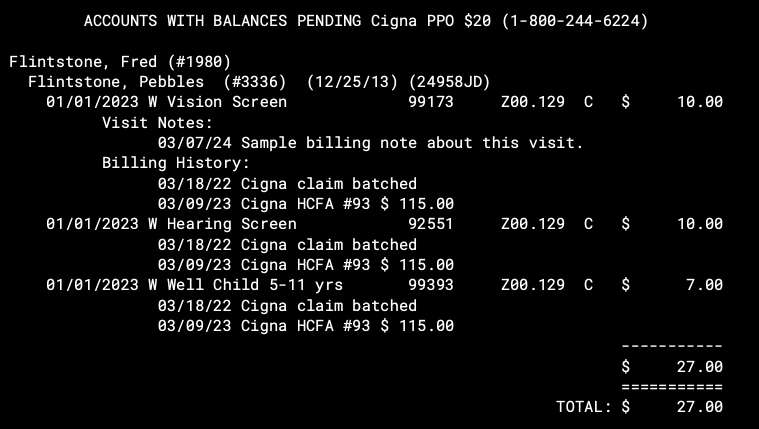 Every account with unpaid insurance charges appears on the report. The accounts are sorted by the insurance company to which their charges are pending. inscoar shows you the insurance company's name and phone number. With each account name, you can see the family's insurance ID number and group number. The patient name, procedure dates, names, codes, and primary diagnoses codes are all shown, along with the outstanding balance information.
If there are any Visit Notes, they will appear under the first charge for that visit. If there is any billing history, it will appear under each charge. If a claim was generated, you will see a billing message with batch information and the total original amount of the claim.
Contact Insurance Companies about Unpaid Claims: Because the inscoar report shows insurance ID information, full procedure information, and the insurance company's phone number, along with the original amount of the claim, inscoar is a great report for working down old, unpaid claims.
Jump to Other Partner Tools for More Information or to Resubmit: With the interactive inscoar report option, you can jump straight from this report into more information and different Practice Management tools, making inscoar an even more powerful insurance billing tool. See Below.
Adjust Options, Criteria, and Format to Work on Charges
You can choose the age of receivables you wish to review, limit the report by insurance company, provider, or place of service, and make many other configuration choices that change the output of inscoar. Here is the options screen you will see when first running inscoar: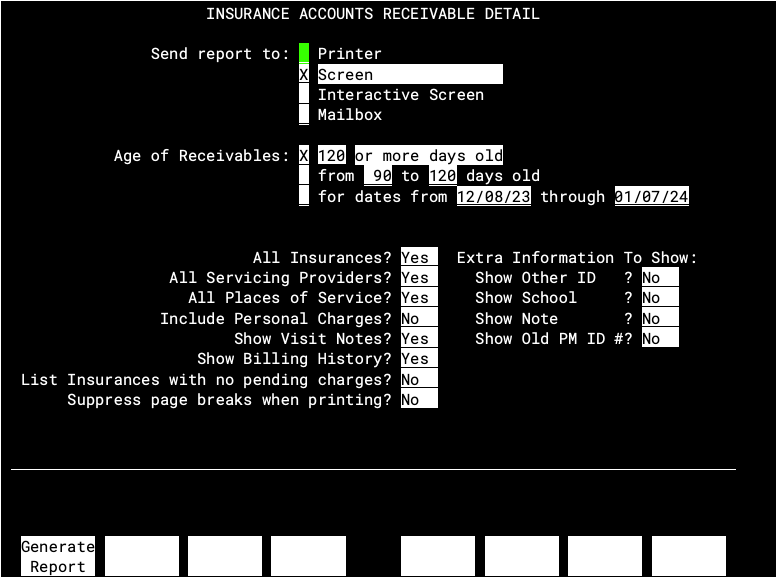 Output Options for inscoar
Send report to:

You can view the inscoar report on the computer screen, print it out, or have it sent to your e-mail inbox. You can also view the report as an "Interactive Screen," which allows you to work on the charges as you review them.
Criteria Options for inscoar
Age of Receivables:

You can limit the inscoar report to only those charges that are over a certain age, those that within a certain age range, or those that occurred during a specific date range. Using these options, you could, for example, choose to view only insurance charges that are nearing the end of a particular carrier's timely filing limit.

All Insurances?

If you enter "No," you will be prompted to select insurance plans or groups that you wish to view. Otherwise, you will see all insurance plans that have outstanding charges. This option is useful if you are dealing with a particularly poor payor.

All Servicing Providers?

If you enter "No," you will be prompted to select providers or provider groups for which you wish to view charges. The default of "Yes" will run the report for all providers that have any outstanding charges.

All Places of Service?

If you enter "No," you will be prompted to select the place of service for which you wish to view charges. The default of "Yes" will run the report for all places of service for which there are outstanding charges.

Include Personal Charges?

Change this item to "Yes" if you wish to view all charges, regardless of whether they pend an insurance carrier or are the guarantor's responsibility. In this way, you could analyze personal charges at the same time as insurance charges.
Formatting Options for inscoar
Show Visit Notes?

Change this item to "No" if you do not wish to view Visit Notes. A visit note is added to charts in the Correct Mistakes (oops) program.

Show Billing History

Change this item to "Yes" if you want the date the charges were batched or submitted, along with other billing messages, to show in the report. This may be useful when dealing with old charges that have been resubmitted several times.

List Insurances with no pending charges?

inscoar can create a list at the bottom of the report of insurance plans that meet your criteria but do not currently have any outstanding charges pended to them. Keep this option as "No" to suppress the list.

Suppress page breaks when printing?

Change this field to "Yes" if you wish to print the report in one long section. By default, inscoar prints different insurance plans to different pages for your convenience.

Extra Information To Show:

Use these settings to show the information from the four boxes in the Patient Editor (notjane) on the report. For example, if your office stores insurance ID# information in one of those boxes, it may be useful to have that information on your inscoar report.
Use Interactive Inscoar to Jump to Tools While Viewing the Report
As you read the inscoar report, and use it to call insurance companies, you can turn on the Interactive Screen feature to perform a wide range of functions. You can research account history, correct and resubmit problem claims, and add notes to the patient or account.
How Do I Use "Interactive" inscoar?
To access the advanced, interactive features of inscoar, check off the "Interactive Screen" option on the configuration screen:

As with other output settings, you can modify the other options on the screen, such as the "All Insurances?" option, to limit what portion of your A/R you will view interactively.
When you run the report, you will notice a significant change: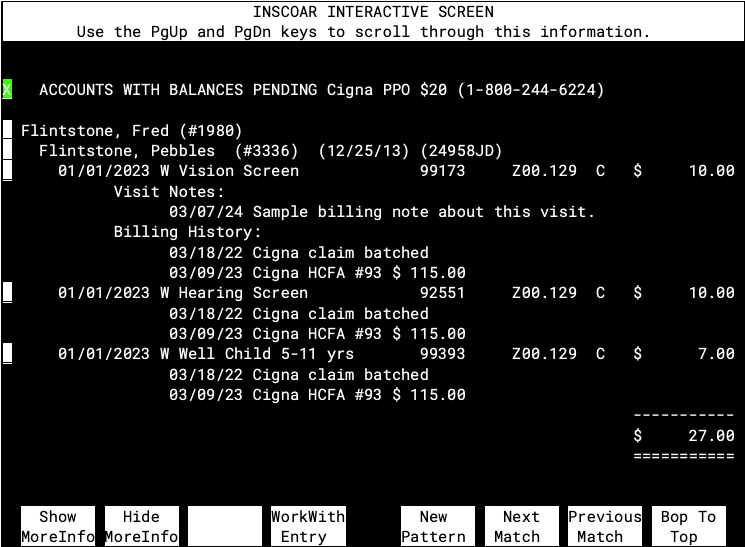 Every item on the report, whether an insurance company, an account, a patient, or a charge, has a selection box at the left hand side of the screen. Function keys at the bottom of the screen let you show or hide additional information, work with an item, or move around the report by searching.
F1 – Show More Info
When you select an item and press F1 – Show MoreInfo, the report expands to include additional information about that item. If you have selected an insurance company, you will see that company's address, insurance table number, and copay information. If you select an account and press F1, you will see all of the account's contact information and active insurance plans.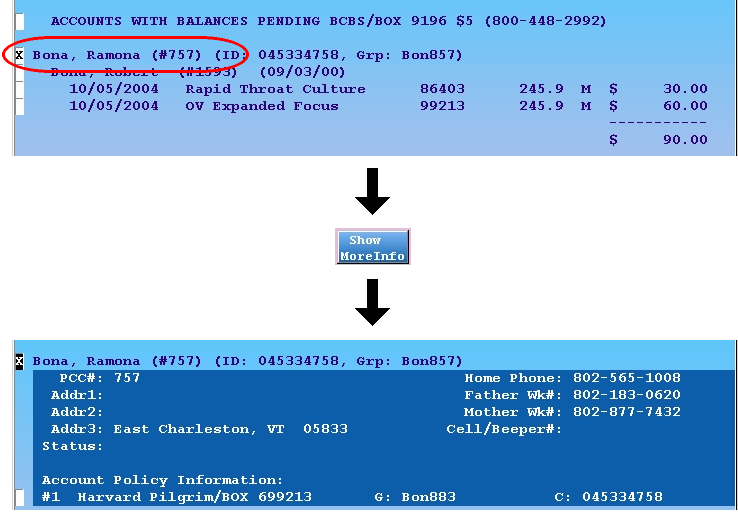 Finally, when you select a procedure and press F1 – Show MoreInfo, you will see complete information about the charge: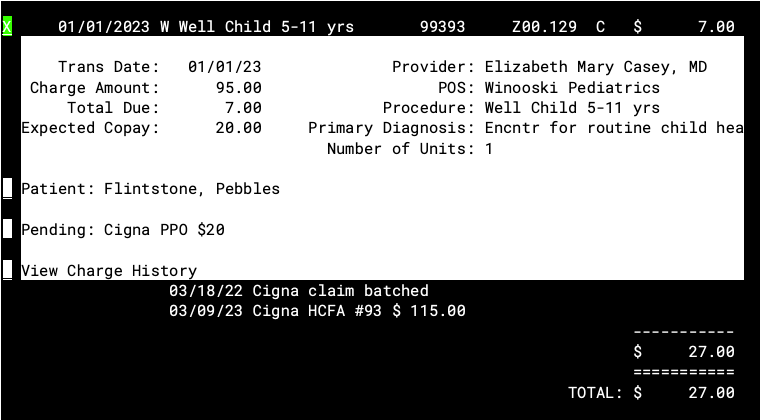 If you then select "View Charge History" and press F1, you will see billing history messages about the charge:

Press F2 – Hide MoreInfo whenever you wish to collapse or hide the extra details.
Using just the "Show More Info" option in interactive inscoar, you can already see an advantage over printing the report when trying to untangle a difficult billing problem.
F4 – Work With Entry
What if you call the insurance company about a claim listed on the report, and they want to know more details about the patient? What if they explain the problem, and you then need to correct a diagnoses code and resubmit the claim? You can do all of this from within interactive inscoar by using the "Work With Entry" function. You can also use this tool to reach any information stored in Partner about any patient or account listed on the report.
To start, select any item on the screen that you wish to work with. Then press F4 – Work With Entry.
Work With What Kind of Entry?
Insurance Plans: Select an insurance plan and press F4 to view the plan's entry in the insurance table in ted, the Table Editor. From there you can review plan information, claim batch, plan notes, and other data.

Account Name: Select an account name and press F4 to run the Family Editor (fame). From there you can view collection and account history reports, add notes about your interaction with the insurance company, review insurance information, and perform many other functions.

Patient Name: Select a patient name and press F4 to view an interactive "Patient Information" screen:

From this screen, you can do the following:

Select any item listed and press F1 – Show MoreInfo to view further details.

Press F3 – Edit Patient to run notjane.

Press F5 – Imms Record to jump straight to the patient's immunizations.

Press F6 – Schedule Patient to run sam, from which you can schedule a new appointment or review past and upcoming appointments in inquire.

Press F7 – Patient Forms to generate form letters for the patient.

Procedures: Select a charge or procedure and press F4 to view an interactive "Visit Information" screen:





Select any item listed and press F1 – Show MoreInfo to view further details. This is especially useful when viewing existing billing messages in the "Billed/Payment History" section shown above.

Press F3 – Refund to run refund. You can use refund to post refunds or any accounting adjustment that takes money away from an account or increases its balance.

Press F4 – Pam to run pam, the Payment Posting program. Use pam to post personal payments or any accounting adjustment that reduces its balance.

Press F6 – Correct Mistakes to run oops, the Correct Mistakes program. Use oops to modify charge information, such as diagnoses and claim information, as well as for printing or batching a new claim.

Press F7 – Post Charges to run checkout, the Charge Posting program. Use checkout to post additional charges or repost a charge that you deleted in oops.

Press F8 – Family Editor to run fame, the Family Editor. Use fame to review account history, insurance policies, or other account information.
Note: When you are finished working with an entry, press F12 to go back one screen. You can repeatedly press F12 and move back through each screen, all the way to the original inscoar configuration screen.
F5 thru F8 – Search the Report
Depending on the criteria you used, your Interactive inscoar report may be very long. Use the four search function keys (F5 through F8) to navigate the report and jump directly to the account or insurance with which you wish to work.
In the example below, a user wanted to review information for the account of David Inzana.
Searching Through Interactive inscoar
Press
When you are ready to begin a search, press F5.

Enter the Search Pattern
Type in the desired account, insurance name, or other criteria. Press F1 – Process to continue.

Work With Results
There will be a brief pause as inscoar finds the information you entered.

You will then see the first matching name or item matching your search criteria:

You may use all of the usual Interactive inscoar tools to work with this account, patient, or charge.
Optional: Press
If there are several matching entries, you can use F6 and F7 – Previous Match to rotate through all instances of your search.
Optional: Press
If you get to the end of the report and wish to jump to the top and repeat the search, press F8.