Export Partner SRS Results to a Spreadsheet
You or your practice's accountant may use financial data from Partner to analyze profits and make policy decisions for the future of your practice. srs can produce thousands of different reports, and you may wish to export those reports to another program, such as a spreadsheet, in order to make graphs or combine the numbers with other information.
Watch a Video: You can learn the steps in this article by watching the SRS Reports video.
Transfer an SRS Report to Your Computer
You use an e-mail program, such as Roundcube, Mozilla Thunderbird, or Microsoft's Outlook Express to send yourself a "Comma Separated" e-mail containing srs data. You can then save the e-mail to a file on your computer and open it in your spreadsheet program.
Select and Run the srs Report
Run srs, choose the category and report you need, and enter the desired date range. You can retrieve or add criteria to limit the output, if desired.
Select "E-mail", Enter an Address, and Select "Spreadsheet (Excel)"
On the Report Output Selection screen, choose "E-mail" as the destination and "Spreadsheet (Excel)" as the output format. If the default e-mail address is not correct, enter a different address. Press F1 – Generate Report to continue.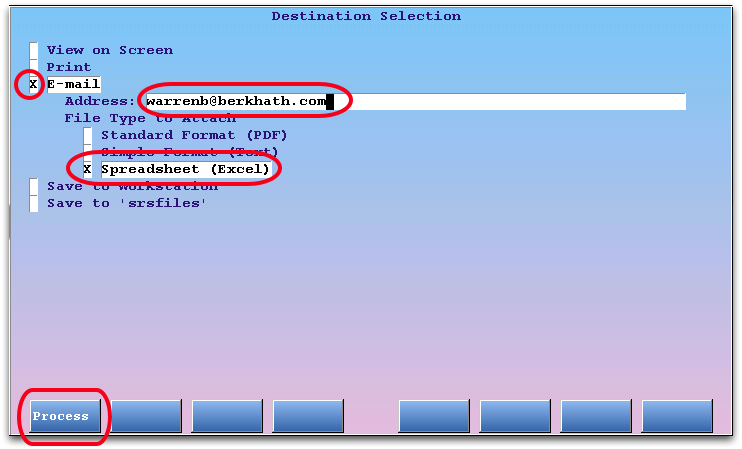 Check Your E-Mail
After a few minutes, the report should appear in your e-mail inbox.
Save the E-Mail to a File
Click on the "File" menu and select "Save As…"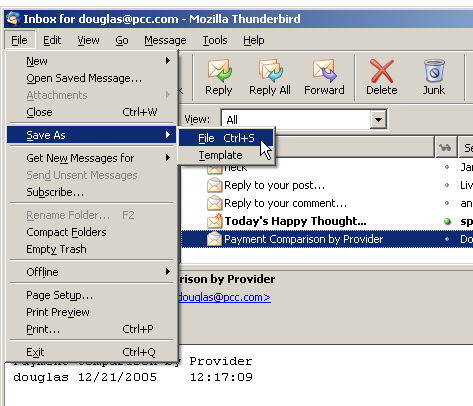 Pick a Save Location
Use the standard Windows save dialog to save your report in an appropriate location. If a "File Type" or "Save as type" option is visible, change it to "Text File" as shown.