The ARRA report, which is available in PCC's Practice Management window, calculates Medicaid plan utilization at your practice. You can use it to see the percentage of patient visits that are medicaid or medicaid eligible, broken out by physician. This report was designed to help your office determine if you qualified for the EHR Medicaid Incentive Program, but it may serve other purposes. You can run the report from a command prompt or from a custom Partner window location.
Follow the steps below to run the ARRA report.
Run ARRA
Type arra at a command prompt to run the program. PCC Support can add arra to one of your custom Partner windows upon request.
Enter a Date Range, Select Stage 1 or Stage 2
The arra report can calculate 90 days from any date you enter, or you can select a calendar year.
Stage 1 calculation guidelines include visits with applied Medicaid payments. Stage 2 calculation includes all visits during which the patient had an active Medicaid plan, even if Medicaid made no payment.
Press F1 to continue.
For more information on what is included in Stage 2 guidelines, visit the CMS.gov site.
Select Medicaid Insurance Plans
Use the insurance selection screen to pick Medicaid insurance plans.
If all of your Medicaid plans are classified in the Medicaid insurance group, you can quickly select them by choosing that group, as shown below.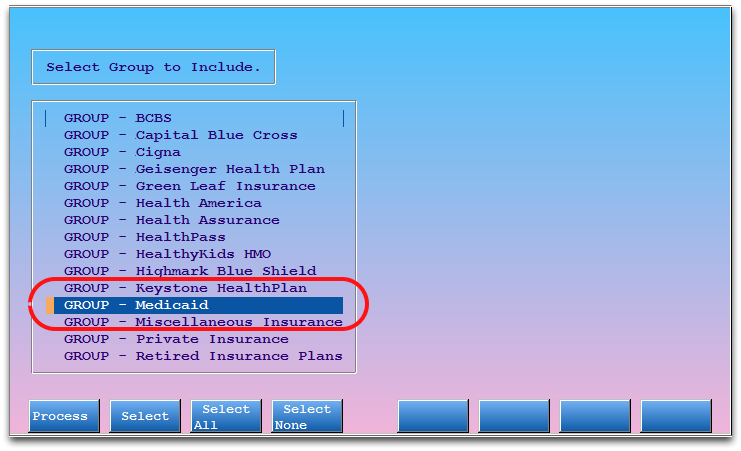 Press F1 to continue.
Review Results
Review Medicaid volume percentages for the given period and each clinician.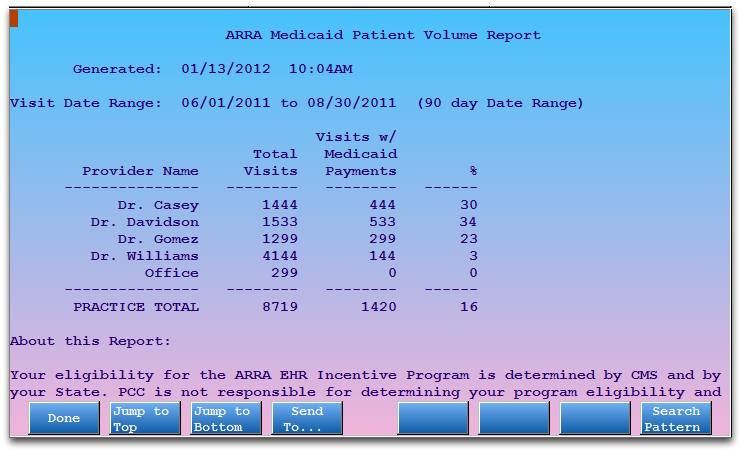 Press F4 – Send To... to send the report to a printer or an e-mail address.
Please note that these results are based on the insurance plans you select, their configuration, and how payments were posted against charges. Please read the legal disclaimer underneath the report results, and work with PCC Support if you need help reconfiguring your insurance plans or changing how you post payments.