My Kid's Chart User Account Administration
Parents and patients can use My Kid's Chart to access medical records. Your practice manages the login account, and grants secure access to each patient's records. Read the sections below to learn how to create and configure My Kid's Chart accounts.
Log In to the My Kid's Chart Configuration Tool
Contact PCC for help logging in to the My Kid's Chart administration tool. We will provide you with a Web URL and login information.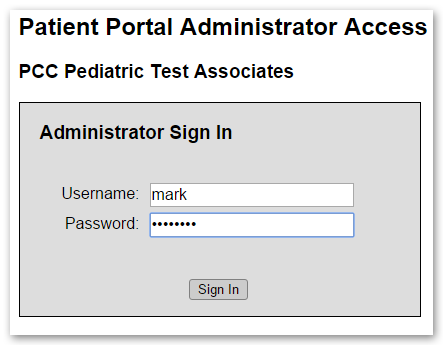 If you can not log in to the My Kid's Chart administration tool, contact your office manager. They can use the User Administration tool in PCC EHR to grant you a role with My Kid's Chart administration privileges.
Alternatively, you can access the My Kid's Chart administration tool directly from within the EHR, in the Patient Portal Manager under the Tools menu.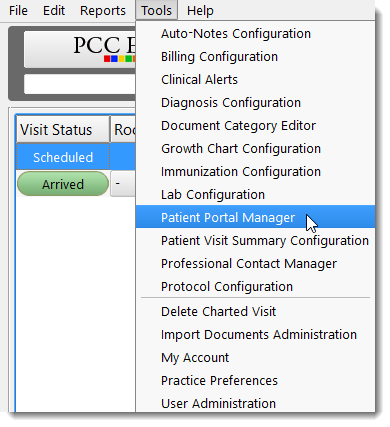 Care Centers and My Kid's Chart: If your practice is part of a large, multi-office group that uses PCC's Care Center features, you may have a separate login URL for your specific care center, along with custom address and message options for My Kid's Chart. Contact PCC to learn more. In addition you must assign Care Centers to specific users in the User Administration tool in order for the Administration tab to point to the correct domain for each user. For more information, read our documentation on Care Centers and PCC software
Create an Account
When a parent, guardian, or teenage patient wants access to medical records, click Add Portal User to create a new My Kid's Chart account.

Next, enter an e-mail address, first name, last name, and optionally a contact phone number.
Click "Add User" to create the account and send the user an e-mail with login information. The Administration tool will automatically display the Manage Portal User screen so you can begin adding patients or make other changes.

Manage Account and Password
Click on the Manage Portal User link to edit any account details or manage which patient records a user can access.
You can find users by name, e-mail address, or phone number.

After finding and selecting a user (or after creating a new user), you will see account information.

You can click to edit user information or delete the account.
If you have just created the account, you will see options to print a password note for the user (if they are standing in front of you), or reset their password.
If the user has already set their own password, you will only see an option to reset the password.

Add/Remove Permission to View a Patient's Records
While managing a portal user, click "Add Patients" to grant the user access to a patient's medical records. Then, search for the patient by name.


From the search results, click "Add" to add permissions for one or more patients. Then click "Done".
The Manage Portal User screen will display a list of all patients that an account user may access.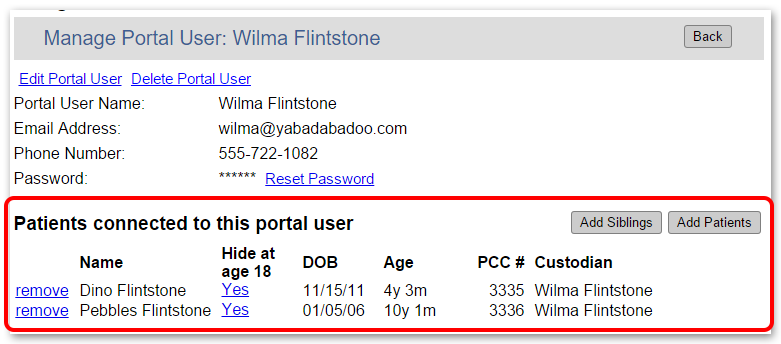 You can click to add additional patients, or click to add a sibling, which will provide a list of patients who share a custodian or guarantor with currently connected patients. Click "Remove" to remove any patient.
Patients From Different Care Centers?: If your office is part of a large, multi-office practice that uses PCC's Care Centers feature, you will see which care center a patient is assigned to when you search. Use that information to help you connect the correct patient to the My Kid's Chart user account.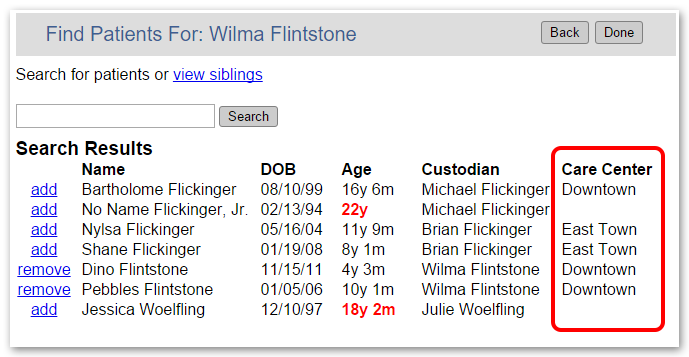 Automatic Privacy When the Patient Reaches Emancipation Age
When a patient reaches the age of emancipation set by your practice, their record will automatically become private. The "Privacy Enabled" message will appear beside their name.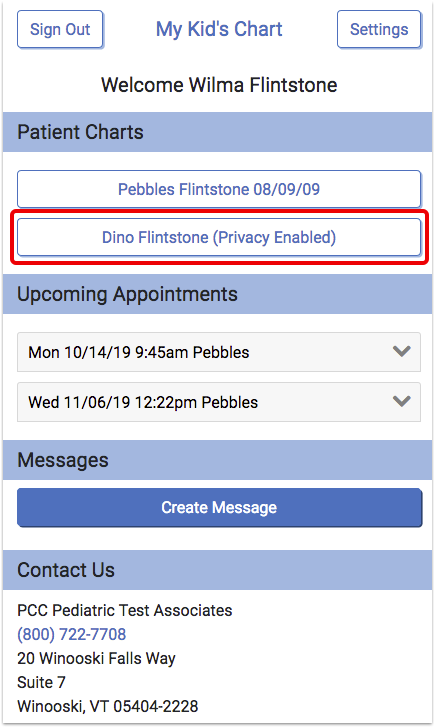 Users will still be able to see the patient's name, and send a message to the physician in relation to the patient, but they will have no access to medical information.


Here are some issues to keep in mind:
Messages Are Still Available: If your practice uses the Messages feature of My Kid's Chart, parents will still be able to send your office messages and questions in relation to connected patients, even after they turn eighteen. Your staff should keep this in mind when responding to incoming questions on the Messaging queue in PCC EHR.

18, 16, or 21?: Age eighteen is the My Kid's Chart default emancipation age, but your practice can set your emancipation age to whatever is applicable for you, based on your state or region's regulations.
Configure Emancipation Age and Portal Content
Your practice can configure what details and options appear in My Kid's Chart.
Use the Configuration tab in the Patient Portal Manager to change or update what My Kid's Chart users will see.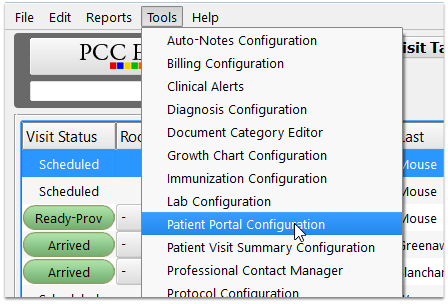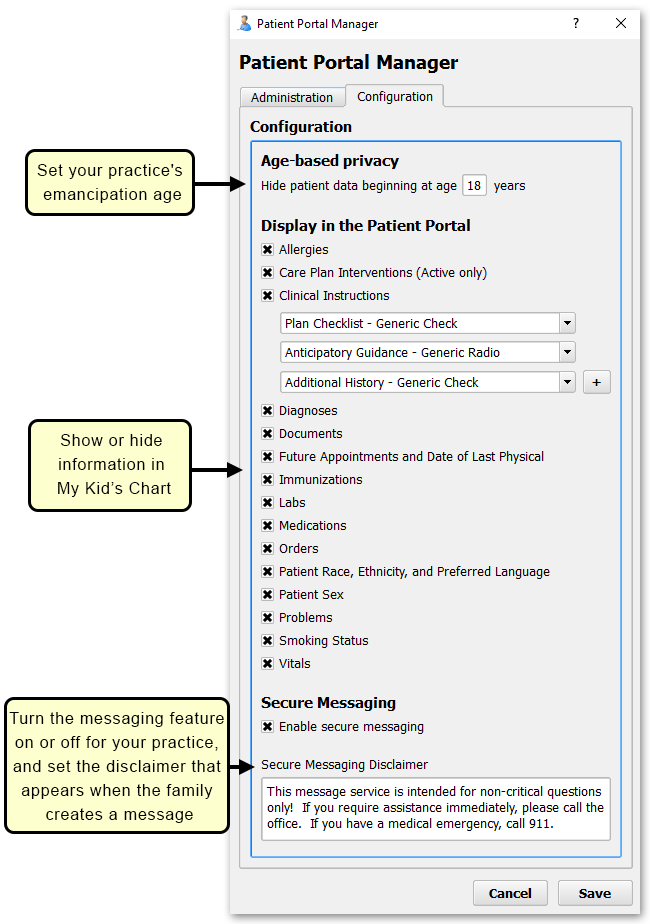 Change settings or select and deselect items to configure what appears in My Kid's Chart.
Set Age-Based Privacy: The age-based privacy setting determines when patient information will be hidden from My Kid's Chart user accounts. Your practice can set up patient portal accounts for parents, guardians, and for patients themselves. The age-based privacy setting will determined the age of emancipation, whereupon patient data will be hidden from accounts unless specifically granted in the My Kid's Chart administration tool.

Determine What Displays in the Patient Portal: Your practice can use the checkboxes in the Patient Portal Configuration tool to determine what data will appear in My Kid's Chart for all users. Configuration changes are practice-wide, for all patients and all locations. (Note that you can also hide specific orders by default or on a case-by-case basis with the "Display on Patient Reports" checkbox.)

Secure Messaging: Your practice can turn the Secure Messaging features of My Kid's Chart on or off. If the messaging feature is turned on, you can customize a message that will appear at the top of the screen whenever a user creates a new message.

Granting Access for Adult Patient Records

Your practice can use the administration tool to grant individuals the right to access a patient's information after they are over the emancipation age. Do this for the patient themselves if they use My Kid's Chart, or when special circumstances apply for an adult patient with a guardian.

In the example above, the My Kid's Chart user Wilma Flinstone has four patient records attached to her account. However, as shown by the "Hide at age 18" column, when three of these children reach eighteen, Wilma will no longer have access to their medical records (Dino has turned eighteen already). The exception is Thoracia, an adult patient whose records will remain visible to Wilma.

The patient portal administrator can change the status for any of these patients by clicking in the "Hide at age 18" column.

When a patient who is over eighteen opens a new My Kid's Chart account, your administrator should set this question to "No" for their account, so as not to hide their records from themselves.

Review Connected Patients: When working with a My Kid's Chart user account, the Age column can help you know what to expect. If a user is over 18, the age will appear in bold red to indicate they are over your state's emancipation age.
Turn on Personal Balance for an Individual Portal User
You can decide for each portal user whether it is appropriate to show the personal balance for the patient(s) they are connected to in the portal.
When you set up or edit a portal user's account, you can select a billing account that is associated with the patient(s) who the portal user is connected to.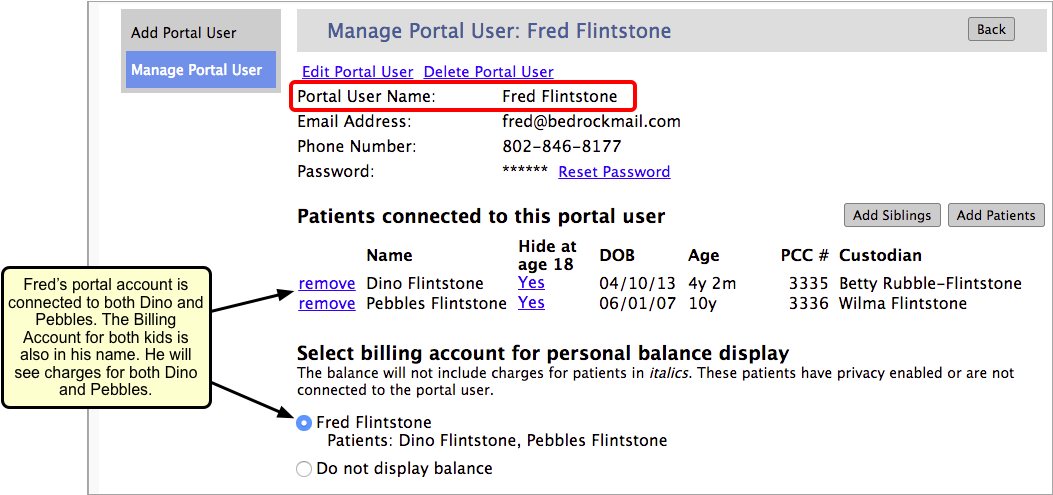 The selection defaults to "Do not display balance". Users will only see the balance if the portal administrator decides to change the selection.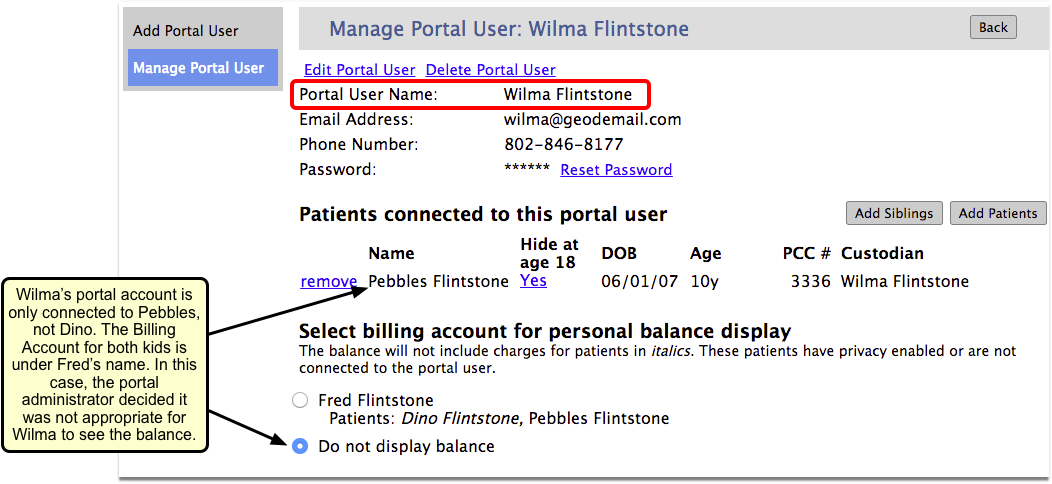 In the above example, the portal administrator decided not to have Wilma's portal account include personal balance information, since the billing account was in Fred's name. If the practice chose to show balance information, Wilma would only see the charges that were outstanding for Pebbles, since Dino's name is in italics (indicating that his information will not be visible to Wilma).
Turn off the Personal Balance Feature for All Portal Users
If your practice decides not to display personal balance information on your patient portal, you can turn this feature off.
To disable this feature, un-check the Personal Balance selection in the Configuration tab of the Patient Portal Manager.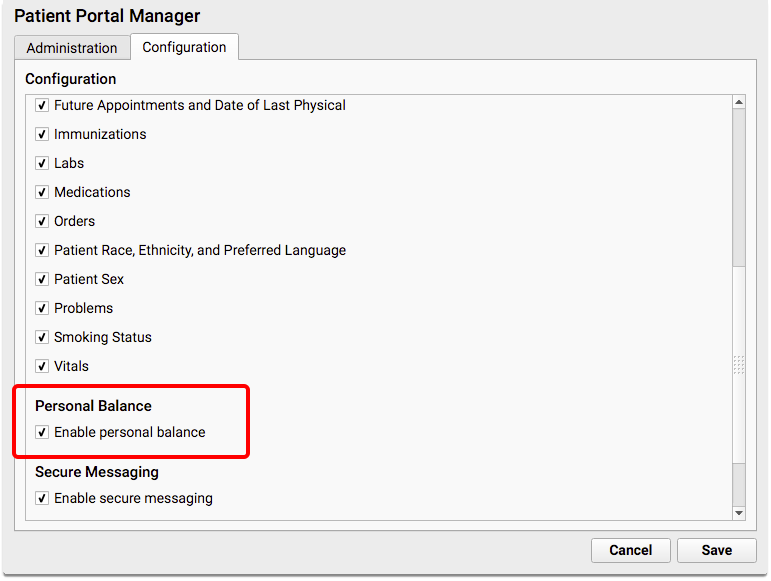 Audit a Patient's My Kid's Chart Record Access
If you need to find out which users have accessed a patient's record in MyKidsChart.com, contact PCC Support. We can look in your PCC database and determine which users have accessed a particular patient's information, how many times, and what information they reviewed.
Keep in mind, if you believe a user has access to a patient record they should not, you can use the instructions in the sections above to add or revoke access to a patient's record at any time.
Change the Default Logout Time in My Kid's Chart
After 5 minutes of inactivity, My Kid's Chart will log a user out. PCC can customize the logout time for your practice. Contact PCC Support for more information.