All PCC clients have a guaranteed support plan. You should always feel free to contact PCC for help with our software, hardware, or services. Talk to PCC when you are considering new hardware or software, making major configuration changes, or moving your office. Let us know so we can help!
How to Contact Support
PCC sets up regular Client Advocate calls with every pediatric practice. You can also email, call, or fax PCC Support at any time.
PCC Calls You: Your practice's Client Advocate will reach out and chat with someone at your office at a time that works best for you. These regularly scheduled optional calls are the perfect time to ask for configuration changes, learn how to implement new features and tools at your practice, or get additional training.

Email PCC: Send all PCC emails to support@pcc.com. We will route your email to PCC Support, your practice's Client Advocate, or the appropriate specialist.

Call PCC: PCC's support phone is 1-800-722-7708. Live support techs are available between 8:30am and 8pm ET (5:30am to 5pm PT), except for a few days during the year. Emergency help is available 24/7, 365 days a year.

Fax PCC: You can also fax PCC a problem at 1-802-846-2197. This works particularly well for work on form letters, reports, or other visual problems. Be sure and identify your office and yourself on the fax and include a number where you can be reached.
What Happens After I Call?
PCC Support solves many problems immediately, during your first call or in response to your first email.
If we can't talk right away, we'll call or email you back. Either way, we'll open a support ticket for you. You'll get an automated email describing your support ticket.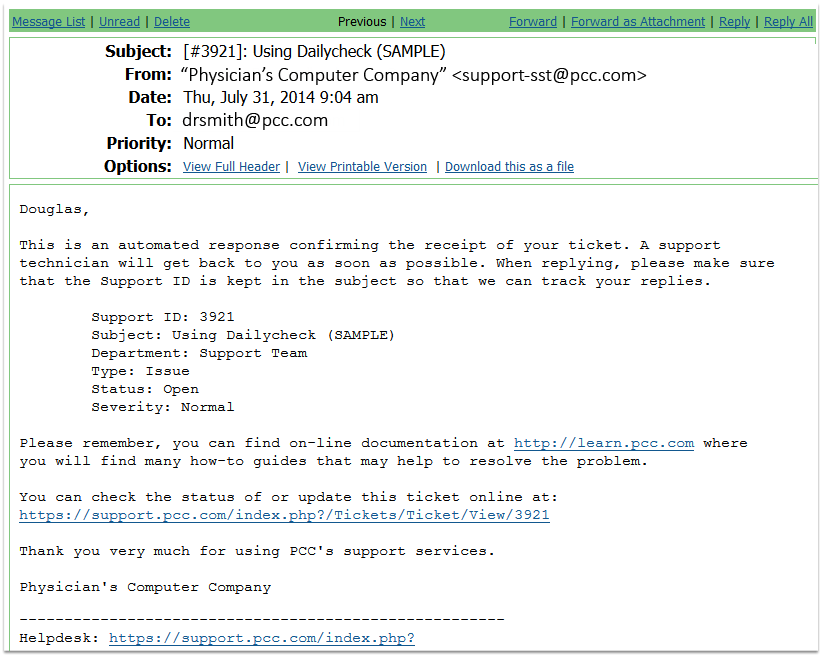 Can I Follow-Up On Unresolved Support Tickets?
You can visit https://support.pcc.com to review all of your support tickets. PCC Support can help you set up an account.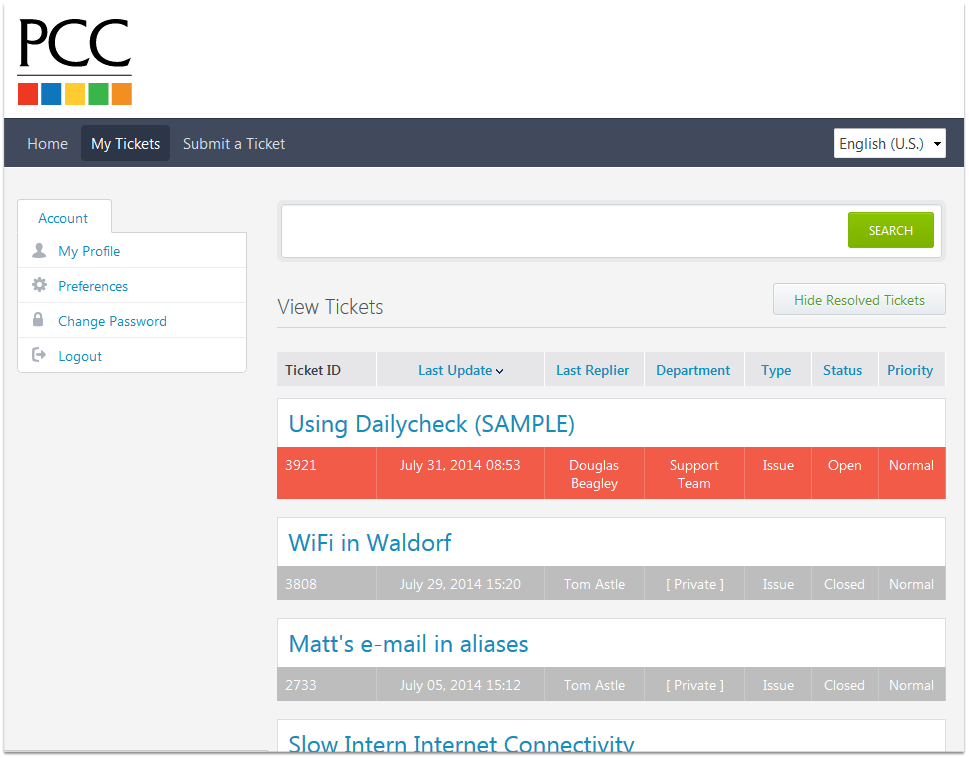 You can decide which users at your practice should have access to this tool, and whether they should be able to see all support tickets practice-wide, or just the tickets they open.
PCC Support tracks every ticket until it is completed to your satisfaction. If you need something we can't help you with, we'll open a development enhancement request or help you find a different tool or workflow.
Watch a Video: Want to learn more about this tool? You can watch a 3 minute video on support.pcc.com.