Hardware Guide: Your PCC System Hardware
PCC may install a server, peripherals, and other hardware in your office. This article is a quick reference to that equipment. You can use the sections below as a photo guide to your PCC hardware.
Contact PCC Support with any questions about your practice hardware.
Read a Summary of Network and Equipment Services: PCC's Technical Solutions Team provides a Network and Equipment Services guide which includes answers to common questions around what PCC installs, how equipment is maintained, how backups are performed, and more.
What About Equipment that Your Practice Purchases?: Read the Personal Computer and Equipment guide to learn about PCs, printers, and other equipment that your practice purchases and maintains.
Introduction: What Does PCC Install at Your Practice?
PCC typically installs the following equipment:
a PCC server (typically a Dell PowerEdge server) (If your practice is hosted in a cloud service, PCC will not install a server)
one or more network switches
an APC UPS battery backup unit
a router/firewall (either Netgate or Fortigate)
a network-attached storage device (NAS)
one or more wireless access points
The PCC Server
Unless your practice will host your PCC server in the cloud, PCC installs one or more servers in your practice. The PCC server runs PCC EHR, the Patient Portal, and other PCC software and services. Your personal computers connect to the PCC server using a network connection.
PCC servers use the CentOS Linux operating system and require internet connectivity.
A PCC server includes provisions for failure and redundancy. PCC provides a guaranteed 4-hour response for onsite service. We typically include a monitor, keyboard and mouse for the server, but the server can not be used as a user workstation.
Current Server Installations
When PCC installs a physical server, we currently use a Dell PowerEdge server.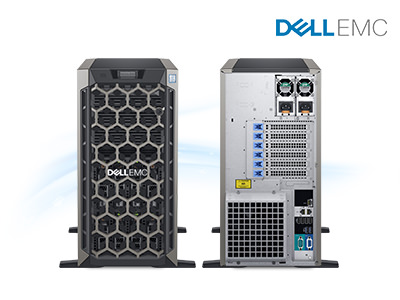 Height: 430.3mm (16.94 in)
Width: 218mm (8.58 in)
Depth: 603 mm (23.7 in)
Weight: 26 kg (55.67 lb.)
How to Turn Off Your PCC Server: Whenever possible, your PCC server should be rebooted or shutdown from the System Administration menu in the Practice Management window. Should that not be possible, you can use the illuminated green power switch on the front of the server. Push and release the button. When pushed and immediately released, the server should go through a proper shutdown procedure before powering down. In exceptional circumstances, you can also press the power button and hold it for several seconds to immediately power down the server. If you have any doubt about when or how to reboot or power down your server, please contact PCC support.
Network Switch
For a typical pediatric practice, PCC installs and maintains one or more network switches.
Switches are the center of your PCC network. All network devices, including PCs and the Partner Server, plug into a port on the switch, through cabling in your wall. If you have a wireless access point, it also plugs into the switch directly or through a cable in the wall.
You can plug devices into any port on a switch, the ports do not need to be individually configured.

HP 1910 24-port Gigabit Network Switch
(You may have a similar-looking 48-port model)
Height:
44 mm (1.73 in)
Width:
440 mm (17.32 in)
Depth:
173 mm (6.81 in)
Weight:
2200 g (4.85 lb)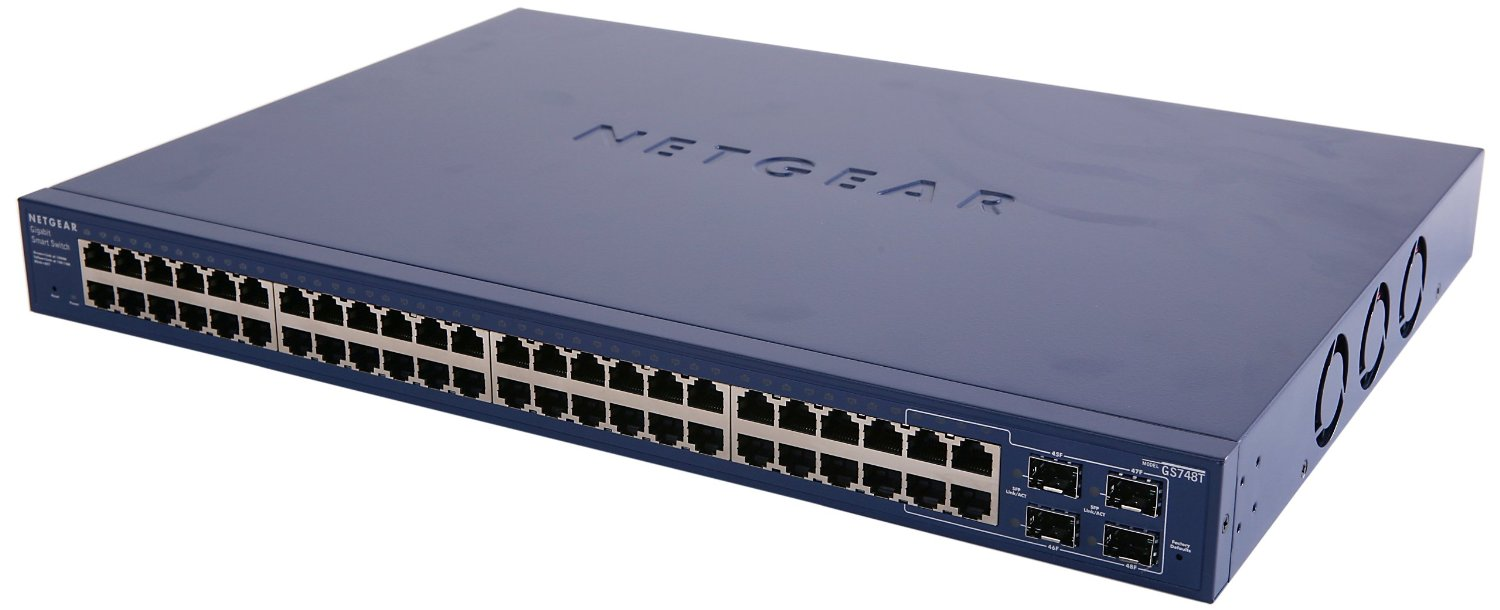 Netgear GS748T 48-port Network Switch
(You may have a similar-looking 24-port model)
Height:
43 mm (1.7 in)
Width:
440 mm (17.3 in)
Depth:
260 mm (10.25 in)
Weight:
4.0 kg (4.0 kg)

UniFi 24-port Gigabit Network Switch
(You may have a similar-looking 48-port model)
Height:
485.04 mm (19.1 in)
Width:
44.45 mm (1.75 in)
Depth:
285.6 mm (11.25 in)
Weight:
3.7 kg(8.16 lb)

Dell 24-port Gigabit Network Switch
(You may have a similar-looking 48-port model)
Height:
41.25 mm (1.62 in)
Width:
209 mm (8.23 in)
Depth:
250 mm (9.84 in)
To reset a switch or router, unplug the power cable from the back of a unit, wait fifteen seconds, and plug it back in.
APC UPS Power Backup System
PCC installs an APC UPS battery device that supplies power to your PCC server. It protects anything that is plugged into it from power surges, brown-outs, and black outs.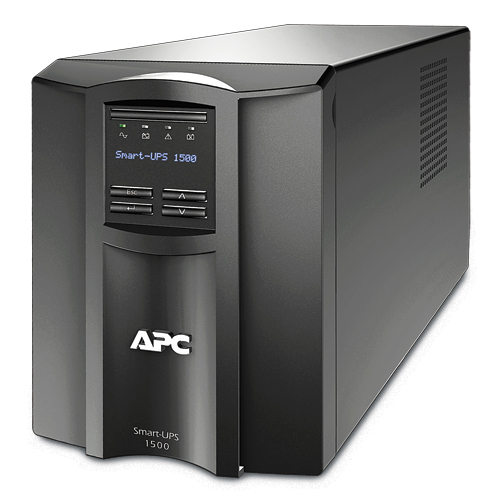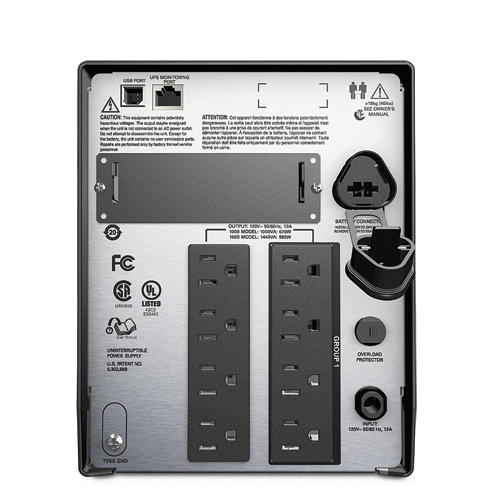 Height: 219mm (8.62in)
Width: 171mm (6.73in)
Depth: 439mm (17.28in)
Weight: 20.45KG (45.0lbs)
The UPS works silently until a power problem occurs. Then the UPS will begin to beep loudly and supply filtered power to devices plugged into it. The UPS will supply five minutes to an hour of power to the server when the power fails completely.
When your power fails, shut down your server as soon as possible. When five minutes of battery remain, the UPS will attempt to safely shut down the PCC server for you automatically.
You can read a manual for the current UPS model.
Router or Firewall Device
PCC installs and maintains a firewall for each of your offices. This device connects your office to the internet, connects remote offices, and provides connections to approved third-parties, such as remote billing office. The firewall provides security features that help protect your network. At this time, PCC provides Fortinet firewalls.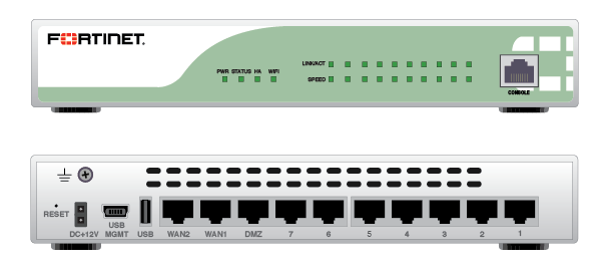 Height: 38mm (1.5 in)
Width: 216mm (8.5 in)
Depth: 160mm (6.3 in)
Weight: 0.9 kg (1.9 lb)
Network Attached Storage Device (NAS)
Depending on your practice's configuration, PCC may install an NAS device. PCC's NAS device is a RAID array of hard drives connected to your network that is used to store backups. PCC currently installs two different brands of NAS device:
Synology NAS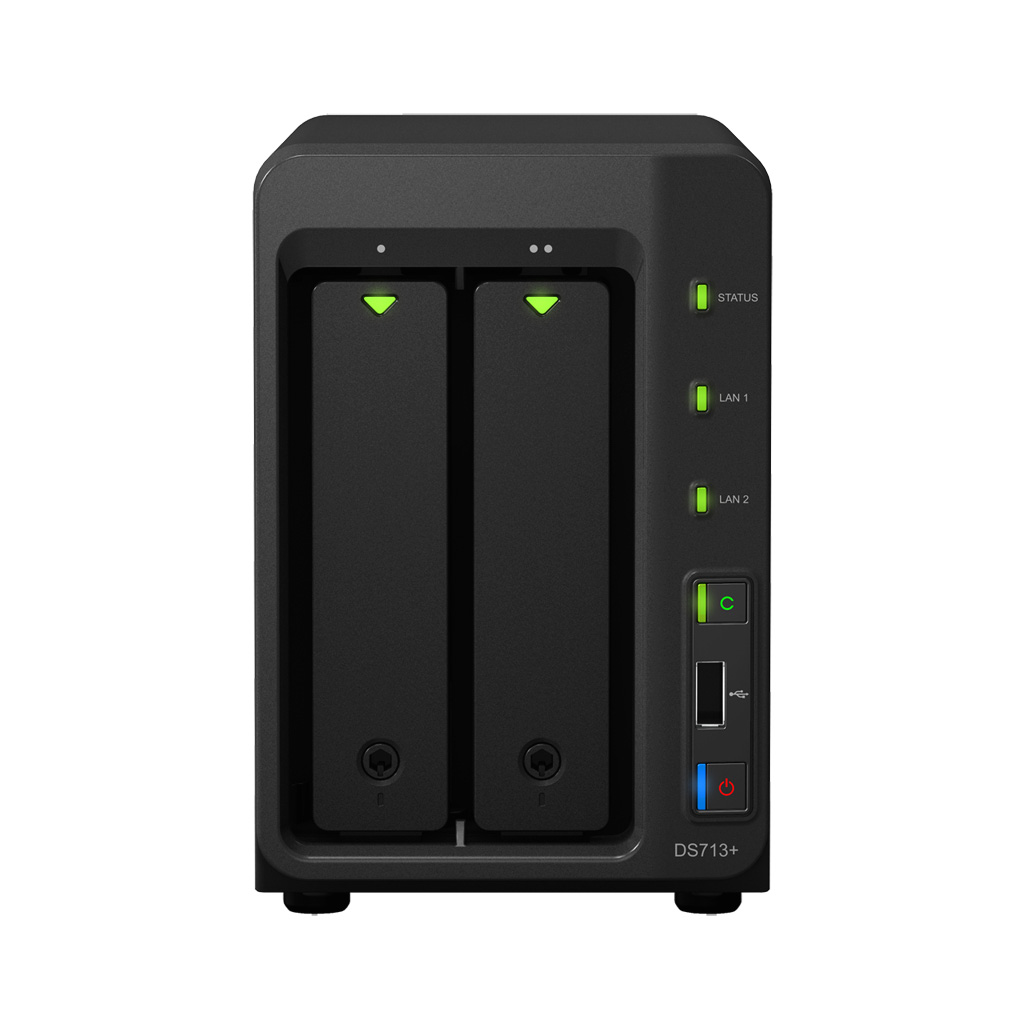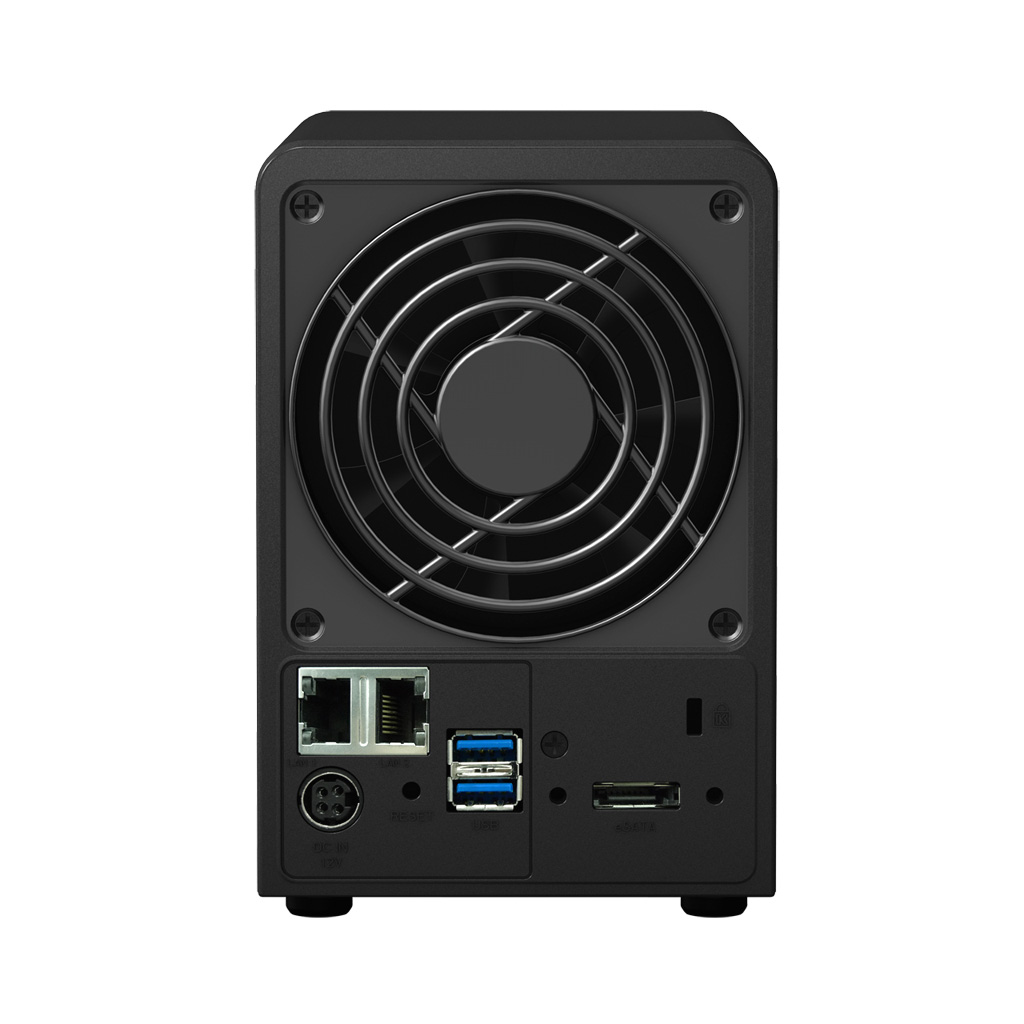 How to Turn Off Your Synology NAS: The power switch for the NAS is on the front, illuminated in blue, in the lower righthand corner.
FreeNAS (network-attached storage backup)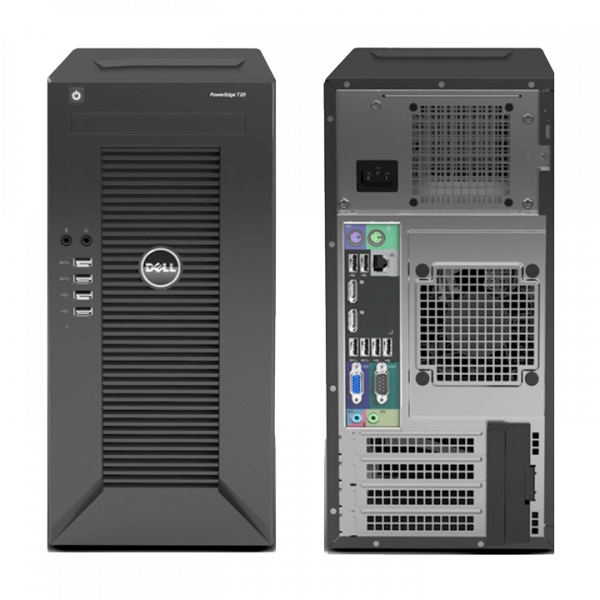 How to Turn Off Your FreeNAS: The power switch for the NAS is on the front, in the upper lefthand corner.
Wireless Access Points
Depending on your practice's configuration, PCC may install one or more wireless access points. A WAP is a radio transceiver that allows your wireless devices to transmit and receive data without a wired ethernet connection.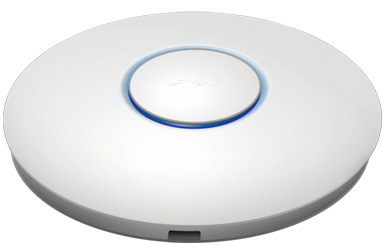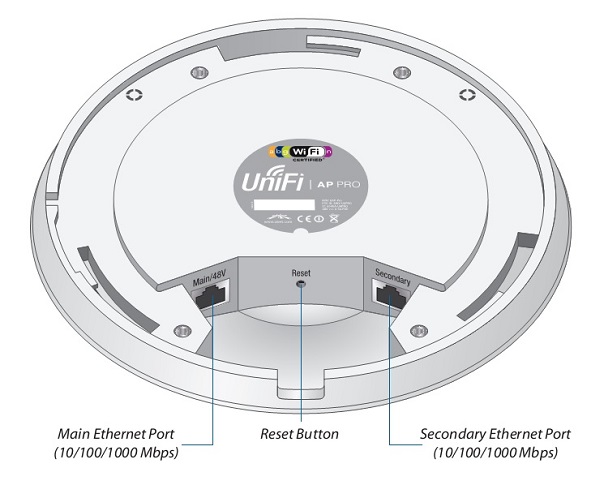 Height: 48.1 mm (1.89 in)
Width: 220 mm (8.66 in)
Depth: 220 mm (8.66 in)
Weight: 830 g (1.83 lb)
In most cases, a WAP is mounted on the ceiling and connected via a cable to your wiring closet. WAPs can be distributed throughout your office to achieve better WiFi coverage.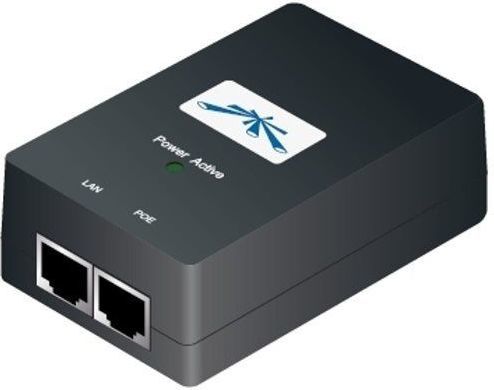 Most installations use a power injector which plugs into the wall; one cable goes to the wiring closet and one cable to the WAP. In some cases we may use use a power-over-ethernet switch for this purpose.
Note: For new installations, your PCC TST technician will advise you on the WAP location(s) for your contractor to install appropriate cabling prior to PCC's arrival.
Replacing Hardware
Before purchasing new or replacing any equipment or services that PCC typically provides at no cost to you as part of your contract, please contact your Client Advocate for guidance.
PCC manages all or most of the network for the majority of our clients. In most cases it is more effective, and less expensive, to let PCC provide network equipment and install and support your backbone network (firewall, UPS, switches, wireless, server and backup). Local IT is great for administering your Windows network, workstations and printers.
Details about equipment and services that PCC provides can be reviewed in the fine print accompanying your PCC contract.