My Kid's Chart User's Guide
My Kid's Chart is the patient portal for your pediatrician's office. You can use My Kid's Chart to access medical records, communicate with your pediatrician, pay our bill, and more.
Use this guide to learn how to log in to My Kid's Chart, review your child's records, and send messages to your pediatrician. You'll also find instructions for reviewing your outstanding balance and reviewing a log of activity on your account. For more information, contact your pediatrician's office.

Get an Account
In order to access your child's information through the portal, you need to get a portal account.
Call your pediatrician's office; they will ask for your e-mail address and verify which patient records you are authorized to access. Then they will create an account for you.
Next, you will receive an e-mail with your temporary login information.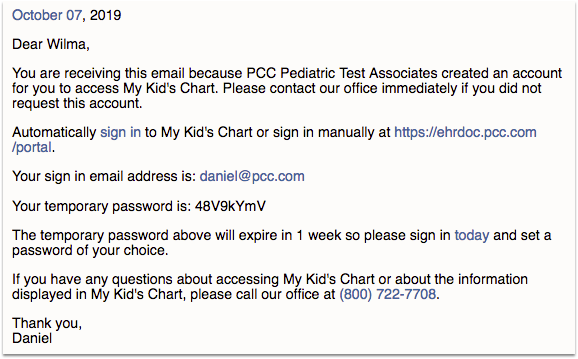 Log In to My Kid's Chart
After you receive your new account e-mail, you can click on the "sign in" link in the Welcome e-mail or type the URL into a Web browser. You can use My Kid's Chart on a personal computer or on your smart phone.

You may want to bookmark or save this link for later.
Next, enter your e-mail address and temporary password to log in.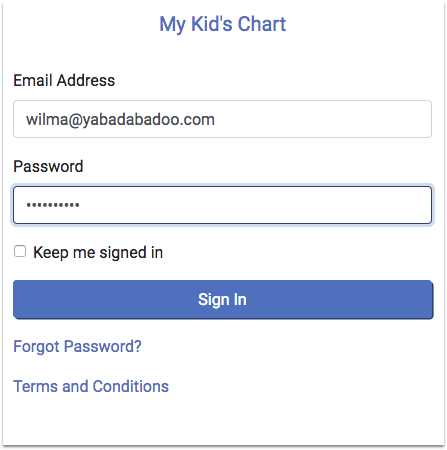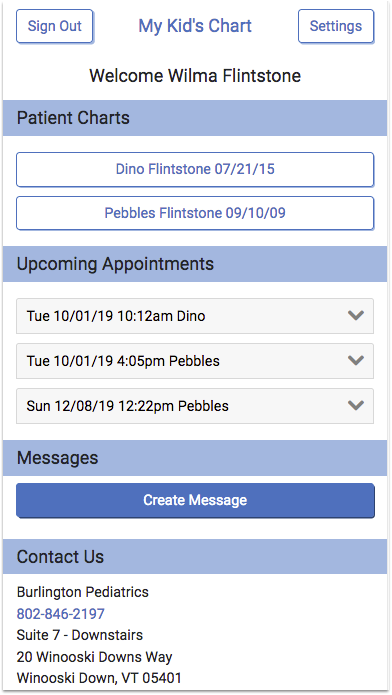 First Time Login: If this is your first time logging in, My Kid's Chart will ask you to enter a new password when you log in.
Once you log in, you will see your child/children listed, along with any upcoming appointments they may have. You may also see a Messages section for sending messages to the office, if your pediatrician's office has activated that feature.
Do You See the Patients You Expect?: If you are a parent or guardian of several children, your pediatrician's office can add each child to your user account. Patients can also appear on more than one login, so more than one parent or guardian, and the patient themselves, may be granted an account with access to the same patient's medical records. Contact your pediatrician's office if you are not seeing the patients you expect to see.

Automatic Log Out: After 5 minutes of inactivity, MyKidsChart will log you out.

Does Your Name Appear Correctly?: You can click the "Settings" button to change how your name appears on the screen.
Review Your Child's Records
Click on your child's name to open their medical records.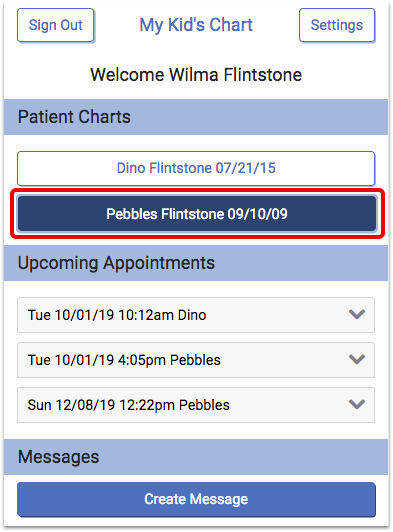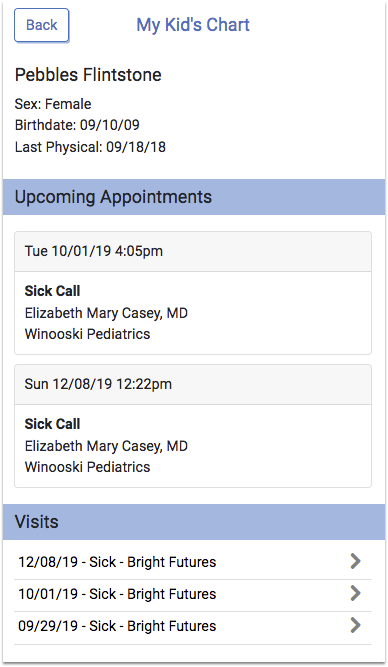 You will see your child's name and birth date, along with their last physical date. If they have any upcoming appointments, you will see them listed as well.
Scroll down to review your child's past visits, lab results, medications, and other information.
Review Visit Summaries
How tall was your child at their last physical? What was your pediatrician's diagnosis when your child had a cough last month? For a complete visit summary, select the visit you want from the list.
For each visit, you can see information that was collected and any labs or diagnostic notes from that visit. You can review the vision or hearing screenings and any other items noted in the chart on that day.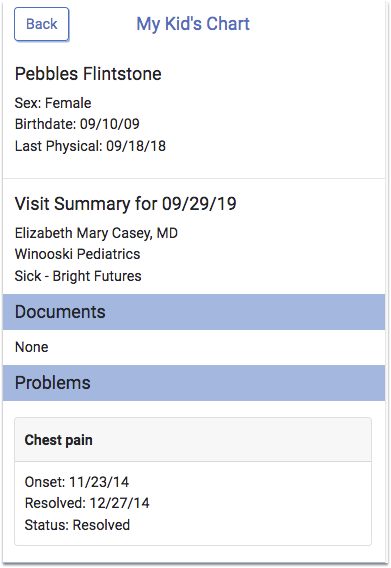 Vitals Percentiles Based on Patient Data: You will notice a percentile value listed with your child's weight, height, and BMI. These values show how your child's information compares to that of other children of the same age and sex. If your child has a Down syndrome diagnosis, you will see "AAP-DS", which indicates that the percentile is based on Down syndrome patients of the same age and sex.
Check Test Results
When you want to review the results of a lab test, vision test, or any other medical procedure or order, just scroll down to the relevant section. Alternatively, you can click on the visit at which the test was given and review results in the visit summary.
The information in My Kid's Chart is updated automatically from the patient's medical chart at the office, so you can be sure that the latest information is always available. Contact your pediatrician if you have any questions.
Download an Immunization Record
Do you need a copy of your child's immunizations record? In the Immunizations section, you can select the PDF button to download a copy.