Receive and Respond to Portal Messages from My Kid's Chart
Patients and family members who use My Kid's Chart can send secure messages directly to PCC EHR. PCC EHR users can read and respond to messages, or create new ones, to communicate with families and answer questions.
Read below to learn how to use PCC EHR to receive and send messages between your practice and users of My Kid's Chart.
Patient Portal Messages vs. Direct Secure Messaging: The patient portal and PCC EHR support two different messaging technologies. Portal messages are a secure, optional messaging tool built into the patient portal. Patient portal users can exchange messages with their pediatric practice, and the practice can receive and send portal messages with PCC EHR or pocketPCC. Direct Secure Messaging, on the other hand, is a specialized message technology used to share and send medical information. It requires registration with a third-party service and it allows for secure transmission of C-CDA transition of care documents or visit summaries. For more information, refer to Receive and Respond to Portal Messages or Direct Secure Messaging.
Review and Respond to Incoming Messages
When a parent or other user sends a message to your practice, it will appear on the Messaging tab in PCC EHR.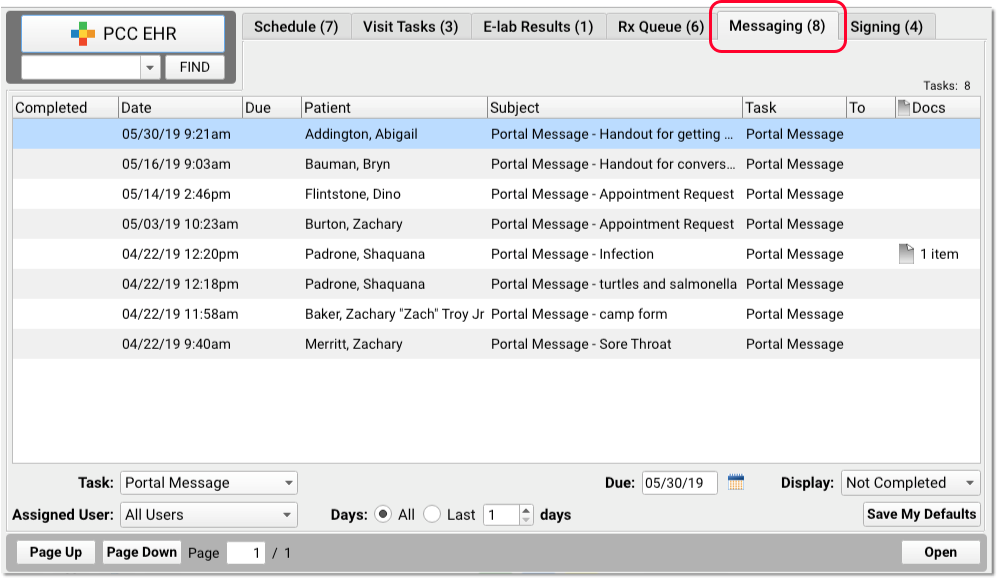 The Messaging queue, formerly called the Phone Tasks queue, displays incoming messages from My Kid's Chart or Pocket Partner, or any Phone Note tasks at your practice. As with other queues in PCC EHR, you can use the filter tools to display exactly those messages that pertain to you.
Double-click on a message to open it.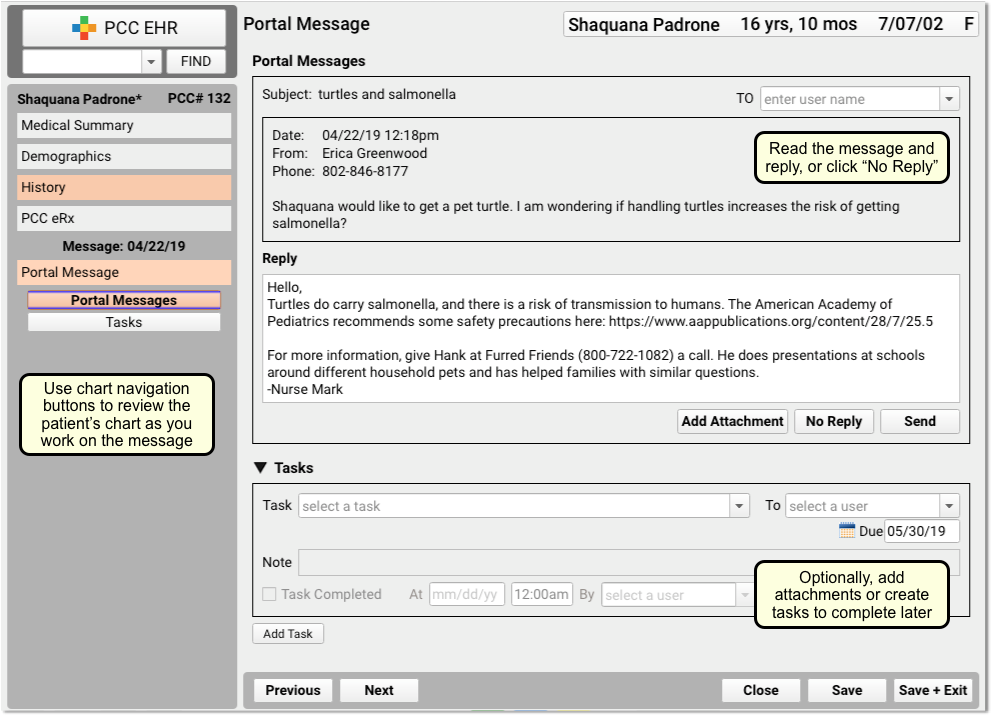 You can review and respond to portal messages much as you would respond to a Phone Note task. Inside the portal message protocol, you can type a response and send it to the family member. Your office may customize the protocol with additional information.
Reply to a Message
You can begin typing a reply, review the chart, and even leave the chart and return. PCC EHR will prompt you and then save the draft of your reply message. Optionally, you can instead click "No Reply", and call the sender on the phone or take a different action.
If you send a written reply, the My Kid's Chart user will get an e-mail telling them that a message awaits. They can log in to My Kid's Chart to read your reply message.
Attachments
If the patient portal user attached a document to the message, you can review it as you read the message.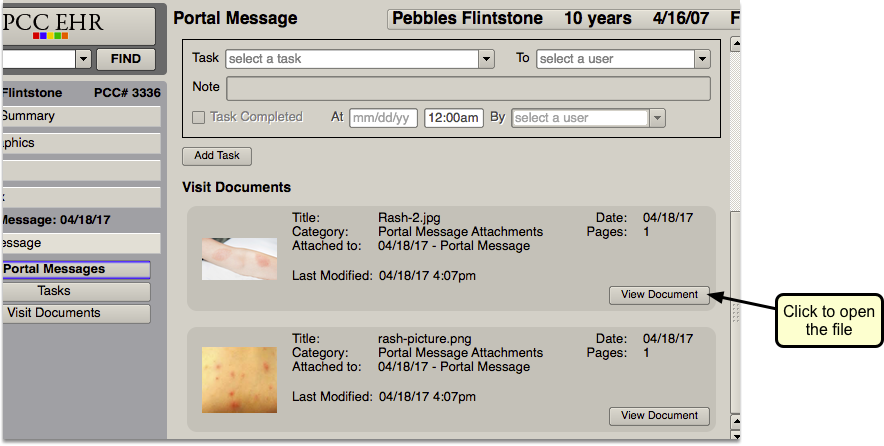 As you view an attachment, you can click "Edit" to change the document's tags. You can give the file a new name, category, or re-attach it to a different visit or order. If you move the document to a different visit, it will no longer be attached to the portal message. If you remove it from the patient's chart, you can send it to Import Documents tool.
The 'Display in Portal Documents' Checkbox: When you edit any image or document in PCC EHR, you will notice a "Display in Portal Documents" checkbox. The checkbox is not checked by default, even for documents sent from the portal user. There may be more than one parent or other guardian who has patient portal access for a patient. If you select this box, all patient portal users for a patient will have access to the document.
Send a New Message to a Portal User
Click on the Edit menu and select Add Portal Message.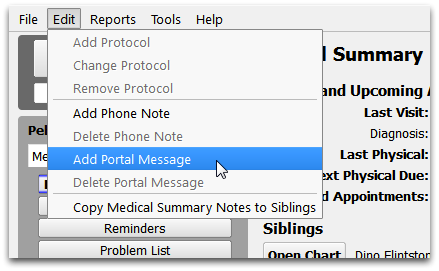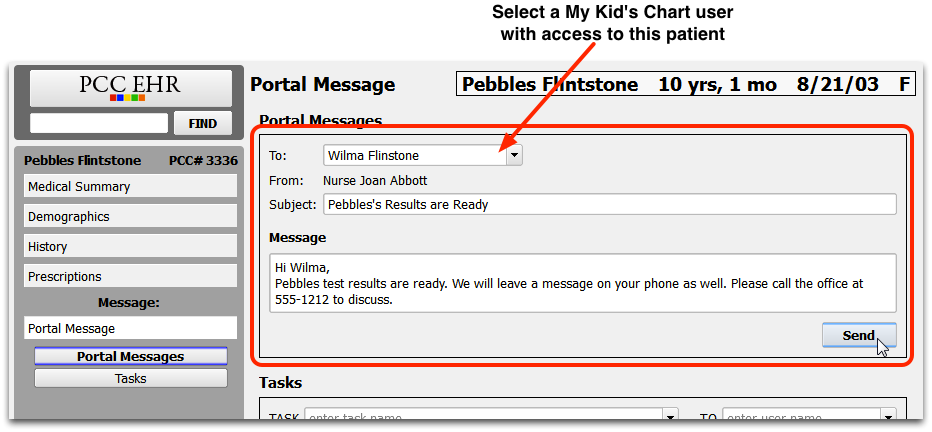 From the pull-down menu, select the My Kid's Chart user. The list will include all users who have access to the selected patient's records.
Next, enter a subject and message and click Send. Optionally, you can create a task for the Tasks queue based on this message.
Privacy: The message you send will not be sent by e-mail, nor will it be accessible by the patient or by any other parent or guardian, unless they elect to share their My Kid's Chart login information. The user will receive an e-mail message telling them that a message is waiting for them in My Kid's Chart. For more information about sending and receiving messages, read the My Kid's Chart User's Guide.