Review Archived Claim and EDI Reports
After you submit claims for your practice, payers and associated claim clearinghouses will send you acknowledgement reports, error reports, and other notifications.
Your practice's billers can review these "Electronic Data Interchange" reports in the EDI Reports program.
Learn All Steps for the Biller Role: This article (and video) is part of the New User Training for Billers. You can use that outline to learn how to complete other billing tasks in PCC EHR.
Where Do You Start?
You can use the Billing Error Report to review claim rejections and other errors sent to you by the payer or the clearinghouse.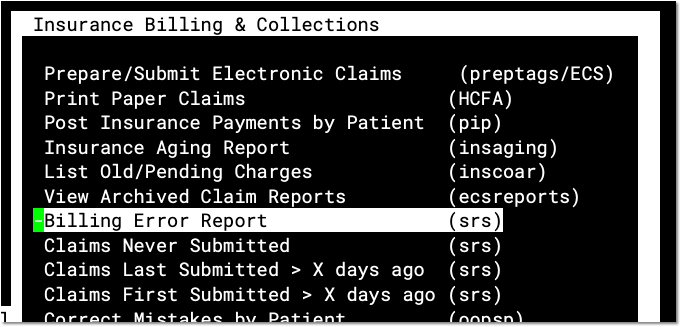 As you review the report and work on claim problems, you can open the Correct Mistakes (oops) program for an account, update charge information, and resubmit claims.
Depending on your practice's configuration, you may opt to receive claim reports in your email, and you can also open the dedicated EDI Reports (ecsreports) program to review all claim and transmission related messages and reports.
For more information and training, contact PCC Support. The rest of this article explains how to use the EDI Reports (ecsreports) program. You can quickly search, review, and print reports, as well as track which reports you have printed in the past.
Run EDI Reports (ecsreports)
You can run ecsreports from the Electronic Claims section of the Billing Functions window in your Partner Windows. You can also run it by typing ecsreports at a command prompt.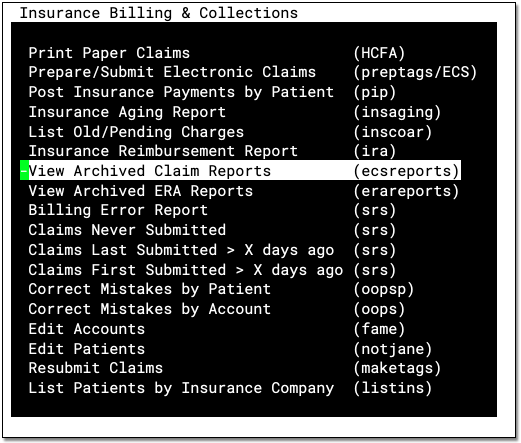 Review EDI Reports By Date
The main screen in ecsreports shows you reports grouped by date: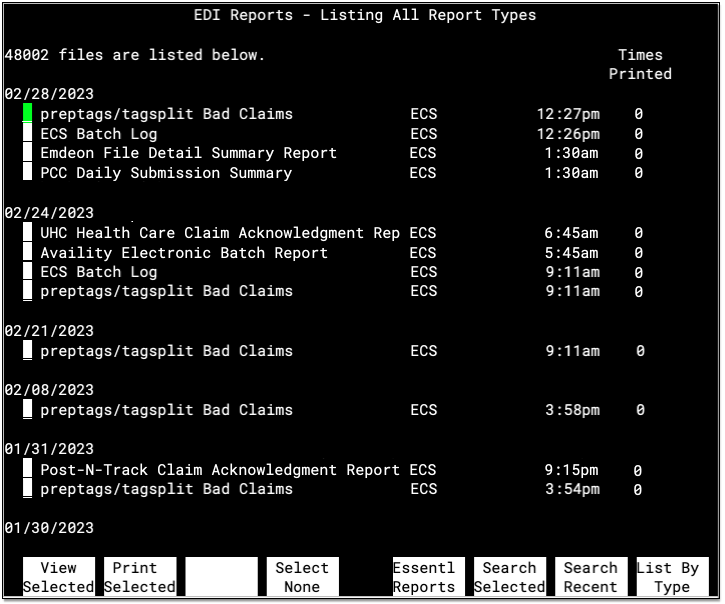 Reports are grouped by the date they were received, with the most recent delivery date appearing at the top. For each report, you can see the title or type, the general category, the time it was received, and how many times it has been printed.

Your office can use this screen to manage incoming reports and make sure that each one is addressed. Since all ERAs should be printed, and your office may also print rejection reports, the "Times Printed" column may facilitate your workflow.
Reports Recycle: Because your practice receives thousands of reports every year, ecsreports does not keep all old reports on your system. Instead, reports will remain on the system for one to two years. If you would like to change the length of time that EDI reports remain on your system, contact PCC Support.
Open and Read a Report
Select any report, either from the main screen or from one of the "By Type" listings in ecsreports, and press F1 – View Selected to read it: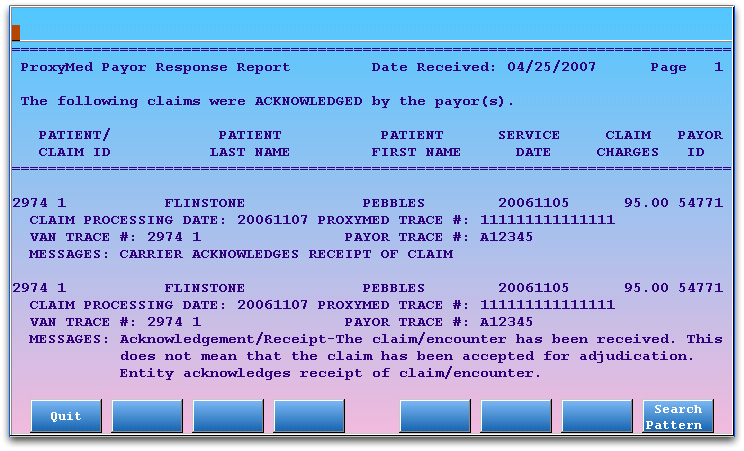 You can select more than one report in order to view them all at once in the same window: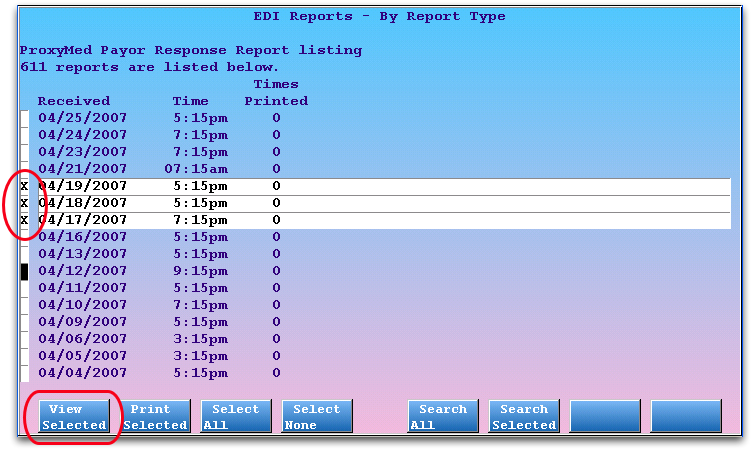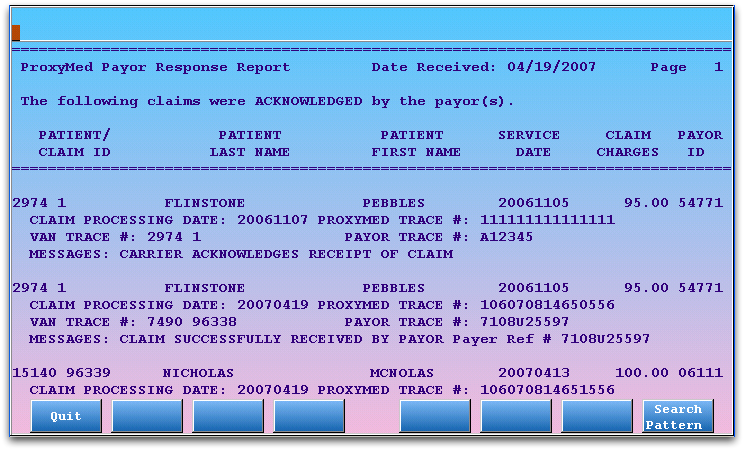 While viewing a report or multiple reports, you can press Page Up or Page Down to scroll. Press the End key to jump to the bottom of the report(s), press Home to jump to the top.
Print an EDI Report
Select any report in ecsreports and press F2 – Print Selected to print it.

Find EDI Reports by Type
Press F8 – List By Type in the ecsreports program to see reports grouped by type. The "By Report Type" screen displays all report types stored on your system.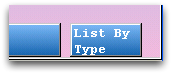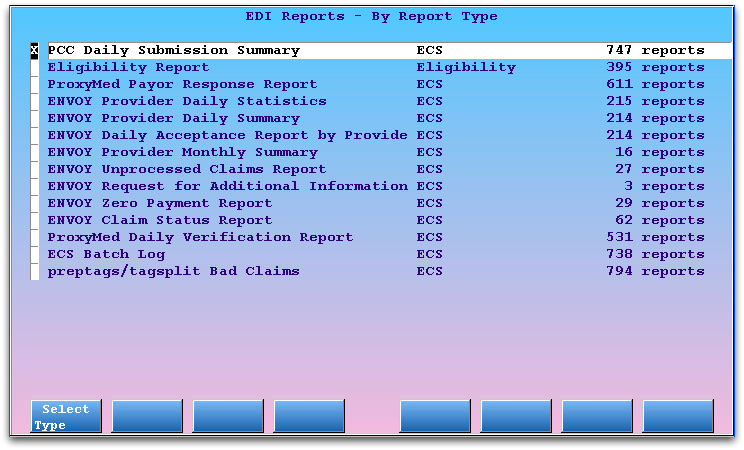 To access all available reports of a certain type, select the type and press
: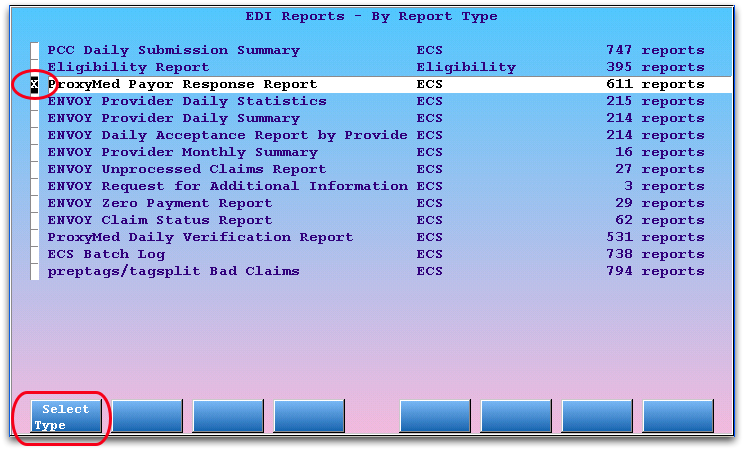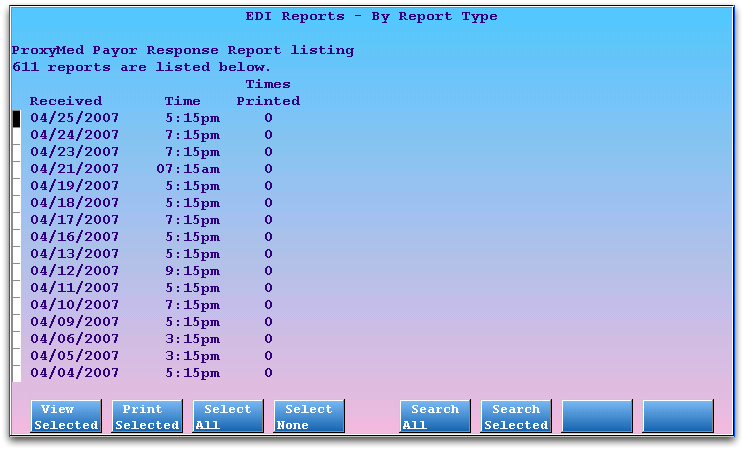 Reading and searching through a specific report type may be more convenient than viewing all the reports from a specific date.
Press F12 to return to the listing by date.
Search Multiple EDI Reports
You may need to search through multiple reports for a name, certificate number, or other identifier. You might not have any idea in which report the information is located, or on what date you received the information. ecsreports has a robust search engine that allows you to search through reports in several different ways.
Select Reports to Search
Select all the reports you would like to search: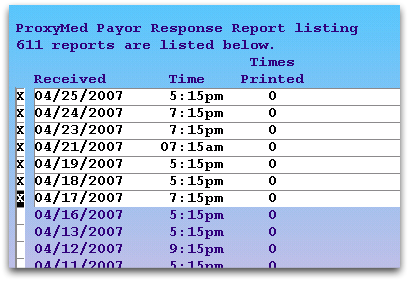 Press
Press F6 to begin your search.

Search All?: While reviewing reports by type, you can also press
to search all the reports in a specific category.
Enter Search Text
On the File Search screen, enter the text for which you wish to search and press F1 – Process.

Whole Words?: If you wish to find your text pattern only as a whole word and avoid results that contain your text pattern as part of another word, change the "Search on whole words?" question to "Yes."
Select Specific File From Results
ecsreports will list all the files from your selection that contain the text for which you searched.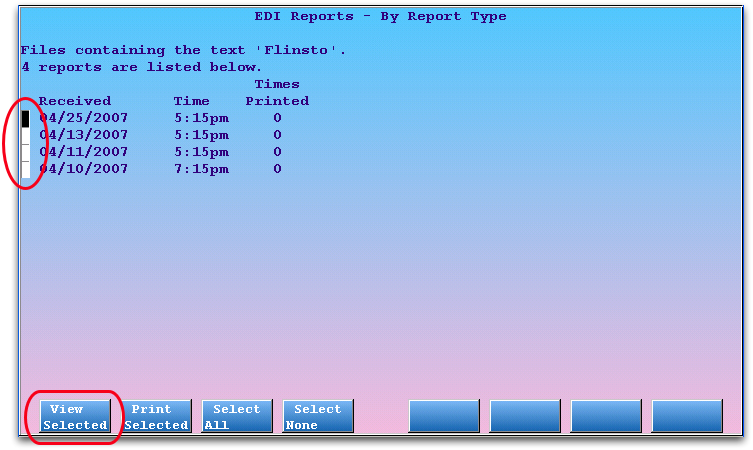 Type an X next to individual reports you wish to review, or press F3 – Select All to select all reports containing your search pattern.
After making your selection, press F1 – View Selected.
Review Result, Jump to Next
ecsreports will display the first matching result it found. The search text will be highlighted: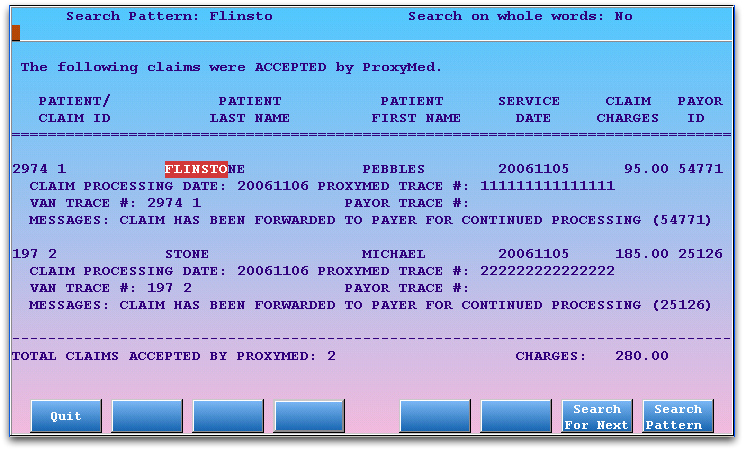 Press F7 – Search For Next to scroll through each matching result.
Optionally, Change Search Pattern
Press F8 – Search Pattern to change the search pattern. You will continue to search the same files you selected in step four above.
Search a Single EDI Report
While viewing a report or multiple reports, press F8 – Search Pattern and enter text to perform a search: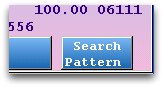 After typing your search value, press Enter to scroll to the first matching value.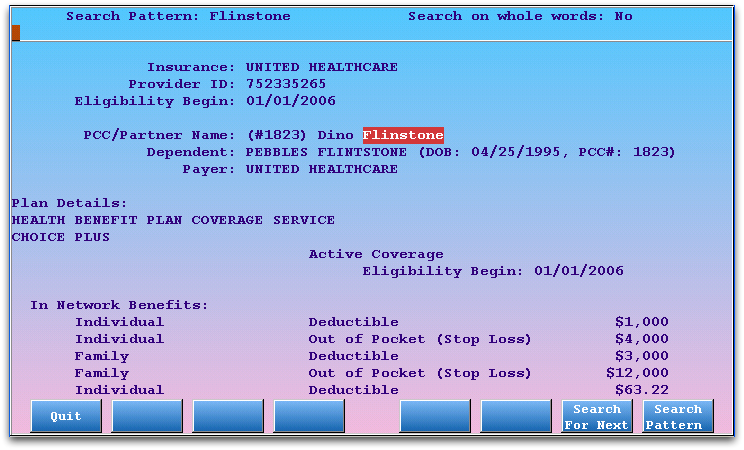 Matching items will be highlighted on the screen, and you can press F7 – Search For Next to scroll through all matching results.