Check Patient Insurance Eligibility
PCC automatically checks insurance eligibility for all of a scheduled patient's active insurance plans, if the carriers support automated eligibility.
You can use eligibility features in PCC to review and confirm eligibility for upcoming appointments. You can also review and re-check a patient's insurance eligibility status during Patient Check-In.
Insurance Eligibility Highlights
Here are some important notes about verifying eligibility in PCC:
Not All Carriers: Not all insurance carriers support electronic eligibility, and different companies support it to varying degrees. PCC keeps track of your carriers and will configure your practice for all that are available. To request help setting up an EDI connection with a payor, contact PCC Support.

Real-Time and Nightly Eligibility Reports, Re-Check Manually: PCC checks eligibility as soon as a patient is scheduled or whenever you change demographic information or an active insurance policy for a patient with an appointment. If you schedule a sick visit today, or change appointment information, PCC will immediately check eligibility. You can also request an instant re-check from Patient Check-In in PCC EHR, within the Patient Eligibility (elig) program, or in the Partner checkin program. If an insurance company does not support instant eligibility requests, PCC will display a batch request result, usually answered from the previous evening.

Who Works Eligibility?: Your office can review and confirm eligibility in advance. Your front-desk staff can also recheck eligibility in Patient Check-In. You can work with your New Client Implementation specialist or your Client Advocate to figure out the best eligibility workflow for your practice.
Review Eligibility for Upcoming Appointments
Use the Insurance Eligibility tool to review and confirm eligibility for upcoming patient visits.
You can access the Insurance Eligibility tool from the Reports menu, where it opens a window on top of PCC EHR.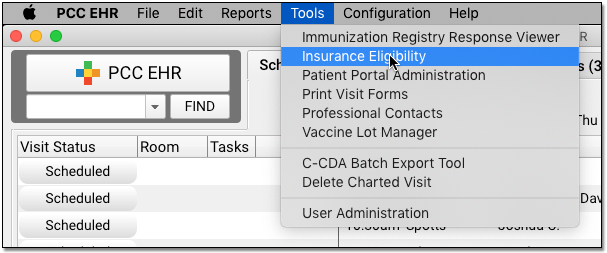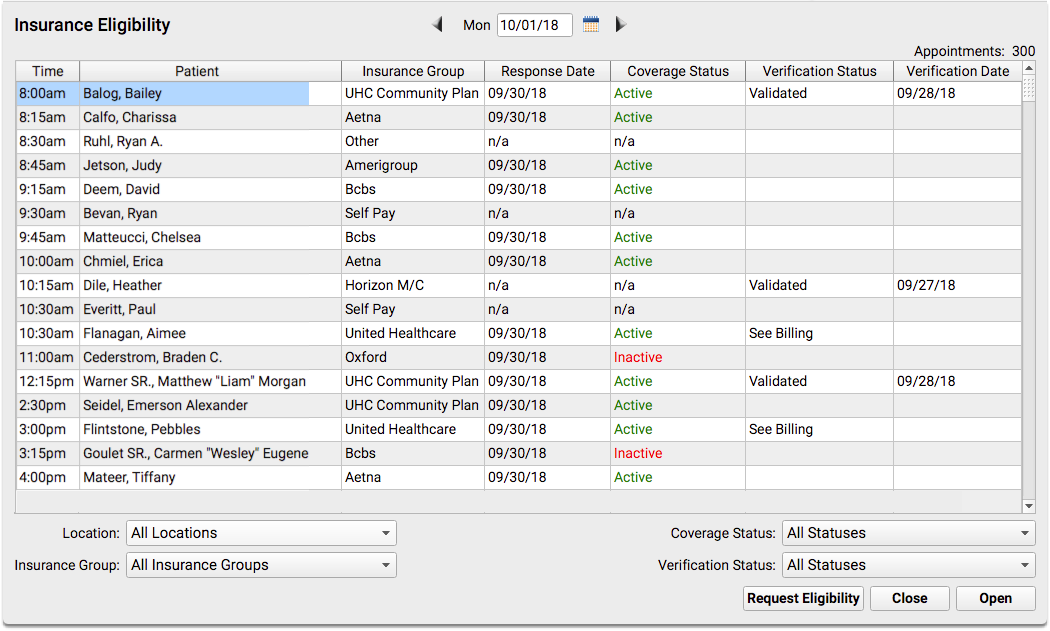 The Insurance Eligibility appointment list defaults to show all scheduled appointments for the next day, but you can select another date if you wish, or even dates in the past, if applicable.
You can see if a patient is active or inactive in the Coverage Status column. You will see an "n/a" if eligibility is not available electronically for an insurance carrier or if the patient is not insured (self-pay). "Unknown" means that an error occurred when eligibility was last checked. If the field is blank, eligibility has not yet been checked.
You can request an eligibility update for all visits that either have not yet had eligibility checked, or that received an error when the request was previously made.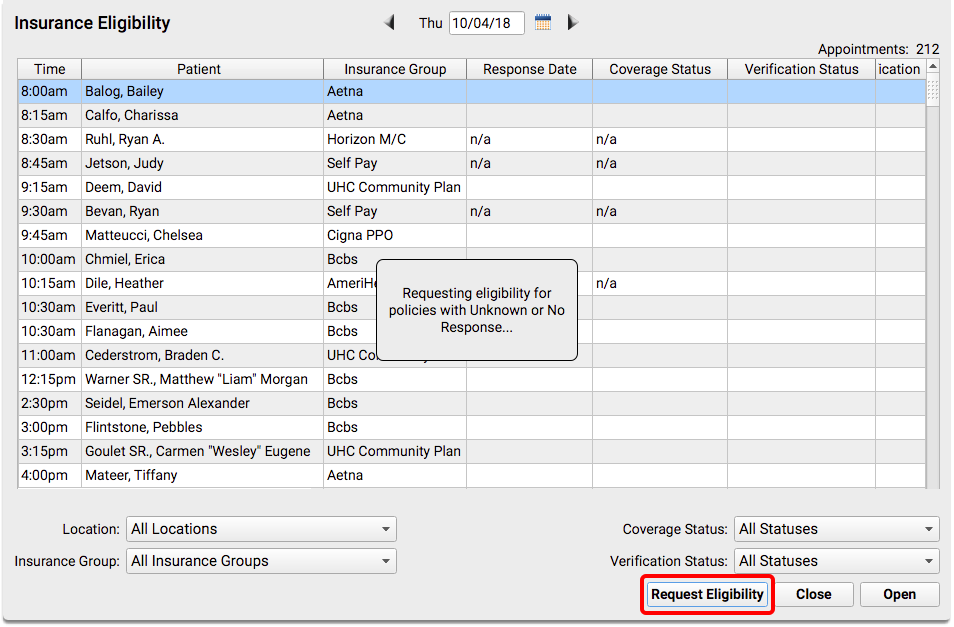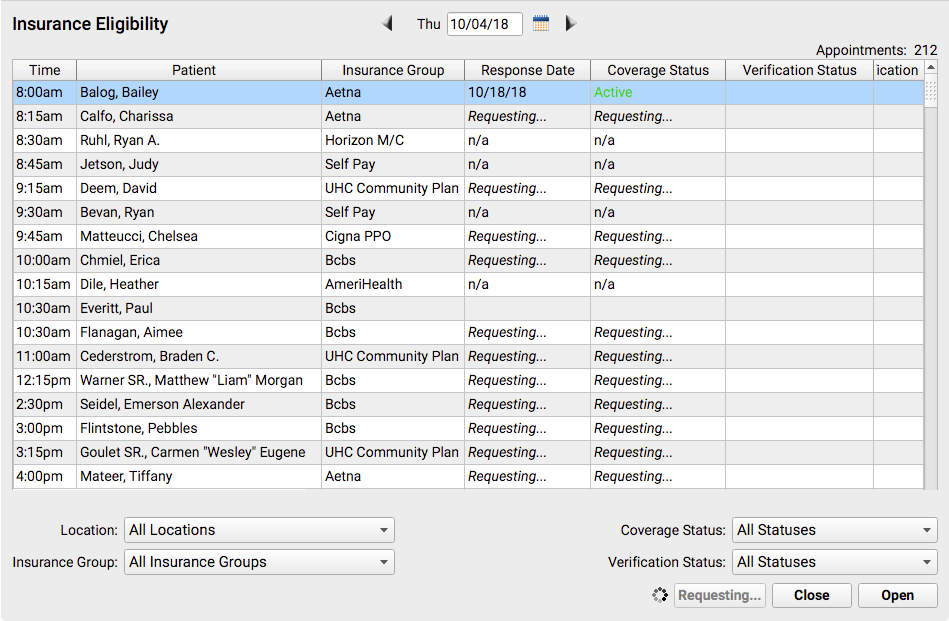 You will need to wait for the first response to come in, and then you can work with individual records.
You can double-click on a visit to enter verification information, review error messages, or to update demographic information.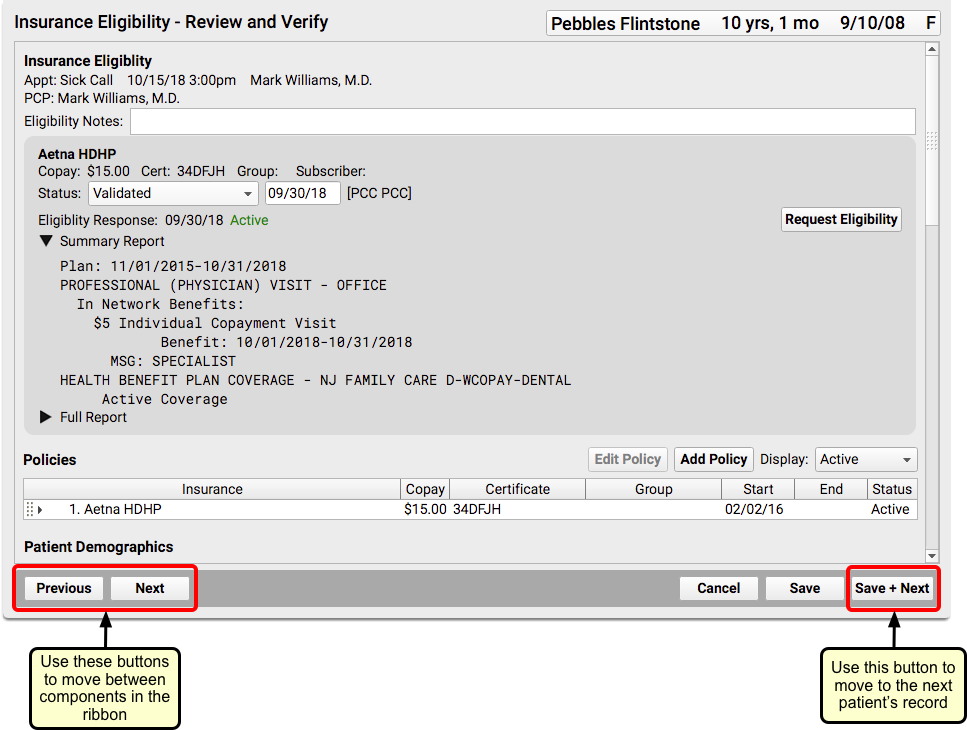 You can use the "Previous" and "Next" buttons to scroll through the components in the Insurance Eligibility – Review and Verify ribbon.
You can enter status and a note, if needed, and then click the "Save + Next" button to move to the next patient.
Configure Your Custom Review and Verify Ribbon: The Insurance Eligibility – Review and Verify ribbon includes the Insurance Eligibility component, Policies, and other useful components. You can add other components to this ribbon in the Insurance Eligibility Builder within the Protocol Configuration tool.
Confirm Eligibility During Patient Check-In
PCC EHR includes an Insurance Eligibility component, so that Front Desk staff can verify eligibility when a family checks in.
When you first open the Patient Check-In protocol, PCC EHR will automatically check eligibility, if it has not already been done. The Eligibility Response will display either "Active" in green, to indicate that the patient is covered, or "Inactive" in red, meaning that the patient is not currently covered.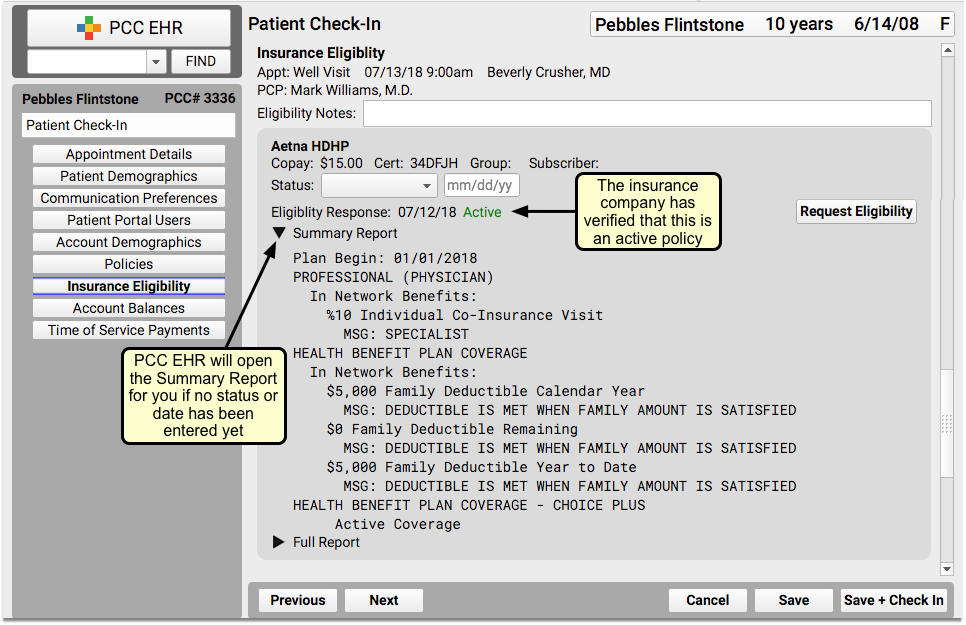 There are two available reports beneath the Eligibility Status. The Summary Report and the Full Report can be opened at any time by clicking on the disclosure triangles.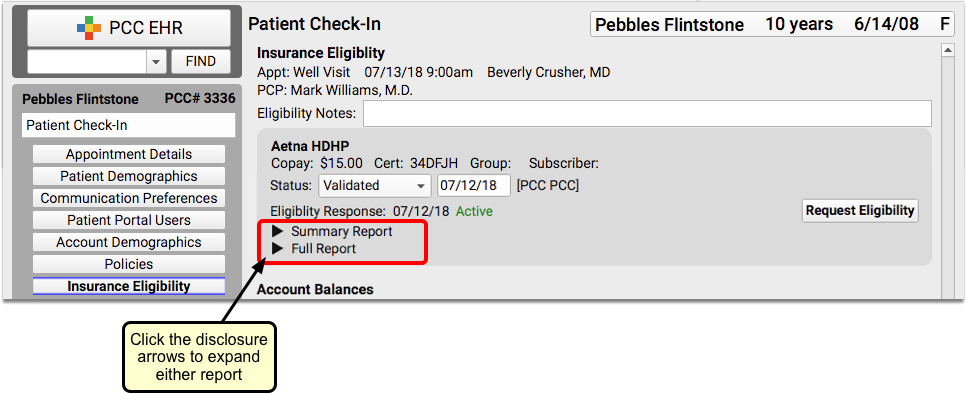 When you select a status from the drop-down field, the date will automatically display today's date, and your username will appear to the right of the date in brackets.


If someone else originally checked insurance eligibility and you perform an updated request, the date will change to today's date, and your username will replace the original user's.
If you update a patient's insurance information during check-in, you can submit a new eligibility request from the insurance carrier with a single click. The report will run in the background, so you can continue to work on the screen while the eligibility request is processing.

If eligibility is not available electronically for the selected insurance carrier, you will see a message in the Eligibility Response field, indicating that this payer will need to be contacted by another method.

When a patient has multiple insurance plans, each plan will be displayed within a separate bubble, and each eligibility request is performed independently.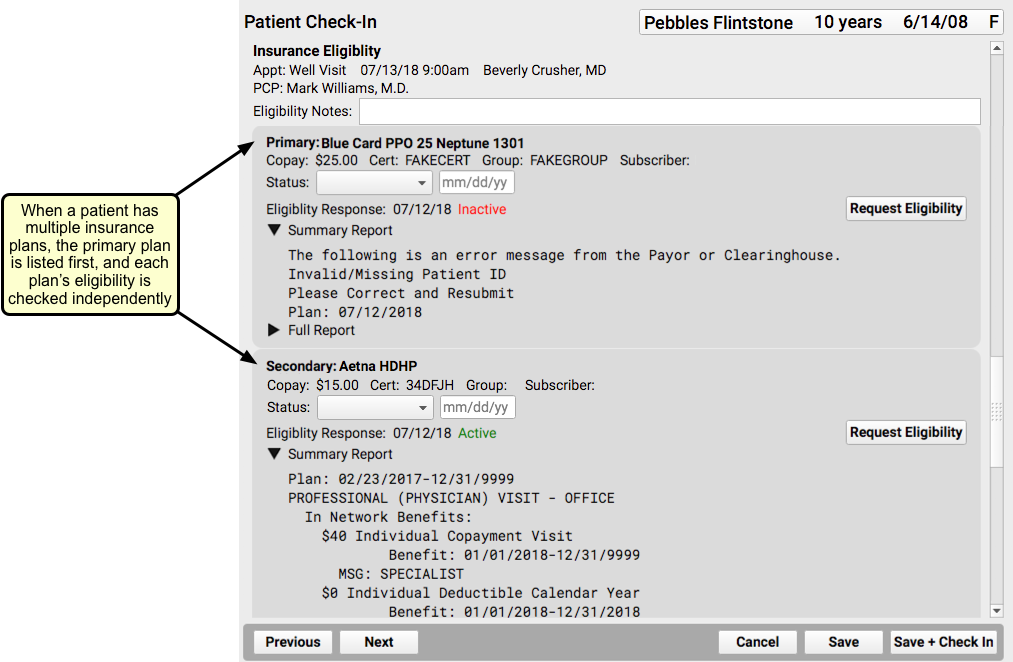 Check Eligibility While Charting
Your providers can also check eligibility on the chart note, if your practice chooses to add the Insurance Eligibility component to visit protocols.
When the visit is opened, Insurance Eligibility is displayed in view mode. You can make changes by clicking the "Edit" button.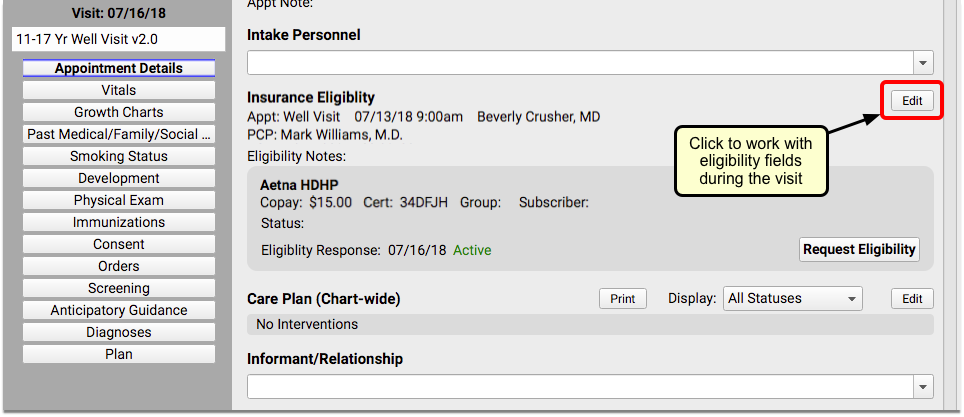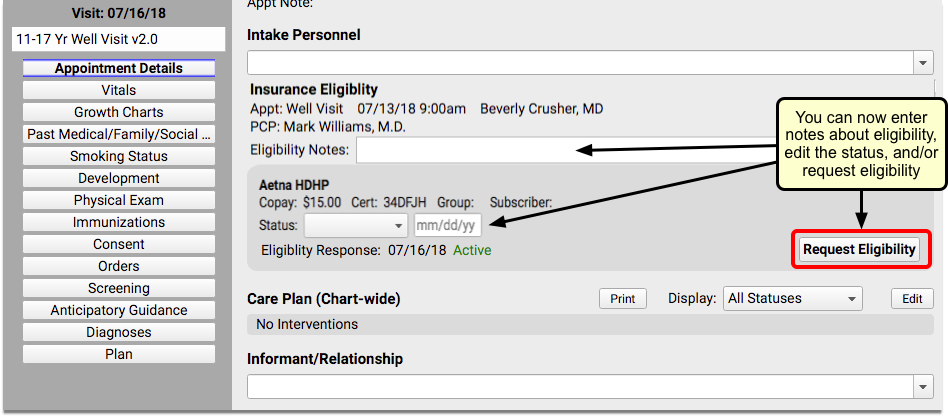 Check Insurance Eligibility While Posting Charges
The Insurance Eligibility component can optionally be included in the Patient Details section of the Post Charges screen in PCC EHR.
In Post Charges, billers can check insurance eligibility for scheduled appointments, as well as billed phone note and portal message encounters.

Post Charges is the only place where it is possible to verify insurance eligibility information for billed phone note and portal message encounters. It is not possible to record eligibility notes or verification statuses for phone note and portal message encounters.
Seamless Integration with Eligibility in Partner
If you prefer, you can still run the Eligibility (elig) program in Partner to view a list of appointments for the next day and review eligibility or request an update.
PCC EHR will pull in eligibility results from Partner. You can check eligibility again for the same patients within PCC EHR, if needed, and Partner will be updated accordingly.
For more information about the Eligibility (elig) program in Partner, read Check Eligibility in Partner.