Merge Duplicate Patients and Accounts
If your office accidentally creates duplicate patients or family accounts on your PCC system, you may need to merge them. Merging two patients or two family accounts combines all available data. After completion, it will appear that all account charges, visits, and other activity occurred for a single patient or account. Some clean up may be required if there has been duplicate data entry.
Do not merge accounts if a family has remarried or divorced or made other status changes. Instead, use the Demographics section of the chart (also found in Patient Check-In and in Partner's notjane) to reassign guarantor and custodian information appropriately. Keep the old account, as it includes account and patient-related history that should exist on its own.
Proceed With Caution: Combining two patients or two accounts is a permanent action. Your PCC system keeps a background log of merge activity, but recreating separate account histories later is very difficult. Only combine patients and accounts when you are certain that they were created due to a clerical error. Never merge accounts due to a marriage or divorce, for example, as billing history should remain on separate accounts.
Merging PCC EHR Charts: When you merge patients using the procedure below, the corresponding medical records will also merge in PCC EHR. If your office uses PCC EHR, exercise extreme caution when merging patients. Recreating individual medical records is very difficult and time-consuming.
Merge Two Patient Records Using "Movekid"
Follow the procedure below to combine two duplicate patient accounts and patient charts when a duplicate patient record was created by mistake. Be aware that merging two patients will irrevocably combine all medical history.
Move the Two Duplicate Patients to the Same Family Account
Open the Demographics section of each patient's chart, or run the Patient Editor (notjane). Use the "Reassign Account" function to move both of the duplicate patients so they are both on the same family account, if they are not already.
Run Combine Two Patients (movekid)
You can find movekid in the Account/Patient Tools window in Partner, or you can type movekid at a command prompt.
Follow the Onscreen Instructions
The movekid program will help you find an account (by either patient or account name), choose two dependents to combine, select which demographic data to keep, and then confirm and finalize the merge.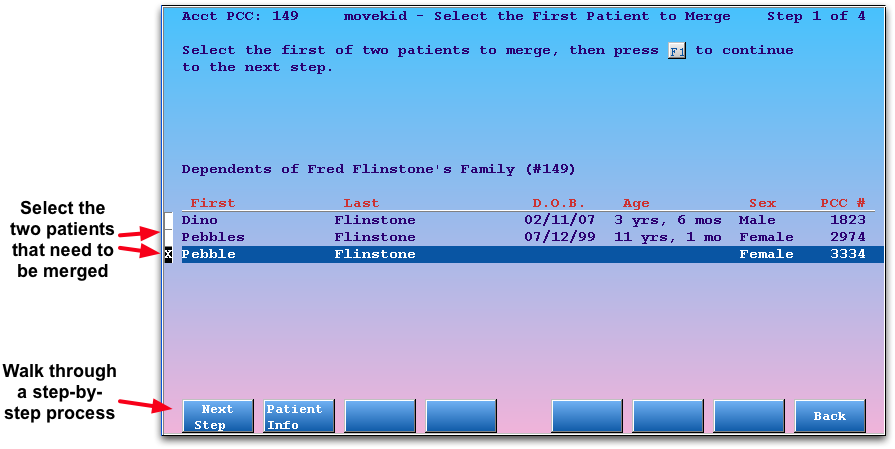 While you work, you will see options for reviewing the patient records and for printing out a record of the merge before finishing.
Merge Two Family Accounts, Combine Billing Histories
Follow the procedure below to combine two family accounts when a duplicate account was created by mistake. Be aware that merging two accounts will irrevocably combine all billing history.
Run Combine Two Accounts (moveacct)
You can find moveacct in the Account/Patient Tools window in Partner, or you can type moveacct at a command prompt.
Find the Two Accounts You Wish to Merge
Starting with the account that your office created in error, find both accounts using the standard find routines.
Confirm and Finalize the Merge
Partner will ask you one last time whether or not you wish to proceed with the account merge. Answer Y or N to finish.