Customize the Messages on Bills
A billing message is a brief note that appears on a personal bill. Both paper and electronic bills can include a customized billing message. You can enter a family-specific billing message on the notes page of the Family Editor (fame). You can also use the billmsg program to change the billing messages that appear on all of your Normal, 30, 60, 90 and 120-day bills. Here are a few examples of messages that offices use:
New Provider: "We would like to welcome Dr. Smith to our practice!"

Open House: "Come see our new facilities at 10 Main St. from 9am-4pm."

Credit Card Payments: "We now accept VISA card payments."
In addition to these general messages, you can also include messages specific to each billing category. For example:
Current: "Thank you for your patronage."

Overdue 30: "Payment is now past due. Please send payment promptly."

Overdue 60: "Failure to pay balance due in full may result in termination."

Overdue 90: "Your account, with an outstanding balance of <amount>, may be sent to collection. Please contact the office."

Overdue 120: "Your account, with an outstanding balance of <amount>, will be sent to a collection agency in 30 days."
When you print your bills, the appropriate bill message will print automatically. If a category doesn't have a specific message, then a default message will be used instead (if it exists).
Note: The Current-30-60-90-120 day batch billing messages will appear in addition to the personal billing messages stored in the Family Editor (fame).
Change Your Billing Messages
You can review, delete, add, or change any of your global billing messages through the billmsg program.
From the bills program, press F6 – Bill Message to run the billmsg program. You can also type billmsg at a command prompt.
When you start billmsg, you will be presented with a list of choices: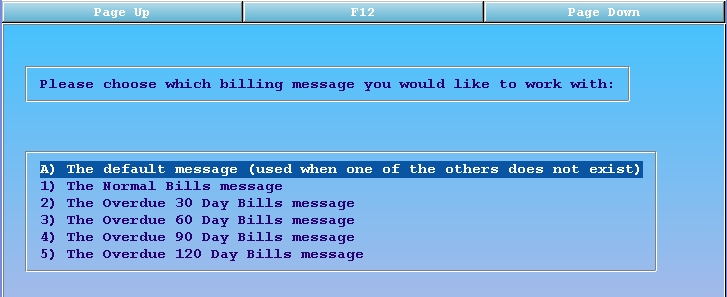 Use the arrow keys to make your selection and press Enter. If a billing message for your selection currently exists, it will be displayed at the top of your screen and you will be given options to change it or keep it. If the message you selected has never been configured, you will be offered the chance to create it.
Whenever you make changes, billmsg will ask you to confirm that you want to over-write the old message with the new one.
Amount Variable: You can add a variable that will be replaced with the amount of the bill: <amount>. See the "Overdue 90" and "Overdue 120" examples above.