Follow this procedure to prepare and send claims to insurance companies, Medicaid, and other payers.
Run Prepare Claims (preptags)
You can find the preptags program in the Electronic Claims section of the Billing Functions window in Partner Programs. You can also run it from a command prompt.

Watch for On-Screen Errors and Problems With Your Claims
As preptags runs, it will sort your claims. Claims that need to be printed will be placed in a paper batch for later printing by the hcfa program.
preptags will also verify that all of the patient and account claim information is available. If something is missing, you will see an error message on the screen: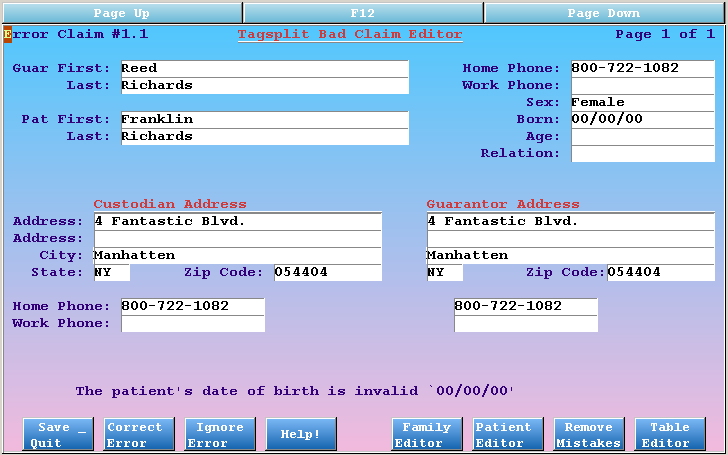 In the example above, the patient's birth date is missing. You should press F6 – Patient Editor, enter the patient's birth date, and then press F1 to save and continue.
Press F3 – Ignore Error to skip the problem and continue claim processing.
What Happens When I Ignore an Error?: If you ignore an error, the claim's tag will be discarded. It will appear on a Bad Claims report and you will need to fix the problem and rebatch the claim in [prog]oops[/prog]. If you do not fix and rebatch the claim, you will never receive reimbursement for the charge.
Review the preptags/tagsplit Bad Claims Report
Once preptags is finished, the Bad Claims report will print out of your default printer. It lists any claims that had errors you did not fix.
To learn more about this and other electronic claims reports, read Review Electronic Claim Submission Reports. You should fix each error listed, re-batch the claim, and then re-run preptags.
Run ECS (This Step May Be Automated)
You can launch the ECS program from the same Partner window as preptags, or type ECS at a command prompt.
For most offices, ECS will run automatically when preptags finishes. You will see a message telling you that:
This completes the electronic claims error checking (preptags) process.

Next, I'll run the `ECS' program so you may submit the queued claims.

On the following screen you may choose <F2> to select individual

claim batches or <F3> to select all available (recommended).  Once

selected, press <F1> to process and submit.

Press <enter> to continue
Select Batches to Send
ECS will present you with the following screen: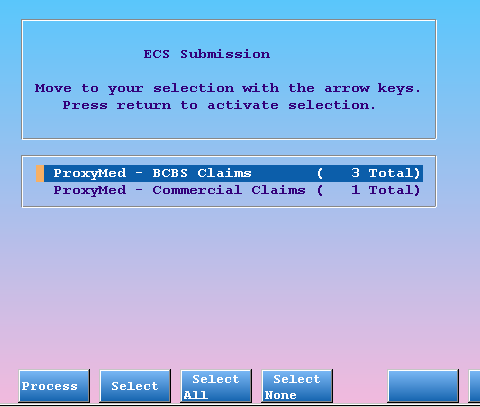 Press F3 – Select All and then press F1 – Process to send all prepared claims.
Note: Once ECS finishes processing all the claims, the program will quit. Your actual submission might occur later if your modem is busy. Even if your modem and internet connection are currently down, Partner will keep trying to submit your claims until your connection becomes available again.
Run hcfa to Print Any Remaining Paper Claims
You can run HCFA from the Insurance Billing section of your Partner Windows or by typing hcfa at a command prompt. Claims that could not be sent electronically will be waiting in hcfa in a paper batch. You can run hcfa at any time, select the batch(es) you wish to print, and generate paper HCFA forms.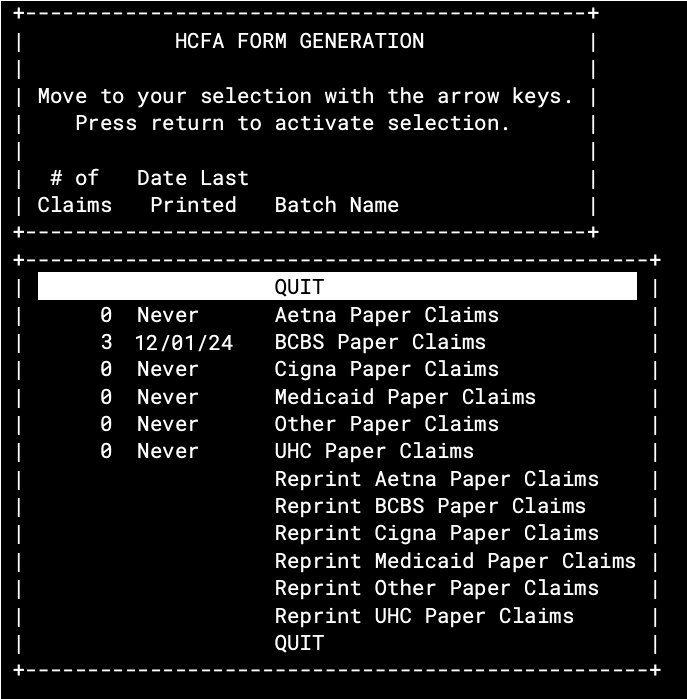 Read Incoming ECS Reports
Several different reports will be sent to your practice as your claims move from your office to PCC, to the claim clearing-house, and finally to the insurance carrier. Read the EDI Reports manual to learn how to read your reports. Many reports show claim errors and should be reviewed carefully:
Copario (ProxyMed) Daily Verification Report

Copario (ProxyMed) Payor Response Report

McKesson Exclusion Claims Report

McKesson Carrier Acknowledgement Report
Note: A copy of each report is stored in the ecsreports program for later viewing.
In most situations, the above procedure covers everything you need to successfully submit your insurance claims. Read articles from the list below to learn more about how insurance claims are created and special features and options.