Login and Review Your Practice Vitals Dashboard
Follow the procedure below to log in to your practice's dashboard and review your benchmarks and other data. To get a Dashboard login or to set up Dashboard access through the EHR, contact PCC support at 1-800-722-7708. We'll set up your practice's username and password for the Practice Vitals Dashboard.
Log in using PCC EHR
Open the Practice Vitals Dashboard
Open the Practice Vitals Dashboard from the Reports menu in PCC EHR. Since you are already logged in to the EHR, you do not need to enter any additional login credentials.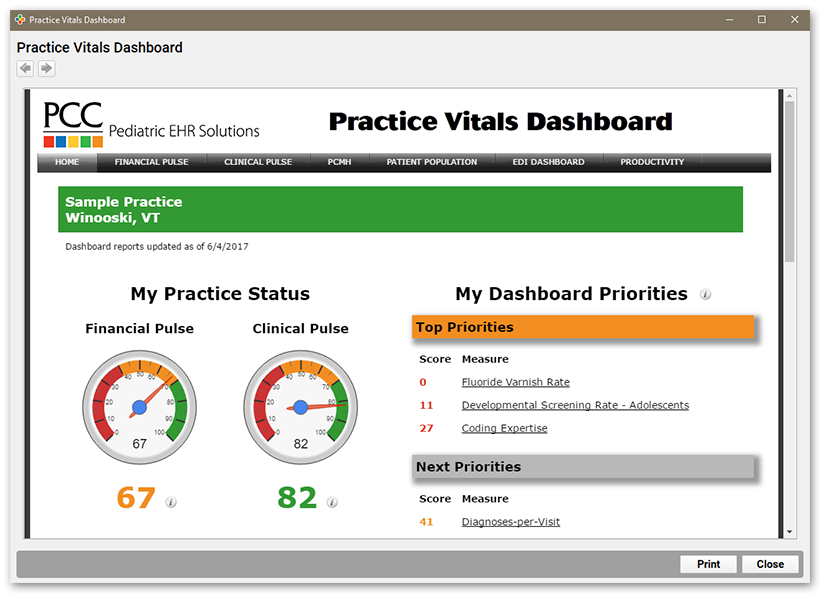 Access to Your Dashboard: Your practice administrator can turn access to your practice vitals dashboard on or off for any user. Contact PCC Support for assistance.
Log in using your web browser
Visit http://dashboard.pcc.com
Enter http://dashboard.pcc.com into a web browser.

Enter Your Username and Password
Type your practice's Practice Vitals Dashboard username and password in the upper-right corner.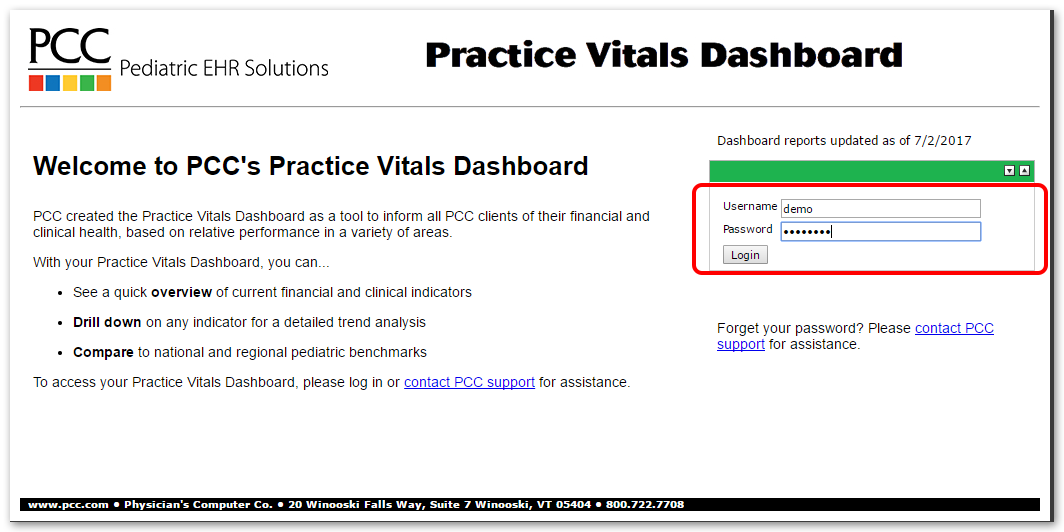 If you do not know your username and password, contact your office's System Administrator.
Using the Dashboard
Review the Dashboard Home Page
The Practice Vitals Dashboard homepage summarizes your practice's overall health based on measures relevant to pediatric practices.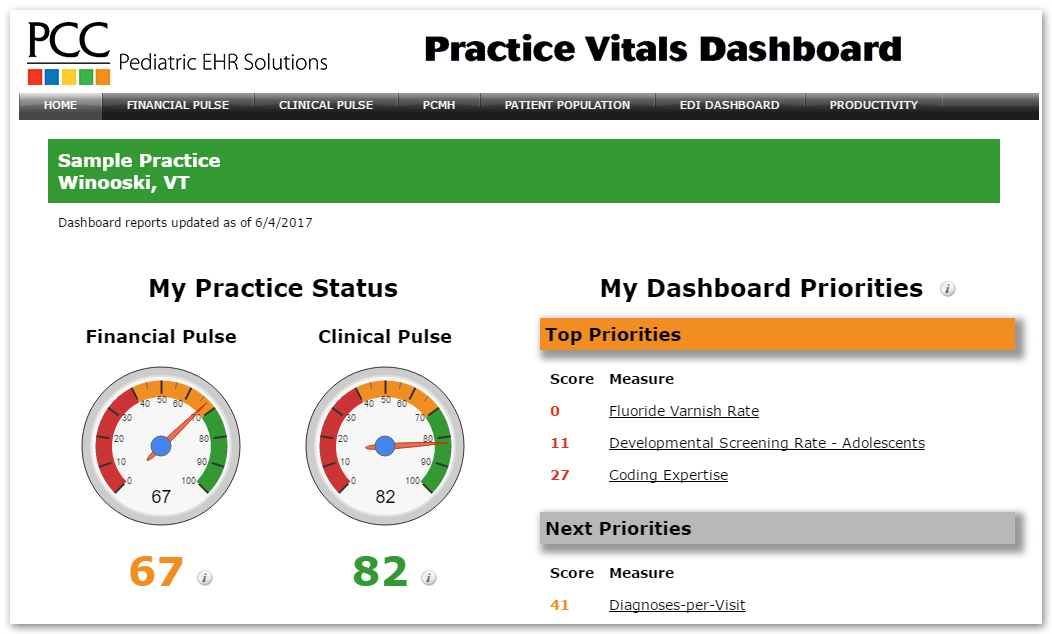 On the left, you can see a visualization of your summary. On the right, you can review a list of priority areas.
Underneath your practice status, a Dashboard News section keeps you up-to-date on recent developments and learning opportunities.
Click on a Priority Link
Click on any of the dashboard priority measure links to view details on that dashboard measure.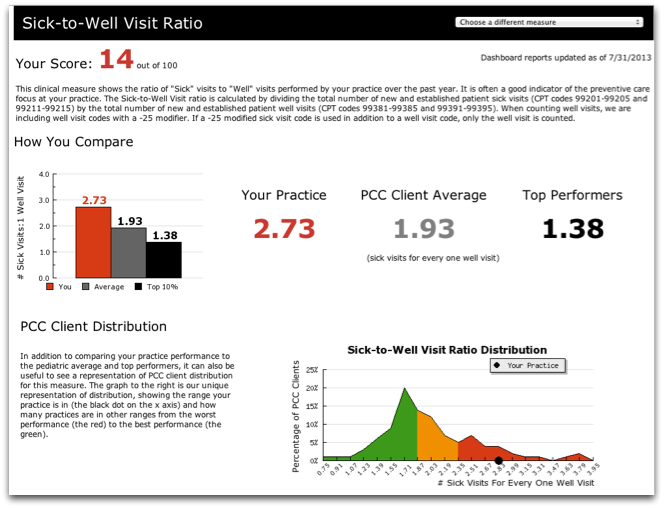 You'll see an explanation of your score, comparison charts, trends, and recommendations. From the top of each details page, you can use the pull-down menu to navigate to any other measure.
Many measures include links to additional information, patient lists, and per-provider assessment.
Click on a Dashboard Section
In addition to reviewing specific measures, you can click on the navigation menu to view your Financial or Clinical Pulse pages as well as pages for EDI, PCMH, Productivity, and Patient Population.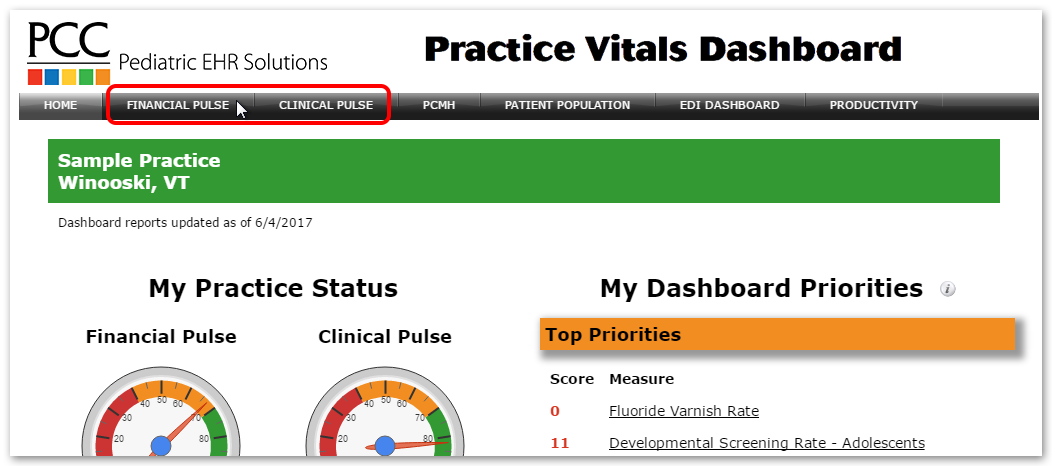 The two pulse pages explain your practice's scores and provide links to more information.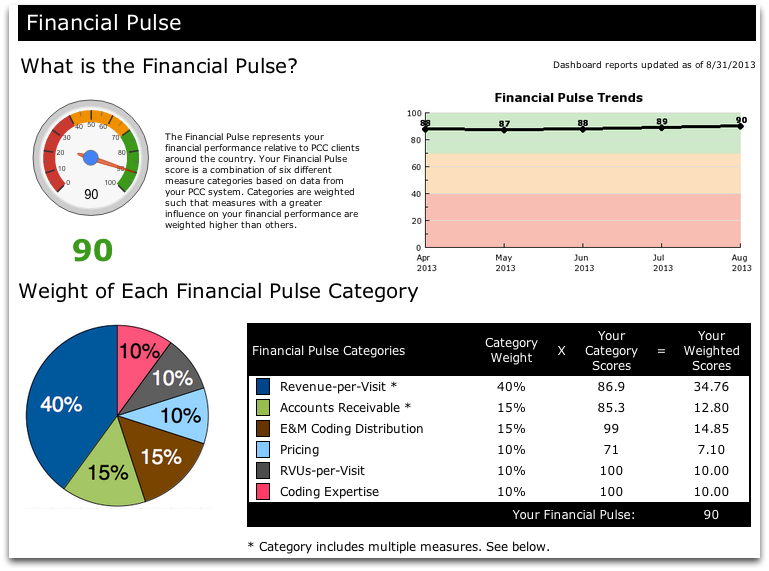 The other pages display data in custom reports with interactive forms.