Many providers signal that they are finished with a chart by "signing" their work. You can sign a chart note by clicking the "Sign" button at the bottom of the chart note screen.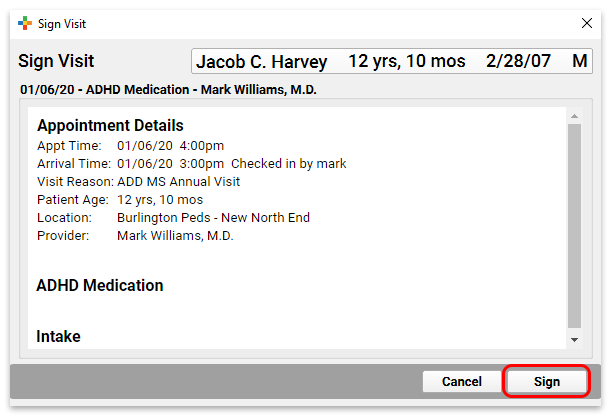 You can also find unsigned visits and sign them on the Signing queue.
Double-click on a visit, then review and sign the chart note using the Sign Visit pop-up window.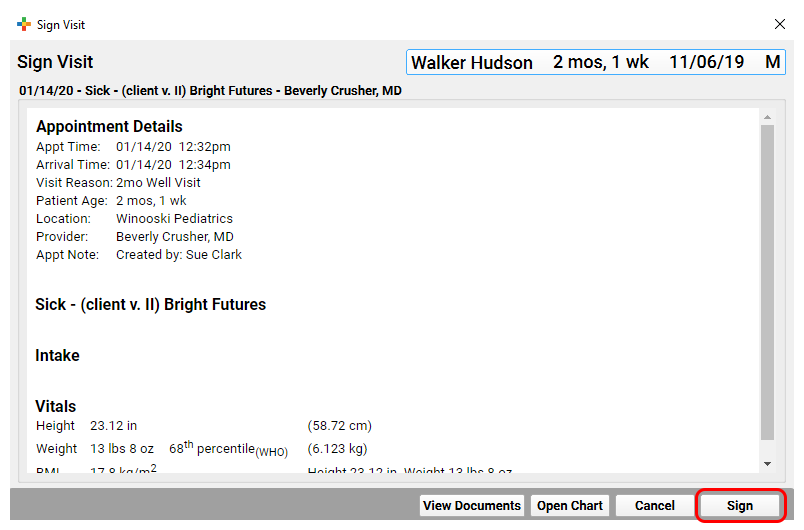 On the Sign Visit pop-up window, you can review the chart note, just as it appears in the Visit History, jump into the full chart if necessary, and click "Sign" to sign the note.
Changing a Chart Note After Signing: Providers may continue to open the chart notes and make changes after it has been signed. A chart can be signed multiple times, by multiple people. PCC EHR tracks who signed a note and when it was signed. You can review the signed status in the header of the chart note.
Multiple Signers: If multiple providers sign a chart note, or if the same provider signs and re-signs a chart, PCC EHR will record all signatures in the Visit History.
Signing Permissions: Only users with "Signing" access permissions may sign charts, documents, or other items.
Signing Status on the Schedule Screen: You can also see what visits need to be signed right on the schedule screen by looking at the "Signed" column. This column is blank for unsigned visits. If a visit has been signed, the names of all signers will appear here. Visits that need to be co-signed display the required co-signer's name in orange.