Read ERA 835s from Payers
When an insurance company sends your practice 835s, also known as ERAs or "electronic remittance advice", you can automatically post the payments and adjustments, and then review only those claims that require manual attention.
Later, you can review an archive of these responses in the ERA Reports program (erareports). You can use erareports to search for remittance history for a claim, review manual reports that could not be posted in autopip, or find remittance advice from a particular carrier.
When Do I Do This?: When you post insurance payments, PCC automatically reviews payment and adjustment information. You don't need to review the ERA 835 from the payer if everything met expectations. However, when there are denials, reversals, rejections, or other issues that need attention, you can review details by looking at the information that PCC found inside the ERA 835 files sent by the payer.
How Do I Get Set Up to Receive ERAs?: An ERA is an electronic version of the traditional EOB. Instead of receiving a printed, paper explanation of payments and adjustments, an ERA arrives electronically and payment is sent separately or deposited directly into your practice's bank account. To learn more and find out about how to receive ERAs, read ERAs and EOBs with PCC.
Run the ERA Reports Program
Run the ERA Reports program from the Insurance Billing & Collections window in Practice Management. Your practice's custom windows and program lists may be different.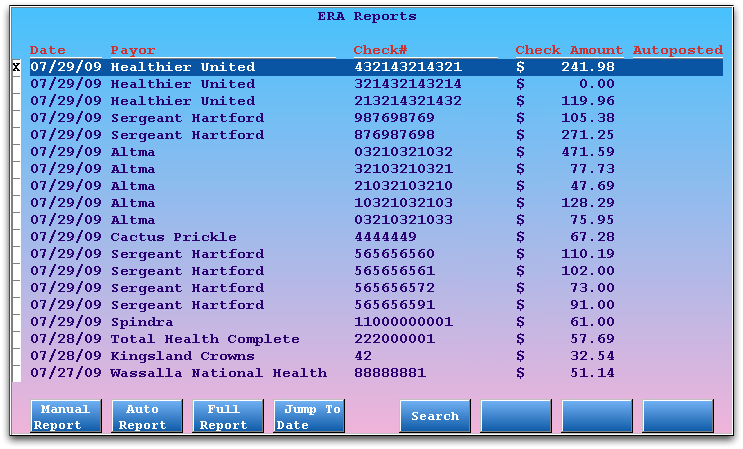 PCC translates ERA 835 files from payers into check files. For each check file, you can see the date the carrier sent the information, the payor's name, the check number (or reference number), the amount of the check, and the amount that has been autoposted, if any. All check files appear in ERA Reports, whether or not you have posted them yet.
The most recent incoming information appears at the top. You can press Page Down and Page Up to review the list, press F4 – Jump to Date and enter a date to see any day, or press F5 – Search to search for a specific check number, carrier, or name.
Review Full Reports
Select any check file and press F3 – Full Report to read it.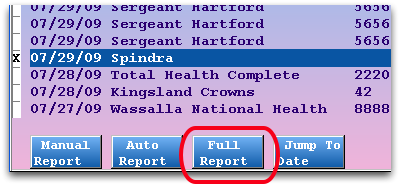 The full ERA check file will contain payments, adjustments, denial information, and other data from the payor.
Note: The full ERA check file is not the original ERA file sent by the payor. PCC splits the original file into check files and formats them for easier reading. Use the ecsreports program to read all the contents of an ERA as a single file.
Review Autoposted Reports
After you run autopip to post the incoming remittance advice, you can use erareports to review the part of the check file that was autoposted.
Select an ERA check file and press F2 – Auto Report to review autoposted items.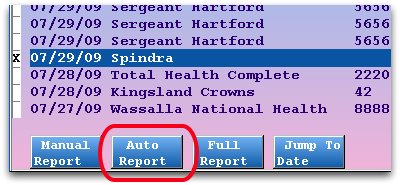 Review Manual Reports
After you run autopip, if there were any items that required direct attention, such as a payment that didn't match the charge, an insurance takeback, or an incentive payment, they are collected in a "manual" report.
Select the ERA check file and press F1 – Manual Report to read the items in the ERA that require manual attention.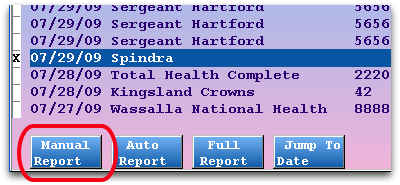 You can also review autoposted and manual reports from within the Autopost Insurance Payments (autopip) program.
On the screen, an ERA looks like this: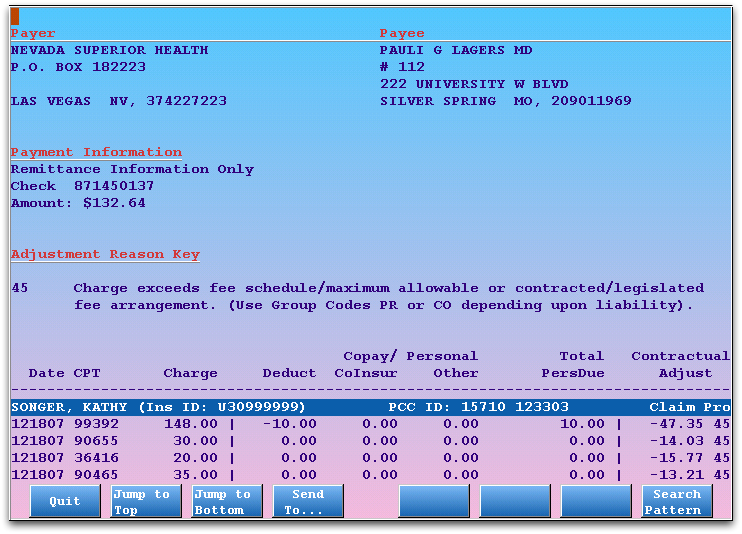 You can you use the "Jump To" and "Search Pattern" function keys to find a patient name or ID, allowing you to quickly navigate to the encounter you need to review. Use the right and left arrow keys to view the parts of the report that extend off the screen.
Press F4 – Send To... to print the ERA or email it.
A printed ERA looks like this: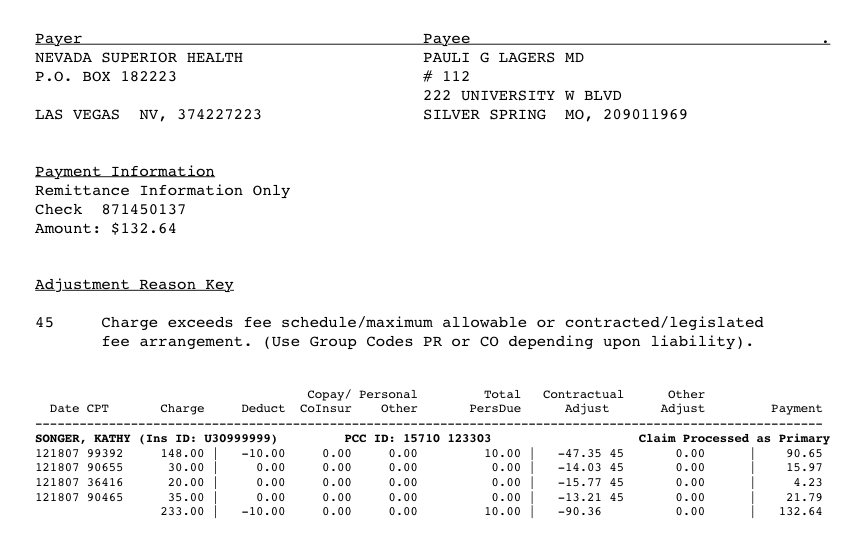 See Both Codes When a Payer Downcodes or Responds to a Different Code
When an insurance payment can't be posted automatically because of a code change, you can review the 835 ERA to find out what codes were changed.
PCC interprets the ERA and displays both the SVC01 and SVC06 codes (adjudicated and submitted) for each charge, if included. That means that if a payer includes information about both the code you submitted and the code they paid on (or responded to), you'll see both codes.
Note that payers sometimes reply to a charge by erroneously returning the NDC code instead of the CPT code you used on the claim! When that occurs, the NDC code will appear in the Submitted column.
By reviewing both columns, you can better understand what happened and take action to resolve the issue and then post the payments and/or adjustments.
View ERAs in EDI Reports
In addition to the handy erareports tool, you can see the full, original file in the EDI Reports tool (ecsreports)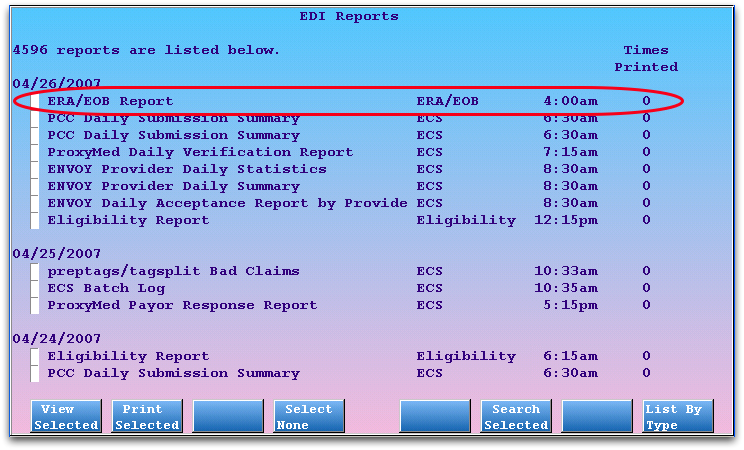 You can select an ERA and view it, print it, or search it just as you can other EDI reports.
If you wish to post manually in the Post Insurance Payments (pip) program, you can select one or more ERAs and press F2 – Print Selected.