The ERA Reports program (erareports) lists remittance advice that insurance carriers sent to your office. As soon as Partner receives an electronic EOB from a carrier, it reads the file and creates "check" files, which can be viewed on the main screen in erareports.
You can use erareports to search for remittance history for a claim, review manual reports that could not be posted in autopip, or find remittance advice from a particular carrier.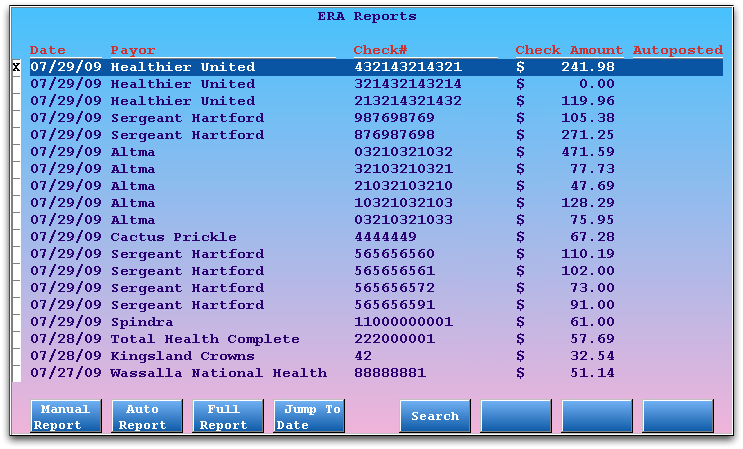 For each check file, you can see the date the carrier sent the information, the payor's name, the check number (or reference number), the amount of the check, and the amount that has been autoposted, if any. All check files appear in ERA Reports, whether or not you have run autopip and done your posting yet.
The most recent incoming information appears at the top. You can press Page Down and Page Up to review the list, press F4 – Jump to Date and enter a date to see any day, or press F5 – Search to search for a specific check number, carrier, or name.
Review Full Reports
Select any check file and press F3 – Full Report to read it.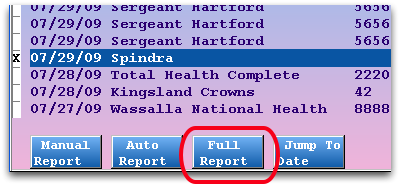 The full ERA check file will contain payments, adjustments, denial information, and other data from the payor.
Note: The full ERA check file is not the original ERA file sent by the payor. Partner splits the original file into check files and formats them for easier reading. Use the ecsreports program to read the original ERA file.
Review Auto-Posted Reports
After you run autopip to post the incoming remittance advice, you can use erareports to review the part of the check file that was autoposted.
Select an ERA check file and press F2 – Auto Report to review autoposted items.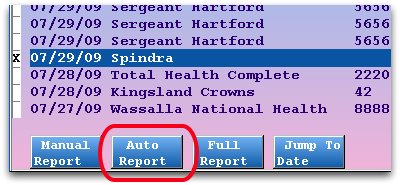 Review Manual Reports
After you run autopip, if there were any items that required direct attention, such as a payment that didn't match the charge, an insurance takeback, or an incentive payment, they are collected in a "manual" report.
Select the ERA check file and press F1 – Manual Report to read the items in the ERA that require manual attention.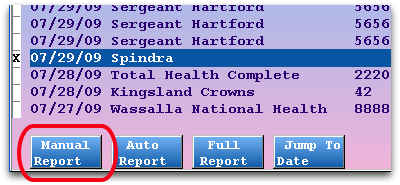 You can also review autoposted and manual reports from within the Autopost (autopip) program.