In October of 2017, PCC will release version 8.1 of our electronic charting and practice management software to all PCC users.
The PCC 8.1 release includes an update to the look and feel of PCC EHR, along with a massive under-the-hood maintenance update. While much of this release's work-hours were spent updating our programming infrastructure, PCC 8.1 also includes a new option for personal balances in the patient portal and customizable reports in PCC EHR.
Watch a Video: Want to watch a video summary of everything in this release? CLICK HERE
Read below to learn more, and contact PCC Support for information about these new features or about any PCC product or service.
PCC EHR's New Look and Feel
PCC EHR has been updated to appear the same on your screen, whether you access it from work or home, from a Mac or a PC.
With new graphic elements and a brighter, clearer presentation, PCC EHR screens are easier to read and review.
New PCC EHR Icon
The first thing you will notice when you use PCC EHR is that the "blue man" is gone. The new desktop icon is consistent with PCC's logo colors and design.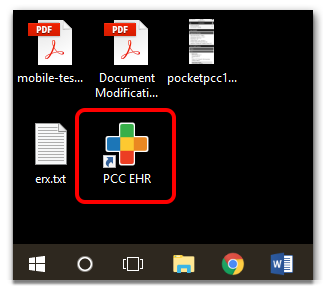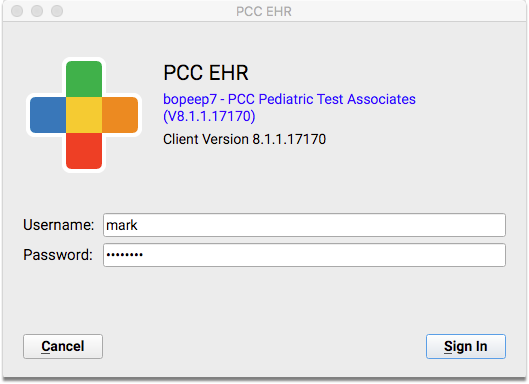 The new icon will also appear on the login screen and the PCC Home button.
Where Did EHR Client Go?: On Apple computers, if you formerly clicked on "ehrclient" to launch PCC EHR, you will notice the new icon with a new name of "PCC EHR".
New Fonts and Color Scheme Easier to Read and Use
PCC EHR now uses standard, embedded fonts across all operating systems, for a consistent experience on any platform.
The font size has been increased and the background color has been lightened to give PCC EHR a brighter, sharper overall appearance.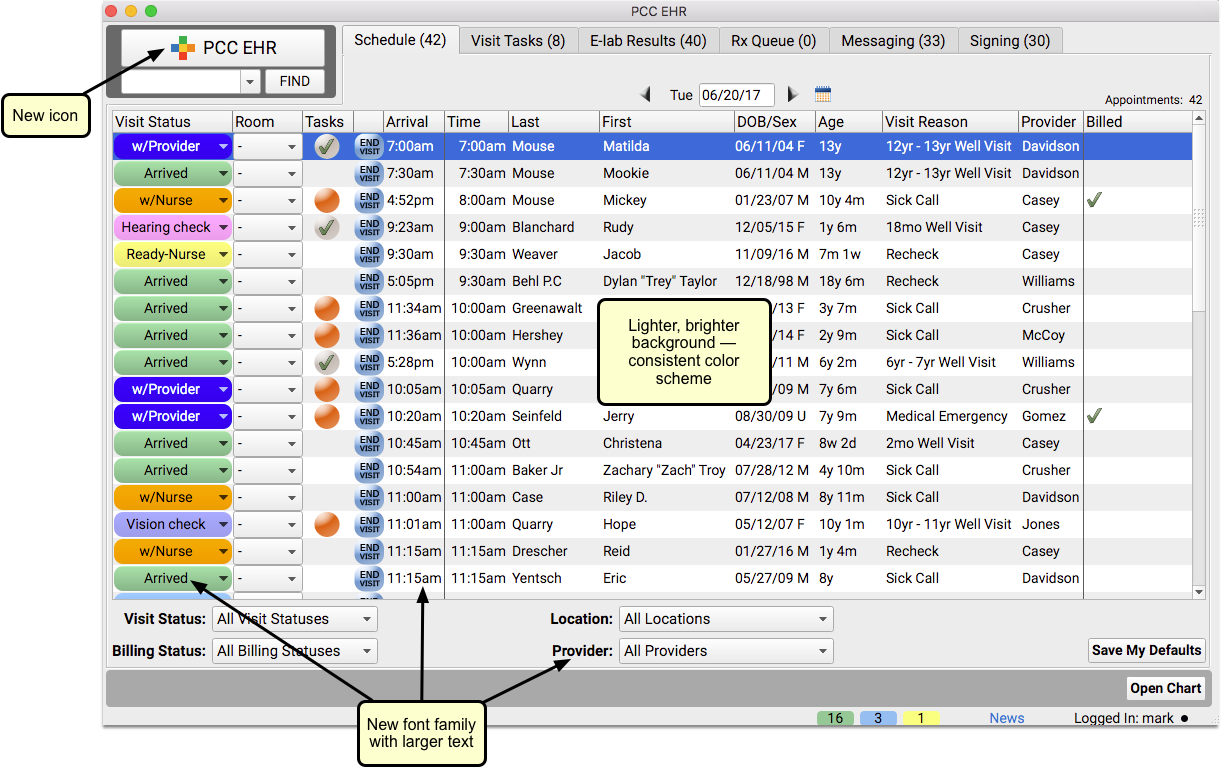 Find Components More Easily
PCC 8.1 makes PCC EHR's component blue title-highlighting feature clearer and more visible than before. When you click on an anchor navigation button for a chart note or other "ribbon" in PCC EHR, it is now easier to quickly identify where the component appears on the screen.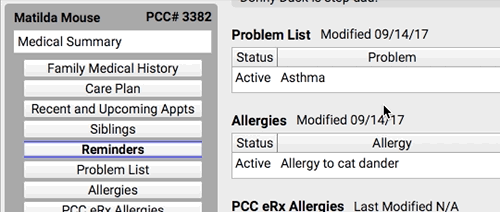 Families Can Review Balances in the Patient Portal
Personal balance information can now be displayed in the patient portal, reminding your patients to pay you.
When enabled by your practice, the portal will display the personal balance for the selected billing account.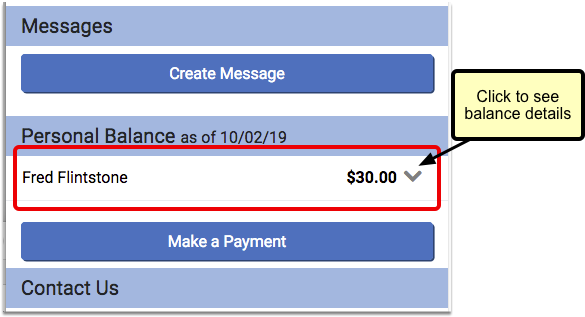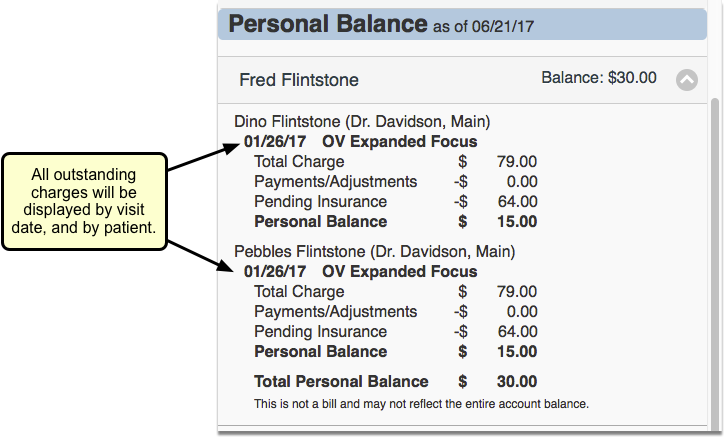 What charges will show up?: The information shown in the portal is not necessarily reflective of all charges for the billing account. Charges will only be included if there is an unpaid balance on the visit. Pending insurance will be displayed if there is also a personal amount due. Credit balances will not be displayed. Portal users will not see any data for patients who are not connected to their portal account, or who have privacy enabled.
Turn on Personal Balance for an Individual Portal User
You can decide for each portal user whether it is appropriate to show the personal balance for the patient(s) they are connected to in the portal.
When you set up or edit a portal user's account, you can select a billing account that is associated with the patient(s) who the portal user is connected to.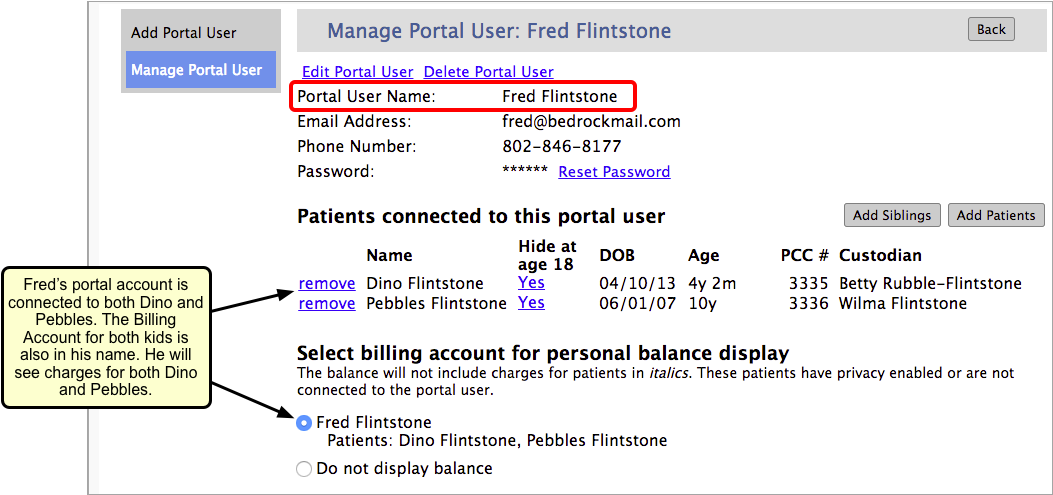 The selection defaults to "Do not display balance". Users will only see the balance if the portal administrator decides to change the selection.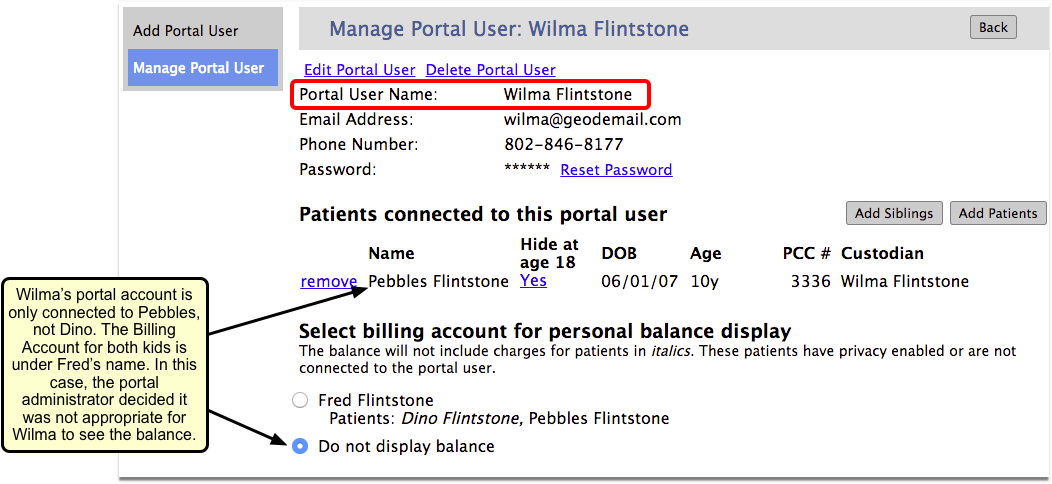 In the above example, the portal administrator decided not to have Wilma's portal account include personal balance information, since the billing account was in Fred's name. If the practice chose to show balance information, Wilma would only see the charges that were outstanding for Pebbles, since Dino's name is in italics (indicating that his information will not be visible to Wilma).
Turn off the Personal Balance Feature for All Portal Users
If your practice decides not to display personal balance information on your patient portal, you can turn this feature off.
To disable this feature, un-check the Personal Balance selection in the Configuration tab of the Patient Portal Manager.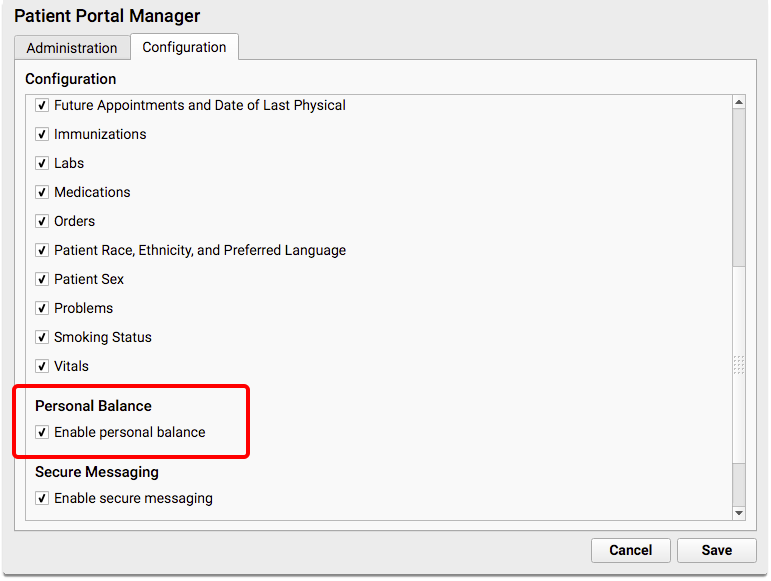 Create Custom PCC EHR Reports
You can now generate and save custom reports in PCC EHR.
To create a custom report, click the "Customize Report" button at the bottom of any existing report.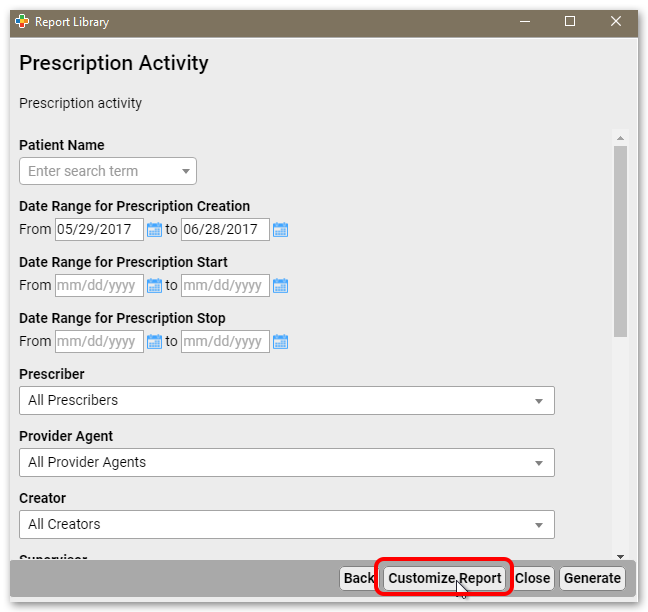 Here you can give the report a new title and description, and select which criteria you want to appear on the report. Selection boxes here are sticky, so any options you choose on the Customize Report screen will be the default selections when you run the report.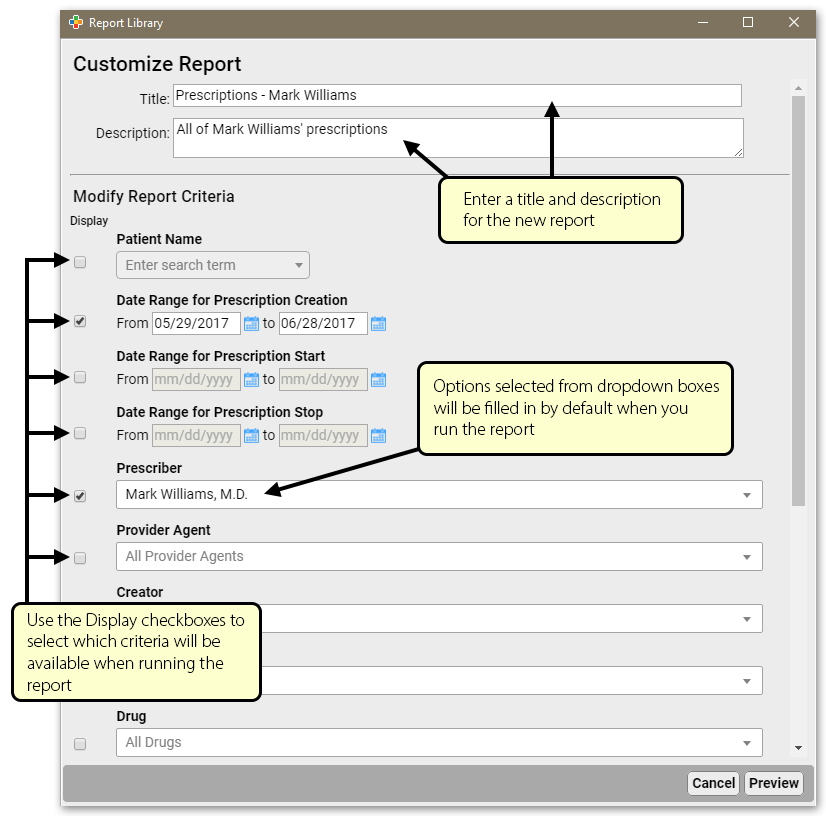 When you have made your selections, click "Preview".

In this report preview, you can select which columns will display by default when you run the new report. You can also click "Back" to make any adjustments. To save the new report, click "Save As".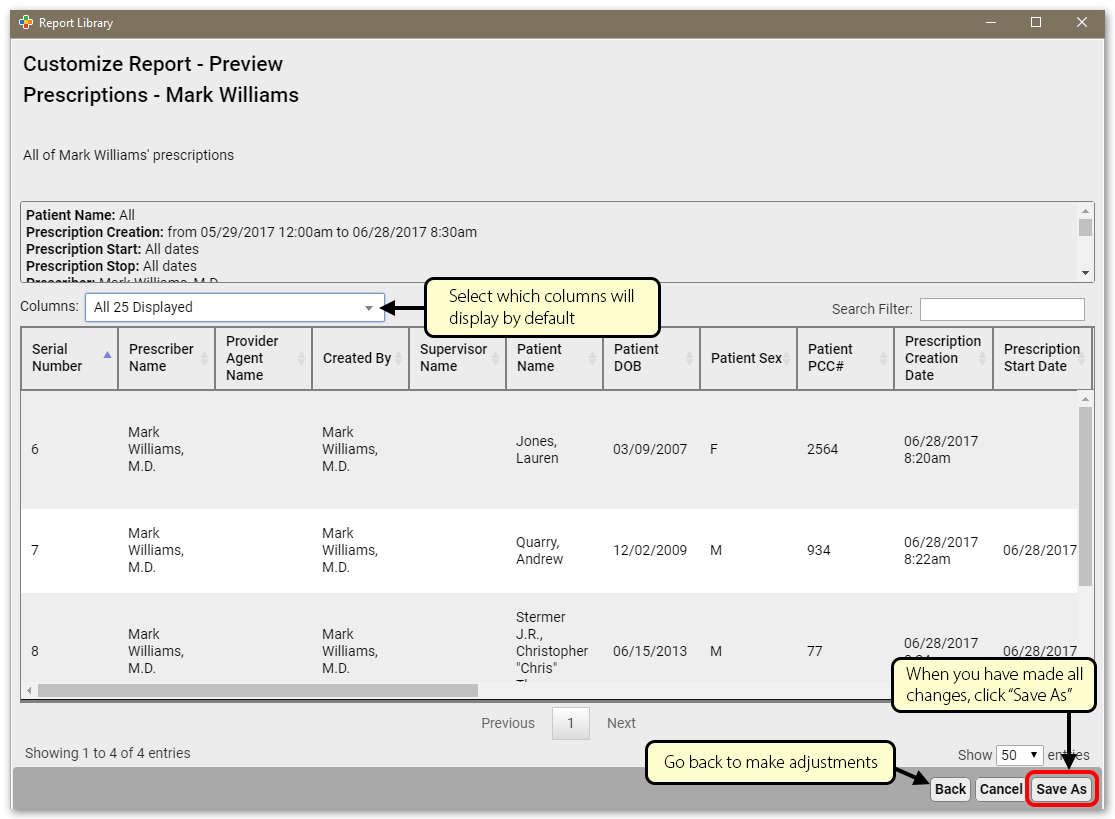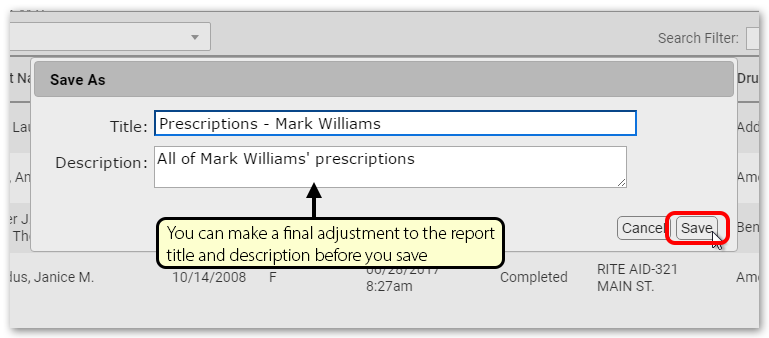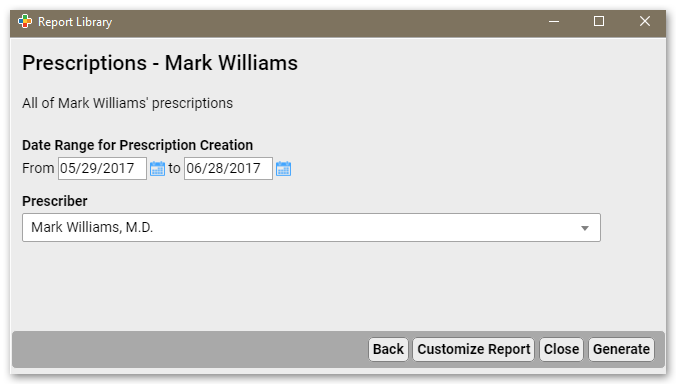 Once you have saved your new report, you can run it just like any other report. It will appear in the Report Library listed alphabetically along with all other reports.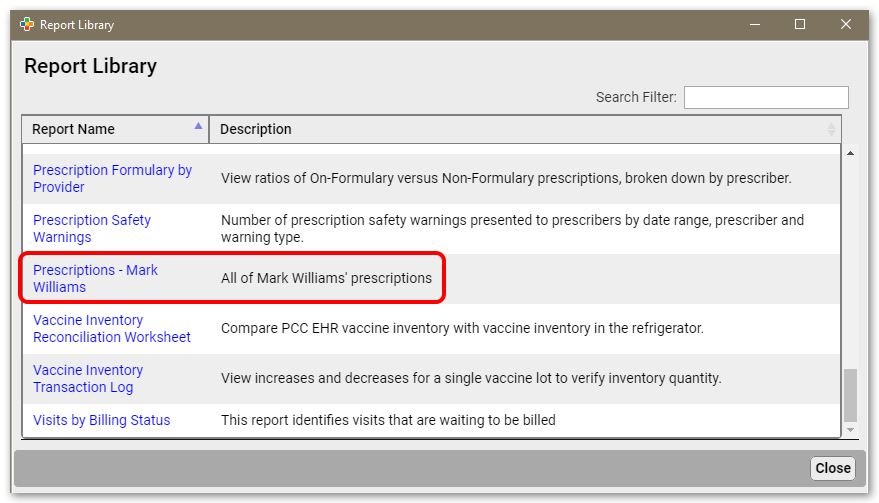 Editing and Deleting Existing Reports
You can edit or delete any custom report. When you open the report, click the "Customize Report" button.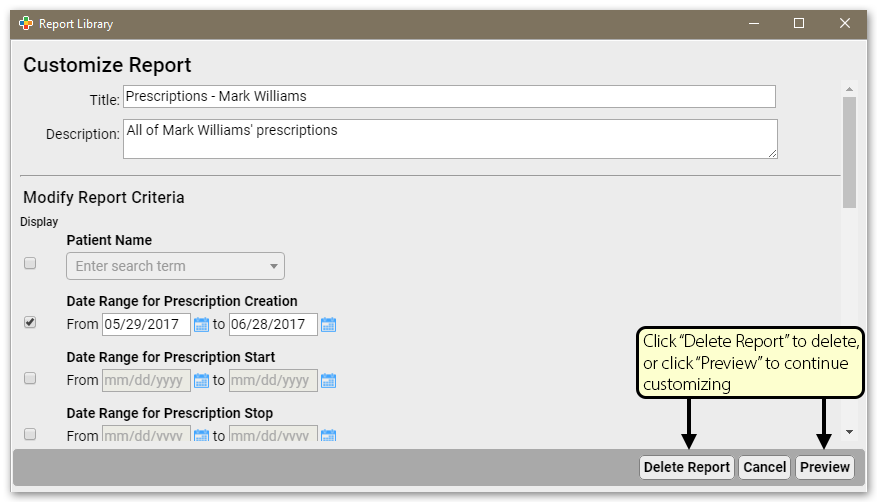 New Patient Immunization Administration Summary Report
Use the new Patient Immunization Administration Summary report to find all patients who may need to complete a series of immunizations.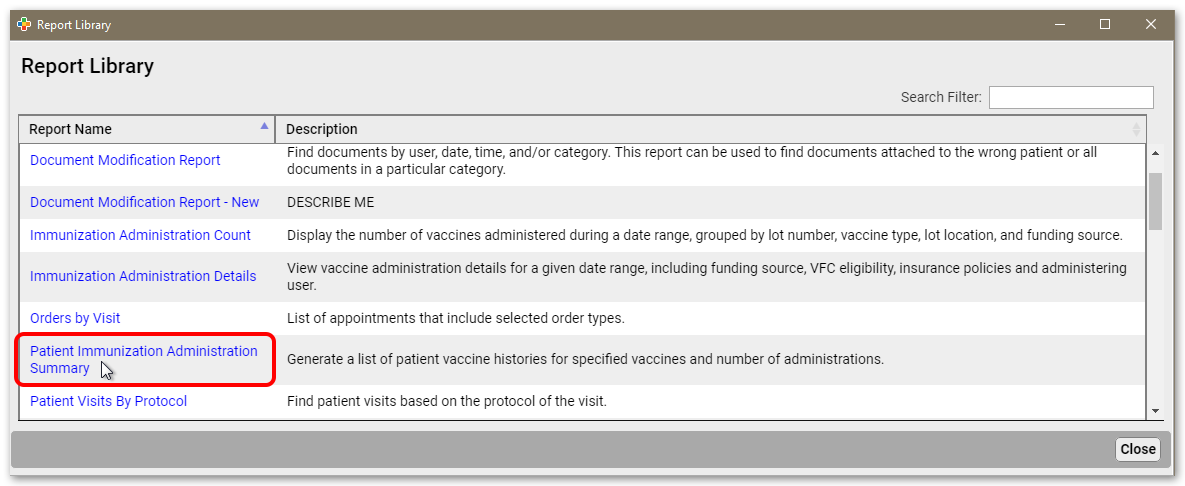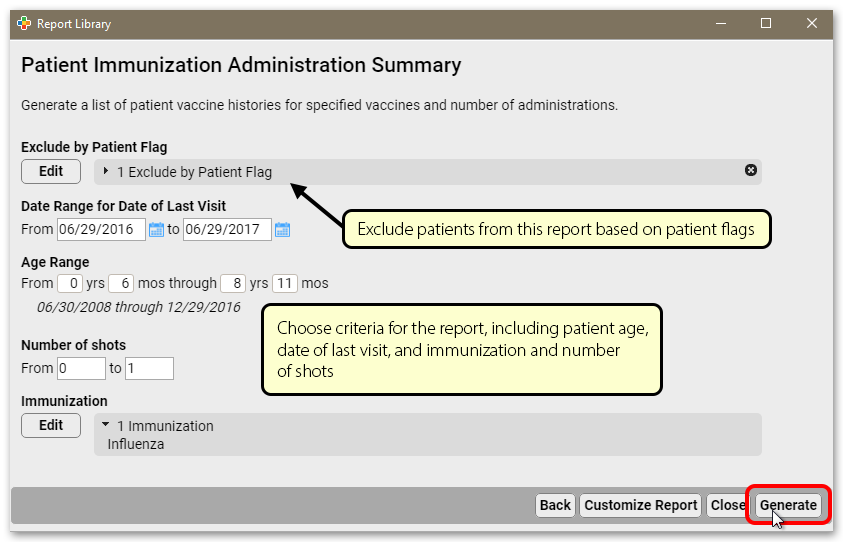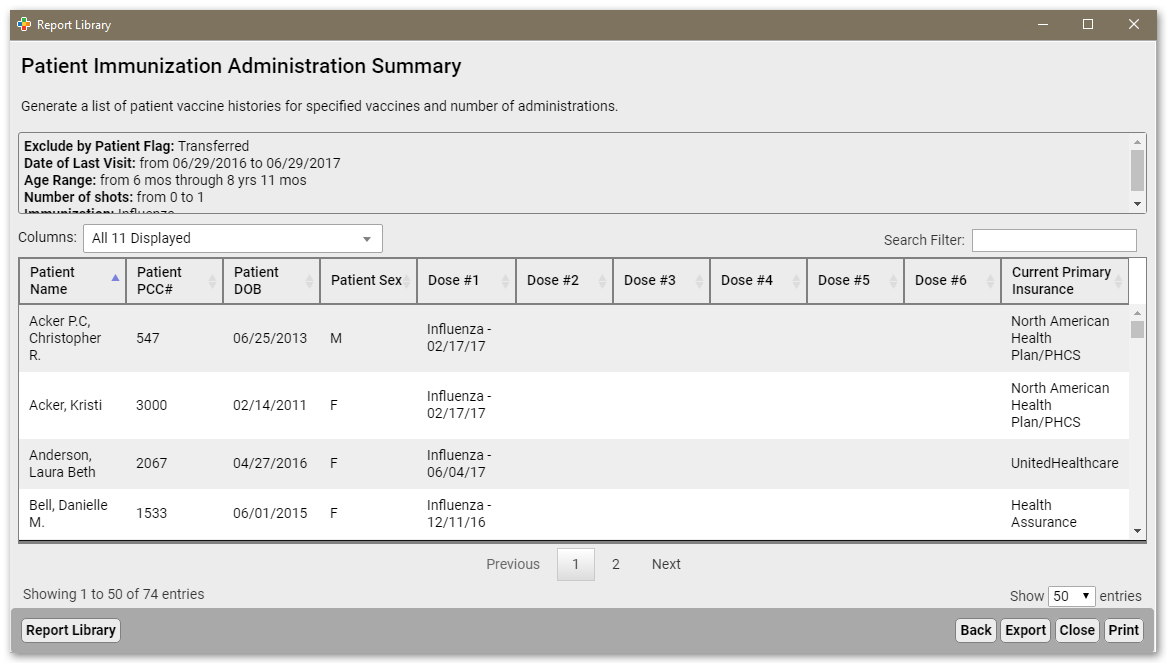 In this example, we've run a report on all patients from 6 months to 8 years old who have been in in the last year, but haven't had or completed their recommended flu vaccinations. You could also run reports to find patients with an incomplete vaccine series.
HPV Merck Program: You could use the Patient Immunization Administration Summary report for HPV vaccines to identify patients for the Merck "Health In Focus" program.
Shotcount: Some practices may have worked with their CA to run the shotcount script to get some of this same information. The Patient Immunization Administration Summary report replaces that process.
Updates to PCC eRx During the PCC 8.1 Release Cycle
The PCC 8.0 release included the all-new PCC eRx. Since the official PCC 8.0 release, PCC has rolled out dozens of updates, adjustments, and quick fixes to bugs that you helped us find. Below are some of the PCC eRx updates and fixes that arrived on your system between PCC 8.0 and PCC 8.1.
May and June
Highlights from PCC eRx patches delivered in May and June include:
Faster: After the PCC 8.0 release, we tracked down many performance issues, including a "slow typing" effect and slow Rx Queue performance. We were able to improve PCC eRx performance without a full update.

Renewal Requests for Controlled Substances: Authorized prescribers can now approve or deny EPCS renewal requests. They will appear on your Rx Queue.

DNTF: The "Deny, New Request to Follow" feature for renewal requests now works as expected for electronic renewal requests on your Rx Queue. Note that DNTF does not yet work for EPCS renewals, so for now please deny and then create a new Rx instead for controlled substances.

Rx Queue History Update: When you review the Rx Queue history, you can now see more information. You'll see details for denials or DNTF, including the patient, provider, action, and denial reason. You can also review the date a renewal request was made and responded to, and any notes to the pharmacy.

Patient Mismatch for Renewals: PCC eRx prompts you to find a patient whose name doesn't quite match a renewal request. This process now works better and allows you to approve a pending refill prescription.

Better EPCS Token Validation: The EPCS ID-Proofing process was improved with better token ID validation.

Editing Finalized Prescriptions: It is now impossible to accidentally edit a prescription that has already been finalized and sent.

New Configuration Option for Discontinuing Medications: Your practice can decide whether you want to be prompted for the "reason for deleting" a medication, a message that appears when you delete a medication from a patient's record. Contact your PCC Client Advocate for help with this option or other PCC eRx configuration options.

Support of Ohio Drug Reporting Requirements: Ohio pediatric practices can now generate a Daily Prescription Report from the RxQueue. They can use this report to meet Ohio's 2-factor identification requirement.

Fix for eRx Allergies Migrated from DrFirst: If a patient had an allergy listed in the previous prescription system, and that allergy was updated or changed, under certain circumstances those changes would not appear on the patient's Medical Summary screen. This no longer occurs.

Improved Support for Pharmacy-Initiated Renewal Requests: Under certain circumstances, it was not possible to approve a renewal request. PCC has improved how this function works.

Printing: PCC made numerous improvements to printed prescriptions between the 8.0 and 8.1 releases, including alignment and placement of practice name and margins.
July
Highlights from the 7/10 and 8/1 PCC eRx patches include:
Improved Support For Imported Allergy Records: Under certain circumstances, allergy data from the prior eRx system (DrFirst) was not appearing correctly. In addition, due to DrFirst's data format, manual updates to those allergies might not sync to PCC EHR. PCC fixed these problems and updated affected clients.

Printing EPCS Prescriptions in Ohio: For a brief period after a previous patch, EPCS prescriptions could not be printed in Ohio. This issue was resolved with a quick patch.

Renewal Requests and the SurescriptsRejectionValidationFailed Error: Some renewal requests from pharmacies could not be approved, accompanied by a "SurescriptsRejectionValidationFailed". This issue has been fixed.

Pharmacy Name Missing from Review & Sign Component: Under certain circumstances, the pharmacy name was not available when hovering over a prescription in the Review and Sign component. Now it is.

Improved Rx Queue Refresh: PCC has improved how the Rx Queue counter and list refreshes.

Retail Rx Hx Results: Due to a mismatch in identifying a pediatric practice's location NPI, Retail Rx histories sometimes showed very few results, particularly for Provider Agents and Clinical Staff. This has been corrected.

PCC eRx 'asynchronous error': When a laptop's internet connection failed, users would sometimes see a "An asynchronous error has occurred while processing your request" message. This has been corrected.

Formulary Info Absent: PCC eRx has improved eligibility and formulary matching and will now display formulary information when available.

Dispense Quantity: Under certain circumstances, incorrect dispense quantity could appear on a prescription. This no longer occurs.

Prescription Component Update Improved: Under certain circumstances, a patient's prescription component would not update immediately due to a logjam of interface requests. This no longer occurs.

Prescription Interface Restoring After Down Time: If a practice's connection to the eRx service was interrupted for more than an hour, it could encounter problems dealing with the message backlog afterwards. This process now works better.

Improved Prescription Audit report: Under certain circumstances, the Rx Audit and Audit Log reports would fail to run. This no longer occurs.

Improved Pharmacy Searching: The pharmacy search field is now more responsive. The search field also now accepts unusual characters.
August and September
Highlights from patches delivered in August and September include:
Prescription Errors Could Cause a Backlog of Updates: If a prescription was unsuccessful for some reason, prescription information could stop synching back to the patient's chart in PCC EHR. This will no longer happen.

Inaccurate 'Patient Record Modified By Another User' Message: Prescribers would occasionally see an error message in PCC eRx stating that, "Patient record has prescriptions that have been modified by another user. Click Ok to reload the page." This message was appearing when it should not. This issue has been fixed.

Renewal Requests with Unspecified Quantity: Renewal requests for prescriptions marked PRN, or with a dispense quantity of "Unspecified", could result in incomplete prescriptions in the Review and Sign component that can not be completed. This issue has been fixed.

The Sleepy Search: Repeating a Search for a Medication Appeared to Freeze: If a prescriber searched for a medication and then repeated the search, under certain circumstances the search would appear to hang or freeze, unless they typed a different search. This no longer occurs.

Improved Pharmacy Search Results: Some practices had problems searching for pharmacies, due to a set of missing zip codes. We have added the new zip code information to PCC eRx's zip code library, which will improve pharmacy searching.

Norvelt Pharmacy Rejections: Under certain circumstances, a code error caused Norvelt (and possibly other pharmacies) to reject electronic prescriptions. This no longer occurs.

Duplicate Strengths When Renewing From History: When a user renewed a prescription from the patient's Prescription Hx or Medication Hx, it was possible to click on options in such a way that the strength appeared twice in the prescription. This will no long occur.

Incorrect Dispense Quantity: For certain medication forms (such as inhalers, patches, and pumps), conversions between dosing forms could occasionally cause the wrong dispense quantity to be sent to pharmacies. This no longer occurs.
More Updates Soon!: PCC's eRx team continues to monitor and troubleshoot errors, large and small, and we will update this list to reflect the latest news of patches in the PCC 8.0 to PCC 8.1 release cycle. If you are experiencing any issues with PCC eRx, chat with your client advocate and let us know!
For more information about PCC eRx, visit PCC's library of PCC eRx training videos and documentation. We add new eRx videos and materials every month.
Global Opt-In For Text and Phone Notifications
If your practice uses Patient Notifications to send families text and phone messages about upcoming appointments and other issues, you will no longer need to have them "opt-in" with a text message before they can receive messages.
PCC is transitioning practices to use global opt-in during the PCC 8.1 release cycle. For more information, you can read PCC's Notify Update Announcement Letter, and for more about best practices for handling consent-to-contact, read Best Practices for Use of Automated Communications. Contact your PCC Client Advocate if you have any questions.
PCC EHR "Under the Hood" Infrastructure Update
The "biggest" new feature in PCC 8.1 is mostly invisible: a program infrastructure update for PCC EHR.
This update improves PCC EHR's stability and paves the way for new features and improvements in the coming year.
There are also some minor improvements you may notice right away:
Video Audio from Newsfeed: When you click to view a PCC video from inside the PCC Newsfeed, audio now plays correctly for Apple Macintosh and Windows users.

Cloud Components Display Improved: PCC 8.1 includes a heavily updated web engine, which improves display and rendering of all cloud-based components of PCC EHR, including tools like Patient Education, PCC eRx, and patient portal administration.

Better Support for High DPI ('Retina') Computer Screens: The PCC 8.1 infrastructure update includes improvements to onscreen rendering and support of high resolution screens.

Improved Security Options: The infrastructure changes in PCC 8.1 provide PCC EHR with tools it can use to improve security and adapt to upcoming security standards.
2013 Apple OS X 10.9 No Longer Supported: PCC 8.1 does not support the 2013 Mac OSX 10.9 operating system. If you have Apple Macintosh workstations in your practice that run OS X 10.9, you should run a software update before the PCC 8.1 release. MacOS updates are free and can be performed over the internet through the App store application.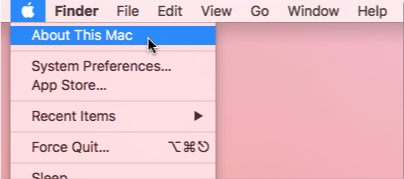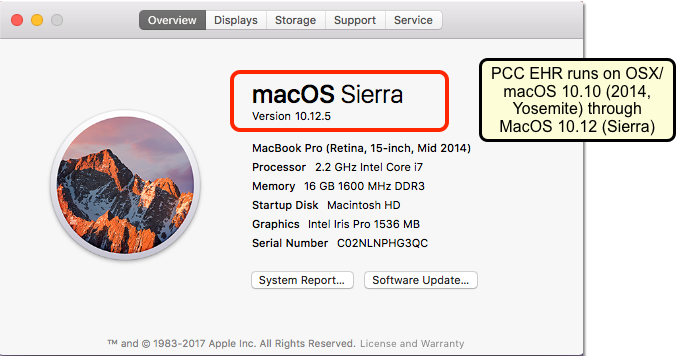 New and Updated Interfaces Available in PCC 8.1
With each release, PCC's Interoperability team expands and updates PCC's direct connections, partnerships, and integrations with insurance payers, immunization registries, and more. Here are the interoperability updates for PCC 8.1:
New and Updated Immunization Interfaces: As part of the PCC 8.1 release, PCC updated or developed new immunization registry interfaces for Ohio (OHIIS), Texas (ImmTrac), New Jersey (NJIIS), and Pennsylvania (PASIS).

New Clinical Interfaces in PCC EHR: PCC developed a new lab interface with Princeton Medical Center, who can now send electronic test results directly to PCC EHR. In addition, PCC updated our clinical data interfaces with Wellcentive and Valence Health.

New Eligibility Interfaces: PCC developed new real-time insurance eligibility interfaces with Western Southern Life, Meritain Health, and GEHA. PCC also updated our eligibility interfaces with BCBS of Kansas, Centene, and Blue Cross Centennial. You can view patient eligibility information during patient check-in as well as in the Eligibility (elig) program.

If your practice would like to take advantage of these connections, or you have another interface need, contact your PCC Client Advocate.
ICD-10 2018 Update
On September 17th, 2017, PCC will update all PCC products and services to include the 2018 ICD-10 descriptions and codes. Your practice will be ready for the 2018 ICD-10 code changes, which take effect on 10/01/2017.
The ICD-10 update includes new codes for Neonatal encephalopathy, risk of dental caries, and other new codes and revisions to codes your practice may use. PCC's certified coder, Jan Blanchard, has collected a list of interesting codes for pediatricians. She will share her findings and answer questions in her regular monthly coding weblabs.
New Codes of Interest to Pediatricians
F50.82 Avoidant/restrictive food intake disorder
P29.30 Pulmonary hypertension of newborn
P29.38 Other persistent fetal circulation
P78.84 Gestational alloimmune liver disease
P83.81 Umbilical granuloma
P83.88 Other specified conditions of integument specific to newborn
P91.811 Neonatal encephalopathy in diseases classified elsewhere
P91.819 Neonatal encephalopathy, unspecified
P91.88 Other specified disturbances of cerebral status of newborn
Q53.111 Unilateral intraabdominal testis
Q53.112 Unilateral inguinal testis
Q53.13 Unilateral high scrotal testis
Q53.211 Bilateral intraabdominal testes
Q53.212 Bilateral inguinal testes
Q53.23 Bilateral high scrotal testes
R06.03 Acute respiratory distress
R39.83 Unilateral non-palpable testicle
R39.84 Bilateral non-palpable testicles
T14.91XA Suicide attempt, initial encounter
T14.91XD Suicide attempt, subsequent encounter
T14.91XS Suicide attempt, sequela
Z71.82 Exercise counseling
Z91.841 Risk for dental caries, low
Z91.842 Risk for dental caries, moderate
Z91.843 Risk for dental caries, high
Z91.849 Unspecified risk for dental caries
Deleted (Replaced with greater specificity) Codes of Interest to Pediatricians
| | | |
| --- | --- | --- |
| N63 Unspecified lump in breast (laterality, quadrant) | P83.8 Other specified conditions of integument specific to newborn (specific condition) | P91.8 Other specified disturbances of cerebral status of newborn (specific condition) |
| Q53.11 Abdominal testis, unilateral (location) | Q53.21 Abdominal testis, bilateral (location) | T14.91 Suicide attempt (encounter) |
Revised Code Descriptions of Interest to Pediatricians
| | | | |
| --- | --- | --- | --- |
| F41.0 Panic disorder [episodic paroxysmal anxiety] | Q82.2 Congenital cutaneous mastocytosis | Z68.1 Body mass index (BMI) 19.9 or less, adult | Z79.890 Hormone replacement therapy |
As always, PCC software will intelligently implement the new code set changes. If your billers attempt to bill with a retired ICD-10 code, they'll see a warning when they attempt to post charges (in checkout) and the claim will be held for review before it leaves your practice (in ecs when you generate claims).
Map Codes for Billing: After the 9/17/2017 ICD-10 patch, you may wish to review billing configuration for your diagnoses and take advantage of new ICD-10 codes. You can use the snomedmap report to review ICD-10 code changes on the codes you use, and you can open the Billing Configuration tool to configure which ICD-10 diagnoses are mapped to each SNOMED-CT description in PCC EHR.
Not Yet Ready for CQM 0024 for PCMH or Meaningful Use: One of the new 2018 ICD-10 billing codes is "Z71.82 Exercise counseling". This code has not yet been integrated into the CQM requirement reporting and will not improve your practice's score for the counseling element of CQM 0024, "Weight assessment and counseling for nutrition and physical activity". For more information about how to configure PCC EHR and chart a visit in order to meet Clinical Quality Measures for PCMH recognition, read How to Chart for Each Clinical Quality Measure.
Other Feature Improvements and Bug Fixes in PCC 8.1
In addition to the features described above, PCC 8.1 includes these smaller improvements and squashed bugs.
Better Process for New Labs in Interfaces: When PCC EHR receives an electronic lab result that it doesn't recognize, PCC EHR will now automatically add the order codes into your system so you can add them to a Lab Order. You can set up the lab order in the Lab Configuration tool right away, and then import the lab results to the patient's chart. You no longer need to call PCC Support for assistance.

PCC EHR Report Library Search Field Improvement: If you search for a patient or for other data in a PCC EHR Report Library filter, such as the patient search in the Prescription Activity report, you can now click an "x" to erase the field and search for a new patient.

Visit Status Counter Refresh: Under certain circumstances, the Visit Status Counters in the lower-right corner of PCC EHR would not update immediately after you logged in. Now they will.

PCC Learn Videos Required Full Screen: On some computers, videos on learn.pcc.com would not appear until you clicked the "Full Screen" option. PCC has recompiled these videos and they will appear and play as soon as you visit the video's page.
Macintosh Users Will Experience an Extra Minute During the Update
If you use Apple Macintosh computers in your office, your staff may notice that the installer will take a little extra time during the update.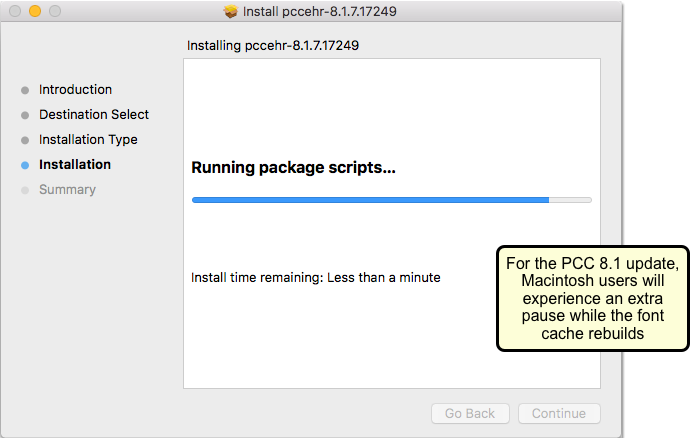 PCC 8.1 includes easier to read fonts and colors, and the installer needs to rebuild your Macintosh's font cache.
Contact your PCC Client Advocate or the PCC Technical Solutions Team with any questions about completing the PCC EHR update on your Mac.
Windows Users May Need to Review and Adjust Font Scaling After Your Update
The new PCC 8.1 does a better job of displaying fonts in appropriate sizes on your screen. If you or any of your colleagues have used Microsoft Windows's built-in tools for increasing font sizes, usually found in the Display Settings control panel, you may need to make adjustments after your PCC 8.1 update.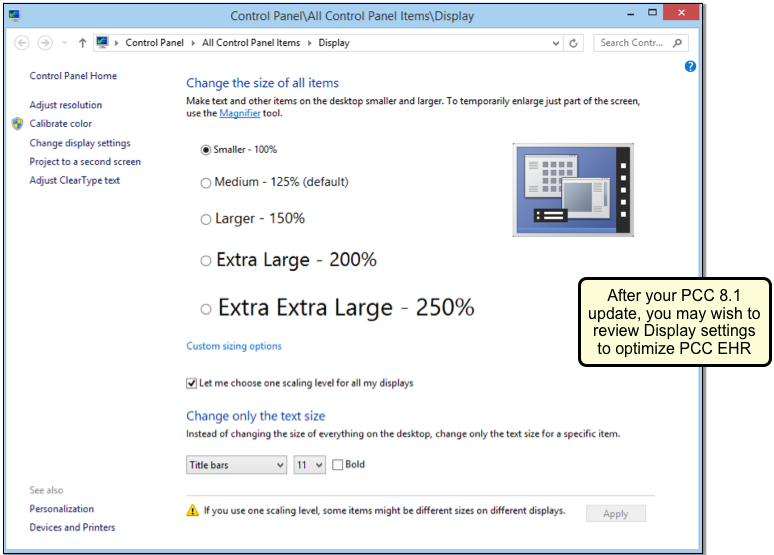 For more information, read How to Adjust Computer Workstation Font Sizes.