Clinical Document Exchange
The promise of interoperability between EHRs — that patients' data will be accessible to any clinician whom they see for treatment — is one step closer to realization.
PCC has implemented an interoperability framework that allows practices to automatically make clinical information available to other providers and organizations who participate in the Carequality Interoperability Framework. This includes many hospitals, specialists, and other networks who may serve your patients.
Participation is Optional: Participation in clinical document exchange with other organizations who are also implementing the Carequality framework is optional, and is included in PCC's comprehensive service plan. In order to participate, contact PCC Support. If you choose to proceed, which include signing an addendum to your PCC EHR agreement acknowledging and agreeing to the Carequality Connection Terms.
Watch an Introductory Video: Watch Clinical Document Exchange: The Responder Role to learn the basics of CDE along with details about the Responder role, wherein your practice receives requests and shares information.
What is Clinical Document Exchange?
Clinical Document Exchange (also referred to as Query Based Clinical Document Exchange, or QBCDE) allows different healthcare organizations to exchange patient records. Your participation would allow other providers who see your patients to obtain your patients' records for treatment purposes, as defined in the Health Insurance Portability and Accountability Act (HIPAA).
The Carequality Framework
Carequality is an organization that maintains a framework of technical, data, and privacy standards that allows organizations who implement that framework to directly exchange data.
All implementers of the Carequality Framework sign an agreement with Carequality, outlining rights, obligations, and "rules of the road" for trusted exchange of data. All implementers of the framework are able to exchange patient records with all other implementers of the framework. Carequality maintains a list of software vendors, Health Information Exchanges (HIEs) and others who have adopted the Carequality Interoperability Framework, as well as a tool to search for hospitals clinics, and other entities who are participating. Use this tool to see if you can exchange data with your local hospital or specialists.
The Responder Role
There are two sides to clinical document exchange; an organization in the Initiator Role makes record requests, and an organization in the Responder Role responds to record requests.
If your practice participates in clinical document exchange, the patient's most up-to-date Summary of Care Record is made available and contains information including:
Demographic data (Name, D.O.B., Address)
Clinical data
Diagnoses
Allergies
Medications
History of Procedures
Diagnostic and Laboratory Test Results
History of Immunizations
Insurance Policies
Customize the Summary of Care Record: Your practice can configure which information is included in patients' Summary of Care Records. Click here to learn how.
Who has Access to Patient Data?
Other healthcare organizations that participate in clinical document exchange through the Carequality interoperability framework are able to retrieve your records. They may retrieve your records for treatment purposes only.
Is Clinical Document Exchange Safe and Secure?
Yes. Many layers of security protect patient data both in storage and when it is transmitted to a different healthcare organization.
Do patients or their families need to consent to Clinical Document Exchange?
Your practice needs to make an informed decision about whether you will have an opt-out or opt-in policy for clinical document exchange. Some practices choose an opt-out policy, meaning that all patients are considered to have consented to clinical document exchange unless otherwise indicated. Practices that choose an opt-in policy will require patients to give explicit consent to participate in exchange activities.
You will need to consider your state's patient privacy and consent laws, your existing office policies, and provider preferences. Laws and policies vary between states. Some state policy is more stringent than federal HIPAA policy and if that is the case, the state policy should be followed, not the federal. PCC recommends that you consult with your practice's legal counsel and/or malpractice carrier to determine what laws apply in your specific circumstances.
What Does it Cost?
Nothing. Clinical Document Exchange is offered to all PCC clients as part of our comprehensive service plan. There are no hidden fees or additional charges for PCC clients to participate in the Carequality Interoperability Framework.
How do I Participate?
If you are interested in participating in clinical document exchange, contact PCC Support.
Getting Started with Clinical Document Exchange
Follow these steps to get started with clinical document exchange.
Find Out Who You can Connect With
Follow this link to search for Carequality enabled organizations near you.
Determine Your Practice's Consent Policy
Before contacting PCC Support, please decide whether your practice will have an opt-in or opt-out policy. PCC recommends consulting your practice's legal counsel as you determine which policy will work for you.
Contact PCC Support
Contact PCC Support to let them know you are interested in clinical document exchange. Your CA can answer general questions about Carequality and and the document exchange process. When you are ready to move forward, they will put you in touch with the PCC teams that will manage your onboarding and go-live.
Review and Sign Carequality Connection Terms
When you are ready, PCC Sales will send you the Carequality Connection Terms for your review and signature. This is an agreement to follow Carequality guidelines – there is no charge to you to participate in the Carequality Interoperability Framework.
Train with PCC
You will have a one-hour training with PCC's Interoperability Implementation team, in which you will:
Learn about document exchange functionality
Review patient consent configuration options in PCC EHR
Discuss your practice's consent policy and workflow considerations
Find out how to talk to your patients about clinical document exchange
Schedule a Go-Live Date
Schedule a go-live date with PCC to enable clinical document exchange functionality! Once you are live, Carequality enabled organizations will be able to retrieve Summary of Care documents for patients who have consented. No more faxing!
Notify Carequality Enabled Organizations
Notify Carequality enabled organizations who work with your practice that your patients' documents will soon be available for retrieval. You can explain the new capability in the following way: "Our practice will be making our patients' documents available to you through Carequality."
Configure PCC EHR for Clinical Document Exchange
Once you have worked with PCC Support to get started with clinical document exchange, there are a few things you will need to configure in the EHR.
Set Default Consent Status for New Patients
You need to decide whether you will have an opt-out or opt-in policy for clinical document exchange. Once you have done so, set this status in the Practice Preferences tool.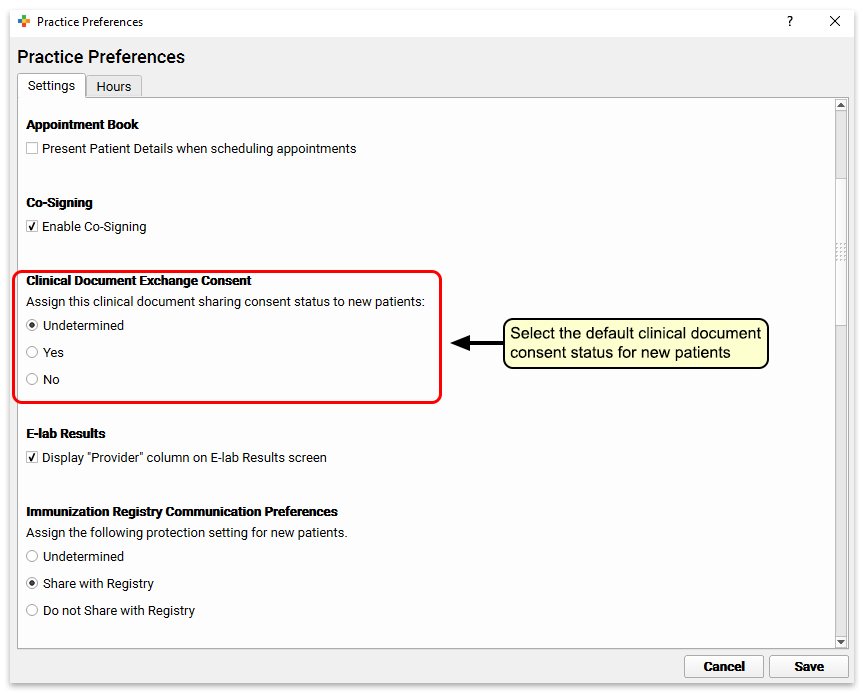 You can choose whether new patients' consent status will default to "Undetermined", "Yes", or "No". Note that a status of undetermined is functionally the same as a status of no. The data of patients with the status of either undetermined or no will not be shared, while those with a status of yes will.
Add Clinical Document Exchange Consent to Communication Preferences
Once clinical document exchange has been activated for your practice, a section for patients' consent status will appear in the Communication Preferences component in your chart notes. To make this status appear prior to activating clinical document exchange (perhaps you are acquiring patient consent in advance of implementing this feature), edit the Communication Preferences component with the Protocols configuration tool.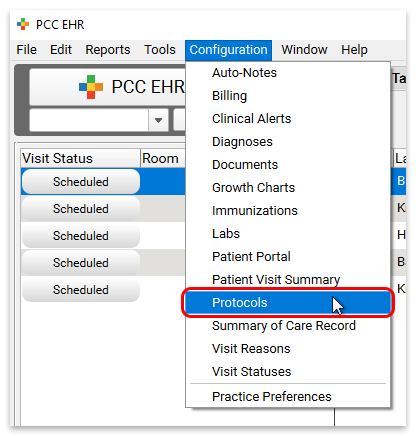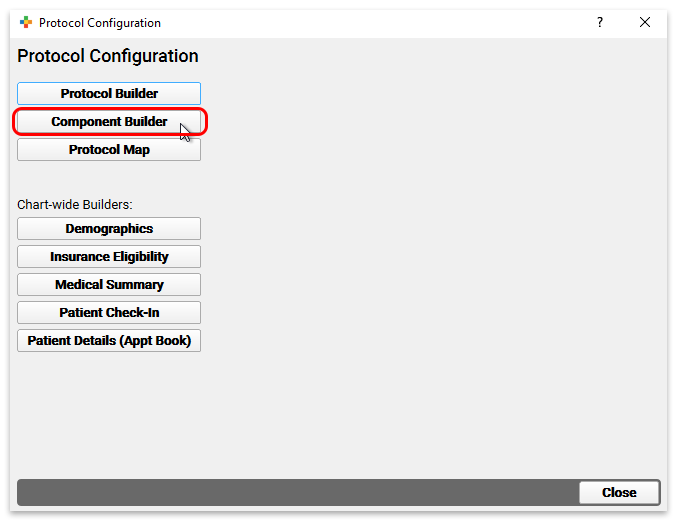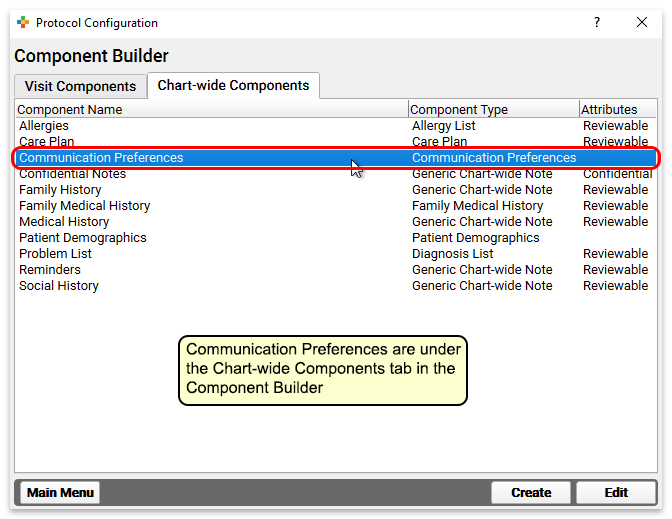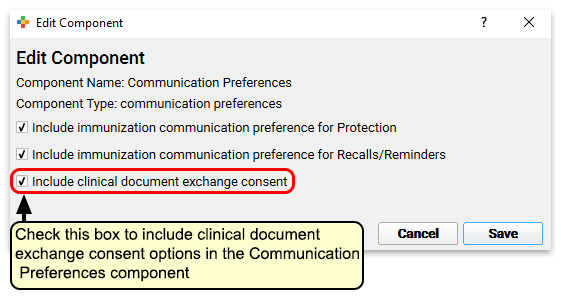 After choosing to include clinical document exchange consent in this component, it will appear in all patients' charts.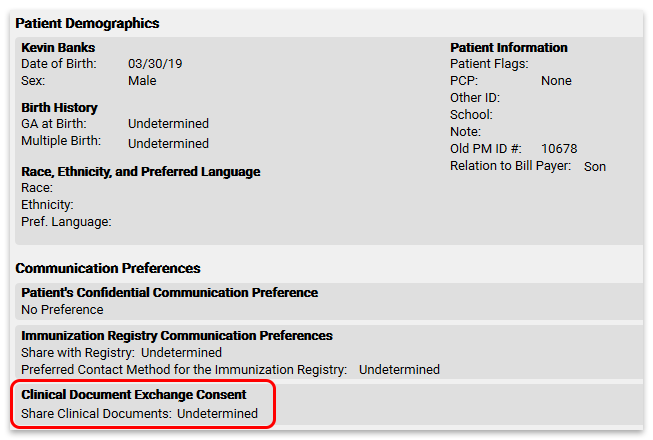 Change a Patient's Consent Status
To change a patient's consent status, edit their chart and select a new status.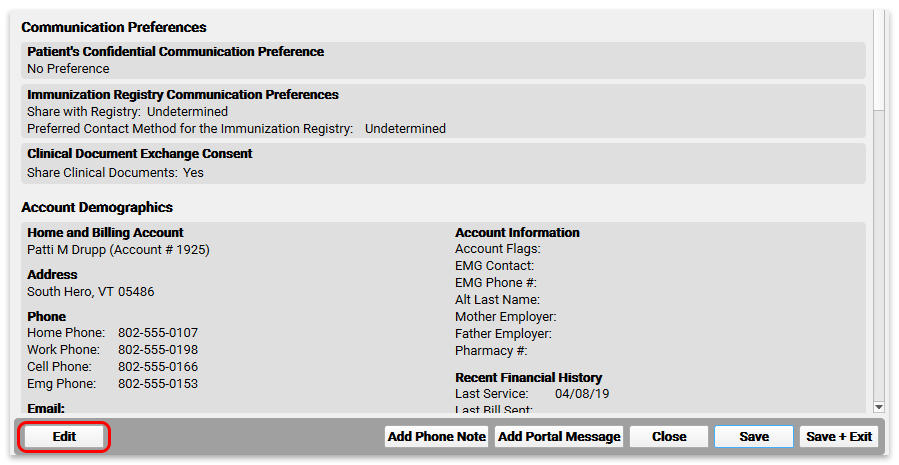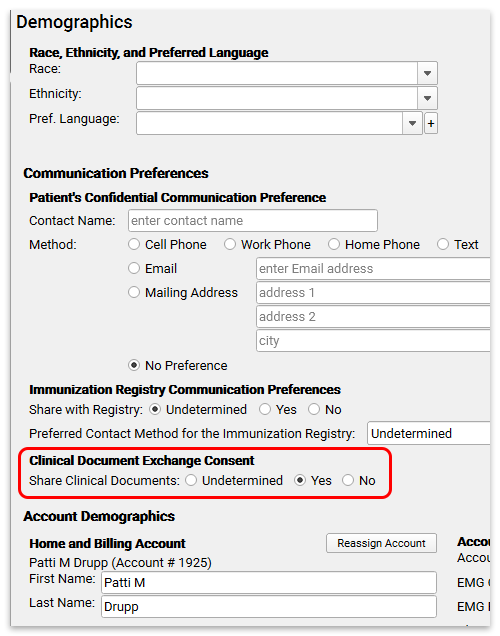 Retrieve Clinical Documents from Other Healthcare Providers
Once you become a Clinical Document Exchange Responder, the groundwork is laid for your practice to enable the "Initiator" role, which allows you to securely retrieve patients' clinical documents from other healthcare providers.
Read about how to Securely Retrieve Clinical Documents from Hospitals and Other Providers Through PCC EHR.